THE FLATS  –  Georgia Tech's golf team, ranked No. 3 in the nation and coming off its fourth victory of the year in its last event, heads West again this weekend to compete in the Southern Highlands Collegiate in Las Vegas, Nev., against one of collegiate golf's strongest fields.
TOURNAMENT INFORMATION – Georgia Tech is making its 17th appearance in the Southern Highlands Collegiate and for the second straight year after a four-year hiatus. The 54-hole event runs from Sunday through Tuesday with a shotgun start at noon Eastern time each day, and is played at the Southern Highlands Golf Club, a 7,374-yard, par-72 layout. The four low scores for each team are counted each round for the team total, and individual ties will be broken by a sudden-death playoff.
For the second straight year, the individual champion will receive a sponsor's exemption to the PGA Tour's Shriners Hospital for Children Open, which will take place Oct. 8-11 at TPC Summerlin in Las Vegas.
Seven of the top 10 teams in the nation, according to the Golfstat rankings, are in the 15-team field, including No. 1 Pepperdine, No. 2 Oklahoma, No. 3 Georgia Tech, No. 5 Texas Tech, No. 7 Duke, No. 8 Texas and No. 10 SMU. Also competing are No. 16 Georgia, No. 22 UCLA, No. 26 Florida, No. 28 New Mexico, No. 36 Southern California, No. 65 Central Florida, No. 69 TCU and No. 67 UNLV, the host team.
For the second year in a tow, through a partnership with Golfweek and USA Today Network the Southern Highlands Collegiate will feature exclusive livestream coverage on Tuesday, March 3, from 2-7 p.m. Click here to access the live stream.
Georgia Tech has won the event twice, in 2001 and 2002. Four Yellow Jackets, all of whom have competed on the PGA Tour, have captured medalist honors, beginning in 1992 when Stewart Cink and David Duval shared the title. Troy Matteson won a share of the title in 2002 with Florida's Camilo Villegas, and Cameron Tringale win the tournament outright in 2009.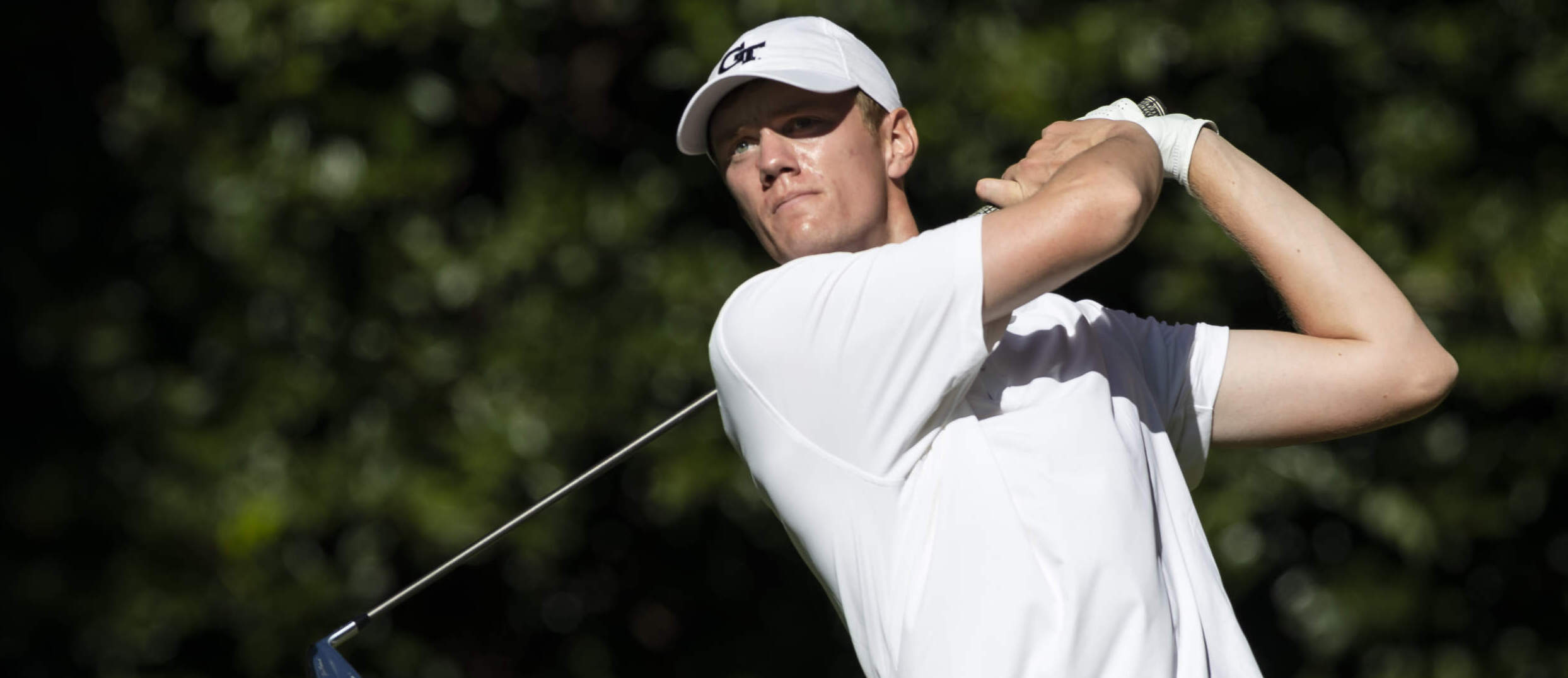 In his first collegiate start as a counting member of the team, redshirt freshman Bartley Forrester was the co-medalist at the Puerto Rico Classic.
TEAM UPDATE – Head coach Bruce Heppler's 25th Yellow Jacket team comes in at No. 3 this week in the Golfstat rankings, which determines seeding for NCAA regional play in May. Tech is No. 2 in the Golfweek/Sagarin Index. Pepperdine is the top-ranked team in Golfstat, and Oklahoma has the No. 1 spot in the Golfweek/Sagarin Index.
Tech, which won three of its four tournaments in the fall, picked up its fourth victory of the year two weeks ago at the Puerto Rico Classic, prevailing over the Sooners by two strokes. The Jackets finished fifth at the Amer Ari Invitational in their first spring event, fading in the final round after holding the 36-hole lead.
TECH LINEUP – Tech's core group of seniors Andy Ogletree (Little Rock, Miss.), Luke Schniederjans (Powder Springs, Ga.) and Tyler Strafaci (Davie, Fla.), playing their final spring season together, are anchoring the Yellow jackets' lineup this weekend in Las Vegas as they have for every event this year. They are joined by sophomore Connor Howe (Ogden, Utah), who has been the Yellow Jackets' No. 5 player since last spring, and redshirt freshman Bartley Forrester (Gainesville, Ga.), who made his first start as a counting member of the team at Puerto Rico and won co-medalist honors. Sophomore Ben Smith (Novi, Mich), is competing as an individual.
Ogletree, who has finished in the top 10 at both of Tech's spring events – T-3 at Puerto Rico, T-6 at the Amer Ari Invitational – is the Yellow Jackets top-ranked player currently, No. 15 in Golfstat and No. 20 in the Golfweek/Sagarin Index. Strafaci, who tied for sixth in Hawai'i, is ranked No. 62 by Golfstat, while Schniederjans is No. 93 after his sixth-place tie at Puerto Rico. The three seniors have combined for eight top-10 finishes.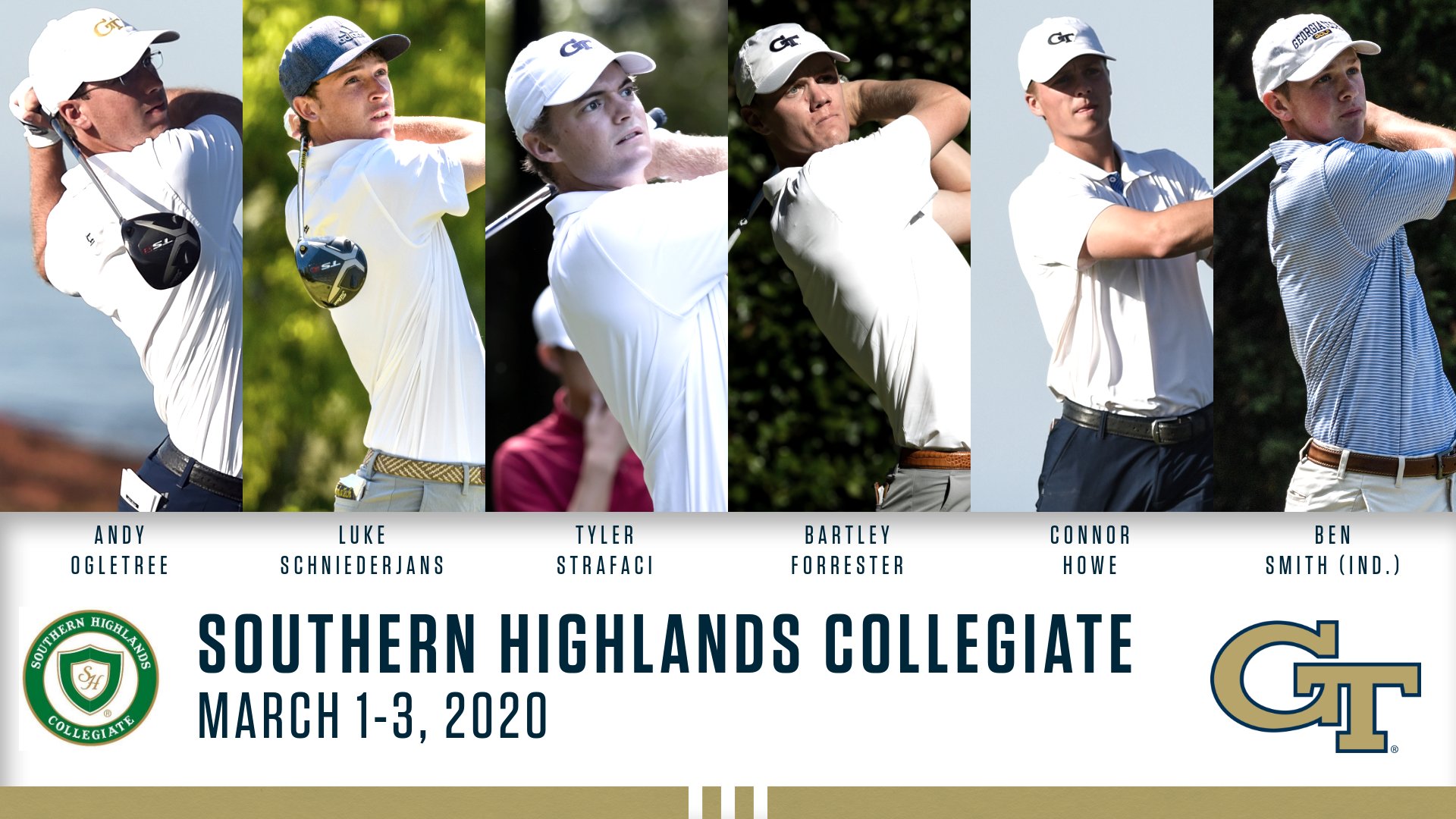 "It can be one of the toughest golf courses we play. We've had a couple of guys win there. It's an opportunity to play against the very best teams – I think the last time I looked we had 1, 2, 3, 5, 7, then 8 and 10. It's as much about that as anything; it's why guys came to school here. We qualified to have the top three go (Forrester, Ogletree, Schniederjans were exempt), so we played for two days. Ty (Strafaci) struggled in Puerto Rico but he helped us win on the last day, and he needed a couple of days to get back to playing some winning golf, so we've basically got the same team going that won in Puerto Rico."
Georgia Tech head coach Bruce Heppler
Alexander-Tharpe Fund
The Alexander-Tharpe Fund is the fundraising arm of Georgia Tech athletics, providing scholarship, operations and facilities support for Georgia Tech's 400-plus student-athletes. Be a part of developing Georgia Tech's Everyday Champions and helping the Yellow Jackets compete for championships at the highest levels of college athletics by supporting the A-T Fund's Annual Athletic Scholarship Fund, which directly provides scholarships for Georgia Tech student-athletes, and Athletics Initiative 2020, Georgia Tech athletics' ongoing $125 million initiative to allow Tech to recruit the nation's most elite student-athletes, build a better student-athlete once they arrive on The Flats and, ultimately, win! To learn more about supporting the Yellow Jackets, visit atfund.org.   
ABOUT GEORGIA TECH GOLF
Georgia Tech's golf team is in its 25th year under head coach Bruce Heppler, winning 63 tournaments in his tenure. The Yellow Jackets have won 18 Atlantic Coast Conference Championships, made 29 appearances in the NCAA Championship and been the national runner-up four times. Connect with Georgia Tech Golf on social media by liking their Facebook page, or following on Twitter (@GTGolf) and Instagram. For more information on Tech golf, visit Ramblinwreck.com.