THE FLATS – Matt Kuchar, Chesson Hadley and Cameron Tringale headed to the FedEx Cup playoffs … Vincent Whaley in position to earn a PGA Tour card with a good performance in the final regular-season Korn Ferry Tour event this week … more in this week's Georgia Tech #ProJackets Report.
Three former Yellow Jackets are headed to Jersey City, N.J., this weekend for The Northern Trust, the first stage of the 2019 FedEx Cup playoffs. The top 125 finishers in the season-long FedEx Cup points race made the cut for this weekend, with Matt Kuchar finishing third, followed by Chesson Hadley at No. 82 and Cameron Tringale at No. 101.
Kuchar, with two wins and eight top-10s this season, is sitting at his highest position since finishing a career-best second in the 2010 FedEx Cup. He led the race for most of the season before being overtaken at the Open Championship and WGC-FedEx St. Jude Classic by Brooks Koepka and Rory McIlroy. Kuchar is a mere two points behind McIlroy, but 574 points behind Koepka. Each FedEx Cup event offers 2,000 points to the winner.
Hadley has posted three top-10 finishes this season, but two of those came in the fall portion of the schedule. He had missed three straight cuts between tying for ninth place at the U.S. Open and tying for 53rd last weekend at the Wyndham Championship, a home-state event for the Raleigh, N.C., native.
Tringale, who was forced to retain his PGA Tour privileges the last two years by competing in the Korn Ferry Tour finals, is in the playoffs for the first time since 2016, when he finished 107th in the FedEx Cup race. He had made the playoffs six years running through the 2016 season. Tringale began June outside the top 125 but had four top-20s in his last six starts, and has a pair of top-10 finishes this season.
The top 70 points leaders after The Northern Trust this weekend will continue on to week 2, the BMW Championship Aug. 15-18 at Medinah Country Club. The top 30 in points after the BMW will come to Atlanta for the season-ending Tour Championship at East Lake Golf Club.
Missing the playoffs were Richy Werenski, who fell shy by a scant 1.6 FedEx Cup points and finished No. 126, Roberto Castro (No. 142). Both players played well last weekend at the Wyndham Champoionship, each breaking 70 all four rounds, but were unable to make a big enough points jump to make the playoffs. Both players, by finishing in the top 150, retain conditional PGA Tour status.
They are also eligible to compete in the upcoming Korn Ferry Tour Finals – the top 75 finishers in the Korn Ferry regular season and PGA Tour players finishing No. 126-200 are eligible – along with Anders Albertson (No. 172), Stewart Cink (No. 179), Ollie Schniederjans (No. 180) and Seth Reeves (No. 188). The top 25 finishers in the three-event Korn Ferry Finals are awarded PGA Tour cards.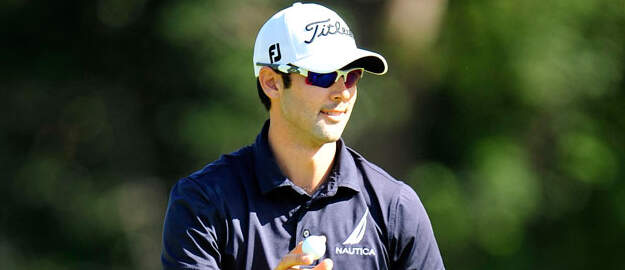 Cameron Tringale is in the FedEx Cup playoffs for the first time since 2016.
Korn Ferry Tour (formerly Web.com Tour):  Heading into the final event of the regular season, Vincent Whaley remains the only former Yellow Jacket in position to earn a PGA Tour card for 2018-19, sitting at No. 22 in Korn Ferry Tour points after tying for 47th last weekend at the Ellie Mae Classic in California. The 2017 Tech grad has three top-10 finishes on the tour this year, but has slipped from 14th place on the Korn Ferry list on June 16 following a third-place finish at the Lincoln Land Championship, missing three cuts in six events, and needs a good performance this week to keep from falling further.
The top 25 in points at the end of the regular season are awarded PGA Tour privileges for next season, while the top 75 maintain their status on the Korn Ferry Tour and play in the Finals. Paul Haley II, who missed the cut last weekend, sits at No. 71 on the points list. Nicholas Thompson, who tied for 47th at the Ellie Mae, ranks No. 100, while J.T. Griffin (T-36 at Ellie Mae) is No. 112.
Elsewhere:  Chris Petefish earned his best finish on the MacKenzie Tour last weekend with a tie for 14th place at the 1932by Bateman Open in Edmonton, Alberta. Petefish shot 10-under-par 274 in his second start this season. The 2018 graduate has made a start this year on the Korn Ferry Tour … Drew Czuchry tied for second place, two shots off the pace (137, -5), at last weekend's Bryan Park Champions event on the GPro Tour.
My son was mad at me earlier this week for not letting him do something. In his anger, he told me that he hoped I'd miss the cut. I remembered that while I was playing. Don't poke the bear. Playing the weekend. Let's go! #StillLoveMySon pic.twitter.com/MLzqdBQnvv

— Chesson Hadley (@chessonhadley) August 2, 2019
| | | |
| --- | --- | --- |
| FedEx Cup Points Update |   | Korn Ferry Points Update |
| Matt Kuchar (3) | | Vincent Whaley (22) |
| Chesson Hadley (82) | | Paul Haley II (71) |
| Cameron Tringale (101) | | Nicholas Thompson (101) |
| Richy Werenski (126) | | J.T. Griffin (112) |
| Roberto Castro (142) | | Chris Petefish (190) |
| Anders Albertson (172) | | |
| Stewart Cink (179) | | |
| Ollie Schniederjans (180) | | |
| Seth Reeves (188) | | |
UPCOMING EVENTS
PGA Tour:  The Northern Trust • August 8-11, 2019 • Liberty National Golf Club • Jersey City, N.J. • Purse: $9,250,000 • FedEx Cup points: 2,000
Web.com Tour:  WinCo Foods Portland Open • August 8-11, 2019 • Pumpkin Ridge Golf Club • North Plains, Ore. • Purse: $800,000
PGA Tour Champions:  Dick's Sporting Goods Open • August 16-18, 2019 • En-Joie Golf Club • Endicott, N.Y. • Purse: $2,050,000
Mackenzie Tour:  ATB Financial Classic • August 8-11, 2019 • Country Hills Golf Club • Calgary, Alberta • Purse: $200,000
PGA Tour China:  Zhouzhou Classic • September 19-22, 2019 • Xiangshui Bay Golf Club • Zhouzhou, China
All Pro Tour:  Taco Bell Natchez Classic • August 7-10, 2019 • Beau Pre Country Club • Natchez, Miss. • Purse: $125,000
SwingThought Tour:  Blacksburg Country Club • August 7-8, 2019 • Blacksburg, Va.
G Pro Tour:  Chatmoss Classic • August 6-8, 2019 • Chatmoss Country Club • Martinsville, Va.
PLAYER

LAST WEEK

SEASON STATS
ANDERS ALBERTSON
Woodstock, Ga.
Turned pro: 2015
Career earnings: $460,506
Years at Georgia Tech: 2011-15
High School: Etowah
Status: PGA Tour
Last Week
missed cut
70-71—141 (+1)
Points Ranking
172
Earnings
$449,226
ROBERTO CASTRO
Alpharetta, Ga.
Turned pro: 2007
Career earnings: $7,267,835
Years at Georgia Tech: 2003-07
High School: Milton
Status: PGA Tour
Last Week
T-53
66-68-69-69—272 (-8)
Points Ranking
142
Earnings
$674,250
STEWART CINK
Duluth, Ga.
Turned pro: 1995
Career earnings: $37,670,521
Years at Georgia Tech: 1991-95
High School: Bradshaw (Florence, Ala.)
Status: PGA Tour
Last Week
missed cut
72-72—144 (+4)
Points Ranking
179
Earnings
$368,008
JAMES CLARK
Columbus, Ga.
Turned pro: 2019
Career earnings: n/a
Years at Georgia Tech: 2014-19
High School: Brookstone
Status: Developmental tours
Last Week
missed cut (APT)
72-74—146 (+3)
Money ranking
T-130 (GPro)/171 (APT)
Earnings
$1,777
DREW CZUCHRY
Auburn, Ga.
Turned pro: 2015
Career earnings: n/a
Years at Georgia Tech: 2010-14
High School: home schooled
Status: Developmental tours
Last Week
T-2 (GPro)
68-69—137 (-5)
Money ranking
50 (GPro)
Earnings
$4,425
DAVID DUVAL
Denver, Colo.
Turned pro: 1993
Career earnings: $19,196,243
Years at Georgia Tech: 1989-93
High School: Jacksonville (Fla.) Episcopal
Status: no status
Last Week
did not play
n/a
Points ranking
n/a
Earnings
n/a
J.T. GRIFFIN
Wilson, N.C.
Turned pro: 2011
Career earnings: $59,922
Years at Georgia Tech: 2007-11
High School: Fike
Status: Korn Ferry Tour
Last Week
T-36
69-69-68-68—274 (-6)
Points ranking
112
Earnings
$39,026
CHESSON HADLEY
Raleigh, N.C.
Turned pro: 2010
Career earnings: $7,571,977
Years at Georgia Tech: 2006-10
High School: North Raleigh Christian Academy
Status: PGA Tour
Last Week
T-53
69-64-69-70—272 (-8)
Points Ranking
82
Earnings
$1,378,067
SHUN YAT HAK
Hong Kong, China
Turned pro: 2013
Career earnings: ¥251,305 (PGA Tour China)
Years at Georgia Tech: 2012-13
High School: Lake Mary (Fla.) Prep
Status: PGA Tour China/Developmental
Last Week
did not play
n/a
Order of Merit ranking
48
Earnings
¥108,112
PAUL HALEY II
Dallas, Texas
Turned pro: 2011
Career earnings (Korn Ferry): $344,771
Years at Georgia Tech: 2007-11
High School: Highland Park
Status: Korn Ferry Tour
Last Week
missed cut
73-67—140—140 (E)
Points Ranking
71
Earnings
$69,576
MATT KUCHAR
Sea Island, Ga.
Turned pro: 2000
Career earnings: $49,981,096
Years at Georgia Tech: 1997-2000
High School: Seminole (Lake Mary, Fla.)
Status: PGA Tour
Last Week
did not play
n/a
Points Ranking
3
Earnings
$6,273,119
TROY MATTESON
Austin, Texas
Turned pro: 2003
Career earnings: $10,111,266 (PGA+Web)
Years at Georgia Tech: 2000-03
High School: L.C. Anderson
Status: no status
Last Week
did not play
n/a
Points Ranking
n/a
Earnings
n/a
LARRY MIZE
Columbus, Ga.
Turned pro: 1980
Career earnings: $12,790,392 (PGA + Champions)
Years at Georgia Tech: 1975-79
High School: unknown
Status: PGA Tour Champions
Last Week
did not play
n/a
Schwab Cup Rank
80
Earnings
$77,983
CHRIS PETEFISH
Danville, Calif.
Turned pro: 2018
Career earnings: $28,295 (combined)
Years at Georgia Tech: 2014-18
High School: Scottsdale [Ariz.] Christian Academy
Status: Developmental tours
Last Week
T-14 (MacKenzie Tour)
67-69-72-66—274 (-10)
Money Ranking
180 (KFT)/95 (MT)
Earnings
$28,295 (combined)
MICHAEL PISCIOTTA
Alpharetta, Ga.
Turned pro: 2018
Career earnings: n/a
Years at Georgia Tech: 2014-18
High School: Alpharetta
Status: Developmental tours
Last Week
T-32 (APT)
70-73-73-70—286 (-1)
Money Ranking
64 (SWT)/157 (APT)
Earnings
$1,243
SETH REEVES
Duluth, Ga.
Turned pro: 2014
Career earnings: $309,588
Years at Georgia Tech: 2010-14
High School: Peachtree Ridge
Status: PGA Tour
Last week
missed cut
73-69—142 (+2)
Points Ranking
188
Earnings
$309,588
OLLIE SCHNIEDERJANS
Powder Springs, Ga.
Turned pro: 2015
Career earnings: $3,879,653
Years at Georgia Tech: 2011-15
High School: Harrison
Status: PGA Tour
Last Week
did not play
n/a
Points Ranking
180
Earnings
$411,682
NICHOLAS THOMPSON
Coral Springs, Fla.
Turned pro: 2005
Career earnings (PGA+Korn Ferry): $6,585,132
Years at Georgia Tech: 2001-05
High School: Stoneman Douglas
Status: Korn Ferry Tour
Last Week
T-47
71-65-71-69—276 (-4)
Points Ranking
100
Earnings
$47,465
CAMERON TRINGALE
Laguna Niguel, Calif.
Turned pro: 2009
Career earnings: $10,919,704
Years at Georgia Tech: 2005-09
High School: Mission Viejo
Status: PGA Tour
Last Week
did not play
n/a
Points Ranking
101
Earnings
$1,049,106
RICHY WERENSKI
South Hadley, Mass.
Turned pro: 2014
Career earnings: $2,829,700
Years at Georgia Tech: 2011-14
High School: Heritage Academy (Hilton Head, S.C.)
Status: PGA Tour
Last Week
T-39
68-68-68-66—270 (-10)
Points Ranking
126
Earnings
$851,329
VINCENT WHALEY
Fayetteville, Ga.
Turned pro: 2017
Career earnings: $149,333
Years at Georgia Tech: 2013-17
High School: McKinney Boyd
Status: Korn Ferry Tour
Last Week
T-47
69-68-70-69—276 (-4)
Points Ranking
22
Earnings
$149,333