THE FLATS – Cink, Duval, Kuchar competing in Open Championship's historic return to Royal Portrush … Jackets go 7-for-7 in cuts made at the John Deere Classic, while Cameron Tringale shares 54-hole lead … more in this week's #ProJackets Report.
Georgia Tech's most veteran PGA Tour players are participating in golf history this week, traveling to Northern Ireland this week to play the 148th Open Championship, which returns to the country for the first time in 68 years.
It is the 10th anniversary of Stewart Cink's 2009 victory over Tom Watson at Turnberry, and 18 years since David Duval ascended to the top of the golf world at the height of his career with his 2001 triumph at Royal Lytham and St. Anne's.
Matt Kuchar, playing in his 15th Open Championship and exempt into the field by virtue of his No. 13 ranking in the world, has finished in the top 10 each of the past two years at Royal Birkdale and Carnoustie. He led The 146th Open at Royal Birkdale with five holes to play, but Jordan Spieth's spectacular finish snatched away a first Major title from a player who has had four top eight finishes in the Masters since 2011 and seven further major top 10s, plus a bronze medal on golf's return to the Olympics in 2016.
With two victories and eight top-10 finishes this year on the PGA Tour, Kuchar sits atop the FedEx Cup points list and is facing his closest two competitors, Brooks Koepka and Rory McIlroy, for the first time since the U.S. Open in June. He prepped for this season's final major last week at the Scottish Open, where he tied for 20th place (-16).
Cink, playing in his 21st Open, tied for 24th last year at Carnoustie and has finished 30th or higher four times since his 2009 victory. He will always be remembered as the man who prevented 59-year-old Tom Watson becoming the oldest-ever winner of a major title at The Open at Turnberry in 2009. Three behind with a round to go, Cink birdied the final hole from 16 feet before Watson bogeyed it to fall into a tie. He then dominated the four-hole play-off, winning it by six strokes, for the high point of a career which has brought five Ryder Cup caps, most recently in 2010, and four winning Presidents Cup appearances.
Only recently returned to action following a long layoff to heal an ailing back, Cink made the cut at the Rocket Mortgage Classic and the John Deere Classic the last two weeks.
Duval, playing his 23rd Open Championship, won the title in his sixth try in. He closed with rounds of 65 and 67 at Royal Lytham and St. Annes and came from seven shots off the lead at the halfway mark to his first major victory by a three-stroke margin. He was America's leading money winner three years earlier and the following season twice took the world No.1 spot away from Tiger Woods, made his Ryder Cup debut and also became only the third player to score 59 on the PGA Tour – and the first to do it with a final hole eagle to win the tournament. He has 11 top-10 finishes in majors.
Duval prepped last week by competing in and serving as an unofficial host of the inaugural TPC Colorado Open on the Korn Ferry Tour.
Kuchar's playing trio for the first two rounds includes Jon Rahm of Spain and American Patrick Cantlay. Duval is paired for the first two rounds with Zach Johnson of the United States and Corey Connors of Canada, while Cink will compete with South African Rory Sabbatini and Inchoon Hwang of Japan.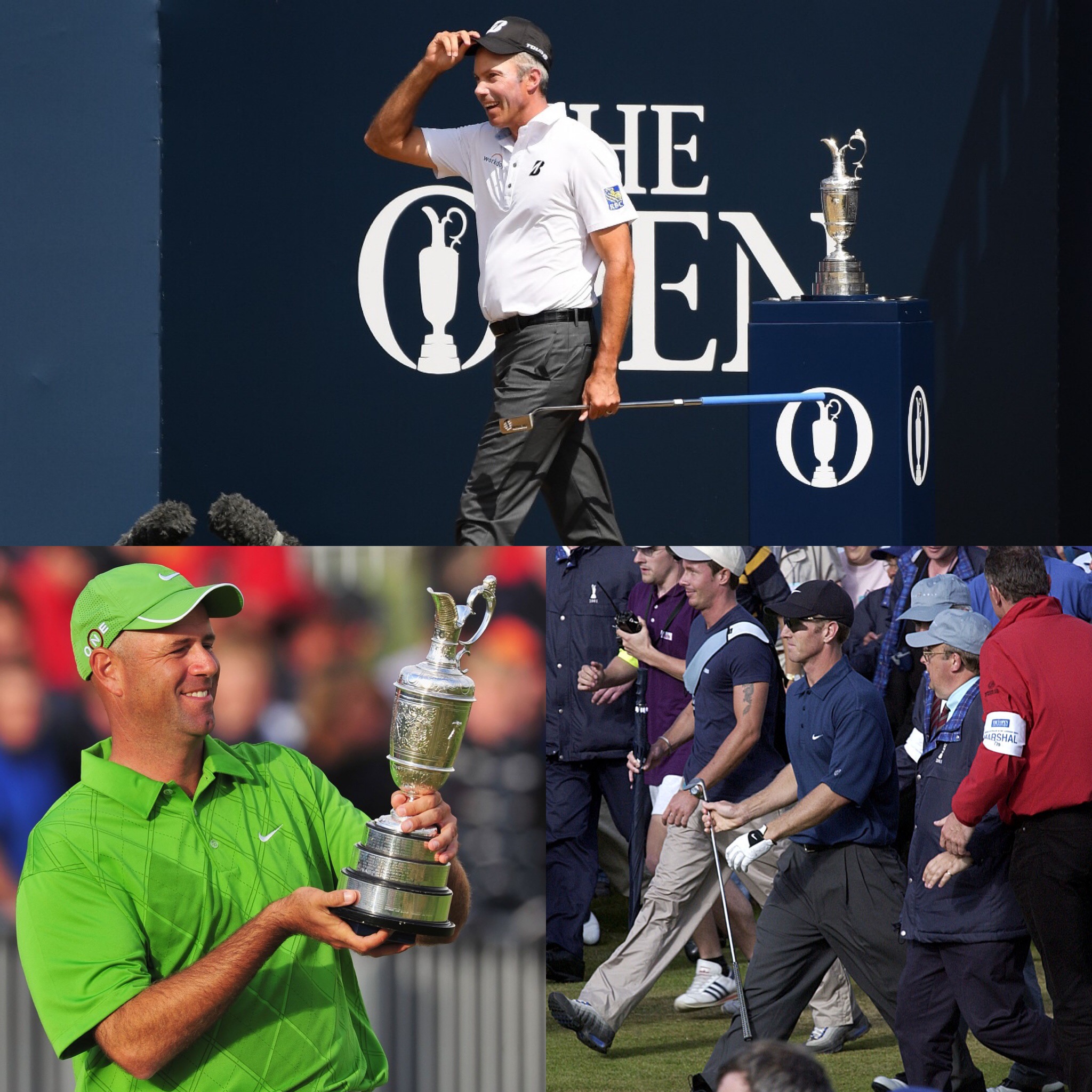 PGA Tour:  Meanwhile, many of Georgia Tech's other PGA Tour players are in Kentucky for the Barbasol Championship, where FedEx Cup positioning is becoming critical with three events remaining in the regular season. The top 125 in points following the Wyndham Championship Aug. 1-4 in Greensboro, N.C., not only advance to the playoffs, but keep their PGA Tour playing privileges for 2019-20.
Matt Kuchar currently sits atop the points list, and the player holding that position at the end of the Tour Championship in Atlanta (Aug. 22-25) receives a $15 million prize. An additional $10 million bonus, called the Wyndham Rewards top 10, will be split among the players who finish 1 through 10 following the Wyndham Championship.
Currently, Chesson Hadley (No. 70), Cameron Tringale (No. 97) and Richy Werenski (No. 122) are the only other Yellow Jackets currently inside the top 125. Roberto Castro, who regained his PGA Tour card with a standout regular season on the Korn Ferry Tour in 2018, sits at No. 134.
Tringale, who has finished outside the top 125 the least three years but regained his card in the Korn Ferry Tour finals, has jumped 23 spots in the last three weeks, tying for fifth at the Rocket Mortgage Championship, 42ns at the 3M Open and 16th at the John Deere Classic, combined to score 42-under-par. The three-time All-American, who won an ACC title as a freshman, shared the 54-hole lead last weekend at the John Deere Classic in an attempt to win his first PGA Tour event, but fell back with a finishing 73.
Castro moved up 10 spots last weekend with a tie for 26th at the John Deere Classic, and has broken 70 in his last eight rounds.
Korn Ferry Tour (formerly Web.com Tour):  With four events remaining in the regular season, Vincent Whaley remains the only former Yellow Jacket in position to earn a PGA Tour card for 2018-19, sitting at No. 18 in Korn Ferry Tour points after missing the cut at least weekend's TPC Colorado Open event. The top 25 in points at the end of the regular season are awarded PGA Tour privileges for next season, while the top 75 maintain their status on the Korn Ferry Tour and play in the Finals. Paul Haley II, who finished 70th last weekend, sits at No. 62 on the points list.
Nicholas Thompson, who tied for 44th in Colorado, ranks No. 105, while J.T. Griffin is No. 107.
Elsewhere:  Larry Mize tied for 52nd place (293, +13) at the Bridgestone Senior Players Championship last weekend in Akron, Ohio, and stands 78th in Charles Schwab Cup points … Chris Petefish got a start on the MacKenzie Tour (PGA Tour Canada) last week and tied for 57th at the Osprey Valley Open (283, -5). Petefish has also made three starts on the Korn Ferry Tour this year, making two cuts … James Clark picked up his first paycheck as a pro last week at the GPro Tour's Kannapolis Open, tying for 22nd and earning $1,047 at a course he played as a collegian, the Club at Irish Creek.
| | | |
| --- | --- | --- |
| FedEx Cup Points Update |   | Korn Ferry Points Update |
| Matt Kuchar (1) | | Vincent Whaley (18) |
| Chesson Hadley (70) | | Paul Haley II (62) |
| Cameron Tringale (97) | | Nicholas Thompson (105) |
| Richy Werenski (122) | | J.T. Griffin (108) |
| Roberto Castro (134) | | Chris Petefish (186) |
| Anders Albertson (171) | | |
| Ollie Schniederjans (174) | | |
| Stewart Cink (183) | | |
| Seth Reeves (184) | | |
UPCOMING EVENTS
Majors:  The Open Championship • July 18-21, 2019 • Royal Portrush Golf Club • Royal Portrush, Northern Ireland • Purse: $10,750,000 • FedExCup Points: 600
PGA Tour:  Barbasol Championship • July 18-21, 2019 • Keene Trace Golf Club • Nicholasville, Ky. • Purse: $3,500,000 • FedExCup Points: 300
Web.com Tour:  Pinnacle Bank Championship • July 18-21, 2019 • The Club at Indian Creek • Omaha, Neb. • Purse: $600,000
PGA Tour Champions:  The Senior Open Championship • July 25-28, 2019 • Royal Lytham and St. Anne's • Lancashire, England • Purse: $2,000,000
Mackenzie Tour:  HFX Pro-Am • July 18-21, 2019 • Oakfield Golf and Country Club • Halifax, Nova Scotia • Purse: $200,000
PGA Tour China:  Guangzhou Open • July 20-23, 2019 • Nansha Golf Club • Guangzhou
All Pro Tour:  Colbert Charity Classic • July 17-20, 2019 • Colbert Hills Golf Club • Manhattan, Kan. • Purse: $125,000
SwingThought Tour:  Tanglewood Golf Club • July 26, 2019 • Clemmons, N.C.
G Pro Tour:  Greenville Open • July 16-18, 2019 • Brook Valley Country Club • Greenville, N.C.
PLAYER

LAST WEEK

SEASON STATS
ANDERS ALBERTSON
Woodstock, Ga.
Turned pro: 2015
Career earnings: $413,256
Years at Georgia Tech: 2011-15
High School: Etowah
Status: PGA Tour
Last Week
MDF
72-66-74—212 (-1)
Points Ranking
171
Earnings
$401,976
ROBERTO CASTRO
Alpharetta, Ga.
Turned pro: 2007
Career earnings: $7,215,881
Years at Georgia Tech: 2003-07
High School: Milton
Status: PGA Tour
Last Week
T-26
68-68-69-67—272 (-12)
Points Ranking
134
Earnings
$622,296
STEWART CINK
Duluth, Ga.
Turned pro: 1995
Career earnings: $37,579,171
Years at Georgia Tech: 1991-95
High School: Bradshaw (Florence, Ala.)
Status: PGA Tour
Last Week
T-63
68-66-73-72—279 (-5)
Points Ranking
183
Earnings
$276,658
JAMES CLARK
Columbus, Ga.
Turned pro: 2019
Career earnings: n/a
Years at Georgia Tech: 2014-19
High School: Brookstone
Status: Developmental tours
Last Week
T-22 (GPro)
65-73-69—207 (-6)
Money ranking
T-130
Earnings
$1,047
DREW CZUCHRY
Auburn, Ga.
Turned pro: 2015
Career earnings: n/a
Years at Georgia Tech: 2010-14
High School: home schooled
Status: Developmental tours
Last Week
did not play
n/a
Money ranking
75 (GPro)
Earnings
$2,425
DAVID DUVAL
Denver, Colo.
Turned pro: 1993
Career earnings: $19,196,243
Years at Georgia Tech: 1989-93
High School: Jacksonville (Fla.) Episcopal
Status: no status
Last Week
missed cut (Korn Ferry)
77-72—149 (+5)
Points ranking
n/a
Earnings
n/a
J.T. GRIFFIN
Wilson, N.C.
Turned pro: 2011
Career earnings: $53,241
Years at Georgia Tech: 2007-11
High School: Fike
Status: Korn Ferry Tour
Last Week
missed cut
73-72—145 (+1)
Points ranking
107
Earnings
$32,345
CHESSON HADLEY
Raleigh, N.C.
Turned pro: 2010
Career earnings: $7,557,823
Years at Georgia Tech: 2006-10
High School: North Raleigh Christian Academy
Status: PGA Tour
Last Week
did not play
n/a
Points Ranking
70
Earnings
$1,363,914
SHUN YAT HAK
Hong Kong, China
Turned pro: 2013
Career earnings: ¥251,305 (PGA Tour China)
Years at Georgia Tech: 2012-13
High School: Lake Mary (Fla.) Prep
Status: PGA Tour China/Developmental
Last Week
did not play
n/a
Order of Merit ranking
37
Earnings
¥103,192
PAUL HALEY II
Dallas, Texas
Turned pro: 2011
Career earnings (Korn Ferry): $343,159
Years at Georgia Tech: 2007-11
High School: Highland Park
Status: Korn Ferry Tour
Last Week
70
72-71-74-74—291 (+3)
Points Ranking
62
Earnings
$67,974
MATT KUCHAR
Sea Island, Ga.
Turned pro: 2000
Career earnings: $49,874,171
Years at Georgia Tech: 1997-2000
High School: Seminole (Lake Mary, Fla.)
Status: PGA Tour
Last Week
T-20 (Scottish Open)
63-70-67-68—268 (-16)
Points Ranking
1
Earnings
$6,166,194
TROY MATTESON
Austin, Texas
Turned pro: 2003
Career earnings: $10,111,266 (PGA+Web)
Years at Georgia Tech: 2000-03
High School: L.C. Anderson
Status: no status
Last Week
did not play
n/a
Points Ranking
n/a
Earnings
n/a
LARRY MIZE
Columbus, Ga.
Turned pro: 1980
Career earnings: $12,790,392 (PGA + Champions)
Years at Georgia Tech: 1975-79
High School: unknown
Status: PGA Tour Champions
Last Week
T-52
76-75-72-70—293 (+13)
Schwab Cup Rank
78
Earnings
$77,983
CHRIS PETEFISH
Danville, Calif.
Turned pro: 2018
Career earnings: $23,128 (combined)
Years at Georgia Tech: 2014-18
High School: Scottsdale [Ariz.] Christian Academy
Status: Developmental tours
Last Week
T-57 (MacKenzie Tour)
66-72-77-68—283 (-5)
Money Ranking
T19 (APT)/53 (SWT)/180 (KFT)/150 (MT)
Earnings
$17,465 (combined)
MICHAEL PISCIOTTA
Alpharetta, Ga.
Turned pro: 2018
Career earnings: n/a
Years at Georgia Tech: 2014-18
High School: Alpharetta
Status: Developmental tours
Last Week
did not play
n/a
Money Ranking
64 (SWT)
Earnings
$338
SETH REEVES
Duluth, Ga.
Turned pro: 2014
Career earnings: $300,418
Years at Georgia Tech: 2010-14
High School: Peachtree Ridge
Status: PGA Tour
Last week
MDF
71-68-72—211 (-2)
Points Ranking
184
Earnings
$300,418
OLLIE SCHNIEDERJANS
Powder Springs, Ga.
Turned pro: 2015
Career earnings: $3,879,653
Years at Georgia Tech: 2011-15
High School: Harrison
Status: PGA Tour
Last Week
T-47
67-70-70-68—275 (-9)
Points Ranking
174
Earnings
$411,682
NICHOLAS THOMPSON
Coral Springs, Fla.
Turned pro: 2005
Career earnings (PGA+Korn Ferry): $6,571,142
Years at Georgia Tech: 2001-05
High School: Stoneman Douglas
Status: Korn Ferry Tour
Last Week
T-44
69-70-75-71—285 (-3)
Points Ranking
105
Earnings
$33,475
CAMERON TRINGALE
Laguna Niguel, Calif.
Turned pro: 2009
Career earnings: $10,877,104
Years at Georgia Tech: 2005-09
High School: Mission Viejo
Status: PGA Tour
Last Week
T-16
66-66-65-73—270 (-14)
Points Ranking
97
Earnings
$1,006,506
RICHY WERENSKI
South Hadley, Mass.
Turned pro: 2014
Career earnings: $2,764,410
Years at Georgia Tech: 2011-14
High School: Heritage Academy (Hilton Head, S.C.)
Status: PGA Tour
Last Week
T-47
69-69-68-69—275 (-9)
Points Ranking
122
Earnings
$786,039
VINCENT WHALEY
Fayetteville, Ga.
Turned pro: 2017
Career earnings: $145,669
Years at Georgia Tech: 2013-17
High School: McKinney Boyd
Status: Korn Ferry Tour
Last Week
missed cut
72-73-145 (+1)
Points Ranking
18
Earnings
$145,669