Waikoloa, Hawai'i  – Luke Schniederjans shot a 1-under-par 71 to lead No. 2 Georgia Tech, and the Yellow Jackets closed with a 2-over-par 290 Saturday in the final round and tied for eighth place at the Amer Ari Intercollegiate at the Waikoloa Resort.
TECH LINEUP – Schniederjans, a junior from Powder Springs, Ga., had four birdies and three bogeys in his final round and finished 54 holes at 6-under-par 210 to tie for 18th place individually. Sophomore Noah Norton (Chico, Calif.) shot even-par 72 Saturday, while junior Tyler Strafaci (Davie, Fla.) carded a 73 and junior Andy Ogletree (Little Rock, Miss.) a 74 to complete the Yellow Jackets' scoring. Fifth-year senior James Clark (Columbus, Ga.) shot 75.
Ogletree finished the tournament at 4-under-par 212 and tied for 24th place, while Norton tied for 30th at 3-under-par 213. Strafaci tied for 54th at 1-over-par 217, and Clark tied for 66th at 219 (+3).
Freshman Connor Howe (Ogden, Utah) shot 71 Saturday and tied for 30th place at 213 (-3). He finished with the second-low score among the 19 players competing as individuals.
Throughout the tournament, Tech struggled to score low on the par-5 holes, finishing next to last (-9) in par-5 scoring in the field. TCU and Southern California, by comparison, finished at 30-under-par on the par-5 holes. The Jackets were No. 1, conversely, in par-3 scoring (-4).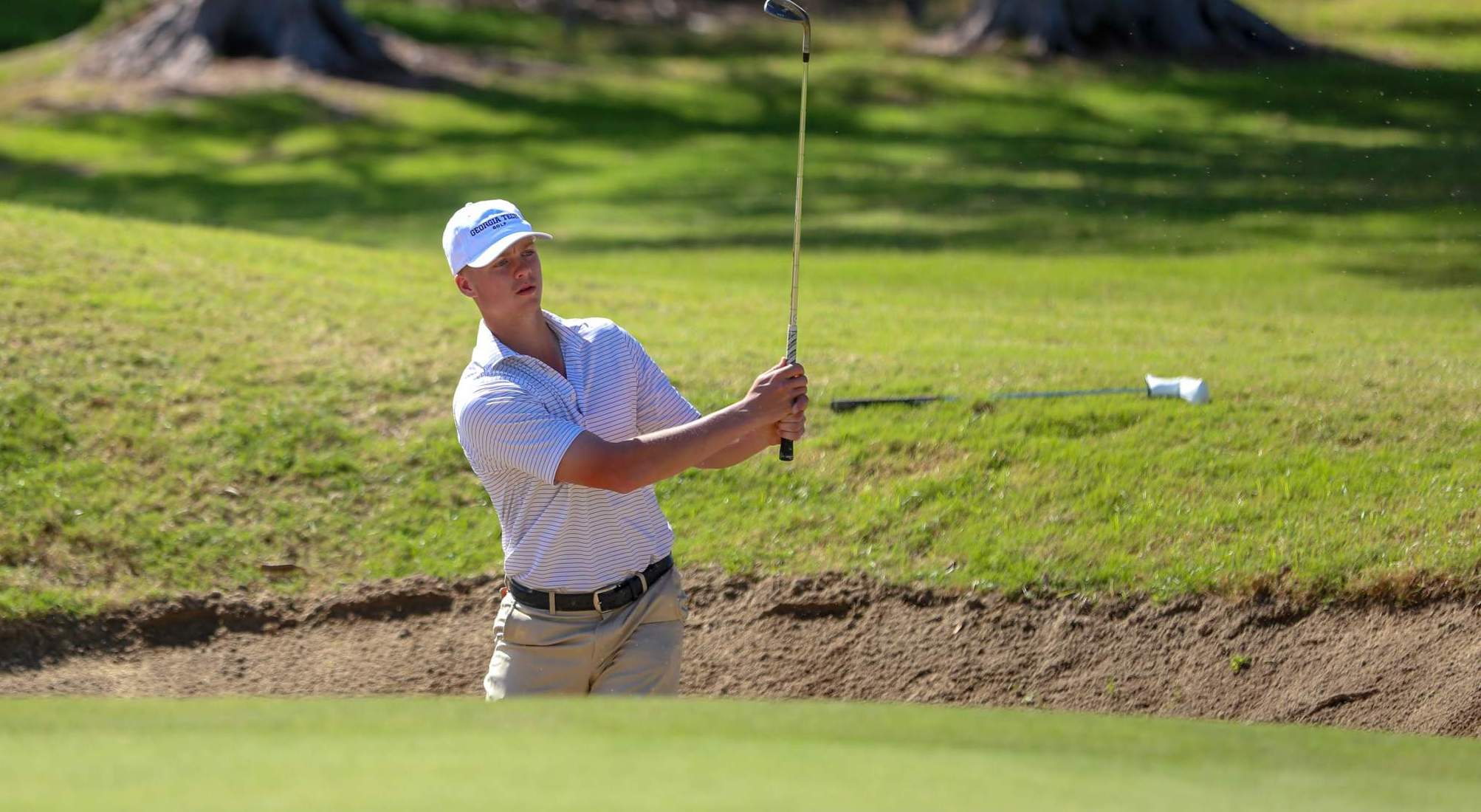 Freshman Connor Howe tied for 30th place at 3-under-par 213.
TEAM LEADERBOARD – Top-ranked Oklahoma State continued its mastery of the 7,074-yard, par-72 Kings' Course at Waikoloa Resort, posting an 11-under-par 277 Saturday and finishing 54 holes at 817 (47-under-par). The Cowboys finished 10 strokes ahead of No. 16 Auburn, which posted the day's best round at 14-under-par 274 and completed the tournament at 37-under-par 827. No. 14 Texas (-14 Friday) was another two strokes back in third place at 829 (-35).
Oklahoma State was 17-under-par on the par-4 holes, 12 shots better than second-place Auburn.
No. 8 Southern California and Oregon tied for fourth place at 834 (-30), followed by Texas Tech at 835 (-29) and TCU at 850 (-14). Georgia Tech and Oregon State were tied for eighth place at 851 (-13).
INDIVIDUAL LEADERBOARD – Three Oklahoma State Cowboys finished among the top eight on the individual leaderboard, led by medalist Matthew Wolff, who shot 69-64-65 for a 54-hole total of 198 (-18), three shots clear of teammate Zach Bachou and Oregon's Edwin Yi, who tied at 201 (-15).
Southern California's Justin Suh and Texas' Cole Hammer tied for fourth at 203 (-13), with Oregon's Sam Foust and Tracy Crowe tied for sixth at 204 (-12). The Cowboys' Viktor Hovland finished alone in eighth place at 205 (-11).
HEAD COACH BRUCE HEPPLER SAYS: "We had another disappointing round again today, given some of the low scores other teams shot. The story for us all weekend was not being able to score well on the par-5 holes."
TOURNAMENT INFORMATION – Georgia Tech has appeared 21 times in the Amer Ari Intercollegiate, which has been the traditional spring opener for the Yellow Jackets every year since 1999, with one exception. The 28th annual event is a 54-hole, 5-count-4 stroke-play tournament played at the 7,074-yard, par 72 Kings Course at the Waikoloa Beach Resort on the Kona Coast of Hawai'i.
The Yellow Jackets have won this event five times, all between 2000 and 2007, and six Yellow Jackets have won or shared the individual title, including Matt Kuchar (shared title in 2000 and 2001), Carlton Forrester (shared title in 2000), Bryce Molder (shared title in 2001), Troy Matteson (2003) and Cameron Tringale (2007).
The 18-team field boasts six of the nation's top 25 teams (No. 1 Oklahoma State, No. 2 Georgia Tech, No. 8 Southern California, No. 11 Arizona State, No. 14 Texas, No. 16 Auburn), and three other top-50 teams in Texas Tech (No. 29), Stanford (No. 31) and Oregon (No. 45). No. 55 San Jose State, No. 73 Colorado, No. 74 Utah, No. 75 Oregon State and No. 76 UC Davis also are competing.