THE FLATS – Chesson Hadley and Roberto Castro make it to the weekend at Valspar Championship … Paul Haley II and Vincent Whaley play the weekend on Web.com Tour … Tour split this week with WGC event in Austin, Texas, PGA Tour event in the Dominican Republic … this and more in the Georgia Tech #ProJackets Golf Report.
The difficult Copperhead course at Innisbrook Resort claimed five of the seven Yellow Jackets in the Valspar Championship last weekend, as only Chesson Hadley and Roberto Castro made the 36-hole cut. Castro stayed around the top 10 through Saturday but dropped from contention with a Sunday 81 and tied for 68th, while Hadley also struggled on the final day with a 77, finishing tied for 65th.
Three Jackets – Stewart Cink, Ollie Schniederjans and Richy Werenski – missed the 36-hole cut by a single stroke.
Seth Reeves and Cameron Tringale, who also missed the cut at Innisbrook last weekend, continue this week at the Corales Puntacana Resort and Club Championship in the Dominican Republic along with Anders Albertson, who returns after a week off. David Duval and Troy Matteson, who continue to compete on an occasional basis, are in the field as well, with Duval making his third start of 2019 and Matteson his second.
Matt Kuchar is back from a one-week break to compete in the Dell Technologies Match Play, the third World Golf Championship event of the 2018-19 season, in Austin, Texas. Currently ranked 24th in the world, Kuchar took home one of his nine career titles in this event in 2013 when it was played at the Golf Club at Dove Mountain in Marana, Ariz.
Based on his two career victories this season and his Official World Golf Ranking, Kuchar is one of two former Tech stars exempt into the U.S. Open, along with Cink, who gained his exemption by tying for fourth at last year's PGA Championship. For the first time since 2011, any player winning multiple PGA Tour events since last year's U.S. Open is exempt from qualifying, provided those events awarded full FedEx Cup points. Kuchar became the first player to be exempt for Pebble Beach because of his victories at the Mayakoba Classic and Sony Open (though he has moved up high enough in the world ranking he would have been exempt, anyway).
Cink and Kuchar also are both in the field for the Masters, entry gained via the same qualifications, along with 1987 champion Larry Mize.
Web.com Tour:  Paul Haley II looked like he might be on the way to his second career Web.com Tour victory last Thursday when he opened the Chitimacha Louisiana Open with a 64, matching his career low. But he was unable to keep up the pace and finished the tournament at 11-under-par 273, the second-best 72-hole score of his Web.com Tour career. It broke a streak of four straight missed cuts and stopped a free fall from a solid opening performance in the Bahamas back in January.
Vincent Whaley, No. 9 on the Web.com points list, was the only other Jacket to make the cut, tying for 41st at 275 (-9).
| | | |
| --- | --- | --- |
| FedEx Cup Points Update |   | Web.com Points Update |
| Matt Kuchar (3) | | Vincent Whaley (9) |
| Chesson Hadley (44) | | J.T. Griffin (50) |
| Richy Werenski (72) | | Paul Haley II (92) |
| Anders Albertson (113) | | Nicholas Thompson (110) |
| Roberto Castro (121) | | |
| Stewart Cink (147) | | |
| Ollie Schniederjans (166) | | |
| Seth Reeves (174) | | |
| Cameron Tringale (183) | | |
UPCOMING EVENTS
World Golf Championships:  Dell Technologies Match Play • March 28-31, 2019 • Austin Country Club • Austin, Texas • Purse: $10,250,000 • FedExCup Points: 550
PGA Tour:  Corales Puntacana Resort & Club Championship • March 28-31, 2019 • Corales Golf Club • Punta Cana, Dominican Republic. • Purse: $3,000,000 • FedExCup Points: 300
Web.com Tour:  Savannah Golf Championship • March 28-31, 2019 • Landings Club-Deer Creek Golf Club • Savannah, Ga. • Purse: $550,000
PGA Tour Champions:  Rapiscan Systems Classic • March 29-31, 2019 • Fallen Oak Golf Club • Biloxi, Miss. • Purse: $1,600,000
Mackenzie Tour:  MacKenzie Tour Q-School – USA West 1 • March 26-29, 2019 • Carlton Oaks Country Club • Santee, Ca. • Purse: n/a
PGA Tour China:  qualifying events in progress
All (formerly Adams) Pro Tour:  Mary Bird Perkins TGMC Golf Classic • April 10-13, 2019 • Ellendale Country Club • Houma, La. • Purse: $125,000
Swing Thought Tour:  Sapelo Hammock Golf Club • March 27-29, 2019 • Shellman Bluff, Ga.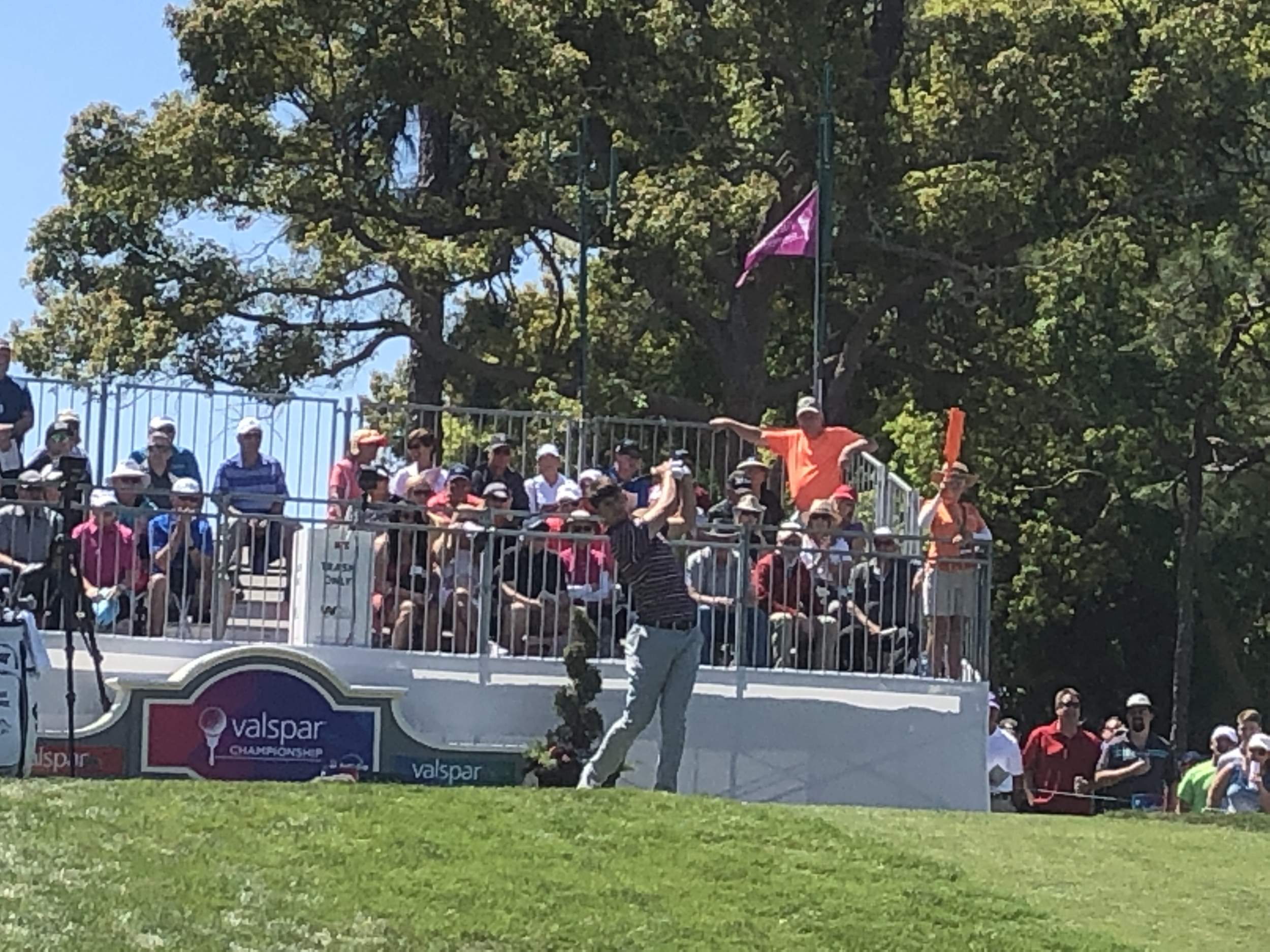 PLAYER

LAST WEEK

SEASON STATS
ANDERS ALBERTSON
Woodstock, Ga.
Turned pro: 2015
Career earnings: $362,088
Years at Georgia Tech: 2011-15
High School: Etowah
Status: PGA Tour
Last Week
did not play
n/a
2018 Money rank
113
Earnings
$350,808
ROBERTO CASTRO
Alpharetta, Ga.
Turned pro: 2007
Career earnings: $6,942,587
Years at Georgia Tech: 2003-07
High School: Milton
Status: PGA Tour
Last Week
T-68
68-71-73-81—293 (+9)
2018 Money Rank
121
Earnings
$369,002
STEWART CINK
Duluth, Ga.
Turned pro: 1995
Career earnings: $37,551,851
Years at Georgia Tech: 1991-95
High School: Bradshaw (Florence, Ala.)
Status: PGA Tour
Last Week
missed cut
70-74—144 (+2)
2018 FedEx Cup Rank
147
Earnings
$249,338
DREW CZUCHRY
Auburn, Ga.
Turned pro: 2015
Career earnings: n/a
Years at Georgia Tech: 2010-14
High School: home schooled
Status: Developmental tours
Last Week
did not play
n/a
Money rank
n/a
Earnings
n/a
DAVID DUVAL
Denver, Colo.
Turned pro: 1993
Career earnings: $19,196,243
Years at Georgia Tech: 1989-93
High School: Jacksonville (Fla.) Episcopal
Status: no status
Last Week
did not play
n/a
2018 FedEx Cup Rank
n/a
Earnings
n/a
J.T. GRIFFIN
Wilson, N.C.
Turned pro: 2011
Career earnings: $42,896
Years at Georgia Tech: 2007-11
High School: Fike
Status: Web.com Tour
Last Week
missed cut
74-67—141 (-1)
Money rank
50
Earnings
$20,896
CHESSON HADLEY
Raleigh, N.C.
Turned pro: 2010
Career earnings: $7,229,445
Years at Georgia Tech: 2006-10
High School: North Raleigh Christian Academy
Status: PGA Tour
Last Week
T-65
74-69-70-77—290 (+6)
2018 FedEx Cup Rank
44
Earnings
$1,035,535
SHUN YAT HAK
Hong Kong, China
Turned pro: 2013
Career earnings: ¥251,305 (PGA Tour China)
Years at Georgia Tech: 2012-13
High School: Lake Mary (Fla.) Prep
Status: PGA Tour China/Developmental
Last Week
did not play
n/a
2018 Order of Merit
n/a
Earnings
$0
PAUL HALEY II
Dallas, Texas
Turned pro: 2011
Career earnings (Web.com): $283,124
Years at Georgia Tech: 2007-11
High School: Highland Park
Status: Web.com Tour
Last Week
T-32
64-73-66-70—273 (-11)
Web.com Points Rank
92
Earnings
$7,930
MATT KUCHAR
Sea Island, Ga.
Turned pro: 2000
Career earnings: $46,834,285
Years at Georgia Tech: 1997-2000
High School: Seminole (Lake Mary, Fla.)
Status: PGA Tour
Last Week
did not play
n/a
2018 FedEx Cup Rank
3
Earnings
$3,126,308
TROY MATTESON
Austin, Texas
Turned pro: 2003
Career earnings: $10,111,266 (PGA+Web)
Years at Georgia Tech: 2000-03
High School: L.C. Anderson
Status: no status
Last Week
did not play
n/a
2018 FedEx cup Rank
n/a
Earnings
n/a
LARRY MIZE
Columbus, Ga.
Turned pro: 1980
Career earnings: $12,734,264 (PGA + Champions)
Years at Georgia Tech: 1975-79
High School: unknown
Status: PGA Tour Champions
Last Week
did not play
n/a
2018 Schwab Cup Rank
61
Earnings
$21,755
CHRIS PETEFISH
Danville, Calif.
Turned pro: 2018
Career earnings: $4,180
Years at Georgia Tech: 2014-18
High School: Scottsdale [Ariz.] Christian Academy
Status: Developmental tours
Last Week
did not play
n/a
2018 Money Rank
n/a
Earnings
n/a
MICHAEL PISCIOTTA
Alpharetta, Ga.
Turned pro: 2018
Career earnings: n/a
Years at Georgia Tech: 2014-18
High School: Alpharetta
Status: Developmental tours
Last Week
did not play
n/a
2018Money Rank
n/a
Earnings
n/a
SETH REEVES
Duluth, Ga.
Turned pro: 2014
Career earnings: $200,854
Years at Georgia Tech: 2010-14
High School: Peachtree Ridge
Status: PGA Tour
Last week
missed cut
75-72—147 (+5)
2018 Money rank
174
Earnings
$200,854
OLLIE SCHNIEDERJANS
Powder Springs, Ga.
Turned pro: 2015
Career earnings: $3,757,580
Years at Georgia Tech: 2011-15
High School: Harrison
Status: PGA Tour
Last Week
missed cut
70-74—144 (+2)
2018 FedEx Cup rank
166
Earnings
$289,610
NICHOLAS THOMPSON
Coral Springs, Fla.
Turned pro: 2005
Career earnings (PGA + Web.com): $6,543,864
Years at Georgia Tech: 2001-05
High School: Stoneman Douglas
Status: Web.com Tour
Last Week
missed cut
74-69—143 (+1)
Web.com Points Rank
110
Earnings
$6,612
CAMERON TRINGALE
Laguna Niguel, Calif.
Turned pro: 2009
Career earnings: $9,976,267
Years at Georgia Tech: 2005-09
High School: Mission Viejo
Status: PGA Tour
Last Week
missed cut
72-74—146 (+4)
2018 FedEx Cup Rank
183
Earnings
$105,669
RICHY WERENSKI
South Hadley, Mass.
Turned pro: 2014
Career earnings: $2,620,822
Years at Georgia Tech: 2011-14
High School: Heritage Academy (Hilton Head, S.C.)
Status: PGA Tour
Last Week
missed cut
74-70—144 (+2)
2018 FedEx Cup rank
72
Earnings
$642,452
VINCENT WHALEY
Fayetteville, Ga.
Turned pro: 2017
Career earnings: $88,155
Years at Georgia Tech: 2013-17
High School: McKinney Boyd
Status: Web.com Tour
Last Week
T-41
70-70-67-68—275 (-9)
Web.com Points Rank
9
Earnings
$88,155
---