THE FLATS – Cameron Tringale, Stewart Cink and Richy Werenski all played the weekend at the Farmers Insurance Open … Matt Kuchar returns to action this week in Phoenix … more in this week's Georgia Tech #ProJackets Report.
Three of Georgia Tech's veteran players made it to the weekend at iconic Torrey Pines Golf Club last weekend at the Farmers Insurance Open, the second stop on the PGA Tour's West Coast swing. There were no high finishes – Tringale led the way with a tie for 49th place at 286 (-2) – as all three players struggled on Saturday and Sunday while Marc Leishman captured a one-stroke victory.
Werenski made his second start since his return from a broken wrist suffered in the fall and made his first cut of 2020. He opened with rounds of 72-68 but faded to a tie for 74th place. He stands No. 74 in FedEx Cup points, while Tringale leads the Yellow Jacket contingent in 67th place.
Stewart Cink and Chesson Hadley missed the cut at the Farmers, and Hadley moves on to compete in this week's Waste Management Phoenix Open along with Tringale. Werenski is an alternate as of Monday.
Matt Kuchar, who didn't play in the two California events but won the Singapore Open, is back in action this week at the Waste Management, which is actually played at TPC Scottsdale in Scottsdale, Ariz. Kuchar contended for the lead after 54 holes in last year's event, but wound up in a tie for fourth place at 272 (-16), five shots off the pace after a closing 75.
Hadley also enjoyed a solid weekend tying for 20th place at 12-under-par 276.
KORN FERRY TOUR
Ollie Schniederjans and Seth Reeves both missed the cut at least week's Great Abaco Classic in The Bahamas. Schniederjans was even par through 36 holes, two shots shy of the cut line. Reeves opened with a 78 and came up short trying to rally with a second-round 69.
Both players will move on along with the Korn Ferry Tour this weekend to the Panama Championship, where Paul Haley II and Nicholas Thompson will make their first starts of the 2020 season.
Five Georgia Tech players have varying degrees of status during the early part of the Korn Ferry schedule. Anders Albertson, as a previous winner on the tour, is fully exempt for 2020 after playing last season on the PGA Tour, but has not yet teed it up in 2020. J.T. Griffin and Haley finished one stroke out of the top 40 in the final stage of the qualifying event, while Thompson tied for 53rd. Schniederjans and Reeves also have conditional status after finishing between No. 125-200 in FedEx Cup points on the PGA Tour last season.
A career first this week for me @FarmersInsOpen. Driver off EVERY tee other than par threes. Both North and South courses. 56 drivers in one tournament. Never really even considered anything else off a single tee box. Glad I had a @PingTour G410 at my disposal!

— Stewart Cink (@stewartcink) January 27, 2020
UPCOMING EVENTS
PGA Tour:  Waste Management Phoenix Open • January 30-February 2, 2020 • TPC Scottsdale • Scottsdale, Ariz. • Purse: $7,300,000 • FedEx Cup points: 500
Web.com Tour:  Panama Championship • January 30-February 2, 2020 • Panama Golf Club • Panama City, Panama • Purse: $625,000
PGA Tour Champions:  Morocco Champions • January 30-February 1, 2020 • Samanah Golf Club • Marrakech, Morocco • Purse: $2,000,000
Mackenzie Tour:  qualifying schools in United States • March-April, 2020
PGA Tour China:  Sanya Championship • March 26-29, 2020 • Yalong Bay Golf Club • Sanya, Hainan
All Pro Tour:  Coke Dr. Pepper Open • March 11-14, 2020 • Oak Wing Golf Club/Links on the Bayou • Alexandria, La.
SwingThought Tour:  The Club at LaCosta • February 12-13, 2020 • San Diego, Calif.
G Pro Tour:  South Coast Bank Championship • February 4-6, 2020 • Frederica Golf Club • St. Simons, Ga.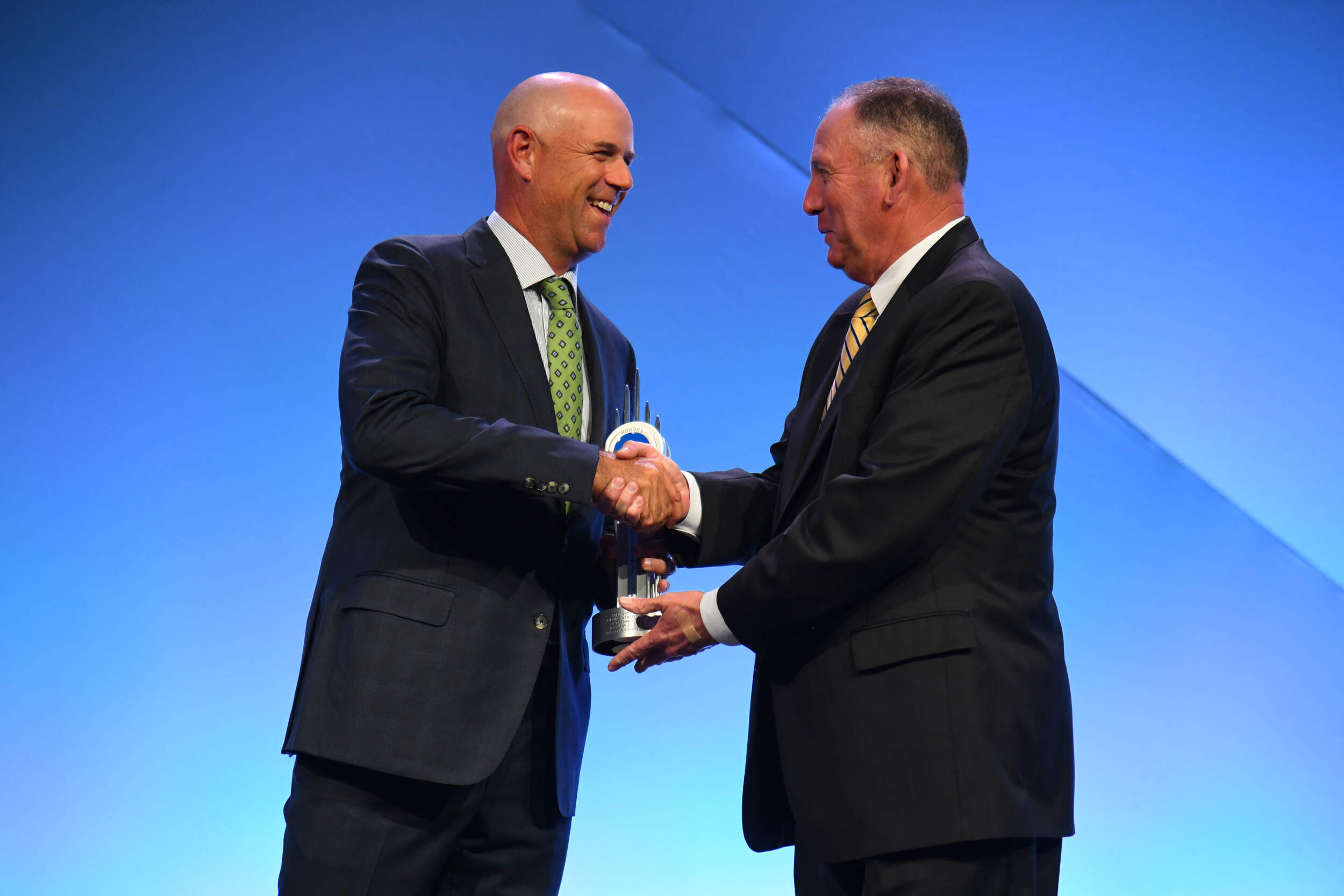 In between The American Express and Farmers Insurance Open events in California, Stewart Cink traveled to Anaheim to receive the NCAA Silver Anniversary Award.
PLAYER
PLAYER
LAST WEEK
DATA
ANDERS ALBERTSON
Hometown: Woodstock, Ga.
Turned pro: 2015
Years at Georgia Tech: 2011-15
Status: Korn Ferry Tour
Did not play
Points ranking: 49
YTD earnings: $106,387
Career earnings (KFT): $628,224
ROBERTO CASTRO
Hometown: Alpharetta, Ga.
Turned pro: 2007
Years at Georgia Tech: 2003-07
Status: PGA Tour
PGA Tour
Puerto Rico Open
T-39
69-73-71-69--282 (-6)
Points ranking: 225
YTD earnings: $10,962
Career earnings: $7,422,010
STEWART CINK
Hometown: Florence, Ala.
Residence: Duluth, Ga.
Turned pro: 1995
Years at Georgia Tech: 1991-95
Status: PGA Tour
Did not play
Points ranking: 14
YTD earnings: $1,637,765
Career earnings: $39,798,906
JAMES CLARK
Hometown: Columbus, Ga.
Turned pro: 2019
Years at Georgia Tech: 2014-19
Status: developmental tours
Did not play
Points ranking: 88
(GPro)
YTD earnings: $2,887.50 (GPro)
Career earnings: n/a
DREW CZUCHRY
Hometown: Auburn, Ga.
Turned pro: 2015
Years at Georgia Tech: 2010-14
Status: developmental tours
GPro Tour
Sea Palms Open
missed cut
75-68--143 (+1)
Points ranking: 130 (GPro)
YTD earnings: $1,800 (GPro)
Career earnings: n/a
DAVID DUVAL
Hometown: Ponte Vedra Beach, Fla.
Residence: Denver, Colo.
Turned pro: 1993
Years at Georgia Tech: 1989-93
Status: none
Did not play
Points ranking: n/a
YTD earnings: n/a
Career earnings: $18,893,931
J.T. GRIFFIN
Hometown: Wilson, N.C.
Residence: Marietta, Ga.
Turned pro: 2011
Years at Georgia Tech: 2007-11
Status: Korn Ferry Tour
SwingThought Tour
ST12 Brunswick Golf Club
T-6
68-67--135 (-7)
Points ranking: 78
YTD earnings: $79,133
Career earnings (KFT): $114,110
CHESSON HADLEY
Hometown: Raleigh, N.C.
Turned pro: 2010
Years at Georgia Tech: 2006-10
Status: PGA Tour
Did not play
Points ranking: 121
YTD earnings: $246,172
Career earnings: $8,330,906
SHUN YAT HAK
Hometown: Hong Kong
Turned pro: 2013
Years at Georgia Tech: 2012-13
Status: PGA Tour China
Did not play
Order of Merit: 56
YTD earnings: ¥113,512
Career earnings: ¥251,305
PAUL HALEY II
Hometown: Dallas, Texas
Turned pro: 2011
Years at Georgia Tech: 2007-11
Status: Korn Ferry Tour
Did not play
Points ranking: 43
YTD earnings: $121,626
Career earnings (KFT): $466,397
MATT KUCHAR
Hometown:
Lake Mary, Fla.
Residence: Sea Island, Ga.
Turned pro: 2000
Years at Georgia Tech: 1997-2000
Status: PGA Tour
WGC
Workday Championship at The Concession
T-44
73-72-69-76--290 (+2)
Points ranking: 171
YTD earnings: $171,195
Career earnings (PGAT): $51,689,447
TROY MATTESON
Hometown: Austin, Texas
Turned pro: 2003
Years at Georgia Tech: 2000-03
Status: none
Did not play
Points ranking: n/a
YTD earnings: n/a
Career earnings: $9,392,206
LARRY MIZE
Residence: Columbus, Ga.
Turned pro: 1980
Years at Georgia Tech: 1975-79
Status: PGA Tour Champions
PGA Tour Champions
Cologuard Classic
T-42
75-70-75--220 (+1)
Points ranking: n/a
YTD earnings: $147,670
Career earnings (Champions): $5,000,539
Career earnings (PGAT): $7,947,092
ANDY OGLETREE
Hometown: Little Rock, Miss.
Residence: Roswell, Ga.
Turned pro: 2020
Years at Georgia Tech: 2016-20
Status: none
Did not play
Points ranking: n/a
YTD earnings: 0
Career earnings (PGAT): 0
CHRIS PETEFISH
Hometown: Danville, Calif.
Turned pro: 2018
Years at Georgia Tech: 2014-18
Status: MacKenzie Tour
Did not play
Points ranking: n/a
YTD earnings: n/a
Career earnings (KFT): $5,280
Career earnings (MacKenzie): $16,280
MICHAEL PISCIOTTA
Hometown: Alpharetta, Ga.
Turned pro: 2018
Years at Georgia Tech: 2014-18
Status: Developmental tours
SwingThought Tour
ST12 Brunswick Golf Club
T-40
72-72--144 (+2)
Points ranking: n/a
YTD earnings: n/a
Career earnings: n/a
SETH REEVES
Hometown: Duluth, Ga.
Turned pro: 2014
Years at Georgia Tech: 2010-14
Status: Korn Ferry Tour
Did not play
KFT Points ranking: 20
YTD earnings: $189,688
Career earnings (KFT): $451,076
Career earnings (PGAT): $309,588
LUKE SCHNIEDERJANS
Hometown: Powder Springs, Ga.
Residence: Alpharetta, Ga.
Turned pro: 2020
Years at Georgia Tech: 2016-20
Status: Developmental Tours
SwingThought Tour
ST12 Brunswick Golf Club
T-8
67-69--136 (-6)
Points Ranking: 45 (GPro)
YTD earnings: $6,572 (GPro)
$1,160 (SwingThought)
OLLIE SCHNIEDERJANS
Hometown: Powder Springs, Ga.
Turned pro: 2015
Years at Georgia Tech: 2011-15
Status: Korn Ferry Tour
Did not play
KFT Points ranking: 32
YTD earnings: $148,992
Career earnings (KFT): $438,648
Career earnings (PGAT): $3,879,653
NICHOLAS THOMPSON
Hometown: Coral Springs, Fla.
Turned pro: 2005
Years at Georgia Tech: 2001-05
Status: Korn Ferry Tour
Did not play
Points ranking: 147
YTD earnings: $27,635
Career earnings (KFT): $889,499
Career earnings (PGAT): $5,729,551
CAMERON TRINGALE
Hometown: Laguna Niguel, Calif.
Turned pro: 2009
Years at Georgia Tech: 2005-09
Status: PGA Tour
Did not play
Points ranking: 34
YTD earnings: $1,115,1066
Career earnings (PGAT): $12,945,982
RICHY WERENSKI
Hometown: South Hadley, Mass.
Turned pro: 2014
Years at Georgia Tech: 2011-14
Status: PGA Tour
Did not play
Points ranking: 121
YTD earnings: $312,039
Career earnings (PGAT): $4,858,145
VINCENT WHALEY
Hometown: McKinney, Texas
Residence: Fayetteville, Ga.
Turned pro: 2017
Years at Georgia Tech: 2013-17
Status: PGA Tour
PGA Tour
Puerto Rico Open
T-15
72-69-68-68--277 (-11)
PGA Tour Points ranking: 133
YTD earnings: $229,358
Career earnings (PGAT): $436,930
Career earnings (KFT): $167,469