Pullman Regional website  |  Live Results  |  Coach Heppler audio
THE FLATS  –  Georgia Tech's No. 8-ranked golf team, which earned an automatic bid to the NCAA Men's Golf Championship by winning the ACC Championship two weeks ago, and has been assigned to compete as the No. 2 seed in the NCAA Pullman (Wash.) Regional, to be played May 13-15 at Palouse Ridge Golf Club.
The Yellow Jackets are playing in an NCAA regional for the 22nd straight year and for the 29th time in the 31 years the NCAA has used a regional qualifying format for its championship. They are part of a regional field that includes 14 teams and five individuals.
Tech is playing in an NCAA regional on the West Coast for the fourth time in the last five years, having played in San Diego, Calif. (2015), Tucson, Ariz. (2016) and Stanford, Calif. (2017) before playing last year in Raleigh, N.C. The Yellow Jackets look to advance to the NCAA Championship for the first time since 2015, having come down to the final hole and failing to qualify by one stroke each of the past two years.
The Yellow Jackets are no stranger to traveling out West, having played a fall tournament in Arizona each of the last three years and regularly playing spring events in Hawai'i and Las Vegas.
Nine Atlantic Coast Conference teams were selected to compete in the 2019 NCAA regionals. The nine league representatives – Clemson, Duke, Florida State, Georgia Tech, Louisville, North Carolina, NC State, Virginia, and Wake Forest – are the second most from any conference. It marks the 13th time in the last 14 years that at least eight ACC teams have earned a bid.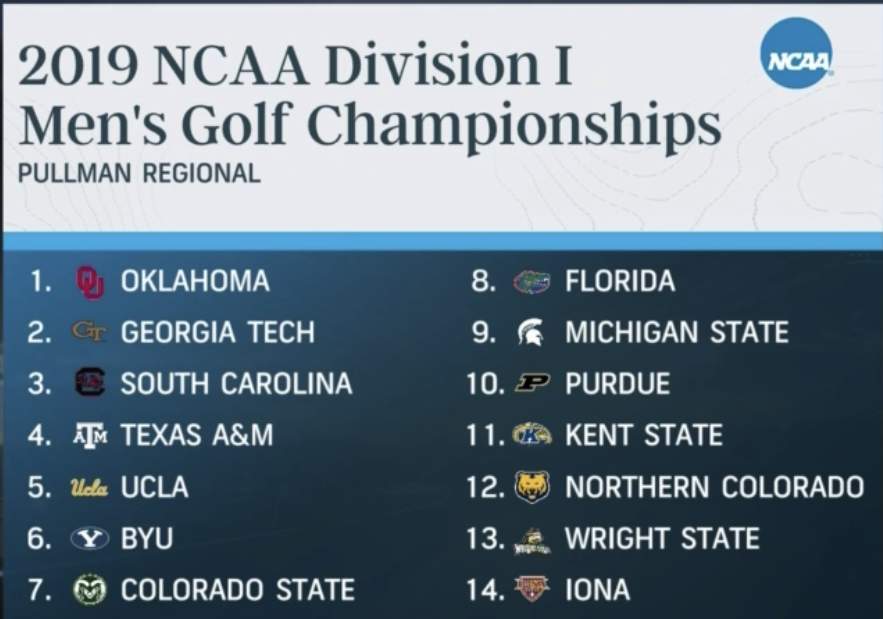 TOURNAMENT INFORMATION – The NCAA Pullman Regional includes eight teams that are ranked among the top 50 teams in the nation according to Golfstat. In order of seed, the field includes Oklahoma (5), Georgia Tech (8), South Carolina (17), Texas A&M (20), UCLA (29), Brigham Young (30), Colorado State (41), Florida (44), Michigan State (53), Purdue (66) and automatic qualifiers Kent State (Mid-American Conference), Northern Colorado (Big Sky Conference), Wright State (Horizon League) and Iona (Metro Atlantic Athletic Conference).
Palouse Ridge Golf Club will measure 7,246 yards and play to a par of 70 for the Pullman Regional. It is located at the East edge of the Washington State University campus and opened in 2008.
Competition begins at 10:30 a.m. Eastern time (7:30 a.m. local time) Monday, Tuesday and Wednesday. The Yellow Jackets are paired with No. 1 seed Oklahoma and No. 3 South Carolina for the first round Monday, teeing off the first hole at 10:30 a.m. Eastern time. Teams and individuals will be re-paired according to score after the first and second rounds.
The NCAA uses a regional qualifying format for its championship, with 81 teams and 45 individuals competing for spots in the NCAA Division I Men's Golf Championship, which will be contested May 24-29 at Blessings Golf Club in Fayetteville, Ark. Of the 81 teams, 31 were automatic qualifiers by winning their conference championships, and the other 50 earned at-large bids.
Each regional is a 54-hole, stroke-play event with 13 teams and 10 individuals, or 14 teams and five individuals, competing. The top five teams after 54 holes and one individual not on those teams advance from each regional to the NCAA Championship finals, which has a field of 30 teams and six individuals.
The other five regional sites are: Louisville, Ky. (University of Louisville Golf Club, top seed: Oklahoma State); Stanford, Calif. (Stanford Golf Course, top seed: Arizona State); Athens, Ga. (University of Georgia Golf Course, top seed: Vanderbilt), Myrtle Beach, S.C. (TPC Myrtle Beach, top seed: Wake Forest); Austin, Texas (University of Texas Golf Club, top seed: Texas).
TEAM UPDATE – The Yellow Jackets stand No. 8 in the nation in the Golfstat, and No. 2 in the Golfweek/Sagarin rankings and No. 4 in the Bushnell Coaches Poll. Tech has won six tournaments this year, one shy of the all-time high of seven won by the 2001-02 and 2013-14 teams and more than any other team in Division I golf. (Golfstat rankings are used to seed teams in NCAA regionals, which is why the Yellow Jackets are a No. 2 seed.)
This spring, Tech won a share of the Puerto Rico Classic title, took an 11-stroke victory at the Clemson Invitational and a 15-shot win at the Atlantic Coast Conference Championship this spring. Tech finished sixth at the Southern Highlands Collegiate after holding the 36-hole lead, and was 12th in the Valspar Collegiate Invitational, both against extremely strong fields, prior to winning the Clemson event the first weekend of April.
In the fall, the Jackets won the Maui Jim Intercollegiate and were co-champions at the Carpet Capital Collegiate and the Jack Nicklaus Invitational, a match play event.
Tech is 32-22-1 against current top-25 teams this year, 55-25-2 vs. top-50 teams, and 76-25-3 vs. top-100 teams, and its schedule is rated the fifth-most difficult in the nation according to the Golfweek/Sagarin Index.
Statistically, Tech ranks No. 4 in the nation in average individual score (70.80), No. 2 in comparison to par (-0.87), No. 1 in first-round average (70.18) and No. 2 in par-4 scoring (4.01). The Yellow Jackets also rank in the top 10 in scoring on par 3s and par 5s, are No. 5 in total birdies and No. 3 in average drop score (74.88).
TECH LINEUP – Head coach Bruce Heppler is sending out the same starting five that competed in the Yellow Jackets' last five events, the Puerto Rico Classic, the Southern Highlands Collegiate, the Valspar Collegiate Invitational, the Clemson Invitational and the ACC Championship – Luke Schniederjans (Powder Springs, Ga.), Andy Ogletree (Little Rock, Miss.), Tyler Strafaci (Davie, Fla.), Noah Norton (Chico, Calif.) and freshman Connor Howe (Ogden, Utah).
Four Yellow Jackets playing in the NCAA regional, each of whom have played all 10 team events this year, are ranked 66th or higher in the national Golfstat rankings. Ogletree (No. 15), who has been the Yellow Jackets' top finisher in five of Tech's six spring events and has four top-10 finishes, including a runner-up performance at the ACC Championship, is the team's highest ranked player, followed by Schniederjans (No. 19), Strafaci (No. 50) and Norton (No. 66). They have combined for 16 top-10 finishes (Schniederjans has five, Ogletree and Strafaci each have four, Norton has three). They are separated by less than a stroke in stroke average, with Ogletree and Schniederjans leading the way at 69.96.
Howe, with a 72.25 stroke average in 24 rounds, is playing in his sixth straight event as a counting member of the travel team, having tied for 14th place at the ACC Championship.
COACH BRUCE HEPPLER SAYS – "The biggest downside to playing out West is that it prevents some of the parents from coming to see their sons play. But we've never been there, and we always try and go early to get some fun things in. When we went to Palo Alto, we were able to play at the Olympic Club and see a San Francisco Giants game. That's part of the memories. We'll go to Washington and do some stuff, and we'll go play. We're prepared.
"The course is a lot of drivers, and one side of the fairways is always a good miss. It has bentgrass greens with a little Poa Annua in them, somewhat flat. It's a course that if the wind blows, it's really hard. If it's not, the course is gettable. The forecast shows we have some good weather to play in."
ABOUT GEORGIA TECH GOLF
Georgia Tech's golf team is in its 24th year under head coach Bruce Heppler, having won 59 tournaments in his tenure. The Yellow Jackets have won 18 Atlantic Coast Conference Championships in program history, made 28 appearances in the NCAA Championship finals and been the national runner-up four times. Connect with Georgia Tech Golf on social media by liking their Facebook page, or following on Twitter (@GTGolf). For more information on Tech golf, visit Ramblinwreck.com.