THE FLATS – Georgia Tech's golf team returns to action for its second event of the spring season this weekend, traveling to Rio Grande, Puerto Rico for the 27th Puerto Rico Classic, which begins Sunday.
Pairings and live scoring via Golfstat  |  Coach Heppler audio
TOURNAMENT INFORMATION – Georgia Tech is making its 27th appearance in the Puerto Rico Classic, typically the second event on the Yellow Jackets' spring schedule after its opening trip to Hawai'i, having participated in every renewal of this tournament. The 54-hole event runs from Sunday through Tuesday with a shotgun start at 8 a.m. Sunday and Monday, and a final round start time of 7:30 a.m. After a one-year hiatus due to damage from Hurricane Maria, the event returns to the Rio Mar Beach and Resort's River Course (6,902 yards, par 72).
Eight of the 15 teams in the field are ranked among the nation's top 50 in the Golfstat rankings – Georgia Tech (4), Alabama (5), Clemson (12), Oklahoma (13), Georgia (21), NC State (28), Marquette (31), Iowa (40), Ohio State (56), Purdue (66), UNC Greensboro (91), Maryland (93), East Carolina (98), Virginia Tech (104) and Middle Tennessee State (138).
Georgia Tech is paired with top-ranked Alabama and Purdue, the host team, for Sunday's opening round.
The Yellow Jackets finished fourth in last year's Puerto Rico Classic, with current team members Noah Norton and Tyler Strafaci tying for seventh place individually. Clemson, Oklahoma, Purdue and Tech claimed the top four spots, separated by just five strokes. Tech has won the event five times and finished second six times. Seven Jackets have earned medalist honors, including Mikko Rantanen (1994), Stewart Cink (1995), Matt Kuchar (1998), Troy Matteson (2002), Roberto Castro (2007), James White (2011) and Luke Schniederjans (2017).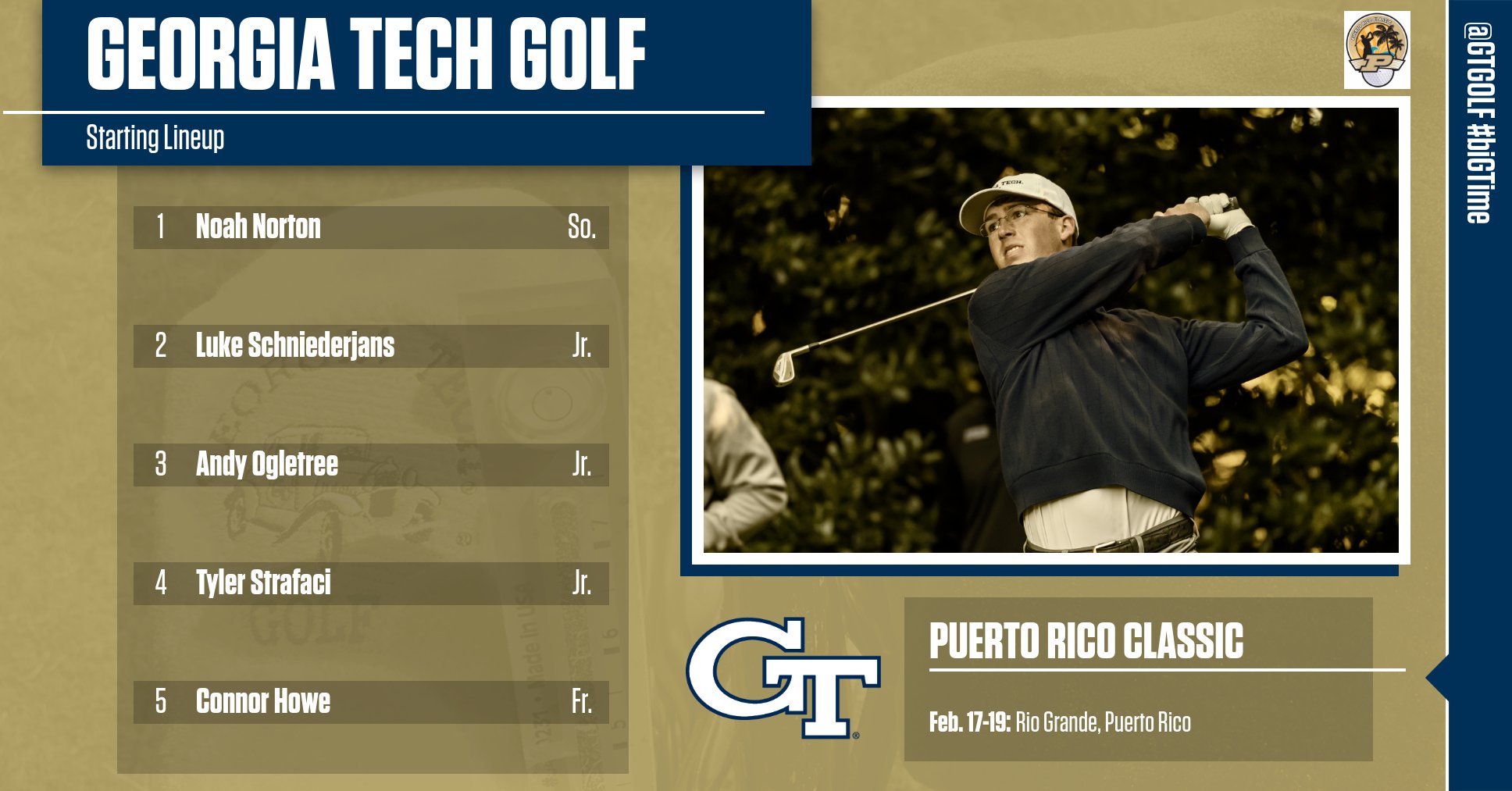 TEAM UPDATE – Georgia Tech is ranked No. 4 in the latest Golfstat rankings, No. 7 in the Golfweek/Sagarin Index and No. 5 in the Bushnell Coaches Poll after opening the spring season with an eighth-place finish at the Amer Ari Invitational in Hawai'i. The Yellow Jackets won the Carpet Capital Collegiate and the Maui Jim Intercollegiate in the fall, along with a third-place against an ultra-strong field at the Golf Club of Georgia Collegiate.
The Yellow Jackets own a 43-9-2 overall win-loss record this year against a schedule ranked No. 10 in the Golfweek/Sagarin Index, including a 36-9-2 mark against top-50 teams.
TECH LINEUP – Head coach Bruce Heppler will go with the same lineup the Yellow Jackets have used throughout the year with one change. The junior class core of Andy Ogletree (Little Rock, Miss.), Luke Schniederjans (Powder Springs, Ga.) and Tyler Strafaci (Davie, Fla.) and sophomore Noah Norton (Chico, Calif.) will be joined by freshman Connor Howe (Ogden, Utah), who has played four events as an individual but now gets his first opportunity to be a counter for the Jackets.
Schniederjans (15), Norton (42), Strafaci (54) and Ogletree (111) all have consistently ranked high among the nation's top collegiate players, according to Golfstat, and Howe has moved up to No. 143 after tying for 30th place at the Amer Ari Invitational against a strong field.
All five players hold stroke averages of 71 or lower, led by Schniederjans' 69.08. Schniederjans, Norton and Strafaci have six top-10 finishes between them this year. Schniederjans led the way for Tech at the Amer Ari Invitational with a tie for 18th and Ogletree tied for 24th.
COACH BRUCE HEPPLER SAYS – "This is a pretty easy trip for us compared to Hawai'i, and the competition is always good at Puerto Rico. There were a lot of under-par rounds in Hawai'i, and you've got to make some putts, but we didn't have a good week on the greens. You've got to adjust to the grasses and the speeds. The course in this tournament is like the one in Hawai'i, so we have to have a mindset of being way more aggressive. Some of our lowest scores ever have been on average greens, but we didn't do a good job over there."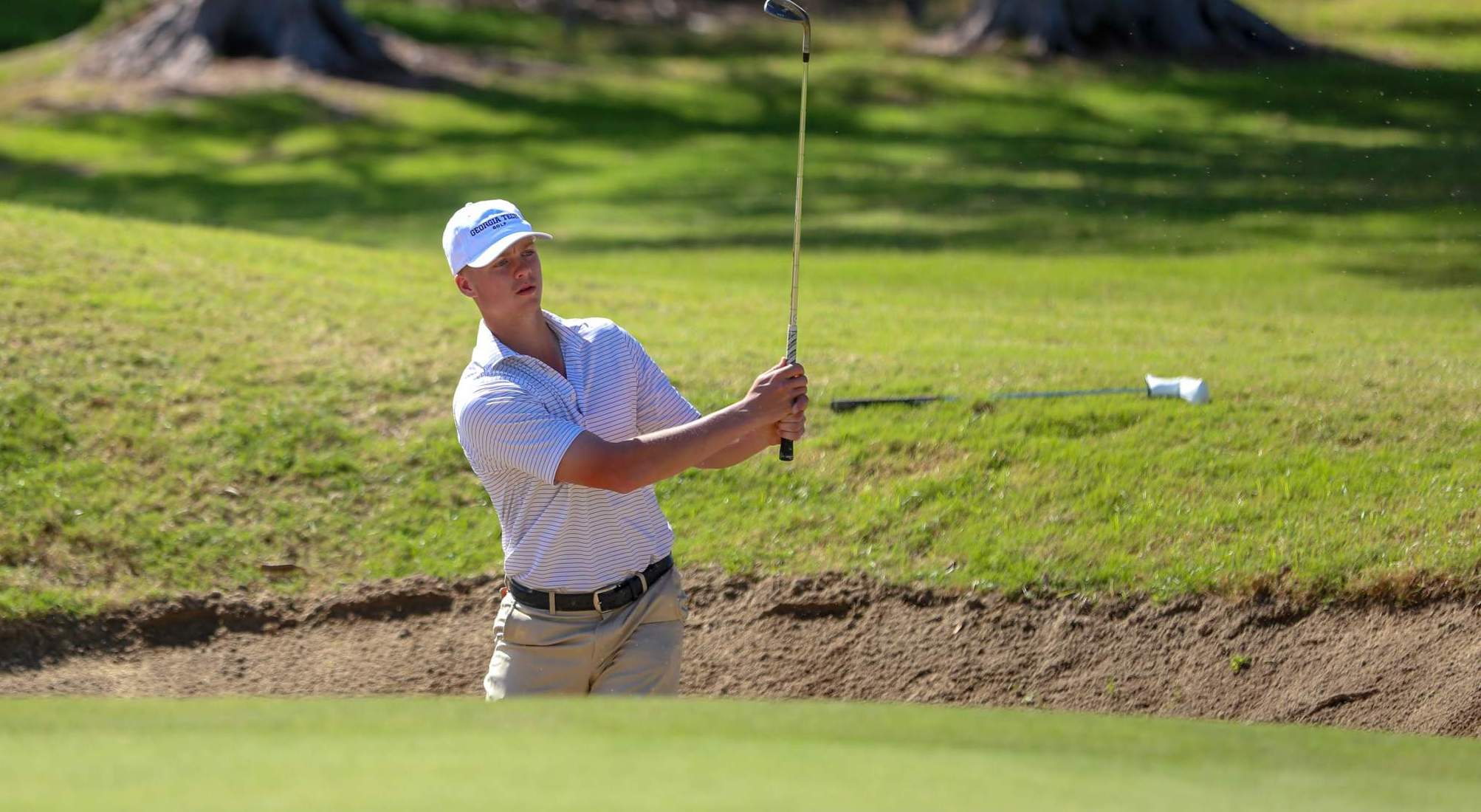 Freshman Connor Howe is making his first start as a counter for the Yellow Jackets.
ABOUT GEORGIA TECH GOLF
Georgia Tech's golf team is in its 24th year under head coach Bruce Heppler, having won 53 tournaments in his tenure. The Yellow Jackets have won 17 Atlantic Coast Conference Championships, made 28 appearances in the NCAA Championship and been the national runner-up four times. Connect with Georgia Tech Golf on social media by liking their Facebook page, or following on Twitter (@GTGolf). For more information on Tech golf, visit Ramblinwreck.com.