THE FLATS – Georgia Tech women's basketball unveiled the completed renovation of its locker room and team space on Wednesday, transforming the area into a state-of-the-art space. The locker room was revealed to the student-athletes following the conclusion of the team's first official practice of the 2020-21 season.
"It is a really big day for Georgia Tech women's basketball," said head coach Nell Fortner. "We've been awaiting the moment we could get into the locker room, show it to our players and see the excitement on their faces. It's a beautiful space with everything a student-athlete needs to be successful and be excited about coming to the gym every day. We want to thank so many people that played a role in helping this dream become reality. A huge thank you to our donors that stepped up in a big way to make sure this renovation could take place.
"We're extremely excited and very proud of it. We can't wait to show the space off to not only our donors that helped create it, but also recruits and their parents. It's a big time locker room and we are proud to call it home to Georgia Tech women's basketball."
Features of the new area include:
modernized visual displays throughout the space, including a "gear wall" featuring Georgia Tech's new adidas apparel and equipment;
enhanced audio-visual systems to keep student-athletes informed and entertained;
a hydrotherapy area, including hot and cold tubs to assist in student-athletes' everyday recovery and rehabilitation;
renovated team lounge and nutrition station creating a more inviting "home base" for practice and competition nutritional needs;
new coaches' lounge for film study and meetings.
WBB Locker Room Unveiling
October 14, 2020
The renovation, which began in May, extended the interior team space, removing interior walls and creating defined areas that include a recruiting cove, game lounge and nutrition lounge. The team's locker room includes 16 lockers, a flat screen and efficient storage.  Each locker includes backlit translucent doors, interior LED lighting, a vanity mirror and cabinet, hanging space, ample drawer space and a lockable storage area all concealed behind frameless mirrored doors.
Environmental graphics were an essential design element throughout the space, providing focal points, color accents and opportunities to display recognitions. Graphics included in the space feature the Atlanta skyline, player images and basketball references, and a back lit perforated metal ceiling feature with a skyline silhouette and internally lit TECH in the main locker room area.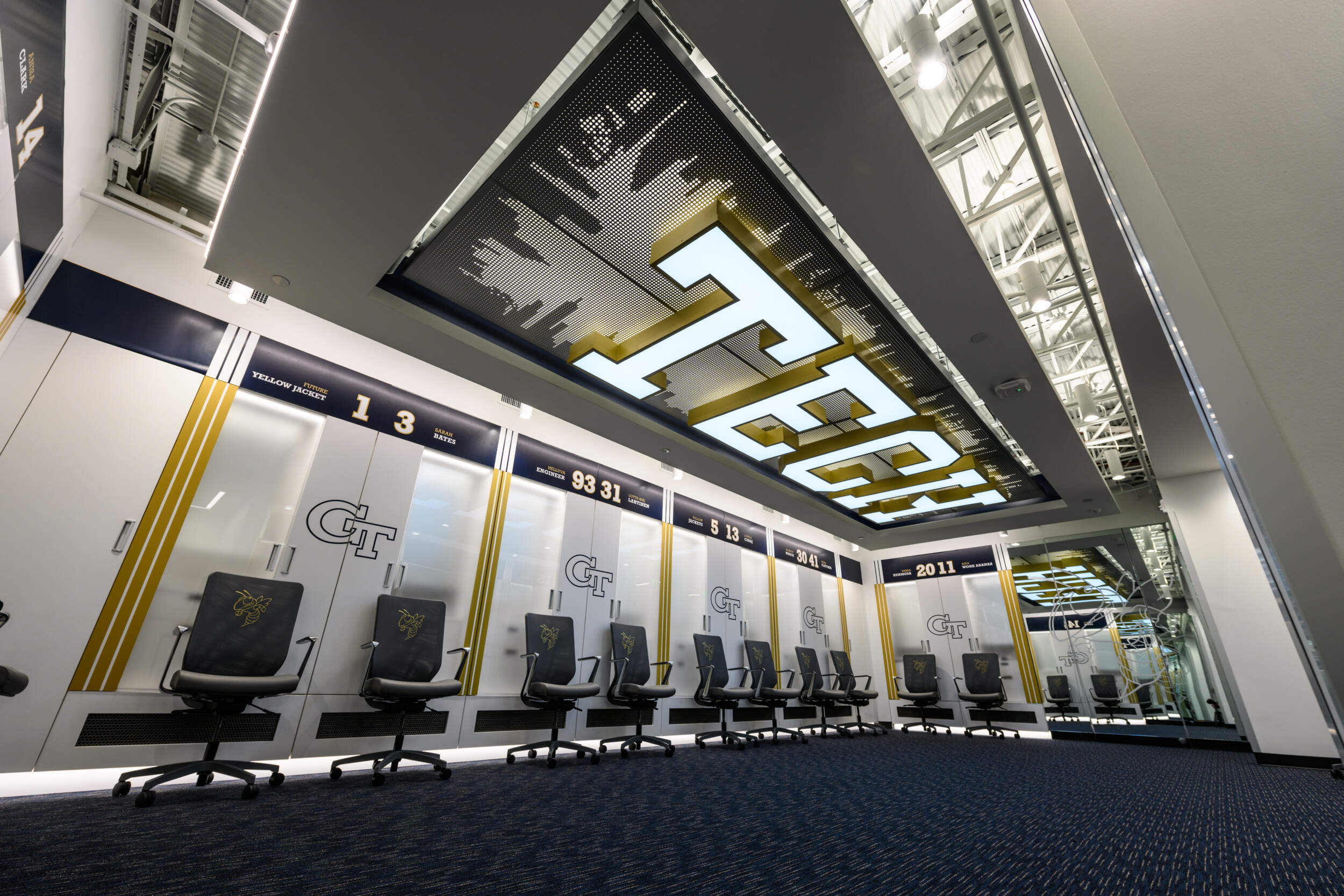 A component of Athletics Initiative 2020, funding for the project was completed during the 2019-20 season thanks to contributions from several benefactors, including a lead gift from Steve and Judy Zelnak last August. The project was led by DPR Construction and Make3 with assistance from Georgia Tech's Design and Construction department. Confluence Design Consulting produced the environmental graphics.
I am both proud/excited to have had a hand in the newly renovated @GTWBB Locker Room under @DPRConstruction!!!! Hope @NellOnWheels and the Lady Jackets love their new home!!! #TogetherWeSwarm https://t.co/RlZkrhczx6

— Brian Oliver (@BrianOliver1313) October 14, 2020
Alexander-Tharpe Fund
The Alexander-Tharpe Fund is the fundraising arm of Georgia Tech athletics, providing scholarship, operations and facilities support for Georgia Tech's 400-plus student-athletes. Be a part of developing Georgia Tech's Everyday Champions and helping the Yellow Jackets compete for championships at the highest levels of college athletics by supporting the A-T Fund's Annual Athletic Scholarship Fund, which directly provides scholarships for Georgia Tech student-athletes, and Athletics Initiative 2020, Georgia Tech athletics' ongoing $125 million initiative to allow Tech to recruit the nation's most elite student-athletes, build a better student-athlete once they arrive on The Flats and, ultimately, win! To learn more about supporting the Yellow Jackets, visit atfund.org.
For the latest information on the Georgia Tech Yellow Jackets, follow us on Twitter (@GTWBB), Instagram (GTWBB), Facebook (Georgia Tech Women's Basketball) or visit us at www.ramblinwreck.com.