By Matt Winkeljohn | The Good Word
It's been a long time since Georgia Tech played competitive golf, and they traveled for what probably seemed even longer to get at it again, but at least when they tee off Thursday in the Amer Ari Intercollegiate, they'll get a shot at what they most want.
And it's probably going to be nice and warm in Waikoloa, Hawai'i.
Coming off a fine fall season where they won or tied for three titles and then finished third, the Yellow Jackets are ranked No. 2 in the nation by Golfstat, trailing only No. 1 Oklahoma State, the defending NCAA champions.
Tech wants what the Cowboys have, and OSU will be in the field at the Waikoloa Kings' Course in the northwest corner of the big island.
"I look forward to it because the weather [in Atlanta] is not the best in the winter. It's 45 and 50, and I'm from south Florida, so I'm used to the heat all the time," reported Tyler Strafaci.
"Oklahoma State is unbelievable, but I really don't think anyone can beat us. I honestly think they're a better team than last year, and I also think that we've gotten so much better, and we're confident in ourselves."
The Jackets had a heck of a fall, tying Tennessee for the title at the Carpet Capital Collegiate. They rallied to win the Maui Jim Intercollegiate in Arizona, and won both runs in match play against Kent State and South Carolina in the weather-shortened Jack Nicklaus Invitational. They also finished third in the Golf Club of Georgia Collegiate Invitational behind No. 8 Southern California and No. 12 Clemson, whom the Jackets beat handily earlier in the fall.
You might think that Tech would have some revenge in mind for that last one.
After shooting a tournament-record 270 in the first round on one of their two home courses (East Lake being the other) they slipped to a one-over par 289 in the second round.
USC will be in the Amer Ari field, too, joining No. 11 Arizona State, No. 14 Texas and No. 16 Auburn among other teams.
That last tournament seemed to be a lifetime ago. It was almost three months ago, and the Amer Ari has been pushed back a week this year.
"It's been a long time since we've played. Oct. 21st was a long time ago, and these guys continue to work and work. We had a nice fall, and I want to see what they can do," said head coach Bruce Heppler. "They know they have a chance to be one of the best teams we've ever had.
"Those were good teams [at the GCoG], and you've got to play well three days to win our tournament. I don't think there's anything to learn from the fall. I think we're moving from hoping and thinking that we're good to having a belief that we're in the upper echelon."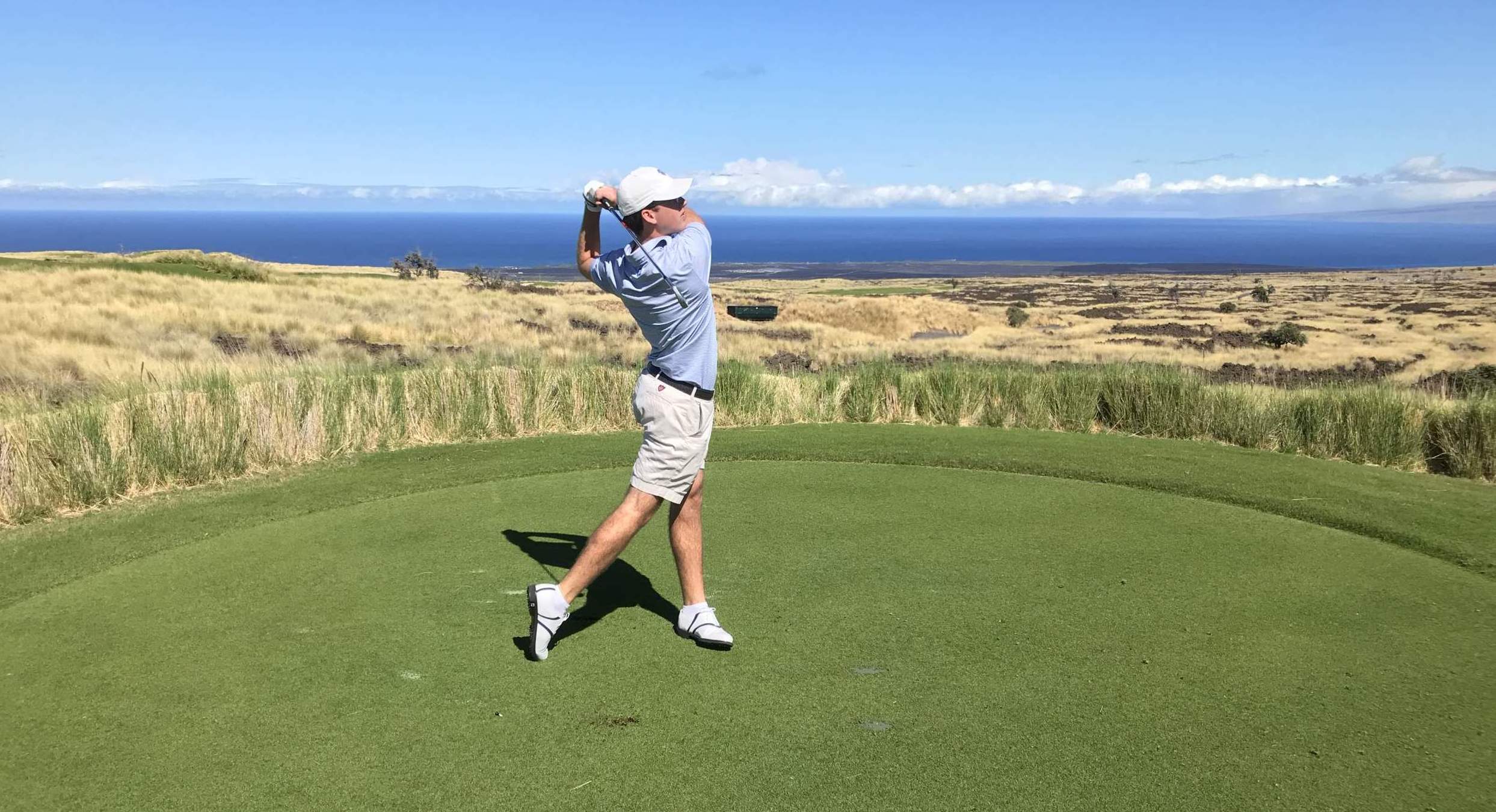 Junior Andy Ogletree hits a tee shot during a practice round at Nanea Golf Club.
The Jackets will play the same lineup they used in the fall, as Strafaci will walk with fellow juniors Luke Schneiderjans and Andy Ogletree, fifth-year senior James Clark and sophomore Noah Norton. Freshman Connor Howe will play as a non-scoring individual.
There will be plenty of talent around.
Oklahoma State sophomore Matthew Wolff is ranked No. 1 nationally by Golfstat, junior teammate Viktor Hovland is No. 3, and senior Hayden Wood is No. 19. Cal senior Collin Morikawa is No. 2, and USC senior Justin Suh – who was medalist by four strokes ahead of Schniederjans at the Golf Club of Georgia Intercollegiate – is No. 6.
Schneiderjans is No. 9 with a 68.78 scoring average and three top-10 finishes in the fall. Strafaci is No. 23 and Norton No. 32.
In Schniederjans' mind, there was nothing special gained by the last tournament of the fall.
"Nothing in particular that I can think of. We had a good first round, but we didn't back it up as a team those last two days. But that was back in October, and I think we've had a really positive offseason," he said.
Tech's down time was spent differently by the student-athletes.
Soon after the final tournament, the Jackets began hitting the weight room four times a week rather than two or occasionally three. Some put their clubs away for a long time, and others returned to the game quickly. A few played in tournaments over the holiday break.
Strafaci dialed back on weight work.
"The past two offseasons, I've gone really hard and it benefitted me tremendously," he said. "It's one of the reasons why I'm a really long player now, however, I got away from my flexibility. I didn't do the kind of stretching I needed to do. My low back was really tight.
"During the offseason, we just focused on less weight. I worked on my core and flexibility to feel good about my body for the rest of this semester."
Conversely, Schneiderjans stayed busy.
"Freshman year, I put the clubs up for a while and really didn't like it, and then last year I went right back into it too fast," Schniederjans explained. "So, this year I did like a full week-and-a-half, two weeks of no golf and then I gradually got back into it and worked on some technical stuff, and the break is the heaviest lifting time of the year."
The Jackets won't work their way gradually into this tournament. All five scoring players have competed there before, and they've experienced the dry Kona coast.
"This team's better than last year's for a lot of reasons," Heppler said. "You've got five guys whose fall semesters were the best they've ever played score-wise . . . The wind most years is a challenge. Depending on where you catch your draw sheet, you can play every par five downwind, or if you get started in the wrong place every par five plays into the wind . . .
"[Oklahoma State] won it all, they won it all pretty easy and they've got four guys back with all these guys playing in all PGA Tour events . . . We've always tried to play in events where the bar to be successful on a national level is right in front of your face."
The Jackets flew direct to Honolulu on Saturday, and then took a short flight to the island of Hawai'i. They'll return Sunday and face a quick turnaround before departing Feb. 13 for the Puerto Rico Classic.
They're ready to compete again.
"Our mentality for this semester is not dwelling on bad stuff. It's about just knowing that we're the best," Strafaci said. "I really believe, 100 percent, that we're the best team in the nation. I think everyone else on the team believes that. The five of us haven't put together a great tournament yet, and that's a scary thing."