By Matt Winkeljohn | The Good Word
They won the other day by unleashing a birdie barrage down the stretch after tying for first in the first tournament, yet Georgia Tech may win more often in the future if the Yellow Jackets tone it down, or at least wait until the end to go for it.
How weird is it to suggest that golfers need to tone anything down?
On the way to the Maui Jim Intercollegiate title Sunday at the Mirabel Golf Club in Scottsdale, Ariz., the Yellow Jackets trailed by more than seven strokes on the back side of the third and final round. It might have been nine, 10, 11 or who can be sure? It's hard to be know because there's rarely real-time scoring in college golf.
And that might have something to do with why the Jackets so often go for it all.
In out-gunning host and No. 19-ranked Arizona State by a narrow two strokes and No. 9 LSU by five after entering the day trailing both squads, the Jackets blew away the field with 73 birdies over three days, way more than No. 13 Clemson's 60 (the Tigers finished 11 strokes in arrears).
Tech fired 75 birdies to lead the field easily a few weeks ago, when Tennessee checked off 61 in the Carpet Capital Collegiate at The Farm Golf Club in Rocky Face, Ga. The teams tied at 21-under par 843 in stroke play, and UT won in a playoff.
So, if the Jackets are lapping fields in birdies, how are they finding themselves so tightly wrapped as tournaments wind down?
Too many bogeys. Doubles. A few triples. And even the occasional quad.
Head coach Bruce Heppler is chasing an answer.
He may have found an answer Tuesday morning in talking to one of his many former All-Americans.
Roberto Castro was at the practice facility to get ready for his return to the PGA Tour, and coach asked about the weird balance.
"I had a visit with Roberto this morning, and asked him what he thought and his suggestion was, 'You have a team with a lot of game,' " Heppler said. "It's how aggressive are you? And when are you aggressive?"
The Jackets are abundantly talented, and juniors Tyler Strafaci, Luke Schniederjans and Andy Ogletree, sophomore Noah Norton and senior James Clark have through two tournaments trusted their talents maybe – and this will seem odd to say given overall results – too much.
When they get in trouble, they're not bailing out. They're trying to save par or even birdie.
One of Heppler's golfers – we won't say which — told him the other day, "I made a really immature decision to go with a four iron [to go for the green from difficulty]," rather than wedge out of trouble and play another high iron and try to save bogey.
That four-iron ended up in the desert. Seriously. And a double bogey followed.
"I don't know what we can attribute all the birdies to, but we've got a really good ball-striking team," said Schniederjans.
That means the Jackets more often than not hit the ball straight and long, off the tee in particular. They don't spray it around regularly.
When they do, so far at least, they're over-correcting.
Some of that come down to ill-informed decision making.
Scoreboards are rare in college golf, and there were none in Arizona. So, unlike so many sports, where athletes can look up and see what the score is and where they stand, and how much time is left, that's not the way it rolls in this sport.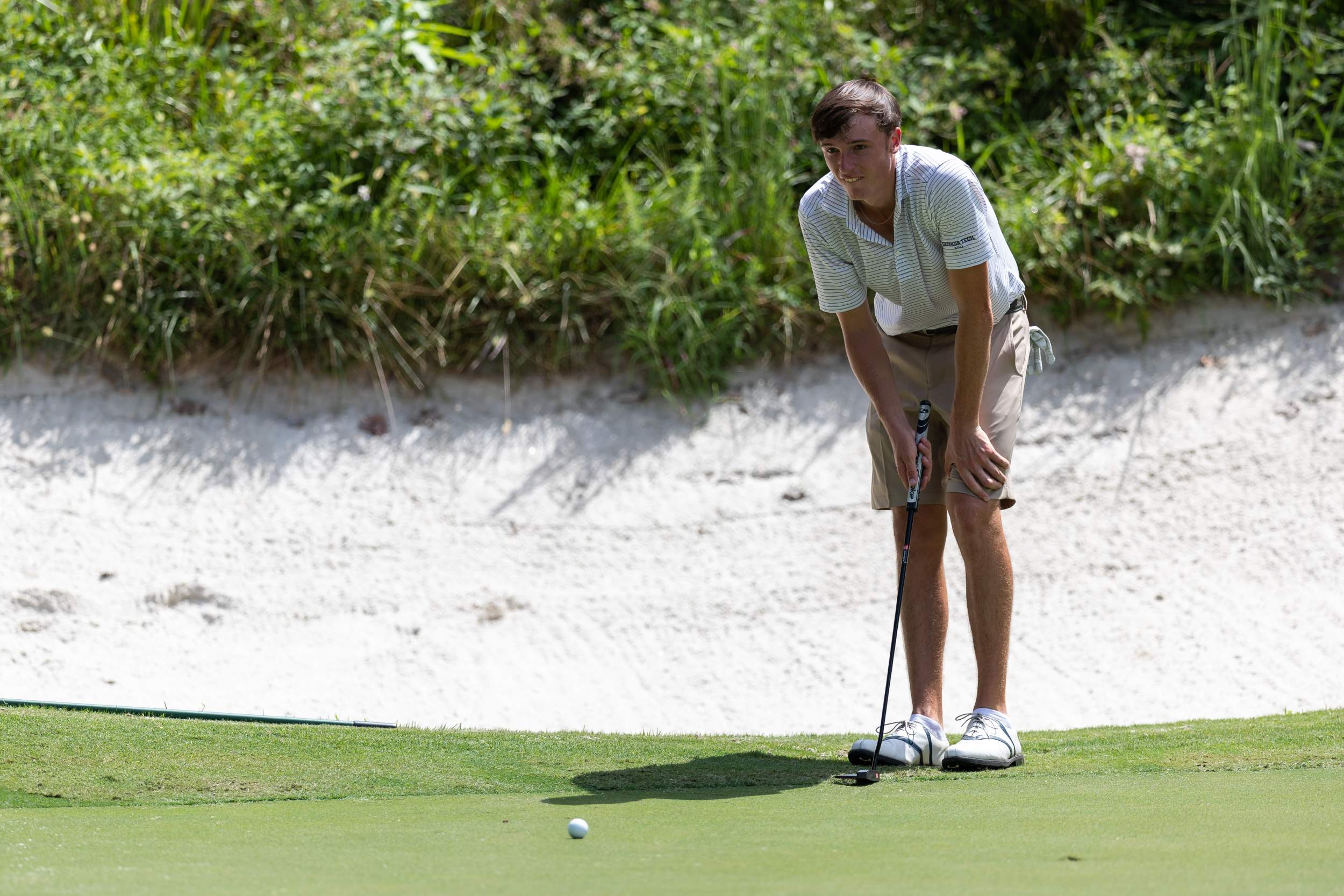 Schniederjans leads the Yellow Jackets with 34 birdies over six rounds. Tech has 148 as a team, 24.6 per round.
Heppler changed his approach of walking rounds with Ogletree (assistant Drew McGee continued walking with Norton; all of this being another story), and the head coach instead went from one par-three hole to the next as Tech golfers came through in one grouping after another.
That may not become a trend. The Jackets tied for last in a 14-team field on the par threes, at 11-over par. At the Carpet Capital Collegiate, they were No. 1 at minus four.
So there's some guesswork going on in a sport that has crazy guessing.
Heppler's idea was to help update his golfers not only on the way the par threes were playing – he was constantly checking wind and carry on those holes, which generally involved considerable elevation changes and serious wind – based on what he saw from golfers going through.
And he did his best to offer GPS to the Jackets, checking scores on his phone.
"I saw coach on the 14 tee box on Sunday, and he said, 'If you make two or three birdies, we should have a good chance," said Schniederjans, who finished tied for 12th with a 12-under par 203. "I'm sure he said the same thing to the other guys, too. That's when I knew it was going to be close."
You're not near teammates in college golf. You can't talk about how to better block a play, or find an open spot in a zone. "There's no offense and defense," Heppler said.
Problem was, even on the Golfstat scoreboard, which can be found on-line and by cellphone, scores were updated only every three holes played.
It'll be different next month when the Jackets host the Golf Club of Georgia Collegiate. Heppler lines up so many volunteers for that tournament, that there are scorers plugging in data at every hole, for every golfer.
The coach has instincts to add to his incessant knack for hitting up his phone. He could tell that the Jackets trailed as they turned, even if he didn't know by how much.
He pretty much told everybody to go for it, even though that approach might well be the reason the Jackets weren't already well clear of the field. It was late, after all, and going for it therefore would be the way to rally to the winner's table, where Clark would stand on a surfboard for an epic team photo.
"Even with the live scoring, it was only every three holes. There could be three guys whose information is 20 minutes old," Heppler said. "There's no telling what's happened. The information is almost useless.
"Now, you get down to the end, and three guys are in the house, you have a pretty good idea. Their numbers are set. When you don't know what the score is, you don't necessarily know what you need to do. Some of it is they're still trying to play for a birdie."
The Jackets didn't know where the finish line was. They raced to it anyway. Tech went nine under-par on the back nine with 15 birdies.
Strafaci birdied Nos. 15, 16 and 17 on the way to a sixth-place tie with Norton at eight-under par 202.
Schniederjans birdied Nos. 12, 14 and 15.
And Ogletree birdied 12, 13, 15, 16 and 17 to finish tied for 17th at 205.
The Jackets won by going for it down the stretch when they had to just that. Maybe they can ease stress by dialing back earlier in tournaments to set up the final sprint.
"It's when [do you decide to] cut your losses," Heppler said. "You hope as they start to grow together, and they know they're playing for each other [as opposed to individually] . . . they'll think, 'I'm on a really good team because now there's your consequences and the team's and this could be really special."