By Matt Winkeljohn | The Good Word
Basketball will be available for public consumption in mere days, and when the Georgia Tech men's team lifts the curtain for a contest against Florida Tech, the Yellow Jackets will look different than you might remember them.
This seems like a good time to look around the roster, and ask what head coach Josh Pastner thinks he has to work with in his third season on The Flats.
They'll run around more, yet will not be fully formed Saturday at 6 p.m. as freshman guard Michael Devoe – the most highly-acclaimed recruit Tech has landed since hiring Pastner in the spring of 2016 – is a longshot to play.
It's an exhibition game, so Devoe has more time to recover from his toe injury before the Nov. 9 season opener against Lamar, and Pastner is not waiting.
"We've been working on a lot of time and score situations, to make sure we do a better job finishing out games," the head coach said. "For us to take the next step, we need to be able to win on the road and some of these ACC games are decided by four to six points."
Pastner is right about that.
The Jackets were 1-12 away from home last season, and 12-7 in McCamish Pavilion.
Part of that was attributable to a friendly home schedule, which Tech hopes to replicate in the first five contests with home games against Lamar, East Carolina, Texas-Rio Grande Valley and Prairie View A&M wrapped around a trip to Tennessee on Nov. 13.
Devoe figures to be involved in most of those games, but, "He's not going to be really ready for Florida Tech because he hasn't done any conditioning," Pastner said. "I'm hoping by Lamar, our first game, he's somewhat back, but we don't know. It might be another game or two before he's back in full swing because he's got to get his conditioning back."
Pastner has a better feel for the rest of the roster. Here are his thoughts on scholarship players, including redshirt transfer James Banks, who won't be eligible to play until next season.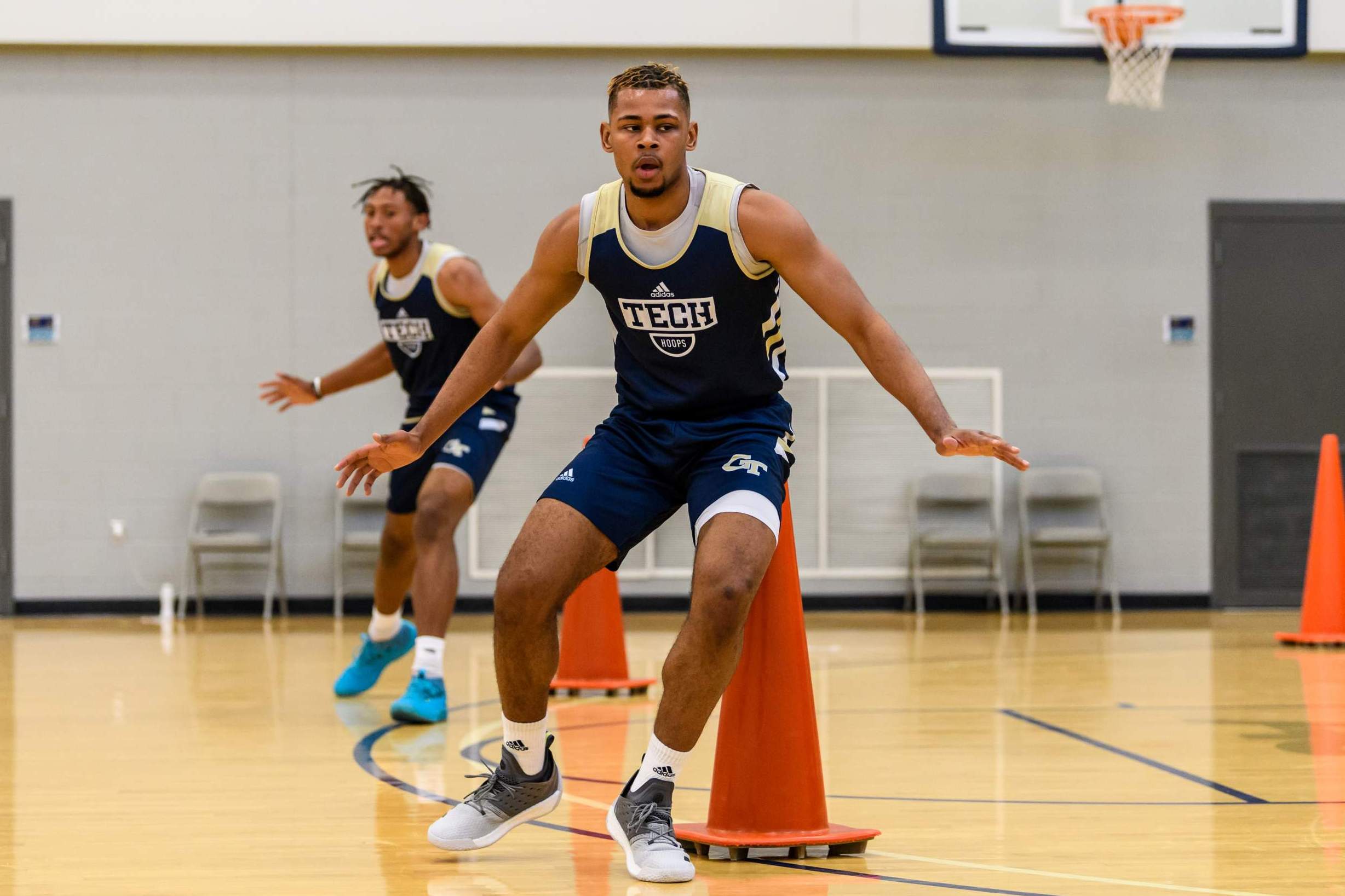 Alphabetically we go.
Brandon Alston, a 6-5 graduate swing man who transferred from Lehigh, played in all 32 games last season, starting 19, while averaging 5.4 points and 1.8 rebounds, shooting 37.3 percent overall and 35.6 percent from 3-point territory.
"Brandon's better today than he was last year, there's no question. He's making a higher clip of shots, and he's doing a better job of finishing around the hoop. He's using his body to finish around the hoop," Pastner said. "We need him to be a great 3-point shooter for us. He's put in the time and effort; he's just got to get it done."
Jose Alvarado, a 6-foot point guard who started the first 25 games before dislocating his left elbow against Duke, averaged 12.1 points, 3.7 rebounds and led the Jackets with team highs of 77 assists and 43 steals while shooting 44.8 percent from the field and 37 percent from 3.
"I really think Jose has really matured. You can tell his maturation, especially on the defensive end. He's playing really well in practice. He's fully healthy," Pastner said. "I think he's going to have a good year. I really think when he's a junior and Michael Devoe is a sophomore, we'll have one of the best backcourts in the ACC."
Evan Cole, a 6-9 forward who played in 24 games and started the final seven, averaging 3.2 points and 2.6 rebounds while shooting 46 percent and 27.3 percent from 3.
"I like how he's playing. He's an energy guy. When he plays with great energy, he's a really good player," Pastner said. "It's all about the way he cuts. He's worked hard on his shooting too, and he's shot the ball better. He's got to live and die by his energy, and how hard he cuts, the speed of his cuts."
Abdoulaye Gueye, a 6-9 fifth-year senior forward who played in 31 games, starting 23, while averaging 5.9 points and 4.4 rebounds with 33 blocked shots (second to Ben Lammers' 78) on 46.7 percent shooting and a 18.2 percent clip from 3 (2-of-11). He's the likely starter in the middle.
"I think he's one of the few guys in the country who can score at the block because he can score with his right or left hand as a skill shot, like a jump-hook. He's just got to stay out of foul trouble," Pastner said. "With the new rules, the focus is you've got to have palms to the ball.
"You can't ever show the back of your [hands]. Otherwise, it's going to be an automatic foul if you're in post play. His key is being able to stay on the floor by still defending at a high level but defending without fouling, sort of what Ben did."
Curtis Haywood II, a 6-5 sophomore guard/swing who played in 15 games and started seven in a season shorted by a shin injury that ultimately required surgery to have a rod surgically inserted into the leg. He averaged 5.3 points and 1.8 rebounds while shooting 38.7 percent from the field and 37 percent from 3.
"He's doing well. He needs to gain experience. His next thing is being consistent, because when he's really good, he's really good, and when he's not, he's not as good. It's just being more consistent, "Pastner said. "And he's a motor guy. He's got great instincts off the ball defensively, as far as being in the passing lanes, but it's just him playing with that motor every time he steps on the floor."
Sylvester Ogbonda, a 6-10 fourth-year center who played sparingly in nine games in an injury-plagued season.
"Sylvester is one of our best shooters," Pastner said. "He had an injury in the month of September, so he's getting back into the flow of things, but he's really a good shooter."
Shembari Phillips, a 6-3 fourth-year junior guard who sat out last season after he transferred from Tennessee, where as a sophomore he averaged 6.2 points and 3.1 rebounds while playing in 31 games with 13 starts. He shot 38.4 percent and 37.5 percent from 3.
"He was great last year on scout team. He can really defend, and is a high-clip shooter," Pastner said. "He's just got to do it under the lights. He hasn't played in over a year obviously because of the transfer situation."
Moses Wright, an athletic 6-9 sophomore forward who played in 25 games and started in 10, averaging 3.6 points and 3.4 rebounds while shooting 30.7 percent and making just 2-of-31 3-point shots.
"Everything about him is motor," Pastner said. "When he plays with a motor, he's really good. When he doesn't play with a motor, he's not as good. It's very simple."
Kristian Sjolund, a 6-7 freshman wing from Kongsberg, Norway by way of Katy, Texas.
"He can really shoot the ball. It's just an adjustment, understanding the speed of the game, especially on the defensive end," Pastner said. "He's going to be a really good player for us; it's just going to take time."
Khalid Moore, a 6-6 wing from Briarwood, N.Y.
"I think he's going to be better than people rated him based on recruiting rankings," Pastner said. "There's going to be some highs and lows with him just because he's a freshman, and understanding the speed of the game and what he's got to do. Just keep things simple and sound."
James Banks III, a 6-8 junior transfer from Texas, who averaged 1.7 points and 1.5 rebounds in five games for the Longhorns as a sophomore. He has the most physically imposing body on the team.
"James is a big part for us, and we're counting on him. He's a vocal, high-energy guy, runs the floor. He's a big guy," Pastner said. "He's got to keep getting better on his ball skills, but he's going to be a big part, and I think he's got a chance to be a really good player for us long term."
Sophomore guard Malachi Rice (6-feet), sophomore forward Evan Jester (6-6) and sophomore center Avi Schafer (6-8).
"The only guy (among Tech's non-scholarship players) would be Avi because he's a big man, and he plays inside. He played on the Japanese senior national team this year," Pastner said. "He's gotten better. He is a very, very good passer for his position, but if he plays it would be spot minutes."