You wouldn't know it without talking to Seth Reeves, but he's about to go big time as a pro golfer, because he laid off his laconic ways and started playing with the goal of pummeling others.
The man has earned a PGA Tour card for the 2018-19 season with back-to-back top-five finishes in the Web.com Tour playoffs, and yet he's still cool as the water in your refrigerator.
When you talk to him, that is. On the course, he's taking names. Seth is playing angry with a new team.
He wasn't always that way while stroking for Georgia Tech, where he earned All-America honors and scored on teams that reached the NCAA semifinals and quarterfinals in his last two seasons before he graduated in 2014.
Reeves took it as it came.
But while scuffling through the bulk of his second season on the Web.com Tour earlier this calendar year, he connected with Debbie Crews.
He calls her a mental coach.
She told him he was soft.
"I definitely think she's probably had the most impact in how my game has improved," Reeves explained. "Ultimately, everybody has different sub personalities of themselves, and when I would go play … I'm naturally a very nice guy. I'd almost be playing out of my nice-guy personality.
"She kind of had to break it to me, 'Hey Seth, nice guys don't win.' You have to be able to flip the switch on the course and turn into a performer."
Reeves has performed recently. As the Web.com season wound down, he was in precarious position.
The Web.com Tour is the highest level of domestic golf played short of the PGA Tour, like AAA baseball is shy of Major League Baseball.
With a couple weeks left in the regular season, he was sitting 88th in the money standings, knowing that the top 75 at the end of the season are guaranteed both cards for the next year on the Web.com Tour, where he earned $81,199 in the 2018 regular season, and a spot in the Web.com playoffs.
His goal was to hang onto his Web.com Tour card, and with the help of a new swing coach and a new trainer, he tied for fourth and tied for 16th in the last two regular-season tournaments to move up to 66th.
That secured one card and put in play another: a PGA Tour card.
The top 25 regular-season money winners on the Web.com Tour earned PGA Tour cards for 2018-19. That's how former Tech golfers Anders Albertson (No. 8) and Roberto Castro (No. 24) punched their tickets.
Also, the top 25 scorers in the four-tournament Web.com Finals – which include the top 75 Web.com golfers and the 75 PGA Tour card holders who fell into spots 126-200 in the PGA rankings after that regular season — earn PGA Tour cards.
By tying for fifth in the Nationwide Children's Hospital Championship in Columbus, Ohio, and tying for fourth in the DAP Championship in Cleveland, the first two legs of the playoffs, Reeves locked up one of those spots.
Tech head coach Bruce Heppler is not surprised.
He gave his former player a pep talk of sorts a while back, although it might not be fairly characterized as peppy. He basically echoed Crews, and suggested that Reeves stop spending so much mental energy on sponsors, trainers, swing coaches, etc., and just go get it. Just go play.
If you put Heppler on truth serum, he would tell you that Reeves has to fight a habit of over-thinking his game. He's seen Seth at his best, when he turns it loose.
"There's been times where he's bowed up, like senior year, when he walked with Ollie [Schniederjans]. At times he thinks other things," Heppler said. "He puts in the work. Trust it. Do you want to trust the process, or the results? Trust the process."
At 6-feet-3 and 177 or so pounds, Reeves swings the sticks like a whip, and hits it a long way.
"The thing I like is, Roberto told me this a couple months ago, golf is becoming a two-club sport; driver, putter," Heppler said. "Seth has the length, and he's never been afraid to make a putt."
And lately, Reeves has had some bow-up.
"I grew up playing basketball, and when I'd walk onto the court, something would kind of change, and I'd say I'm the guy who's going to score and whatever," Reeves said. "That's kind of what I'm doing. I've seen a difference in just being aggressive and in consistency."
Reeves remains local when he's not playing, which he did for six consecutive weeks before taking last week off as the Web.com Tour went on break.
He and his wife, Patricia, whom he met through former Tech teammate Bo Andrews and his girlfriend while they were all students on The Flats, moved from Atlanta to Johns Creek, not far from where Reeves grew up in Duluth and Suwanee.
Reeves is right next door now to the Atlanta Athletic Club, where he's played many times over the years.
Patricia is leaving her job in the communications industry, and will begin traveling soon on a regular basis with her husband, helping manage his career.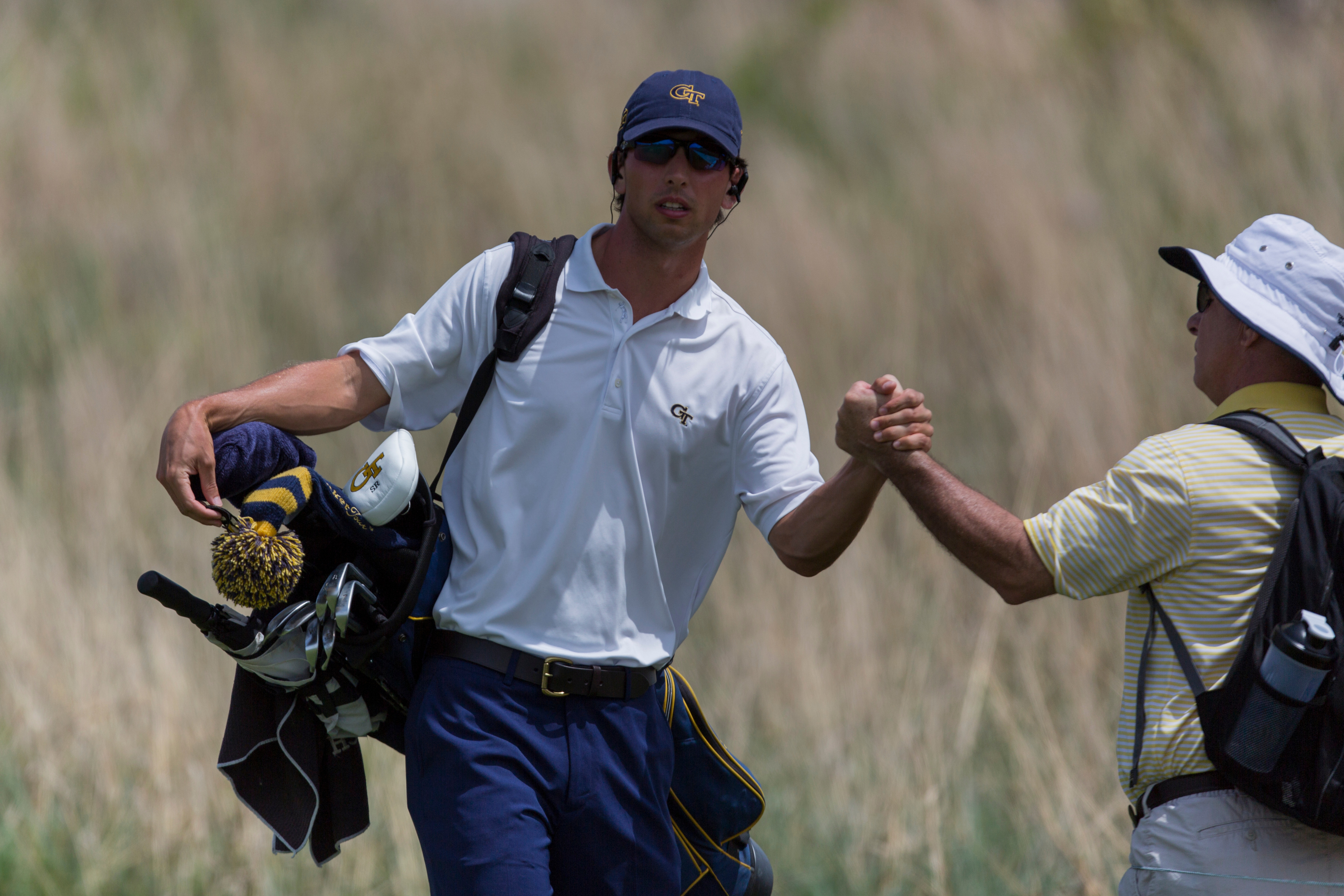 Seth Reeves capped a four-year Tech career at the 2014 NCAA Golf Championship, having earned All-America and All-ACC honors as a senior.
After the tournament in Boise, where Reeves and Albertson are trying to improve the pecking order afforded them by their new PGA Tour cards, he'll play in the Web.com playoff finale in Jacksonville and take a rare week off before beginning his PGA Tour career.
This is quite a ride, and Reeves has had special company even without his wife traveling regularly. He and Albertson have frequently shared hotel rooms and rental cars on the road this year.
Just a couple months ago, Seth was there as Albertson putted out on the 72nd and final hole on the way to his first win, and he sent video back to Anders' wife in Atlanta as it happened.
Albertson put Reeves on Facetime to Patricia two weeks ago as Seth putted out with the knowledge that he was clinching a PGA Tour card.
The future is coming fast. The PGA Tour season begins Oct. 1-7 in the Safeway Open at the Silverado Resort & Spa in Napa Valley, Calif., and Reeves hopes to play five events before the end of the year.
He'll be back at Georgia Tech from time to time, not only to work out when he's in town, but to do the Jacket thing. Maybe he can work in some rest.
"Everything's kind of clicked over the past couple months. I definitely feel like I found something in my swing," he said. "Up until the last week off, I played 10 out of 11 weeks, and I had to play six in a row leading up to Cleveland. It's just part of the grind. I'll be around, and probably go to some football games."