By Matt Winkeljohn | The Good Word
The Yellow Jackets are on the scene at the site of Georgia Tech's most frequent athletic triumphs, buzzing around their lake-side house near the Old North State Club, where the young men feel pretty darned good about their chances to win the program's 18th ACC title and tie Wake Forest for most ACC golf championships won all time.
Never mind that Wake Forest is ranked No. 3 nationally by Golfstat.
Forget that the Demon Deacons beat No. 8 Tech by 28 strokes when last they met, a month ago as Wake captured the Valspar Collegiate title with a staggering 25-under par 827 at the Floridian. The Jackets were 12th at 855 (+3).
Like Wake Forest, Tech has won or tied for five titles this school year, and the Jackets do not fear Arnold Palmer's school. They're convinced they're going to defend their 2018 ACC title.
They love Old North State that much, and well they should. The Jackets have won 11 ACC titles there, including their two-stroke victory last spring over now-No. 19 Clemson, whom Tech whipped less than two weeks ago at a tournament hosted by the Tigers.
Juniors Andy Ogletree, Tyler Stafaci and Luke Schniederjans, sophomore Noah Norton and freshman Connor Howe do not consider themselves underdogs.
"I actually don't because Georgia Tech has had so much success recently at Old North State, and we played with Clemson last week and their guys were like, 'Man, that's y'all's place. I bet you're looking forward to ACCs,'" Ogletree said before the Jackets hit the road. "When the competition is saying stuff like that, it's hard to believe we're not the heavy favorite."
Bruce Heppler can't explain it perfectly, but he believes that his teams always feel good about playing the ACC Championship at Old North State Club, and he's not going to mess with anything.
The Yellow Jackets captured the 17th ACC title in program history in 2018 despite no player finishing higher than 12th individually.
The head coach will not dictate strategy nor club selection. His message is simple: believe and play with conviction.
If there is some sort of psychological advantage for his team because so many predecessors have enjoyed so much success on that track? Great. Ride it.
Maybe that confidence comes from the student-athletes' knowledge of history and former Tech golfers who've passed history down. Whatever. The place has been good for Georgia Tech.
"Maybe it's from talking to Anders [Albertson, a two-time medalist at ACCs) or talking to Ollie [Schniederjans, a former medalist] or whoever … it's like we own the place," Heppler said. "We don't, but there's this feeling that we do, so even when you take four new guys up there last year, they just think we're going to win."
The Jackets won last year even though Luke Schniederjans, Strafaci, Ogletree and Norton had not played there before. The ACCs a year earlier were contested out of state as the league moved all conference championships out of North Carolina in the wake of controversy related to potential legislation within the state.
For as much as the Jackets seem to believe in themselves and their chances at Old North State, Heppler hopes to clear their minds.
He believes that's key to success in the unique sport of golf, where there are prolonged breaks in play the likes of which you won't find in football, basketball or many sports. There can be a lot of time to think, but thinking too much can be destructive.
So, he and assistant coach Drew McGee are careful not to over-coach.
Rarely if ever do they suggest swing changes or club selections. Heppler might tell golfers how a certain hole is playing – longer or shorter than it might look based on wind or false-fronted greens, etc. – but he's not telling anybody how to play.
It's not like football or basketball, where the coaches call plays, change defenses and sub players in and out.
Once a college golf tournament starts, there are no lineup changes allowed, so between Thursday-Saturday, the same Jackets will be in the field of play each day. There may be defensive actions taken, or offensive thrusts, but those will be player decisions.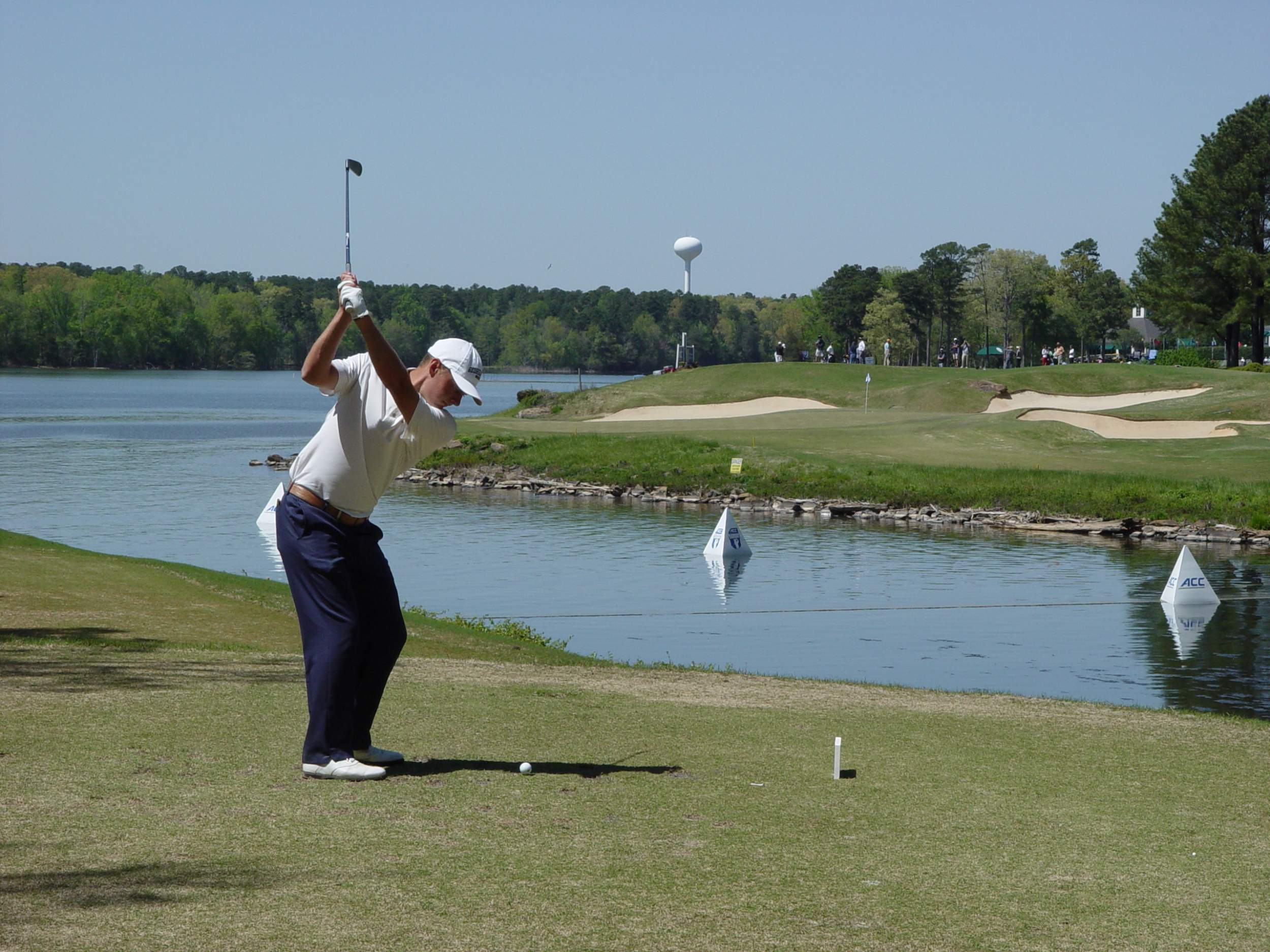 Tyler Strafaci plays his tee shot at the par 3 17th hole during the final round of the 2018 ACC Championship.
The art of coaching team golf, Heppler believes, is, "Can you get your guys freed up the most to where they're committed to what they're doing, they're not concerned that they're going to be talked to or we're going to have a debate about decision," he explained.
The ultimate goal is to enable players to minimize second-guessing that might impact rhythm.
"I've said it a bunch of times: committed to wrong is way better than uncommitted to right," the coach said. "They're pulling the clubs [out of their bags]; it's ludicrous [to tell players how to use them]."
None of this is to suggest that Heppler and McGee don't jump in.
They only upon occasion offer instruction during competition outside of Heppler moving from one par 3 to another, watching the way tee shots are flying and giving feedback to his student-athletes about how balls are flying.
When the game slows, however, there can be serious conversations.
Heppler walked most rounds with Ogletree in the fall. But he's stacked up three top-10 finishes in four spring events with Heppler not by his side, but rather moving from one par 3 tee box to the next.
Don't think there's no coaching. It just happens to be a mix of subtlety and timing.
Soon after the fall season ended, and the Jackets finished third in the Golf Club of Georgia Collegiate – three strokes ahead of Wake Forest – Heppler and Ogletree had a sit down.
The pressure of the present was off. The future, though, lie ahead. Ogletree – like every member of the Tech lineup for years and years – wants to play professionally.
"I told him in the fall that he hits it like the guys you see on TV [as in professionals], but he gets destroyed around the greens," Heppler recalled. "We talked about it freshman year, but nothing happened. I said 'you've got a year and a half of college golf left and then you're either going to make it or not. You've got to do something around the greens.'"
Ogletree went back to Little Rock, Miss., for the break between semesters, didn't touch his clubs for a few days, and then started cranking on his short game. He continued upon returning to school in January, where Tech's Noonan practice facility is likely the premier short practice facility in the nation.
"He started at the break, and he hasn't stopped," Heppler said. "He also got a wonderful putting tip from Noah that's really changed his entire experience on the green, which is what you need to have a really good team.
"Noah Norton probably knows as much about putting as any putting guru. [Ogletree's] just finally made a commitment. Most people don't want to fail … where do you spend your [practice] time? Where it makes you feel good [pounding 4 irons, in Ogletree's previous case]."
The Jackets are not paper favorites at ACCs.
There's Wake Forest, No. 9 Duke, No. 19 Clemson, No. 20 Louisville, No. 23 North Carolina, No. 24 North Carolina State and No. 29 Florida State, which may have the eventual ACC player of the year on its roster.
But the Jackets' comfort with the venue trumps rankings.
"I definitely think everyone is more excited this year than last year, because we really didn't know what to expect," Ogletree said. "I mean we'd heard a lot from older guys about Old North State but really didn't know what Old North State was. We kind of fell in love with the place."
Heppler is OK mind that. He's more concerned that the Jackets love their games and play that way. It's OK to think that Old North State Club is a charmed place. That's an acceptable kind of thinking that has worked well for Georgia Tech over the years.
"How that happens, or why that happens, I'm not sure … I don't doubt that that exists," the coach said. "In all due respect, I don't think that they think they're not the favorite. We've had almost as good a year as [Wake Forest] had. They've had a great spring. They won the Floridian, which was a great performance for them, but I think they think we're the best team there. It should be an incredible shootout."