Final Leaderboard via Golfstat  |  Complete Results (PDF)
Westlake Village, Calif. – In weather conditions that sent scores soaring across the board, Connor Howe and Luka Karaulic each shot 75 to lead No. 20 Georgia Tech Wednesday, and Will Dickson earned his second top-15 finish in a row as the Yellow Jackets finished seventh at the Southwestern Invitational.
On a cloudy day with temperatures in the low 50s, winds of 20 miles per hour and minimal rain at North Ranch Country Club, the Yellow Jackets posted a 17-over-par score of 305 Tuesday. Tech finished seventh in a field loaded with some of the nation's top programs with a 38-over-par total of 902. The 11 of the 12 teams posted scores in double digits in relation to par Tuesday on the 6,992-yard, par-72 layout. The team that didn't, San Diego State with a 5-over-par 293, rallied to win the team title.
TECH LINEUP – Karaulic, a sophomore from Dacula, Ga., and Howe, a junior from Ogden, Utah, both endured see-saw rounds with multiple birdies but also a couple of "other" scores. Each player had four birdies on his card en route to their team-low 75s, and tied for 34th place in the end with 12-over-par scores of 228.
Dickson, a senior from Providence, R.I., started his day double-bogey, birdie, double-bogey, birdie, double bogey, but settled down to add two more birdies and an eagle to finish with a 76 and tie for 11th place in the end at 4-over-par 220. In his first two events as a member of Tech's travel team, he has posted the Jackets' best finish.
Senior Noah Norton (Chico, Calif.) provided the Yellow Jackets' fourth counting score with a 79 Tuesday, and tied for 59th place at 237 (+21). Freshman Christo Lamprecht (George, South Africa), bidding for a top-20 finish in his collegiate debut after 36 holes, struggled to an 80 Tuesday and tied for 32nd place at 227 (+11).
Sophomore Bartley Forrester (Gainesville, Ga.) also shot 79 Tuesday, and tied for 44th at 231 (+15) competing as an individual.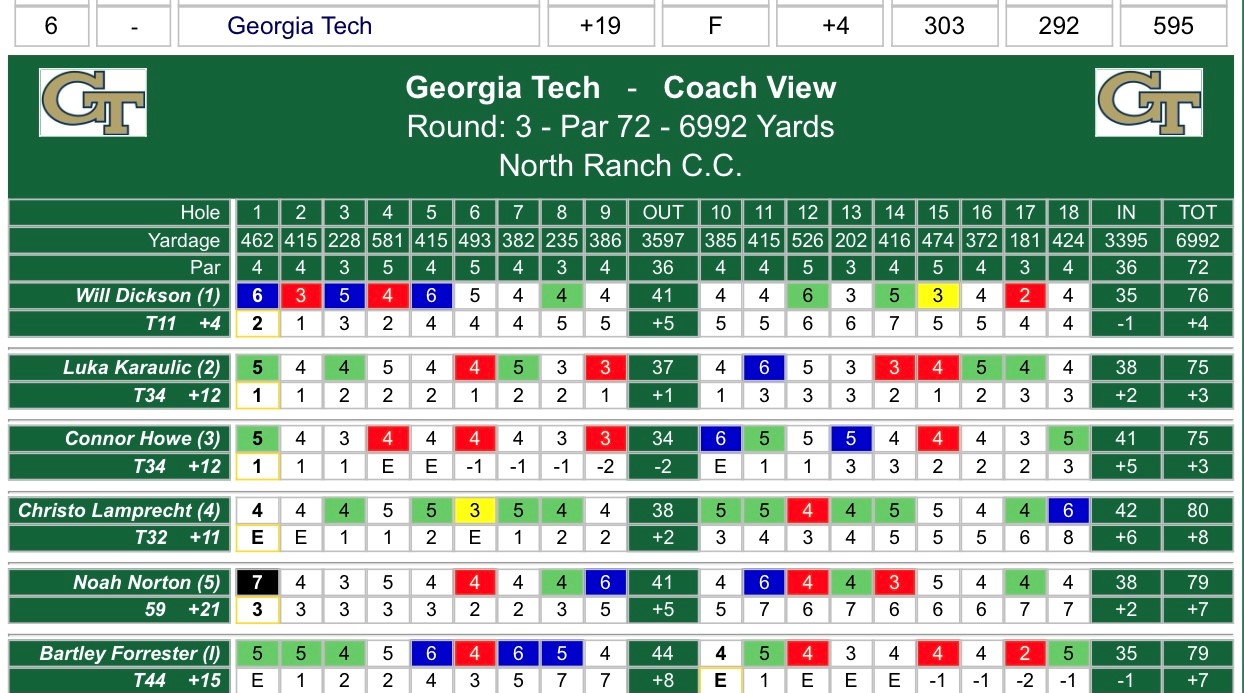 TEAM LEADERBOARD – An 10-stroke turnaround flipped the top two teams on the leaderboard in the final round as San Diego State came from seven strokes back to win by three. The Aztecs shot 5-over-par 293 Tuesday, while the Sun Devils posted a 15-over-par 303 (same as Georgia Tech). San Diego State finished 54 holes with a 10-over-par total of 874, while ASU finished at 877 (+13).
SMU (882, +18), Louisville (885, +21) and host Pepperdine (888 (+24) rounded out the top five, followed by Southern California (900 (+36) and Georgia Tech (902, +38).
INDIVIDUAL LEADERBOARD – Arizona State couldn't hold on to win the team title, but the Sun Devils' David Puig kept the hammer down in the individual race, firing a 2-under-par 70 Tuesday to win medalist honors by nine strokes. Puig posted a 10-under-par total of 206 to outdistance Pepperdine's Joshua McCarthy (215, -1), who was competing as an individual. They were the only players to finish 54 holes under par.
Four players, Pepperdine's R.J. Manke. San Diego State's Youseff Guezalle, SMU's Noah Goodwin and Louisville's Matthias Schmid, finished at even-par 216.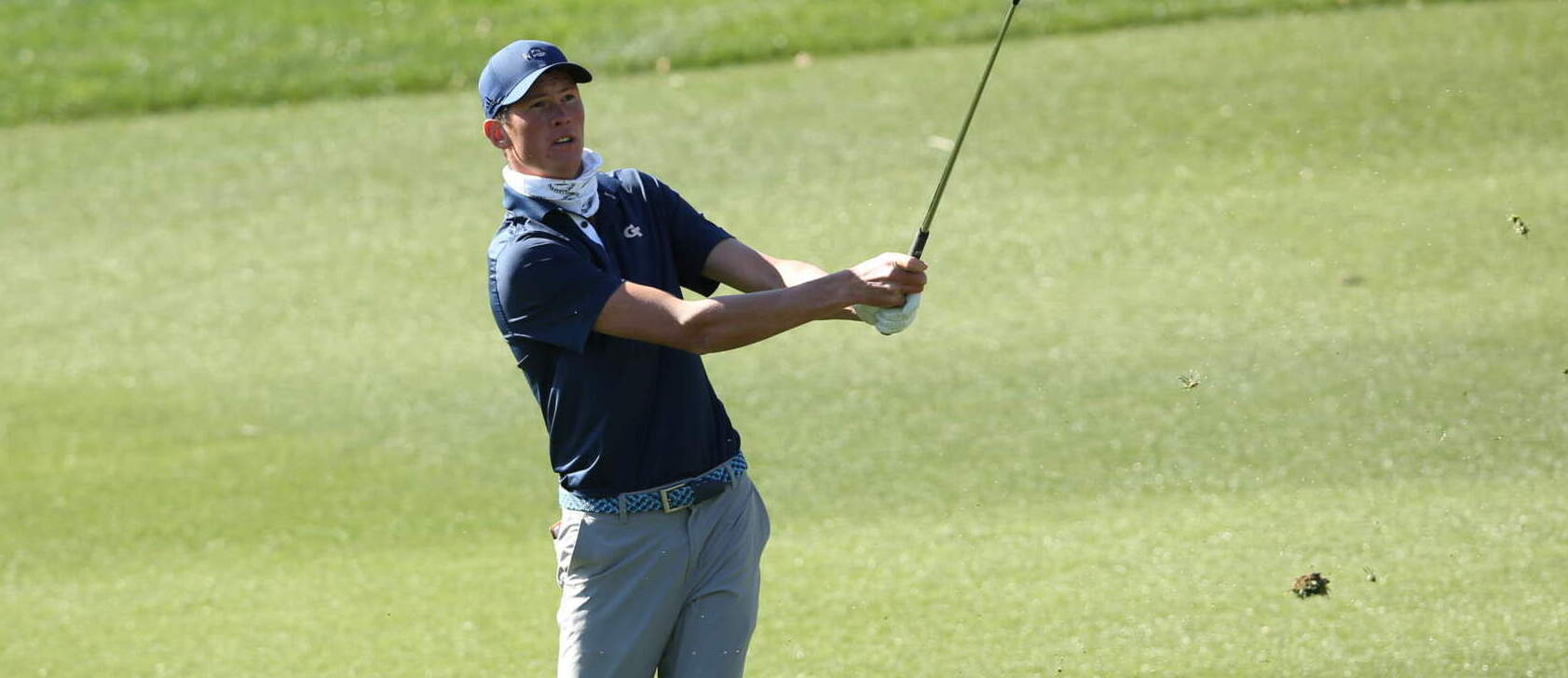 Freshman Christo Lamprecht tied for 32nd place in his collegiate debut. (photo by Jeff Golden)
"The day was a whole lot better than we expected, it was windy but the rain never came. We made the turn in 5-over which was phenomenal, and we had the back nine downwind, but we let it get away from us. Luka fought hard all three days, and I'm really pleased with what he's doing. Will had a rough start, but he fought and went 1-under on the back. This was a strong field, the green complexes were severe and there were a lot of tough pin placements, so it hasn't been easy. All in all, not a bad tournament."
Head coach Bruce Heppler
TOURNAMENT INFORMATION – Taking place at North Ranch Country Club (6,992 yard, par 72) in Westlake Village, Calif., and hosted by Pepperdine University, the 54-hole competition concludes Wednesday with Golf Channel live coverage beginning at 4:30 p.m. Eastern time. First staged in 1978 as the Southwestern Intercollegiate, the event is one of seven college golf championships televised on GOLF Channel, which includes the NCAA Women's and Men's Division I Golf National Championships, taking place in May 2021 at Grayhawk Golf Club in Scottsdale, Ariz.
Twelve teams are competing, including top-ranked Pepperdine, Arizona State (No. 10), Augusta, California, East Tennessee State, Georgia Tech (No. 20), Louisville, Saint Mary's, San Diego State, San Jose State, SMU (No. 19) and Southern California.
Alexander-Tharpe Fund
The Alexander-Tharpe Fund is the fundraising arm of Georgia Tech athletics, providing scholarship, operations and facilities support for Georgia Tech's 400-plus student-athletes. Be a part of developing Georgia Tech's Everyday Champions and helping the Yellow Jackets compete for championships at the highest levels of college athletics by supporting the A-T Fund's Annual Athletic Scholarship Fund, which directly provides scholarships for Georgia Tech student-athletes, and the Support The Swarm Fund, created to give fans an opportunity to help Georgia Tech athletics maintain its recent momentum through the financial challenges of the Covid-19 pandemic! To learn more about supporting the Yellow Jackets, visit atfund.org.  
ABOUT GEORGIA TECH GOLF
Georgia Tech's golf team is in its 26th year under head coach Bruce Heppler, winning 64 tournaments in his tenure. The Yellow Jackets have won 18 Atlantic Coast Conference Championships, made 29 appearances in the NCAA Championship and been the national runner-up four times. Connect with Georgia Tech Golf on social media by liking their Facebook page, or following on Twitter (@GTGolf) and Instagram. For more information on Tech golf, visit Ramblinwreck.com.