Alpharetta, Ga. – Tyler Strafaci shot a 2-under-par 70, and Luke Schniederjans carded a 1-under-par 70, but they were the only Yellow Jackets under par Saturday at No. 3 Georgia Tech slipped to fourth place after the second round of the Golf Club of Georgia Collegiate Invitational.
Bidding for its third victory in the 13-year history of the event, Tech was the only team in the top half of the 14-team field not to break par Saturday, but remains within three shots of the lead, held by No. 15 Clemson, also looking to win here for the third time. Sunday's final round begins at 8:30 a.m., which the Yellow Jackets teeing off at 9:25 a.m. with Alabama and Duke. The Tigers, Wake Forest and Southern California are in the final groups beginning at 10:20 a.m.
Pairings and live scoring via Golfstat  |  Coach Heppler interview
TECH LINEUP – The Yellow Jackets struggled throughout Saturday's round, posting only 15 birdies among its five players on a day that began with some light rain and remained cloudy throughout. Strafaci, a junior from Davie, Fla., recorded six of those along with four bogeys in his round of 70. Schniederjans, a junior from Powder Springs, Ga., who shot 66 Friday, had just one along with a pair of bogeys Saturday, but he holed a pitch from a greenside bunker at 18 for an eagle to finish at 71. He is tied for third place individually at 7-under-par 137, three strokes off the lead.
Strafaci is tied for 13th place individually at 3-under-par 141 along with sophomore Noah Norton (Chico, Calif.), who followed his opening 65 with a 76 Saturday and did not count for the Yellow Jackets.
Andy Ogletree (Little Rock, Miss.) and James Clark (Columbus, Ga.) each shot 74 for Tech's other counting scores on Saturday.
Among the Yellow Jackets competing as individuals this weekend, redshirt freshman Ben Smith (Novi, Mich.) enjoyed the best day with a 4-under-at 68. He and true freshman Connor Howe (Ogden, Utah) are tied for 47th place.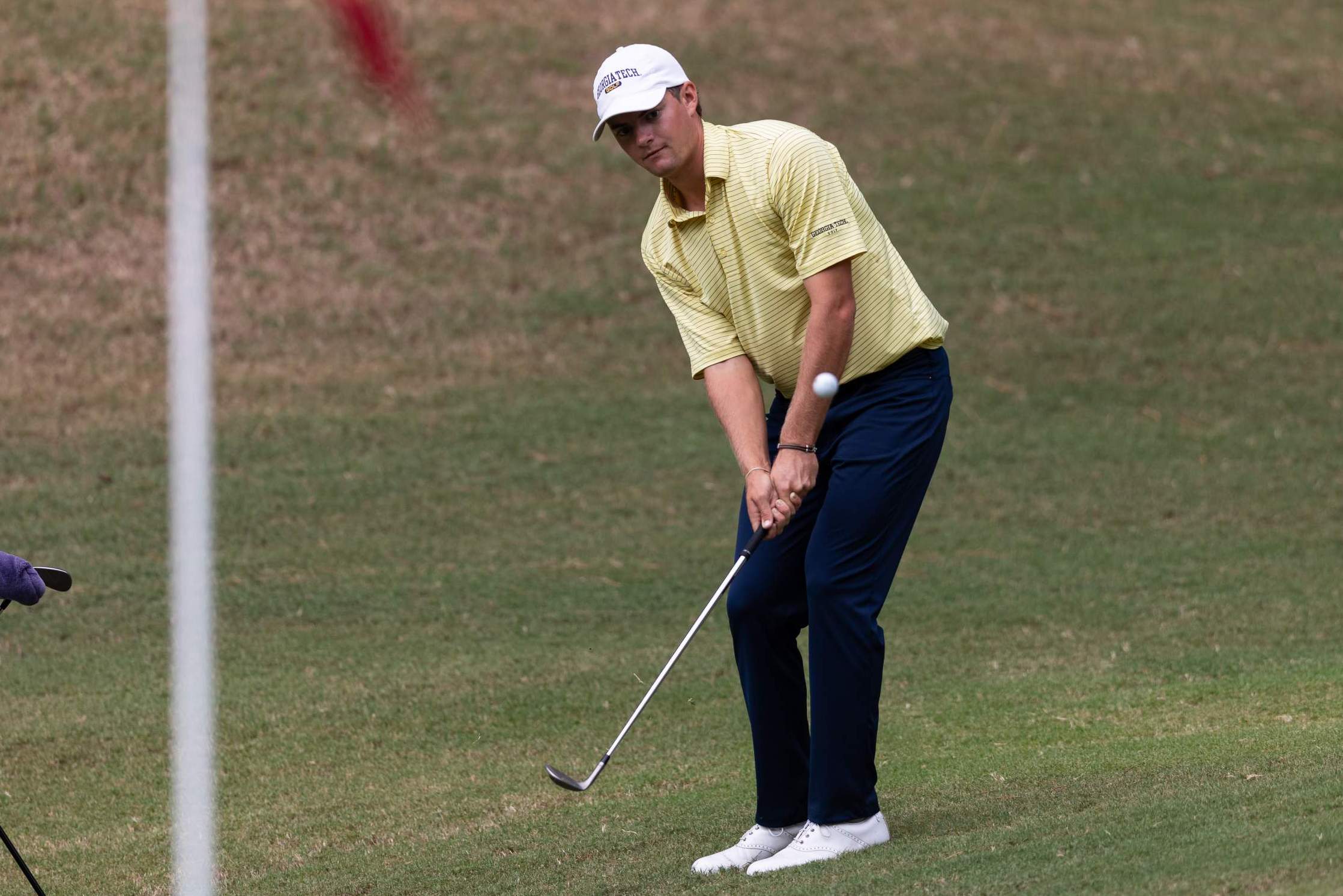 Tyler Strafaci had six birdies in his round of 70 Saturday.
TEAM LEADERBOARD – Clemson fired an 8-under-par 280 Saturday and took over the 36-hole lead at 20-under-par 556, one stroke ahead of No. 11 Wake Forest (557, -19), who shot 7-under-par 281 in the second round. No. 10 Southern California, who matched Clemson's round Saturday, sits in third place at 18-under-par 558. Tech, with a 1-over-par 289 score Saturday, is another stroke back at 17-under-par 559.
Fifth-ranked Alabama (564, -12) had the day's best round at 10-under-par 278 and remained in fifth place, while No. 2 Duke (568, -8) holds sixth place and No. 28 Stanford (569, -7) sits in seventh place.
INDIVIDUAL LEADERBOARD – With a pair of 67s so far this weekend, Southern California senior Justin Suh has the individual lead at 10-under-par 134, two shots ahead of Clemson sophomore Turk Pettit, who has a pair of 68s this weekend.
Tech's Schniederjans is in a five-player tie for third place at 137 (-7), with the Tigers' Jacob Bridgeman and Wake Forest's Eugenio Chacarra tied for eighth place at 138 (-6). Clemson senior Bryson Nimmer (5-under 139) rounds out the top 10.
COACH BRUCE HEPPLER SAYS– "We just didn't play as well today. We didn't get the play we needed to from some guys, but sometimes when you have a low round, you don't back it up. You see that on tour all the time. Luke's flip there at the end helped us stay a little bit closer. We're still within reach heading into tomorrow. Those other teams yesterday are not going to lay over for you. These are some of the best teams in the country. It's 54 holes, and you've just got to play all of them."
TOURNAMENT INFORMATION – The Golf Club of Georgia Collegiate, formerly called the United States Collegiate Championship, wraps up Sunday at the Golf Club of Georgia, which serves as one of the Yellow Jackets' two home clubs. The tournament will be played exclusively on the 7,017-yard, par 72 Lakeside Course. Competition begins at 8:30 a.m. Admission is free.
The 54-hole event, which annually attracts one of the strongest fields in college golf, this year has 13 participants from the 2018 NCAA Championship in the field. Clemson, Stanford and UCLA each advanced to the NCAA Championship finals this spring, while Georgia Tech, Florida State, Middle Tennessee State, Southern California, TCU, Virginia and Wake Forest all competed in NCAA regionals. East Tennessee State, the only team besides the host Yellow Jackets to have participated in all 12 previous Collegiate Invitational events, and New Mexico round out the 15-team field.
The 14-team field includes five of the nation's top 10 teams, seven of the top 25 and 11 of the top 50 in the most recent Golfstat rankings. The complete field with Golfstat ranking – Alabama (5), Clemson (15), Duke (2), East Tennessee State (80), Florida State (32), Georgia Tech (3), New Mexico (47), Southern California (10), Stanford (28), TCU (49), Texas A&M (9), UCLA (72), Virginia (70), Wake Forest (11).
TECH'S GOLF CLUB OF GEORGIA COLLEGIATE HISTORY – Georgia Tech has won the Golf Club of Georgia Collegiate twice in its history, in 2010 and 2012. James White, who set tournament records for 18-hole score (62) and 54-hole score (204, broken in 2014), won medalist honors in 2010, while Ollie Schniederjans won it in 2013 for Tech's only individual titles. Clemson, Oklahoma State and Texas also have won twice. The Tigers captured the inaugural title in 2006 and again in 2009, the Longhorns won in 2014 and shared the title with Virginia in 2016, and the Cowboys won in 2013 and again last fall.