Alpharetta, Ga. – Georgia Tech's golf team, ranked No. 4 in the nation after going unbeaten in three fall events, takes on one of college golf's strongest fields this weekend in its final event of the fall season when it hosts the 13th annual Golf Club of Georgia Collegiate Invitational at the Golf Club of Georgia.
Pairings and live scoring via Golfstat  |  Coach Heppler interview
TOURNAMENT INFORMATION – The Golf Club of Georgia Collegiate, formerly called the United States Collegiate Championship, is being played Friday through Sunday at the Golf Club of Georgia, which serves at the Yellow Jackets' home club. The tournament will be played exclusively on the 7,017-yard, par 72 Lakeside Course. Competition begins at 8:30 a.m. each day. Admission is free.
The 54-hole event, which annually attracts one of the strongest fields in college golf, this year has 13 NCAA Championship participants in the field. Clemson, Stanford and UCLA each advanced to the NCAA Championship finals this spring, while Georgia Tech, Florida State, Middle Tennessee State, Southern California, TCU, Virginia and Wake Forest all competed in NCAA regionals. East Tennessee State, the only team besides the host Yellow Jackets to have participated in all 12 previous Collegiate Invitational events, and New Mexico round out the 15-team field.
The 14-team field includes five of the nation's top 10 teams, seven of the top 25 and 11 of the top 50 in the most recent Golfstat rankings. The complete field with Golfstat ranking – Alabama (5), Clemson (15), Duke (2), East Tennessee State (80), Florida State (32), Georgia Tech (3), New Mexico (47), Southern California (10), Stanford (28), TCU (49), Texas A&M (9), UCLA (72), Virginia (70), Wake Forest (11).
Tech is paired with Alabama and Texas A&M for the opening round Friday, teeing off at 9:25 a.m. from the first hole. Pairings for the Saturday and Sunday rounds will be set based on the leaderboard through the previous round.
TECH'S GOLF CLUB OF GEORGIA COLLEGIATE HISTORY – Georgia Tech has won the USCC twice in its 12-year history, in 2010 and 2012. James White, who set tournament records for 18-hole score (62) and 54-hole score (204, broken in 2014), won medalist honors in 2010, while Ollie Schniederjans won it in 2013 for Tech's only individual titles. Clemson, Oklahoma State and Texas also have won twice. The Tigers having captured the inaugural title in 2006 and again in 2009, the Longhorns winning on 2014 and shared the title with Virginia in 2016, and the Cowboys won in 2013 and again last fall.
The Yellow Jackets tied for fourth place last fall, and have finished out of the top five just twice in 12 years.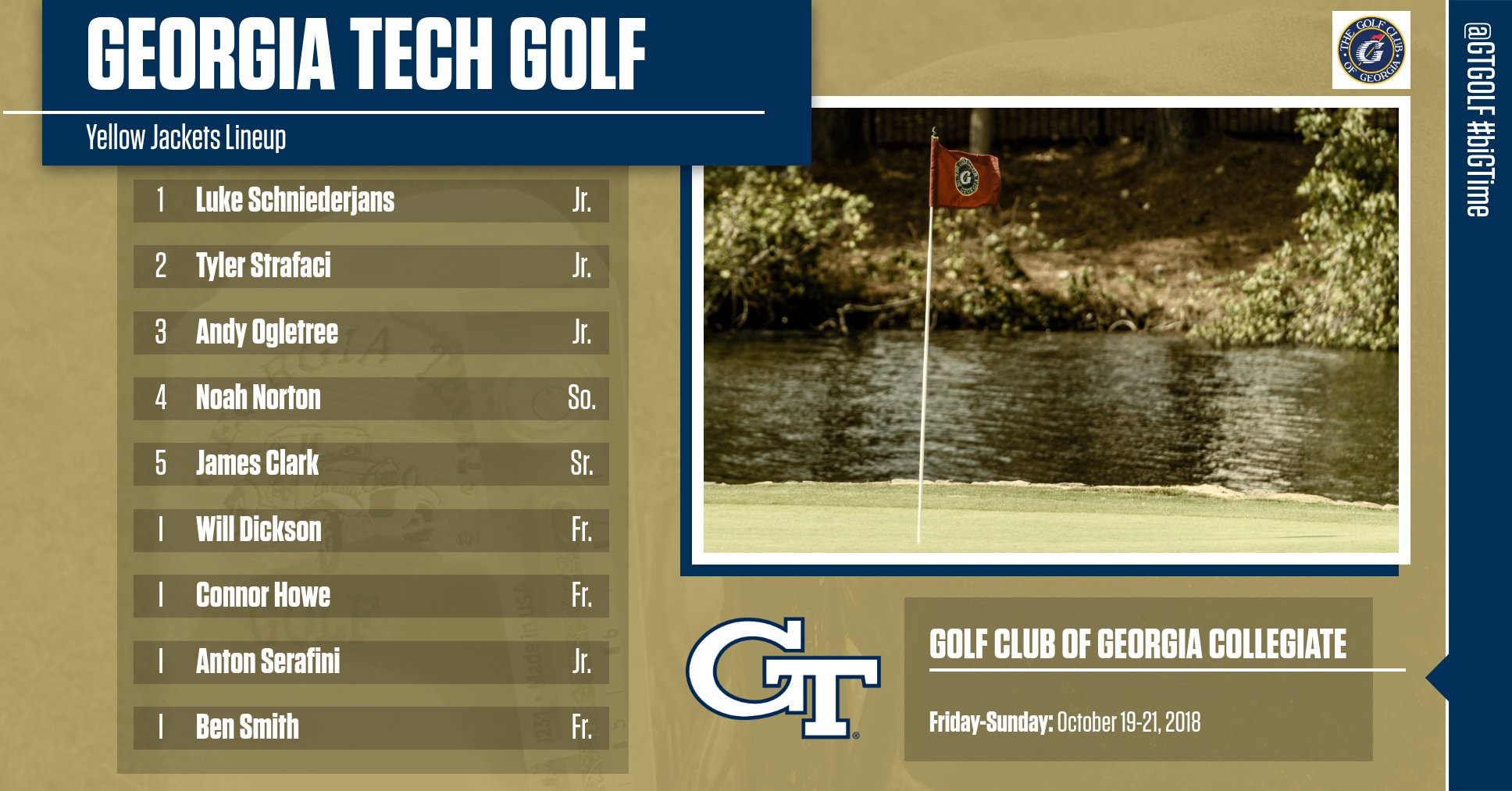 TEAM UPDATE – The Yellow Jackets stand No. 3 in the nation in the Golfstat rankings, No. 4 in the Golfweek/Sagarin Index and Bushnell Golfweek Coaches Poll after winning the Maui Jim Intercollegiate and tying for first in the Carpet Capital Collegiate, and then winning both of its matches in the Jack Nicklaus Collegiate Invitational.
Tech is 10-0 against current top-25 teams this fall, 13-0-1 vs. top-50 teams, 21-0-1 vs. top-100 teams, and its schedule is rated the 12th-most difficult in the nation according to the Golfweek/Sagarin Index.
Tech piled up the birdies during its two stroke-play events, accumulating 148 over the six rounds, an average of 24.6 per round and 4.9 per player per round. The Jackets average drop score over six rounds if 73.93, best in the nation. Tech leads the nation in first-round scoring average, ranks second in overall scoring average and No. 3 in relationship to par.
Three Yellow Jackets – Luke Schniederjans (No. 22), Tyler Strafaci (25) and Noah Norton (38) are ranked among the top 40 in the latest Golfweek/Sagarin Index, while Andy Ogletree is No. 92. Senior James Clark is No. 222.
TECH LINEUP – Schniederjans (Powder Springs, Ga.), Strafaci (Davie, Fla.), Ogletree (Little Rock, Miss.), Norton (Chico, Calif.) and Clark (Columbus, Ga.) are in the lineup for the Golf Club of Georgia Collegiate Invitational, each having played in all three prior events this fall. Freshman Connor Howe (Ogden, Utah) and redshirt freshman Ben Smith (Novi, Mich), each of whom have played in two events, are competing as individuals, as are redshirt freshman Will Dickson (Providence, R.I.) and junior Anton Serafini (Lake Mary, Fla.), both of whom are making their collegiate debuts.
Schniederjans and Strafaci each have finished in the top 10 in both stroke-play events so far, while Ogletree has tied for 16th and 12th, respectively, and Clark tied for 14th in the Carpet Capital Collegiate. Strafaci and Clark each won two matches at the Jack Nicklaus Invitational.
Norton, Schniederjans and Strafaci are all under 70 in scoring average this fall, while Ogletree sits at 70.17 and Clark at 71.33. Howe has a 69.67 average in three stroke-play rounds.
COACH BRUCE HEPPLER SAYS– "We're excited to host what has long been one of college golf's best events. The Golf Club of Georgia Collegiate Invitational has annually been ranked as one of the three of four best collegiate tournaments because of the venue, the strong field and the overall experience that the competitors and teams enjoy. We enjoy showing off The Golf Club of Georgia as well. It is a special place and a major part of our program. The winner will have earned a very special trophy."
ABOUT GEORGIA TECH GOLF
Georgia Tech's golf team is in its 24th year under head coach Bruce Heppler, having won 53 tournaments in his tenure. The Yellow Jackets have won 17 Atlantic Coast Conference Championships, made 28 appearances in the NCAA Championship and been the national runner-up four times. Connect with Georgia Tech Golf on social media by liking their Facebook page, or following on Twitter (@GTGolf). For more information on Tech golf, visit Ramblinwreck.com.