Trinity, Texas – Georgia Tech's Andy Ogletree (Little Rock, Miss.) is one of four of the country's top collegiate golfers who have been named to Team USA for the 2019 Spirit International Amateur Golf Championship held Nov. 7-9 at Whispering Pines Golf Club.
The Spirit International Amateur Golf Championship is a premiere golf event featuring the world's best men and women amateur golfers representing their respective countries in team and individual competitions. It is a biennial event which alternates with the World Amateur Team Championship.
Joining Ogletree on Team USA is Cole Hammer (Houston, Texas), Emilia Migliaccio (Cary, N.C.), and Kaitlyn Papp (Austin, Texas).
The 2019 Spirit International features 80 competitors from 20 countries, representing six continents. The Spirit is a 54-hole four-ball stroke play competition with three concurrent competition categories: international team, men's team, women's team. Gold, Silver and Bronze commemorative medals are awarded to the top three golfers in each competition.
"I'm excited to be a part of and represent the United States in this prestigious event," said Ogletree. "I'm looking forward to competing alongside these great golfers and enjoying a tremendous experience."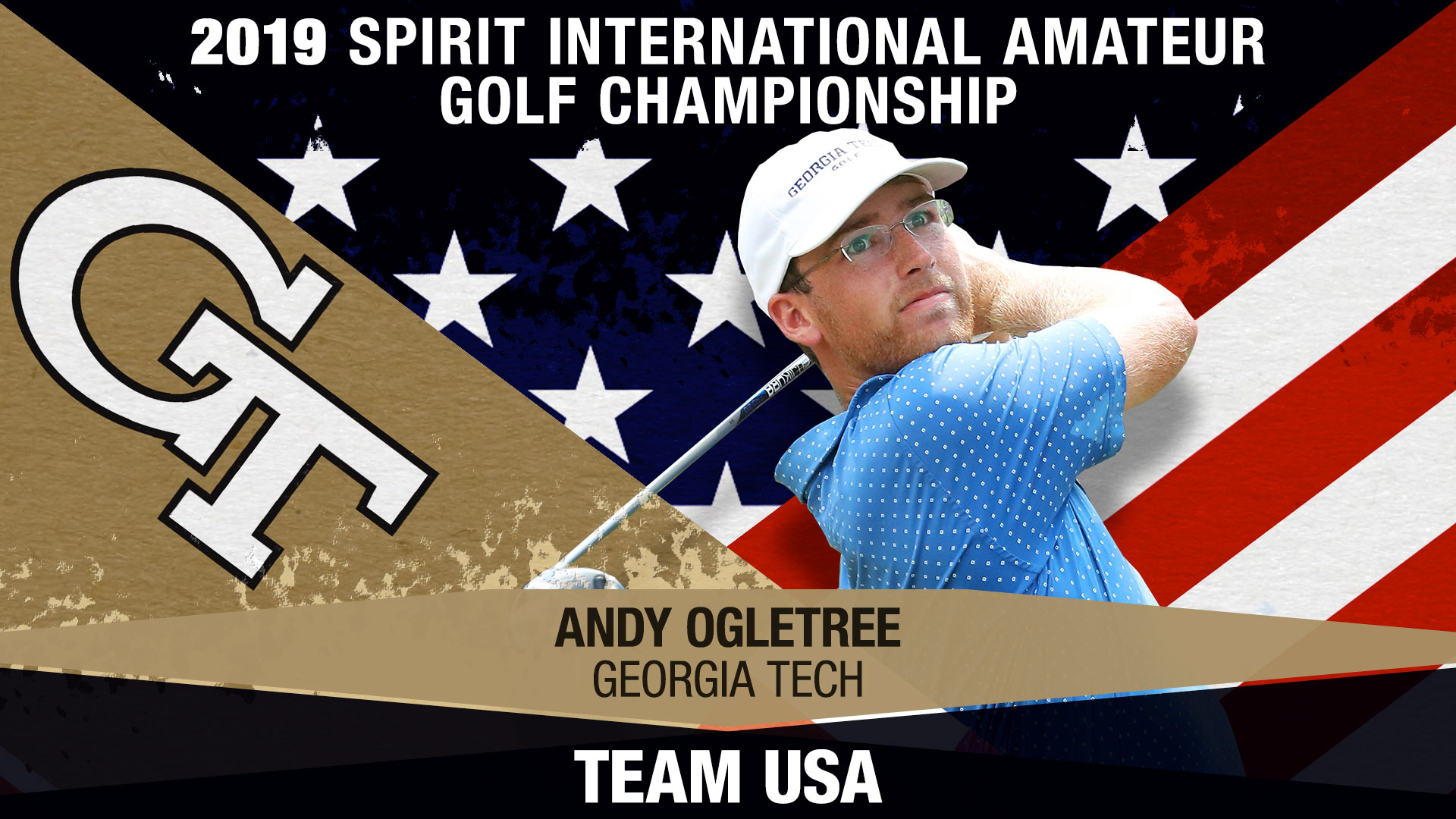 Ogletree's selection for this event comes on the heels of his winning the U.S. Amateur Championship at Pinehurst, N.C., in August and helping the United States team defeat Great Britain and Ireland in the 2019 Walker Cup at Royal Liverpool Golf Club. The Tech senior is currently No. 36 in the World Amateur Golf Rankings, while Hammer is No. 1.
Ogletree was named to the 2019 Golf Coaches Association All-America second team and made the All-Atlantic Coast Conference team, posting four top-10 finishes in the spring and a runner-up performance at the ACC Championship.
Team USA is looking for its sixth overall and fifth consecutive win. Their latest win came in 2015. The 2017 event was cancelled due to Hurricane Harvey.
Stacy Lewis, a 12-time LPGA champion and a resident of Houston, is the captain of Team USA.
"The Spirit International Amateur Golf Championship is such a special event and I look forward to serving as captain for Team USA,' Lewis said. "With Cole, Andy, Emilia and Kaitlyn, we have a great team that I know will represent our country well. It's going to be a great week of competition."
ACC NETWORK HAS LAUNCHED!
The ACC Network is a linear and digital platform dedicated to 24/7 coverage of ACC sports that launched on Aug. 22, 2019. It will exclusively televise approximately 450 live events each year, including 40 football games (beginning with Georgia Tech's 2019 season opener at Clemson on Aug. 29), as well as 150 men's and women's basketball contests.
Don't get shut out! For more information and to learn if your cable/satellite/digital provider is carrying the ACC Network, visit GetACCN.com. Georgia Tech fans whose cable/satellite/digital providers aren't carrying the ACC Network are urged to contact their providers and ask for the ACC Network to be a part of their subscription.
ABOUT GEORGIA TECH GOLF
Georgia Tech's golf team is in its 25th year under head coach Bruce Heppler, winning 61 tournaments in his tenure. The Yellow Jackets have won 18 Atlantic Coast Conference Championships, made 29 appearances in the NCAA Championship and been the national runner-up four times. Connect with Georgia Tech Golf on social media by liking their Facebook page, or following on Twitter (@GTGolf) and Instagram. For more information on Tech golf, visit Ramblinwreck.com.