THE FLATS – Georgia Tech's golf team will get a rare taste of match play Monday and Tuesday when it joins seven other top college golf teams for the Jack Nicklaus Invitational, a two-day match play event at Muirfield Village Golf Club in Dublin, Ohio.
Pairings and live scoring via Golfstat  |  Coach Heppler interview
TOURNAMENT INFORMATION – The Jack Nicklaus Invitational comprises two days of match play between eight of the top college golf teams in the nation at Muirfield Village Golf Club (7,221 yards, par 72), the site of the annual PGA Tour Memorial Tournament. The field includes host Ohio State, No. 13 Clemson, Florida State, No. 10 Georgia, No. 4 Georgia Tech, Kent State, No. 22 South Carolina and No. 20 Stanford.
The eight teams have been paired in a match play bracket with the first round set for 8:30 a.m. Monday morning, the semifinal rounds beginning at 1:30 p.m. Monday afternoon and the final round Tuesday morning. Each team will play three matches, with the first-round losers working through a consolation bracket. Each team will have six players competing in singles matches against their counterparts, with each individual match victory counting one point for their team.
The team that accumulates 3.5 points or more wins the match. If the overall team match is tied at 3-3, the games committee will break the tie. It will not be settled on the course.
The coaches will set their 1-through-6 order by Sunday evening and that order will be used for both matches on Monday. There will be three tee times per match in both the first and second rounds on Monday as they will play in groups of four. The coaches will then have a chance to change their order prior to Tuesday's final round. The players will be in twosomes on Tuesday.
Tech will face Kent State in the opening round Monday, while South Carolina takes on Stanford. On the other side of the bracket, Clemson and Ohio State square off in the first round, while Florida State meets Georgia.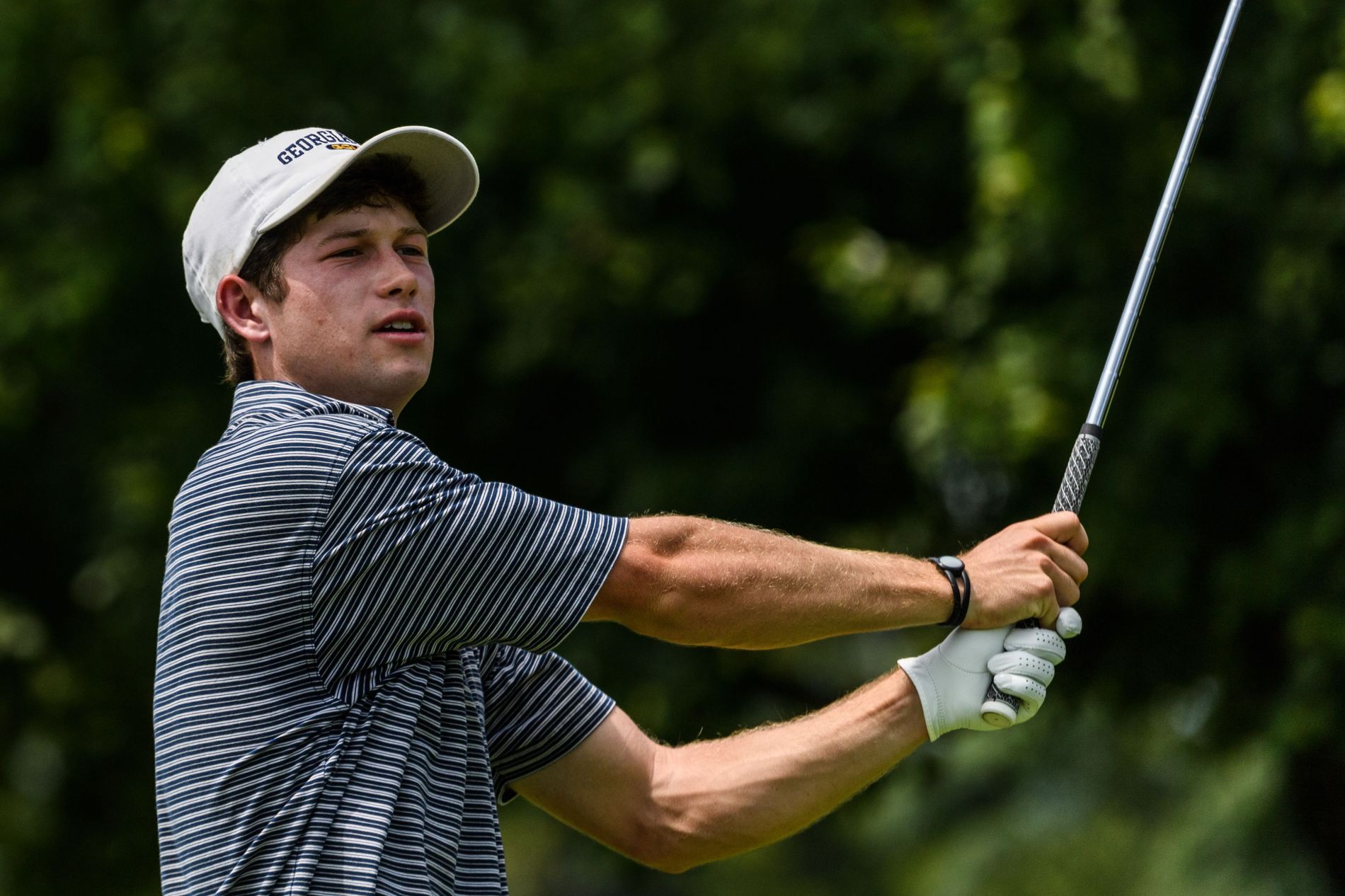 James Clark was the only Jacket to win his singles match against Southern California two years ago at the Cypress Point Collegiate.
TEAM UPDATE – The Yellow Jackets moved up to No. 4 in the nation in the most recent Bushnell Golfweek Coaches Poll after winning the Maui Jim Intercollegiate and tying for first in the Carpet Capital Collegiate. Tech is 9-0-1 against top-25 teams over those two events, 16-0-1 vs. top-50 teams. Tech is No. 3 in the Golfweek/Sagarin Index and No. 4 in Golfstat.
Tech has piled up the birdies during its first two events, accumulating 148 over the six rounds to rank No. 2 in the nation, and average of 24.6 per round and 4.9 per player per round. The Jackets average drop score over six rounds if 73.93, third in the nation. Tech also ranked fifth in overall scoring average, fifth in first-round scoring average, and No. 10 in scoring average on par-4 holes.
Three Yellow Jackets – Luke Schniederjans (No. 22), Tyler Strafaci (27) and Noah Norton (34) are ranked among the top 35 in the latest Golfweek/Sagarin Index, while Andy Ogletree is No. 81. Senior James Clark is No. 195.
TECH LINEUP – Schniederjans (Powder Springs, Ga.), Strafaci (Davie, Fla.), Ogletree (Little Rock, Miss.) and Clark (Columbus, Ga.) are in the lineup for the Jack Nicklaus Invitational along with redshirt freshman Ben Smith (Novi, Mich.) and true freshman Connor Howe (Ogden, Utah). The four upperclassmen have played in every event this season. Smith and Howe, who is replacing the injured Norton (back) this weekend, are each playing for the second time.
Schniederjans and Strafaci each have finished in the top 10 in both events so far, while Ogletree has tied for 16th and 12th, respectively, and Clark tied for 14th in the Carpet Capital Collegiate. Smith tied for 58th in the Carpet Capital Collegiate, and Howe posted a tie for 30th at the Maui Jim Intercollegiate.
Schniederjans, Strafaci and Clark all played in the Cypress Point Collegiate match play event two years ago, Tech's last match play event as a team. Schniederjans and Strafaci went 2-0 in the team matches, but each lost in singles, while Clark was the only Tech player to win his singles match on the final day.
COACH BRUCE HEPPLER ON MATCH PLAY – "[Nicklaus] is certainly behind the event, because Mr. Nicklaus feels like we don't play enough match play as college guys and as amateurs. Part of the reason we don't have more match play is the NCAA's [limit of] 24 competitive days. I think a lot of people are concerned about going somewhere and not getting a lot of head-to-heads vs. a tournament with 15 of 18 opponents. That doesn't seem like a good reason to me that you couldn't do it at least once a year. Once it became part of the NCAA Championship, having experience and getting to know what that feels like, you'd be misguided not to try and find some. Hats off to our brothers in the Southeastern Conference, who made it a part of their championship."
ABOUT GEORGIA TECH GOLF
Georgia Tech's golf team is in its 24th year under head coach Bruce Heppler, having won 53 tournaments in his tenure. The Yellow Jackets have won 17 Atlantic Coast Conference Championships, made 28 appearances in the NCAA Championship and been the national runner-up four times. Connect with Georgia Tech Golf on social media by liking their Facebook page, or following on Twitter (@GTGolf). For more information on Tech golf, visit Ramblinwreck.com.