Pullman Regional website  |  Live Results
Pullman, Wash. – Andy Ogletree and Luke Schniederjans each fired 4-under-par 66 Tuesday, while 8th-ranked Georgia Tech posted a 10-under-par round of 270 and held onto third place after 36 holes of the NCAA Pullman (Wash.) Regional at Palouse Ridge Golf Club.
The Yellow Jackets (541, -19) sit four strokes off the lead of Texas A&M (537, -23), and more importantly, nine ahead of sixth place entering Wednesday's final round. Tech will be paired with the Aggies and second-place Oklahoma when play begins at 7:30 a.m. local time.
TECH LINEUP – With winds fairly calm until the latter part of the round, the Yellow Jackets gained most of their ground on the back nine, playing those holes 8-under-par.
Ogletree remained a rock for Tech in round 2, playing a clean round with an eagle and three birdies after opening with a bogey. The junior from Little Rock, Miss., is tied for sixth place individually at 7-under-par 133. Schniederjans made eagle at 10 and went 3-under-par over the final six holes in posting his 66. The junior from Powder Springs, Ga., is tied for 17th place individually at 4-under-par 136.
Sophomore Noah Norton (Chico, Calif.) posted his second consecutive 68, despite a double-bogey at 17, while freshman Connor Howe (Ogden, Utah) overcame a triple bogey at the par-3 6th to shoot even-par 70. Both players are tied for 17th place with Schniederjans at 4-under-par 136.
The Jackets lead the tournament in par-5 scoring (-12) and rank fourth in scoring on the par-3s and par-4s. Tech accumulated 18 birdies Tuesday and rank fourth in the tournament with 39.
TEAM LEADERBOARD – The top three teams – Texas A&M, Oklahoma and Georgia Tech, who were paired together for round 2 – all hit double-digits under par Tuesday to keep the same order on the leaderboard and their early tee times for the final round.
The No. 20 Aggies posted a 12-under-par 268 Tuesday and finished 36 holes at 537 (-23), three shots ahead of the No. 5 and top-seeded Sooners, who shot 10-under-par in the second round and sit at 540 (-20). The Yellow Jackets also shot 270 Tuesday and have a 36-hole total of 541 (-19).
Brigham Young and Colorado State, who began round 2 on the back nine, took advantage of the early calm conditions to post low back-nine scores Tuesday, with the Cougars assuming the lead for a period of time. But both teams fell back under a combination of higher winds and more difficult scoring on the front nine and sit in fourth and fifth places. BYU posted a 9-under-par 271 and have a tournament total of 543 (-17), while the Rams shot 11-under-par 269 and finished at 548 (-12).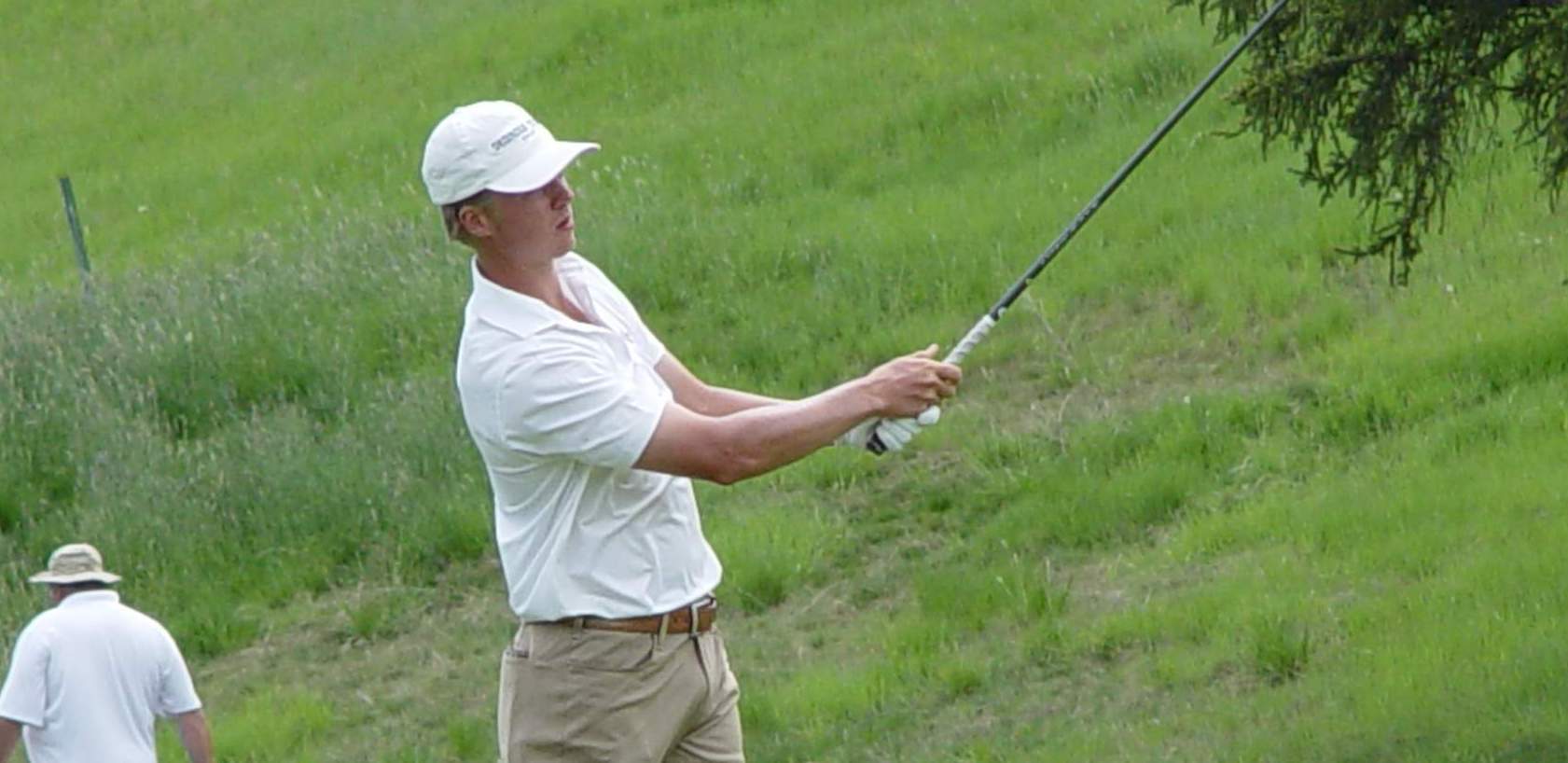 Freshman Connor Howe (top photo) shot even-par 70 Tuesday, while Noah Norton posted his second straight 68. Both players are tied for 17th place.
INDIVIDUAL LEADERBOARD – Palouse Ridge yielded more low scores on Tuesday, including an 8-under-par 62 from Oklahoma's Blaine Hale, who took the individual lead at 10-under-par 130. BYU's Rhett Rasmussen shot 7-under 63 and moved into a three-way tie for second place at 132 (-8) with Tim Widing of San Francisco (65 Tuesday) and Zach Smith of UC Santa Barbara.
Tech's Ogletree and three others are tied for fifth place at 133 (-7).
All three first-round co-leaders – Chandler Phillips of Texas A&M, Garett Laband of Oklahoma and Carson Lundell of BYU – followed  their opening 64s with even-par 70s and are among a group of eight players tied for eighth place at 134 (-6).
Schniederjans, Norton and Howe are in another group of eight tied for 17th place at 136 (-4).
Nearly half the field of 75 (36 players) remains under par through 36 holes.
TOURNAMENT INFORMATION – The NCAA Pullman Regional includes eight teams that are ranked among the top 50 teams in the nation according to Golfstat. In order of seed, the field includes Oklahoma (5), Georgia Tech (8), South Carolina (17), Texas A&M (20), UCLA (29), Brigham Young (30), Colorado State (41), Florida (44), Michigan State (53), Purdue (66) and automatic qualifiers Kent State (Mid-American Conference), Northern Colorado (Big Sky Conference), Wright State (Horizon League) and Iona (Metro Atlantic Athletic Conference).
Palouse Ridge Golf Club measures 7,232 yards and plays to a par of 70 for the Pullman Regional. It is located at the Eastern edge of the Washington State University campus and opened in 2008. The final round begins at 10:30 a.m. Eastern time (7:30 a.m. local time) Tuesday.
The top five finishers after the completion of play Wednesday will advance to the NCAA Division I Men's Golf Championship, which will be contested May 24-29 at Blessings Golf Club in Fayetteville, Ark.
TEAM UPDATE – The Yellow Jackets are playing in an NCAA regional for the 22nd straight year and for the 29th time in the 31 years the NCAA has used a regional qualifying format for its championship. They are part of a regional field that includes 14 teams and five individuals.
Tech is playing in an NCAA regional on the West Coast for the fourth time in the last five years, having played in San Diego, Calif. (2015), Tucson, Ariz. (2016) and Stanford, Calif. (2017) before playing last year in Raleigh, N.C. The Yellow Jackets look to advance to the NCAA Championship for the first time since 2015, having come down to the final hole and failing to qualify by one stroke each of the past two years.