TV: Golf Channel (4:30 p.m. ET each day) | Pairings and live scoring via Golfstat
Westlake Village, Calif. – Freshman Christo Lamprecht fired an even-par 72, senior Will Dickson added a 1-over-par 73 to pace Georgia Tech Monday, and both are among the top 12 individuals following the opening round of the Southwestern Invitational.
With the field battling chilly conditions and winds of 20-30 miles per hour at North Ranch Country Club, the Yellow Jackets posted a 15-over-par score of 303 and sit in sixth place in a 12-team field loaded with some of the nation's top programs. None of the teams were able to post a subpar round Monday, and only five individuals broke par, which is 72 on the 6,992-yard layout.
TECH LINEUP – Lamprecht, a native of George, South Africa ranked the No. 2 amateur in his home country, bogeyed the first two holes in his collegiate debut, but rallied to record four birdies against two bogeys the rest of the way, and is tied for sixth place, four strokes off the individual lead.
Dickson, a senior from Providence, R.I., who was the Yellow Jackets' high finisher in the spring opener a week ago, did the opposite of Lamprecht, opening with a pair of birdies and grinding through the rest of his round to post a 73 and take a share of 12th place.
Sophomore Luka Karaulic (Dacula, Ga.) and junior Connor Howe (Ogden, Utah) negotiated the North Ranch course very differently, but each shot 79 (+7) to count for the Yellow Jackets and are tied for 44th place. Howe had eight bogeys but managed to avoid a high score on any hole; Karaulic opened with a quadruple bogey and added three double bogeys, but battled to stay in his round with four birdies.
Senior Noah Norton (Chico, Calif.), making his spring debut in his home state, shot 81 and did not count for Tech Monday, while sophomore Bartley Forrester (Gainesville, Ga.), playing as an individual, also shot 81. They are tied for 53rd place.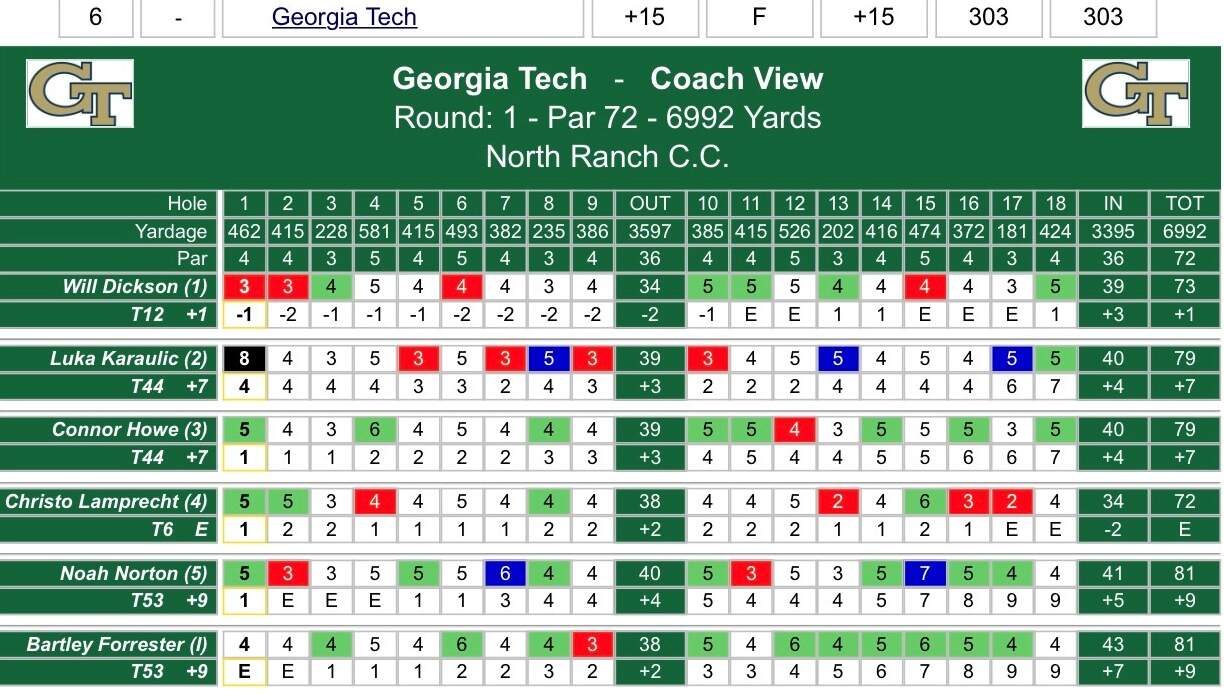 TEAM LEADERBOARD – Only four strokes separate the top four teams on the leaderboard. On the strength of a pair of subpar rounds from David Puig and Ryggs Johnston, Arizona state took the early lead with a 4-over-par round of 202, one stroke up on SMU (293, +5), led by Noah Goodwin's 70. San Diego State holds third place at 294 (+6), followed by Louisville at 296 (+8).
Southern California posted a 13-over round of 301, followed by the Yellow Jackets at 303 (+15). California and East Tennessee State are tied for seventh place with a 17-over-par total of 305, while Pepperdine, the host team and the top-ranked team in the country, struggled to a team score of 308 (+20) and is in ninth place.
St. Mary's of California and Augusta, both at 316 (+28) and San Jose State (319, +31) round out the field.
INDIVIDUAL LEADERBOARD – USC's Shane Ffrench, SMU's Noah Goodwin and Arizona State's David Puig all shot 2-under-par 70 and share the opening round lead. Louisville's Matthias Schmid and Arizona State's Ryggs Johnston are tied for fourth place a stroke back at 71 (-1). They are the only players in red figures.
Georgia Tech freshman Christo Lamprecht is in a group of five players at even-par 72.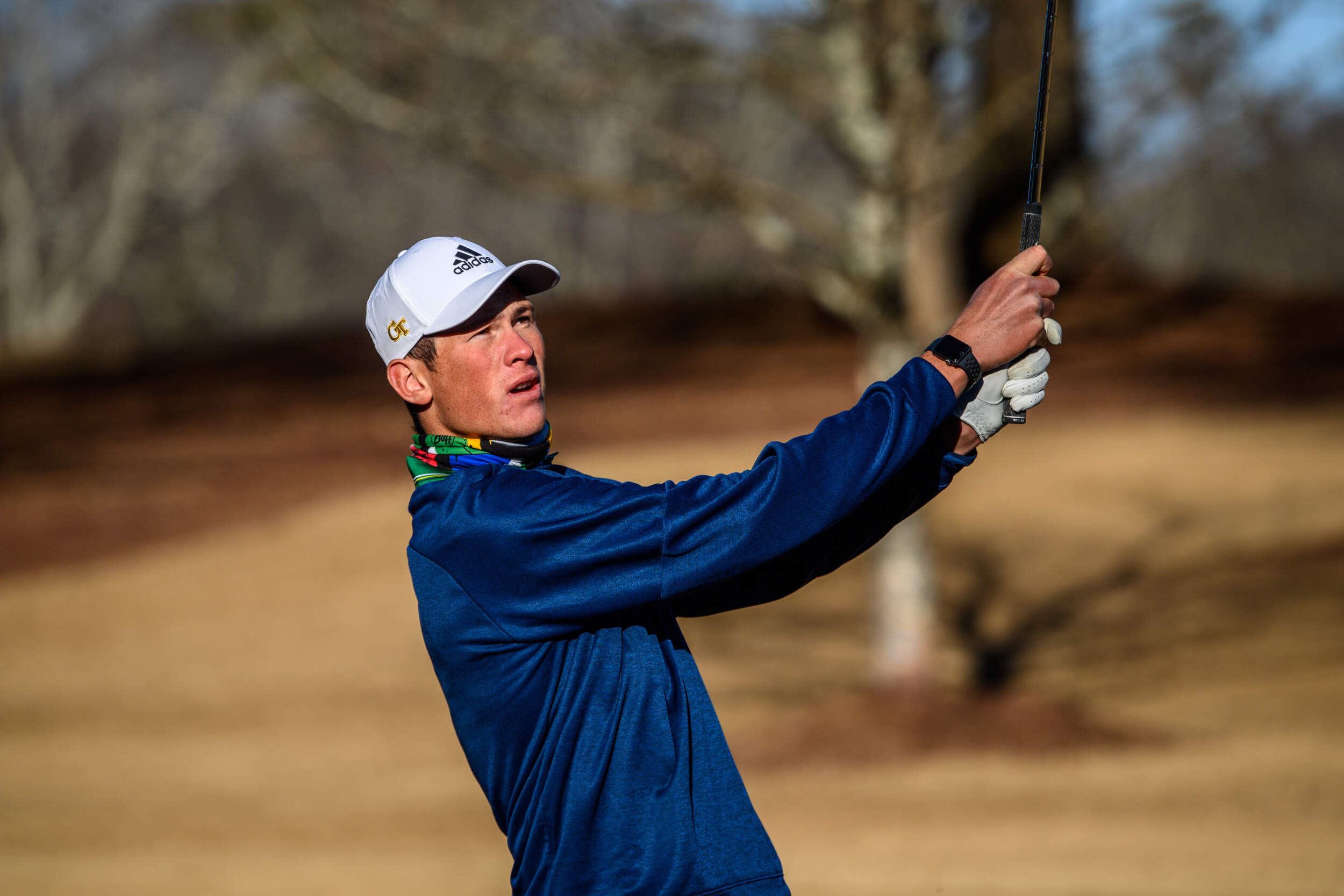 Freshman Christo Lamprecht debuted with a team-best 72 Monday for the Yellow Jackets. (photo by Danny Karnik)
Very early, but @GTGolf's Will Dickson leads @SouthwesternInv outright at 1 under.

Senior is a great story. He never made lineup and played just two events in first three seasons. Almost quit. Rediscovered his game last summer and led team last week at Camp Creek (T-15).

— Brentley Romine (@BrentleyGC) January 25, 2021
"Our guys fought hard in some tough conditions today. We just needed one more good score and we'd be right there. Will played well again, made a couple of mistakes, but he's playing nicely for us. Luka battled all day, had a tough start but came back with a couple of birdies, and his round was like that all the way through. Christo played really well and finished with a couple birdies and a par into the wind at 18. He's long and he's really good around the greens. Tomorrow looks like the best day of the tournament weather-wise, so hopefully we can get another good score or two to help us."
Head coach Bruce Heppler
TOURNAMENT INFORMATION – Taking place at North Ranch Country Club (6,992 yard, par 72) in Westlake Village, Calif., and hosted by Pepperdine University, the competition will feature a 54-hole stroke play team and individual championship, with live coverage airing on Golf Channel across all three days. First staged in 1978 as the Southwestern Intercollegiate, the event is one of seven college golf championships televised on GOLF Channel, which includes the NCAA Women's and Men's Division I Golf National Championships, taking place in May 2021 at Grayhawk Golf Club in Scottsdale, Ariz.
Notable past winners (medalists) of the event include: Tiger Woods, Patrick Cantlay, Paul Casey, Corey Pavin, Billy Mayfair and Anthony Kim. Pepperdine's Sahith Theegala won medalist honors at the 2020 event in January, his second individual Southwestern win (2017). In total, medalists over the years at the Southwestern Invitational account for nearly 120 PGA TOUR victories.
Twelve teams are scheduled to compete, including top-ranked Pepperdine, Arizona State (No. 10), Augusta, California, East Tennessee State, Georgia Tech (No. 20), Louisville, Saint Mary's, San Diego State, San Jose State, SMU (No. 19) and Southern California.
The first groups will tee off at 10:45 a.m. Eastern time Monday and Tuesday, with the starting time for Wednesday's final round to be determined. Golf Channel will televise competition live each day from 4:30-7:30 p.m. Eastern time.
Alexander-Tharpe Fund
The Alexander-Tharpe Fund is the fundraising arm of Georgia Tech athletics, providing scholarship, operations and facilities support for Georgia Tech's 400-plus student-athletes. Be a part of developing Georgia Tech's Everyday Champions and helping the Yellow Jackets compete for championships at the highest levels of college athletics by supporting the A-T Fund's Annual Athletic Scholarship Fund, which directly provides scholarships for Georgia Tech student-athletes, and the Support The Swarm Fund, created to give fans an opportunity to help Georgia Tech athletics maintain its recent momentum through the financial challenges of the Covid-19 pandemic! To learn more about supporting the Yellow Jackets, visit atfund.org.  
ABOUT GEORGIA TECH GOLF
Georgia Tech's golf team is in its 26th year under head coach Bruce Heppler, winning 64 tournaments in his tenure. The Yellow Jackets have won 18 Atlantic Coast Conference Championships, made 29 appearances in the NCAA Championship and been the national runner-up four times. Connect with Georgia Tech Golf on social media by liking their Facebook page, or following on Twitter (@GTGolf) and Instagram. For more information on Tech golf, visit Ramblinwreck.com.