Alpharetta, Ga. – Georgia Tech's golf team, which has risen to the top spot in the latest Golfweek/Sagarin Index after winning both of its tournaments so far this fall, welcomes many of the nation's top teams to its home course this weekend for the 14th annual Golf Club of Georgia Collegiate Invitational.
The 54-hole event runs Friday through Sunday on the Lakeside Course at the Golf Club of Georgia in Alpharetta, and admission is free. Competition begins at 9 a.m. each morning.
TOURNAMENT INFORMATION – The Golf Club of Georgia Collegiate, formerly called the United States Collegiate Championship, is contested at the Yellow Jackets' home club. The tournament will be played exclusively on the 7,017-yard, par 72 Lakeside Course, 18 holes each day Friday through Sunday.
The event annually attracts one of the strongest fields in college golf, and this year it is as strong as ever with 12 NCAA championship teams from last spring, including defending NCAA Champion Stanford and NCAA match play participants Texas A&M and Wake Forest, entered along with Clemson, Duke, North Carolina, Pepperdine, Southern California and TCU.
The 14-team field includes five of the nation's top 10 teams, eight of the top 25 and 12 of the top 50 in the most recent Golfweek/Sagarin Index. The complete field with Sagarin ranking – Georgia Tech (1), Clemson (12), Duke (6), East Tennessee State (29), North Carolina (5), Pepperdine (9), Southern California (37), Stanford (35), Tennessee (23), Texas A&M (21), TCU (79), UCLA (26), Virginia (124), Wake Forest (2).
Tech is paired with Clemson and Stanford for Friday's opening round, and with Pepperdine and UCLA for Saturday's second round. Pairings for the Sunday's final round will be set based on the leaderboard through the conclusion of 36 holes.
TECH'S GOLF CLUB OF GEORGIA COLLEGIATE HISTORY – Georgia Tech has won the USCC twice in its 13-year history, in 2010 and 2012. James White, who set tournament records for 18-hole score (62) and 54-hole score (204, broken in 2014), won medalist honors in 2010, while Ollie Schniederjans won it in 2013 for Tech's only individual titles. Clemson, Oklahoma State, Southern California and Texas also have won twice. The Tigers having captured the inaugural title in 2006 and again in 2009, the Longhorns winning on 2014 and shared the title with Virginia in 2016, the Cowboys won in 2013 and 2017, and the Trojans in 2008 and last fall.
The Yellow Jackets tied for third place last fall, and have finished out of the top five just twice in 12 years.
The Golf Club of Georgia Collegiate Invitational runs Friday through Sunday, and admission is free.
TEAM UPDATE – Head coach Bruce Heppler's 25th Yellow Jacket team, which was ranked No. 3 behind 2019 NCAA runner-up Texas and Arizona State in the preseason coaches poll, has become the nation's No. 1 team in the latest Golfweek/Sagarin Index after winning the Carpet Capital Collegiate by 20 strokes its season opener, and sharing the title at the Olympia Fields/Fighting Illini Invitational.
Tech returns all five starters from a team which won six tournaments in 2018-19, including the ACC Championship in the spring. The Jackets finished fourth in the NCAA Pullman Regional and 18th at the NCAA Championship. This year's unit won the Carpet Capital Collegiate, for the third straight year, two weeks ago.
TECH LINEUP – All four of Georgia Tech's returning starters are in the lineup for the Golf Club of Georgia Collegiate Invitational for the second time this fall. Senior Andy Ogletree (Little Rock, Miss.), who won the U.S. Amateur Championship in August, missed the Carpet Capital Collegiate while in Hoylake, England helping Team USA win the Walker Cup. He joins fellow seniors Luke Schniederjans (Powder Springs, Ga.), a 2019 All-American, and Tyler Strafaci (Davie, Fla.), a two-time All-Atlantic Coast Conference performer, and junior Noah Norton (Chico, Calif.), a two-time All-ACC choice who reached match play at the 2019 U.S. Amateur.
Schniederjans and Strafaci finished 1-2 at the Carpet Capital Collegiate, the former capturing his third career tournament title. Norton and Ogletree tied for ninth at the Olympia Fields Invitational, earning exemptions into this week's event. Connor Howe, a sophomore from Ogden, Utah
Four Jackets are ranked among the nation's top 30 individuals in the Golfweek/Sagarin Index, with Schniederjans leading the group at No. 9, followed by North (26), Ogletree (27) and Strafaci (30).
Redshirt sophomores Ben Smith (Novi, Mich.) and Will Dickson (Providence, R.I.), redshirt freshman Bartley Forrester (Gainesville, Ga.), freshman Andy Mao (Johns Creek, Ga.) and senior Anton Serafini (Lake Mary, Fla.) all will compete as individuals.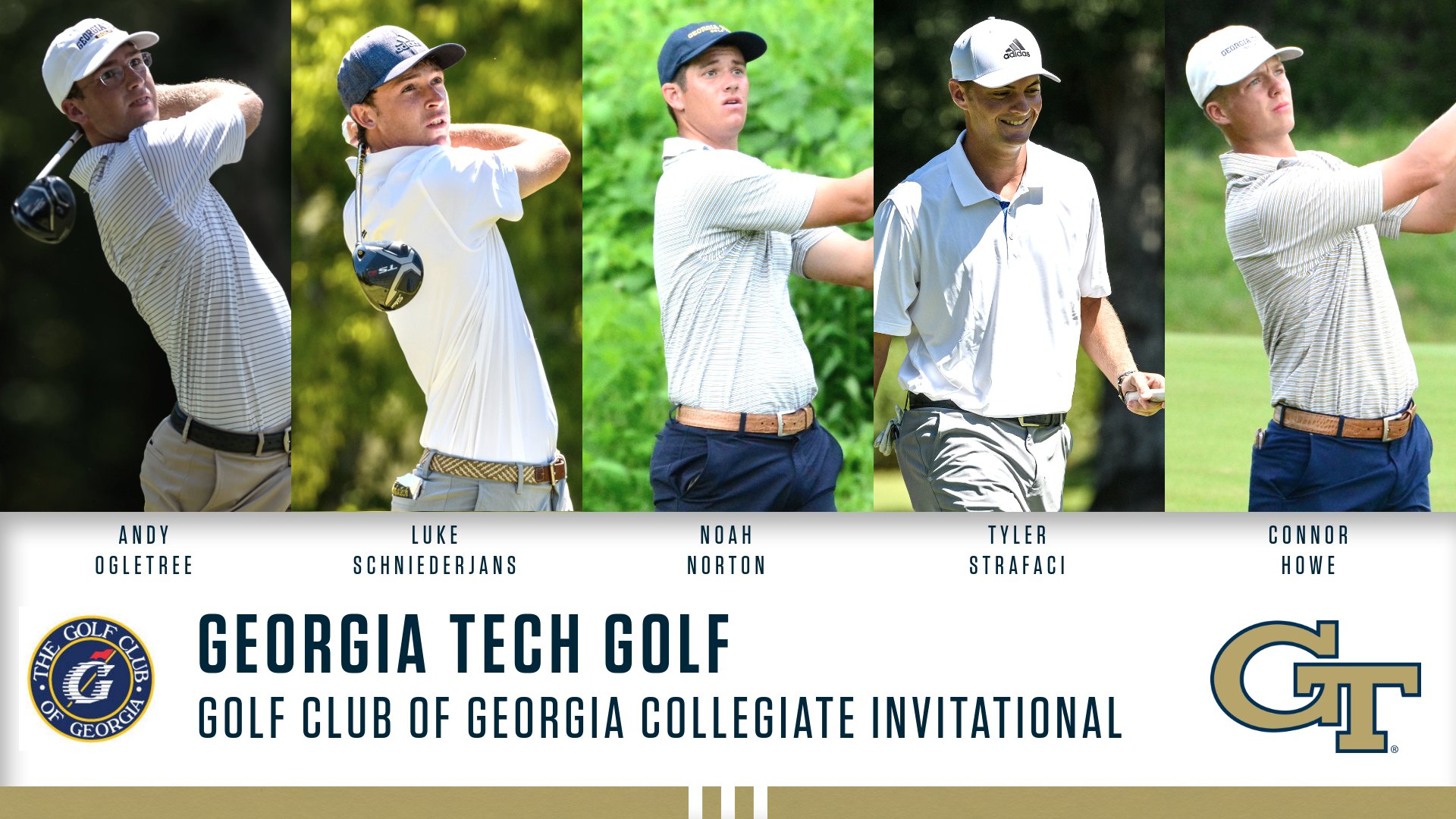 "I think this will be ranked no worse than 1, 2 or 3 as far as college events go. As I've looked at it, maybe from top to bottom, this is the best we've ever had. It should be a great test for everybody. There are not many of these events any more. The 500 rule in college golf has changed people's minds about playing in tournaments like this, because somebody is going to go 0-for-13. But they also want to play on the best courses against the best teams."
ACC NETWORK HAS LAUNCHED!
The ACC Network is a linear and digital platform dedicated to 24/7 coverage of ACC sports that launched on Aug. 22, 2019. It will exclusively televise approximately 450 live events each year, including 40 football games (beginning with Georgia Tech's 2019 season opener at Clemson on Aug. 29), as well as 150 men's and women's basketball contests.
Don't get shut out! For more information and to learn if your cable/satellite/digital provider is carrying the ACC Network, visit GetACCN.com. Georgia Tech fans whose cable/satellite/digital providers aren't carrying the ACC Network are urged to contact their providers and ask for the ACC Network to be a part of their subscription.
ABOUT GEORGIA TECH GOLF
Georgia Tech's golf team is in its 25th year under head coach Bruce Heppler, winning 61 tournaments in his tenure. The Yellow Jackets have won 18 Atlantic Coast Conference Championships, made 29 appearances in the NCAA Championship and been the national runner-up four times. Connect with Georgia Tech Golf on social media by liking their Facebook page, or following on Twitter (@GTGolf) and Instagram. For more information on Tech golf, visit Ramblinwreck.com.