Pebble Beach, Calif. – Georgia Tech's golf team finishes off its fall schedule Monday and Tuesday by competing in a unique match play event at one of the nation's legendary golf courses in the Cypress Point Classic at Cypress Point Golf Club in Pebble Beach, Calif.
The Yellow Jackets are making their second appearance in the event and first since the fall of 2016, when seniors Luke Schniederjans and Tyler Strafaci were freshmen. They helped Tech knock off Stanford and Georgia in the first two rounds. The Jackets lost to Southern California in the final round.
TOURNAMENT INFORMATION – The Cypress Point Classic is a bracketed match play event hosted by Stanford and featuring Alabama, California, Duke, Illinois, Southern California and UCLA, six of whom are ranked among the top 30 teams in the nation by Golfstat. The eight teams competing have been pre-seeded No. 1 through No. 8 in order by average ranking between the latest Golfstat and Golfweek rankings. No. 1 seed will play No. 8 seed, etc., in the first round of bracketed play. Winners will go forward in bracket, losers will move to a consolation bracket. Each team will be guaranteed three matches under each format outlined.
Georgia Tech is the No. 2 seed and will face California in the opening round Monday at 8 a.m. local time, while No. 1 Duke takes on No. 8 Alabama, No. 3 UCLA faces No. 6 Illinois, and No. 4 Stanford meets No. 5 Southern California.
The first two rounds will be played Monday. Round one will feature fourball, or best ball, matches. Teams will compete in foursomes, or alternate shot, matches in round two. Round three on Tuesday will feature singles matches.
Four total points will be available per match. One point each will be awarded for front nine match, back nine match, and two points for the over-all match. Each match will be played over 18 holes under format during that round. The total number of "holes won" by each side over the full 18-holes will settle ties. Teams with highest point total at the end of each round will advance in the bracket.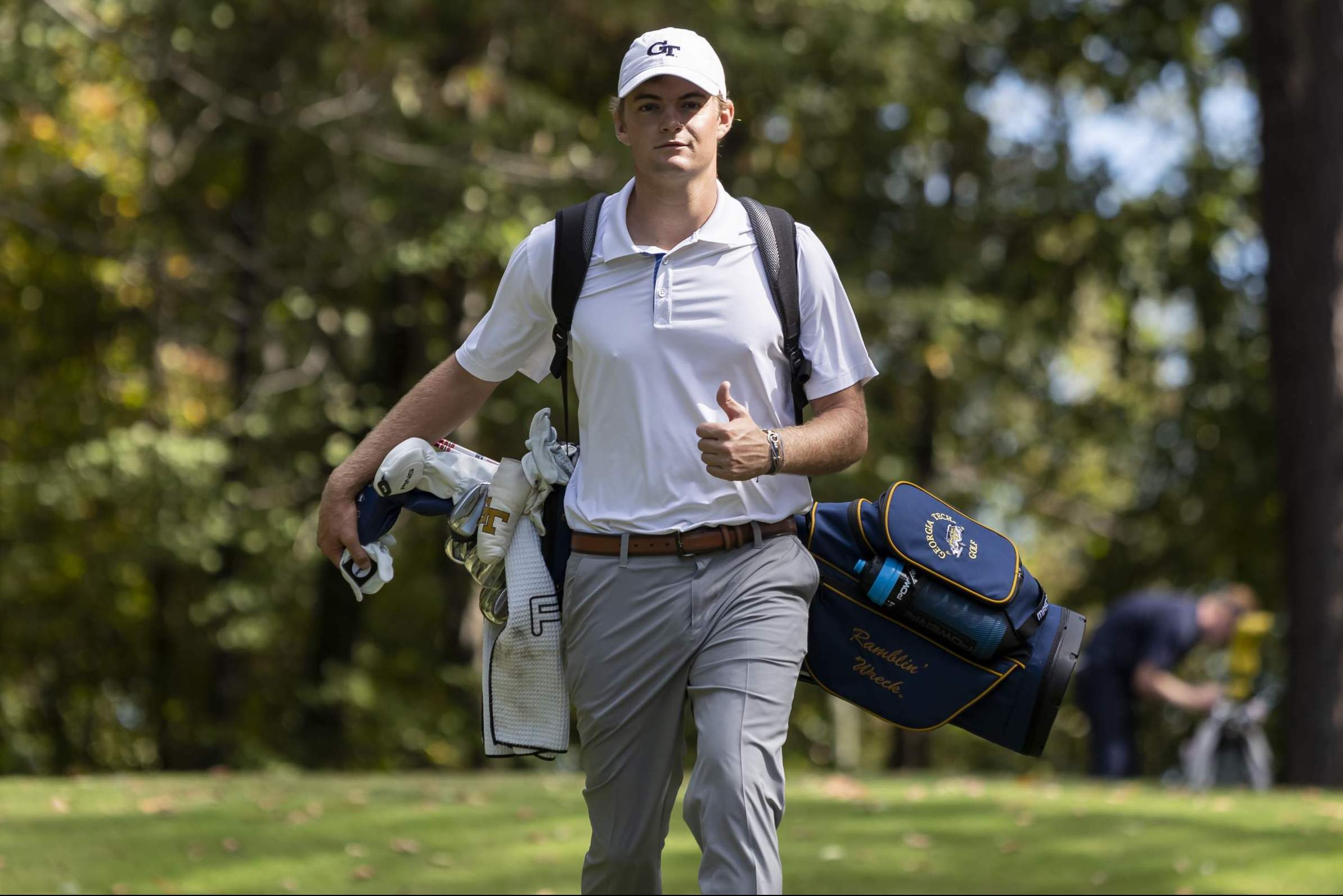 Tyler Strafaci finished fifth individually last weekend at the Golf Club of Georgia Collegiate Invitational. He and Luke Schniederjans are the only current Jackets to have played at Cypress Point in 2016.
TEAM UPDATE – Head coach Bruce Heppler's 25th Yellow Jacket team fell from the top position in all three national rankings this week following a 10th place finish in its own Golf Club of Georgia Collegiate Invitational. Tech is ranked No. 6 in this week's Golfstat rankings, and No. 3 in the Golfweek/Sagarin Index. Tech opened the fall season by winning the Carpet Capital Collegiate by 20 strokes its season opener, and sharing the title at the Olympia Fields/Fighting Illini Invitational, ascending to No. 1 in both rankings.
Tech returns all five starters – seniors Andy Ogletree (Little Rock, Miss.), Luke Schniederjans (Powder Springs, Ga.) and Tyler Strafaci (Davie, Fla.), junior Noah Norton (Chico, Calif.) and sophomore Connor Howe (Ogden, Utah) – from a team which won six tournaments in 2018-19, including the ACC Championship in the spring. The Jackets finished fourth in the NCAA Pullman Regional and 18th at the NCAA Championship.
TECH LINEUP – All five of Georgia Tech's returning starters are in the lineup for the second time this fall, joined by redshirt sophomore Ben Smith (Novi, Mich.) in the six-man lineup. Ogletree, who won the U.S. Amateur Championship in August, missed the Carpet Capital Collegiate while in Hoylake, England helping Team USA win the Walker Cup, but returned to tie for ninth at the Olympia Fields Invitational and 35th at the Golf Club of Georgia.
Schniederjans, who won the Carpet Capital Collegiate, and Strafaci, with two top-10 finishes, currently share the team lead in stroke average (71.22). They rank No. 23 and No. 22, respectively, in this week's Golfstat rankings.
Norton's best finish this fall is a tie for ninth at Olympia Fields, while Smith tied for 14th there.
HEAD COACH BRUCE HEPPLER SAYS
ACC NETWORK HAS LAUNCHED!
The ACC Network is a linear and digital platform dedicated to 24/7 coverage of ACC sports that launched on Aug. 22, 2019. It will exclusively televise approximately 450 live events each year, including 40 football games (beginning with Georgia Tech's 2019 season opener at Clemson on Aug. 29), as well as 150 men's and women's basketball contests.
Don't get shut out! For more information and to learn if your cable/satellite/digital provider is carrying the ACC Network, visit GetACCN.com. Georgia Tech fans whose cable/satellite/digital providers aren't carrying the ACC Network are urged to contact their providers and ask for the ACC Network to be a part of their subscription.
ABOUT GEORGIA TECH GOLF
Georgia Tech's golf team is in its 25th year under head coach Bruce Heppler, winning 61 tournaments in his tenure. The Yellow Jackets have won 18 Atlantic Coast Conference Championships, made 29 appearances in the NCAA Championship and been the national runner-up four times. Connect with Georgia Tech Golf on social media by liking their Facebook page, or following on Twitter (@GTGolf) and Instagram. For more information on Tech golf, visit Ramblinwreck.com.