Alpharetta, Ga. – Luke Schniederjans fired a 3-under-par 69 Friday to finish in a tie for second place individually, and third-ranked Georgia Tech closed its fall schedule with a third-place finish at the 13th annual Golf Club of Georgia Collegiate Invitational.
The Jackets, who set a tournament record with an 18-under-par round of 270 on Friday, was never able to approach that level over the final 36 holes, posting a 1-over-par 289 Saturday and a 2-under-par 286 Sunday to finish three shots behind No. 10 Southern California, who came from third place Sunday to capture the team title.
Tech finished behind the Trojans and No. 15 Clemson, its first head-to-head losses this fall. Head coach Bruce Heppler's team came into the weekend 10-0 against top-25 teams, 25-0-1 overall.
Pairings and live scoring via Golfstat
TECH LINEUP – Schniederjans, who opened the tournament with a 66 on Friday and chipped in from a greenside bunker for eagle on 18 Saturday for a 71, opened Sunday's round with a bogey but went 4-under-par from there in fashioning his 69. The Powder Springs, Ga., junior completed 54 holes at 10-under-par 206, one stroke off his career low, and posted his best finish in three tries at the Golf Club of Georgia.
Junior Andy Ogletree (Little Rock, Miss.) shot a 1-under-par 71 and senior James Clark (Columbus, Ga.) an even-par 72, while junior Tyler Strafaci (Davie, Fla.) carded a 74 as the Yellow Jackets' other counting scores on Sunday. Clark tied for 17th place individually at 214 (-2), while Strafaci tied for 19th at 215 (-1). Sophomore Noah Norton (Chico, Calif.), paralleling the Jackets' weekend, didn't count for Tech Saturday and Sunday after shooting 65 Friday, and tied for 21st place at even-par 216.
Freshman Connor Howe (Ogden, Utah) posted Tech's best performance among its four players competing as individuals, firing a 70 Sunday and tying for 29th place at 217 (+1).
For the third time in three stroke-play events this fall, Tech led the birdie parade with 67, four more than the Trojans, and finished the fall with 215 in nine stroke-play rounds.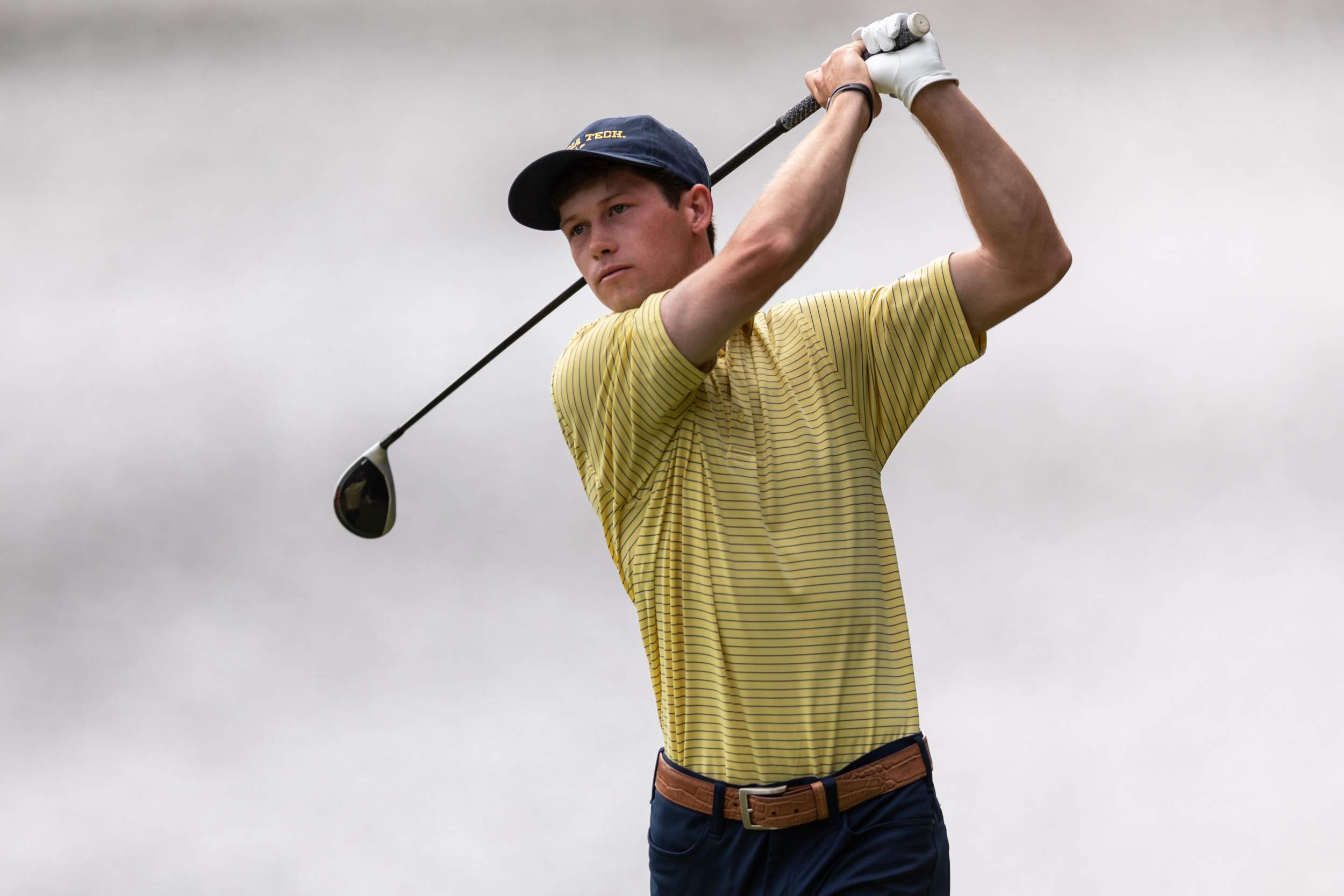 James Clark tied for 17th place at 2-under-par 214, his best career finish and score at the Golf Club of Georgia Collegiate.
TEAM LEADERBOARD – Led by medalist Justin Suh's 68, Southern California posted a 4-under-par round of 284 Sunday and overtook Clemson and Wake Forest to win the team title, finishing with a 22-under-paer total of 842. The 15th-ranked Tigers shot 1-under-par in the final round and finished one stroke behind at 843 (-21), with the Yellow Jackets in third at 854 (-19).
The 11th-ranked Demon Deacons slipped down the stretch Sunday, posting a 3-over-par 291 to finish fourth at 848 (-16), while No. 5 Alabama finished fifth at 849 (-15) after posting a 3-under-par round of 285.
No. 2 Duke, after a 2-over-par 290 on Sunday, finished sixth at 6-under-par 858, the only other team to finish 54 holes in red figures.
INDIVIDUAL LEADERBOARD – USC senior Justin Suh, the No. 1-ranked amateur in the world, shot 67-67 to grab the 36-hole lead and finished with a 68 Sunday for a tournament total of 202 (-14) and a four-stroke victory over Tech's Schniederjans and Clemson sophomore Turk Pettit, who each finished at 206 (-10).
Wake Forest's Kengo Aoshima finished alone in fourth place at 208 (-8), Duke's Alex Smalley finished fifth at 209 (-7), and Stanford's Brandon Wu took sixth at 210 (-6). Clemson teammates Bryson Nimmer and Jacob Bridgeman and the Trojans' Kyle Suppa tied for seventh place at 211 (-5).
COACH BRUCE HEPPLER SAID – "We just have to be more consistent every day, have two or three guys who never let it get away from them. Yesterday got away from us because we had two or three bad rounds. That's the stuff that, for us to be elite, has to go away. I was very impressed with James today. He got punched in the mouth with a bad hole location on 4 and made a couple of double bogeys, but he worked his way back around, so he's improved tremendously this fall. Among the four returning from last year, we need Noah to play better for us to be elite. One good round isn't enough."
TOURNAMENT INFORMATION – The Golf Club of Georgia Collegiate, formerly called the United States Collegiate Championship, was founded in 2006 and is conducted at the Golf Club of Georgia, which serves as one of the Yellow Jackets' two home clubs. The tournament is played exclusively on the 7,017-yard, par 72 Lakeside Course.
The 54-hole event, which annually attracts one of the strongest fields in college golf, this year has 13 participants from the 2018 NCAA Championship in the field. Clemson, Stanford and UCLA each advanced to the NCAA Championship finals this spring, while Georgia Tech, Florida State, Middle Tennessee State, Southern California, TCU, Virginia and Wake Forest all competed in NCAA regionals. East Tennessee State, the only team besides the host Yellow Jackets to have participated in all 12 previous Collegiate Invitational events, and New Mexico round out the 15-team field.
The 14-team field includes five of the nation's top 10 teams, seven of the top 25 and 11 of the top 50 in the most recent Golfstat rankings. The complete field with Golfstat ranking – Alabama (5), Clemson (15), Duke (2), East Tennessee State (80), Florida State (32), Georgia Tech (3), New Mexico (47), Southern California (10), Stanford (28), TCU (49), Texas A&M (9), UCLA (72), Virginia (70), Wake Forest (11).
TECH'S GOLF CLUB OF GEORGIA COLLEGIATE HISTORY – Georgia Tech has won the Golf Club of Georgia Collegiate twice in its history, in 2010 and 2012. James White, who set tournament records for 18-hole score (62) and 54-hole score (204, broken in 2014), won medalist honors in 2010, while Ollie Schniederjans won it in 2013 for Tech's only individual titles. Clemson, Oklahoma State, Southern California and Texas also have won twice. The Tigers captured the inaugural title in 2006 and again in 2009, the Longhorns won in 2014 and shared the title with Virginia in 2016, and the Cowboys won in 2013 and again last fall.