Rocky Face, Ga. – Georgia Tech shot a 1-under-par 287 Sunday and finished 54 holes in a tie with Tennessee, but the Volunteers prevailed on the first hole of a playoff to capture the team championship in the 30th Carpet Capital Collegiate at The Farm Golf Club.
It was the second straight year the Carpet Capital Collegiate was decided in a playoff, with Tech outlasting Alabama last fall on the first hole. Sunday, the No. 6-ranked Yellow Jackets and Volunteers began the day tied for first at 20-under-par, and finished the day tied at 21-under-par. The playoff format included all five players from each team playing the first hole at The Farm. All five Tennessee players parred the hole, while two of the five Jackets made bogey.
TECH LINEUP – Junior Andy Ogletree (Little Rock, Miss.) and senior James Clark (Columbus, Ga.) paced the Yellow Jackets Sunday, each with a 2-under-par 70, while junior Luke Schniederjans (Powder Springs, Ga.) added a 1-under-par 71. Sophomore Noah Norton (Chico, Calif.) was the fourth counting score for the Yellow Jackets, struggling with a 4-over-par 76. But his birdie and one from Schniederjans at the 18th hole helped forced the 54-hole tie.
Junior Tyler Strafaci (Davie, Fla.) who began the day tied for the individual lead at 9-under-par, stumbled on the back nine and shot 77, tying for sixth place at 4-under-par 212. Schniederjans was the highest Tech finisher, tying for fourth place at 6-under-par 210. Norton wound up in a tie for 11th place at 214 (-2), while Clark tied for 14th place at 215 (-1). Ogletree tied for 16th place at even-par 216.
Redshirt freshman Ben Smith (Novi, Mich.), competing as an individual, tied for 58th place at 225 (+9) in his collegiate debut.
Tech led the tournament with 75 birdies over the 54 holes, 14 more than the next team, but on Sunday stumbled with seven double-bogeys and one quadruple bogey in the final round, while Tennessee played much steadier with only one such score.
TEAM LEADERBOARD – Georgia Tech and Tennessee began and ended the round tied for first place at 21-under-par 843, with Alabama two shots back at 19-under-par 845. All three teams shot 1-under-par 287 in the final round Sunday. The Yellow Jackets and Volunteers traded the lead several times, with Tennessee taking a late two-stroke lead after Norton made an 8 on the par-4 16th hole. But he and Schniederjans both made birdie at the par-4 18th to force the playoff.
Clemson, with the day's best round at 9-under-par 279, and South Carolina, posting a 3-under-par 285, were the only other teams to finish 54 holes under par, tying for fourth place at 863 (-1). Auburn finished alone in sixth at 866 (+2), while LSU, Virginia and North Florida tied for seventh place at 873 (+9).
INDIVIDUAL LEADERBOARD – Bryson Nimmer, who led Clemson's final-round charge Sunday with a 7-under-par 65, won medalist honors with a 10-under-par score of 206. Alabama's Davis Riley (70 Sunday) and 54-hole co-leader Jake Meenhorst of Tennessee (72 Sunday), tied for second place a stroke back at 207 (-9).
Tech's Schniederjans and Auburn's Ryan Knop tied for fourth individually at 210 (-4), with Strafaci and the Vols' Rhys Nevin-Norton sharing sixth place at 212 (-4). Only five other golfers completed 54 holes under par.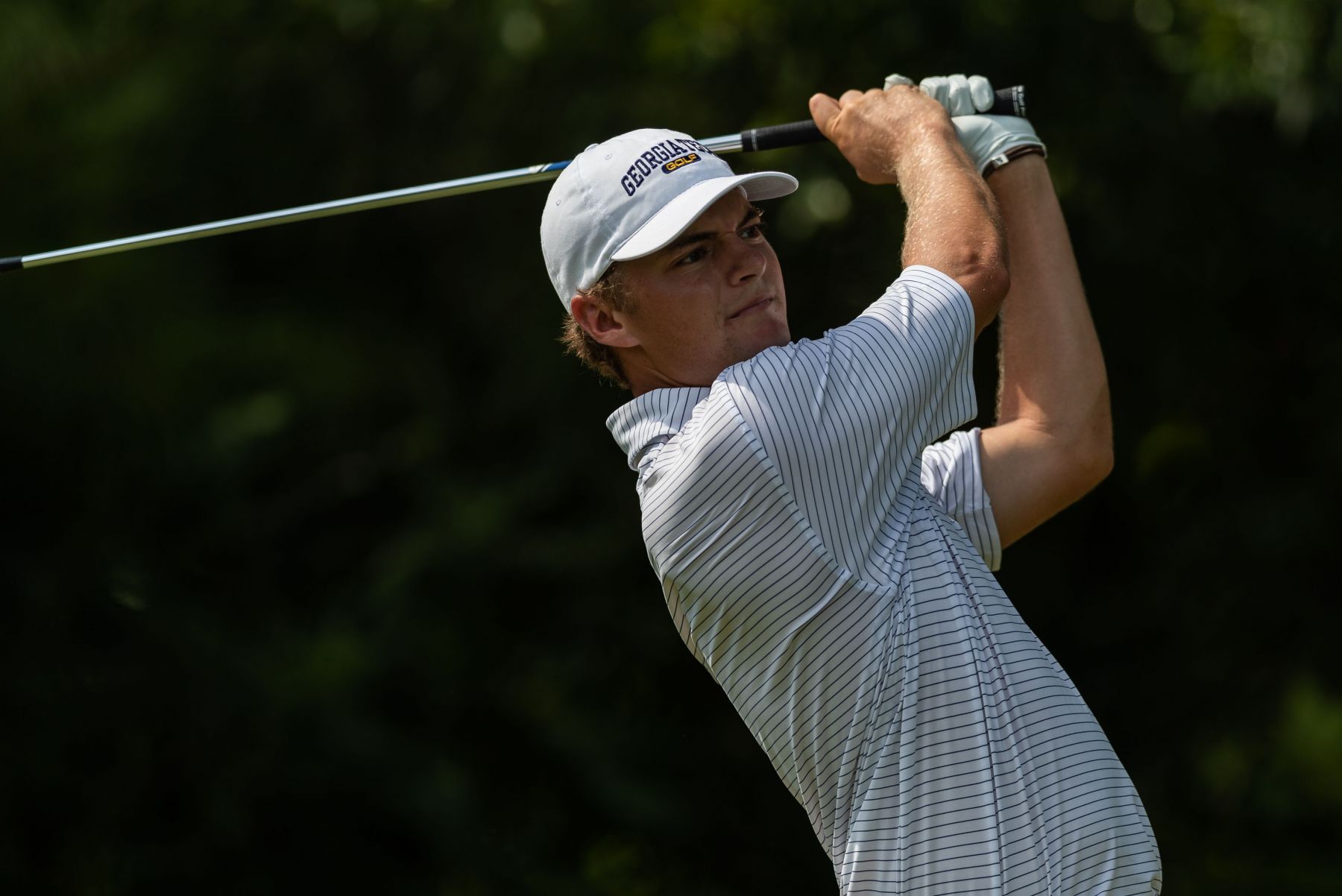 Tyler Strafaci tied for sixth place individually at 4-under-par 216.
COACH BRUCE HEPPLER SAID – "Too many mistakes today, too many bad holes, which made a big difference. On a couple of those holes we four-putted. It's tough to win when you do that."
TOURNAMENT INFORMATION – The Carpet Capital Collegiate is contested at The Farm Golf Club, a 7,178-yard, par 72 layout designed by Tom Fazio near Dalton, Ga. The Yellow Jackets have been the institutional host of this event since its inception in 1989, winning eight times, most recently last fall in a playoff over Alabama. The 15-team field for this year's event included NCAA Tournament teams Clemson and Virginia from the Atlantic Coast Conference, as well Auburn, Alabama, Florida, LSU and South Carolina from the Southeastern Conference. Tech players have won medalist honors four of the last six years, most recently Luke Schniederjans in 2016.
TECH'S CARPET CAPITAL COLLEGIATE HISTORY – Georgia Tech has won the Carpet Capital Collegiate eight times in its 30-year history, most recently in 2017, the most of any participant. Clemson has won four times, Alabama three. Tech won the 2017 event in a playoff over Alabama. A Yellow Jacket has won medalist honors nine times, including four of the past six years (Luke Schniederjans in 2016, Jacob Joiner in 2015, Ollie Schniederjans in 2013 and 2014). Current PGA Tour pros Stewart Cink, Chesson Hadley, Troy Matteson and Bryce Molder also have claimed victory at The Farm, with Molder taking the title three consecutive times between 1998 and 1999, when the event moved from the spring to the fall schedule.
NEXT FOR TECH: The Yellow Jackets make their third appearance in the Maui Jim Intercollegiate, Sept. 21-23, in Scottsdale, Ariz.