By Andy Demetra (The Voice of the Yellow Jackets) | Inside The Chart
Posing for the camera, wearing the jersey that his father helped make famous, Tre Swilling felt compelled to share the moment.
The redshirt junior cornerback was in the middle of a photo shoot modeling the throwback "Black Watch" uniforms that Georgia tech will wear Saturday against No. 4 Notre Dame when he decided to FaceTime his dad, Pat. The elder Swilling was one of the seminal figures of the Black Watch, the nickname for Tech's famed defenses that led the ACC in scoring defense in 1984 and 1985. Tre says their house in New Orleans, La., is filled with photographs of his Dad in his black No. 99 jersey, stalking quarterbacks and delivering punishing hits on the Astroturf of Grant Field.
BLACK WATCH#4The404 pic.twitter.com/OBAA307lGL

— #biGTime Football (@GTFootball) October 28, 2020
"I wanted to surprise him with what it looks like, give him a first look at it," Tre said.
"He said, 'Man, that's nice, but I wore it first.'"
As if he needed the reminder. For four years, Swilling, along with his brother, GT running back Bruce Jordan-Swilling, have known the name on the back of their jerseys would create pressure. It would cast a shadow. It would cause comparisons he wouldn't necessarily be able to control.
Four years in, Tre still wouldn't have it any other way.
"My last name can be a gift and a curse depending on how you look at it. For me, it's a gift. The expectations from other people are never higher than the ones I have for myself," Swilling explained.
Besides, those expectations now come mostly from the quality of his own play. The 6-0, 205-pounder has grown into a steady, cerebral defender for head coach Geoff Collins, leading the Yellow Jackets in pass breakups in 2019 while earning honorable mention all-ACC status. A preseason injury caused Swilling to miss the Yellow Jackets' first three games of 2020. He returned to the lineup for Tech's 46-27 win over Louisville on October 9.
Even while sidelined, Collins saw his influence on the rest of the secondary.
"He's become more vocal as a leader since we've been here. Just really proud of him, how he approaches his daily walk, the way he prepares, the way he studies, the way he gets other guys in that cornerback room [prepared]. Really, he started to take over the entire secondary in some way, shape or form with his demeanor, his attitude and the way he just comes and competes every single day," Collins said.
Tre Swilling
Now that his fitness has returned, Swilling is hoping he can spark a second-half turnaround for the Yellow Jacket defense. What better time to start, he figures, than this Saturday, when he and his teammates wear uniforms in honor one of the most celebrated defenses in school history.
Led by Pat Swilling, Ted Roof, Cleve Pounds and Reggie Rutland, the Yellow Jackets became one of the most terrifying outfits in college football in the 1980's. Twice they led the ACC in total defense. Their 10.4 points per game allowed in 1985 ranked fourth nationally. Defensive coordinator Don Lindsay blessed them with the nickname "Black Watch" after the famous Scottish military forces of the 1700s.
In the middle of it was Pat Swilling, a hellacious linebacker from Toccoa, Ga., who was named a first-team All-American in 1985. He graduated as Georgia Tech's all-time leader in career sacks and was later enshrined into the College Football Hall of Fame. Brothers Ken and Darrell – Tre and Bruce's uncles – starred on Georgia Tech's 1990 national championship team.
Growing up, Tre says he got a full indoctrination into the Black Watch. He understands the responsibility of representing that era and its standard on Saturday.
"They had a bunch of camaraderie, those guys. They made it up in their mind to be a force on the defensive end and swarm to the ball," he said.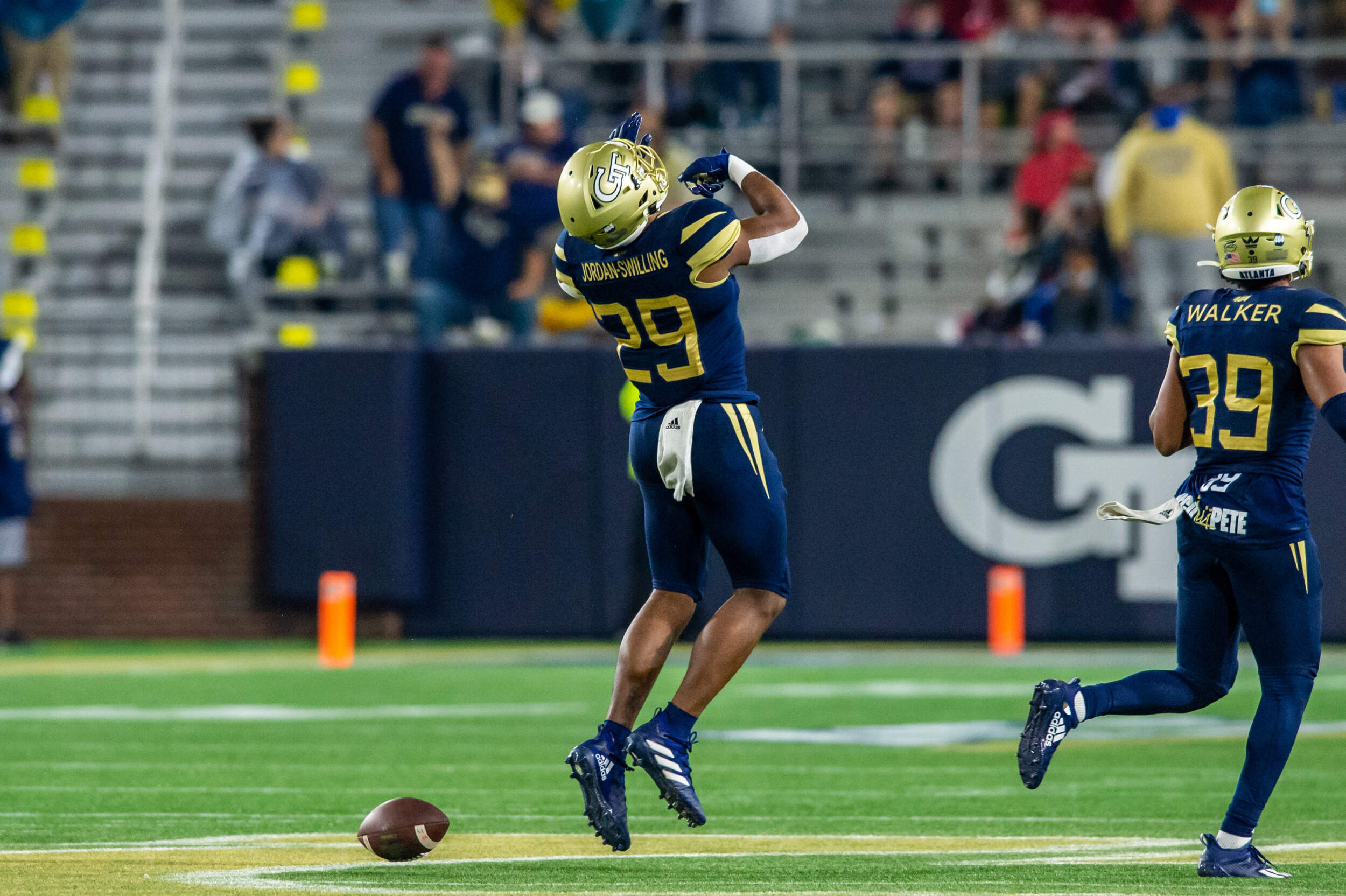 Bruce Jordan-Swilling, who began his Georgia Tech career on the defensive side of the ball like his father, uncles and brother, now plays running back and is a key contributor on special teams for the Yellow Jackets. He's pictured celebrating after recovering a fumble on a kickoff vs. Louisville on Oct. 9.
It's also why Saturday's game goes beyond a mere throwback uniform. For Swilling, the Black Watch jersey is a tribute to a family legacy he hasn't shied away from, but has instead worked hard to uphold.
Hence pausing his photo shoot to FaceTime with his Dad.
"Right now I think I've done a pretty good job of continuing that legacy," he said. "I have a lot more work to do to be in the same conversation with my Dad, my cousin, my uncle – guys that came here [before me]. But I think I'm working on the right path."
On Saturday against Notre Dame (3:30 p.m. ET, Georgia Tech Sports Network from Learfield IMG College), two more Swillings will wear a black Georgia Tech jersey and gold helmet with the black interlocking GT on it.
If you think Tre can't wait, just talk to Pat.
Said Tre: "He said, 'Man, if I would have known 20, 30 years later that my sons will be wearing the same uniforms that I wore, on the same field that I played on, that I bled on, that I sweated on…'  To him, it was something that he was just smiling ear-to-ear, because it means that much to him."