THE FLATS – Redshirt sophomore Ben Smith came up with the second amateur title for a Georgia Tech golfer this summer, sweeping through eight rounds of golf to capture the title at the 108th Michigan Amateur Championship last weekend at famed Oakland Hills Country Club in Bloomfield Hills, Mich.
Smith reached match play for the second straight year. This time, he won the 36-hole stroke-play portion of the event by four shots, posting scores of 68-65 for a 7-under-par total of 133. None of Smith's matches reached the 18th hole, and the Novi, Mich., native never trailed past the seventh hole.
In the championship match, Smith led nearly the entire match. He birdied three of the first five holes and led 3-up after six holes, and again after 12 before Patrick Sullivan, a University of Michigan rising sophomore, won three straight holes to pull even at 15. But Smith parred 16 and 17 while Sullivan bogeyed both holes to close out the match at 17.
"I made a couple of mistakes to let him back in and he made good pars" Smith told the media following the final. "I was still confident though with the way my game has been all week. I knew I just needed to make a few good swings, stay mellow, let him make some mistakes and I would still be able to pull it out.
"I look at it as a great stepping-stone for the future. If you can win the Michigan Amateur then you can go on to bigger things."
It was the second amateur title for a Georgia Tech golfer this summer, following Andy Ogletree's victory at the Monroe Invitational.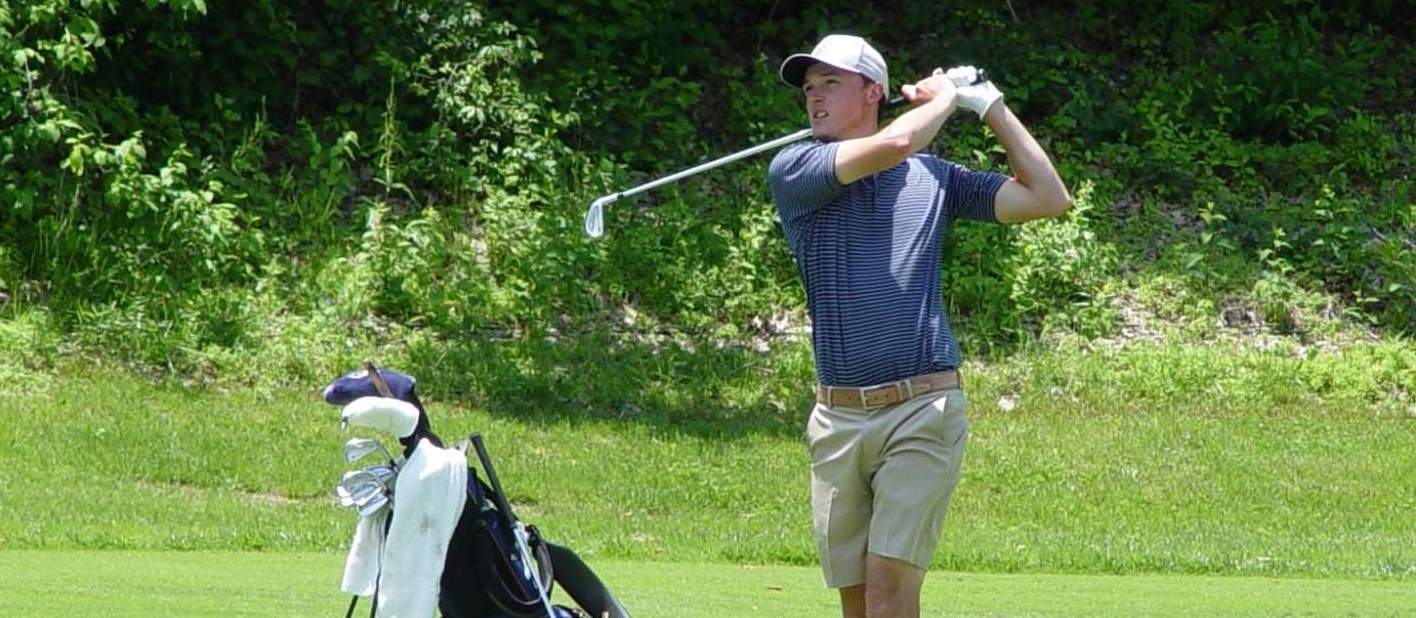 Luke Schniederjans posted a top-10 finish last weekend at the Northeast Amateur.
OGLETREE, SCHNIEDERJANS EARN MORE ALL-AMERICA HONORS
Andy Ogletree and Luke Schniederjans added to their honors last week when both players were named to Golfweek magazine's All-America team. Both were named to the third team. Earlier, Ogletree was named to the second team and Schniederjans to the third team by the Golf Coaches Association of America.
Both players earned All-ACC honors in May, and finished the spring ranked among the top 30 individuals in the nation in rankings by Golfstat and Golfweek/Sagarin Index.
JACKETS IN AMATEUR GOLF
Tech's top four golfers – Andy Ogletree, Luke Schniederjans, Noah Norton and Tyler Strafaci – are competing in this week's North & South Amateur Championship at Pinehurst (N.C.) Resort, which has attracted a strong field this year in advance of the resort's hosting of the 119thS. Amateur Championship in August. Strafaci reached the semifinals of the North & South in 2017, and his grandfather, Frank, won the tournament in 1938 and 1939. The format includes 36 holes of stroke play (Tuesday-Wednesday), followed by a 36-player match play bracket leading to the championship match on Saturday.
Schniederjans (Powder Springs, Ga.) posted a solid tie for sixth place at last weekend's Northeast Amateur in Rumford, R.I., posting a 2-under-par score of 274 on the par-69 Wannamoisett Country Club. Schniederjans also has a tie for 19th at the Dogwood Invitational on his resume this summer.
Norton (Chico, Calif.) tied for 13th place at the Northeast Amateur in his first action since playing in the U.S. Open. The Tech junior slipped out of contention with a third-round 75, but rallied with a closing 66 to finish even-par 276. Strafaci (T52) and Ogletree (missed 54-hole cut) also played in the event.
Redshirt freshmen Luka Karaulic and 2002 graduate Kris Mikkelsen are attempting to qualify today (June 24) at Eagles Landing Country Club for the Georgia Amateur Championship, which will be contested July 11-14 at Ansley Golf Club-Settindown. Incoming freshman Andy Mao (Johns Creek, Ga.) is qualifying today in Athens, Ga., for the U.S. Junior Amateur (July 15-20, Toledo, Ohio).
Andy Ogletree is ranked No. 109 in the World amateur Golf Rankings.
ACC NETWORK – COMING AUG. 22
The ACC Network is a linear and digital platform dedicated to 24/7 coverage of ACC sports. It will exclusively televise approximately 450 live events each year, including approximately 40 football games (beginning with Georgia Tech's 2019 season opener at Clemson on Aug. 29), as well as 150 men's and women's basketball contests.
Don't get shut out! For more information and to learn if your cable/satellite/digital provider is committed to carrying the ACC Network, visit GetACCN.com. Georgia Tech fans whose cable/satellite/digital providers aren't already committed to carrying the ACC Network are urged to contact their providers and ask for the ACC Network to be a part of their subscription.
ABOUT GEORGIA TECH GOLF
Georgia Tech's golf team is in its 25th year under head coach Bruce Heppler, winning 59 tournaments in his tenure. The Yellow Jackets have won 18 Atlantic Coast Conference Championships, made 29 appearances in the NCAA Championship and been the national runner-up four times. Connect with Georgia Tech Golf on social media by liking their Facebook page, or following on Twitter (@GTGolf) and Instagram. For more information on Tech golf, visit Ramblinwreck.com.