Rio Grande, Puerto Rico – Georgia Tech got a trio of 2-under-par 70 scores from Noah Norton, Andy Ogletree and Tyler Strafaci Sunday morning, and the 4th-ranked Yellow Jackets posted a 5-under-par score of 283 and sit in third place after the opening round of the Puerto Rico Classic.
Pairings and live scoring via Golfstat
TECH LINEUP – The trio of Norton, a sophomore, and juniors Ogletree and Strafaci all finished their rounds in strong fashion Sunday. Norton (Chico, Calif.) went 3-under-par over his final 15 holes, while Strafaci (Davie, Fla.) was 2-under over a similar stretch, each with just one bogey. Ogletree (Little Rock, Miss.) had three bogeys on the front nine, but was 4-under with no bogeys on the back.
Junior Luke Schniederjans (Powder Springs, Ga.) and freshman Connor Howe (Ogden, Utah) was shot 73 for the Yellow Jackets on Sunday. Schniederjans began his round with two double bogeys and a bogey in his first five holes, but steadied the ship and went 5-under with one bogey over his final 13 holes. Similarly, Howe had a double bogey and a bogey in his first three holes, but went bogey-free with two birdies the rest of the round.
The Yellow Jackets led the field Sunday in par-5 scoring (7-under-par) and were third in birdies (19).
TEAM LEADERBOARD – Led by a 67 from individual leader Stephen Franken, No. 28 NC State grabbed the fist-round lead with an 8-under-par team score of 280, two strokes ahead of No. 21 Georgia (282, -6), who had four subpar rounds and a 69 from Trevor Phillips.
Tech is in third place at 283 (-5), followed by Ohio State (285, -3), No. 13 Oklahoma (287, -1) and No. 12 Clemson (289, +1). Only five of the 15 teams broke par the first day of the event.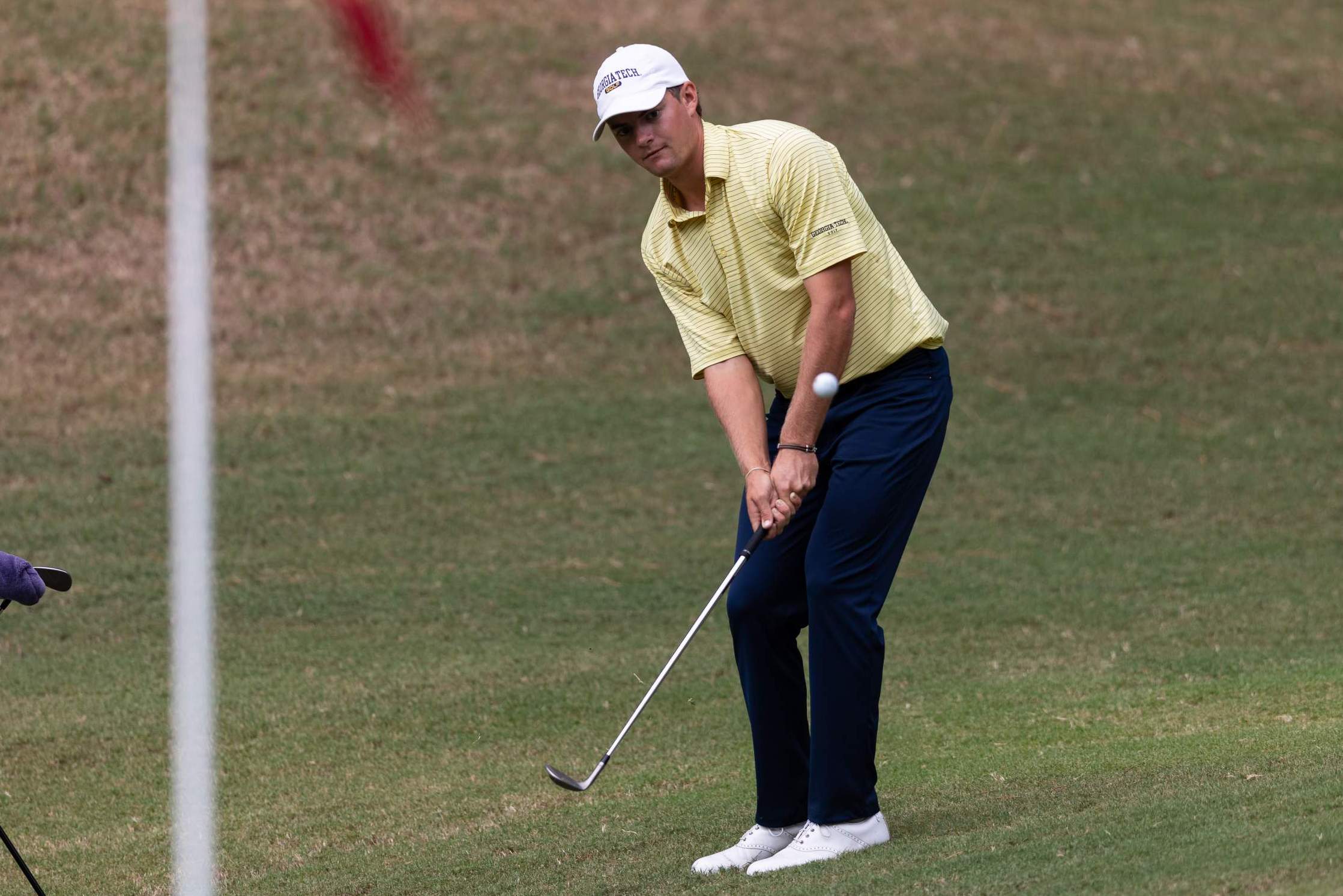 Three strokes off the lead, Tyler Strafaci is looking for his third top-10 finish this year.
INDIVIDUAL LEADERBOARD – NC State's Stephen Franken posted the day's low round of 67 (-5), accumulating eight birdies to offset a bogey and a double bogey, and has a two-stroke lead over a quarter of players at 69 (-3), including Will Grimmer and Caleb Ramirez of Ohio State, Benton Weinberg of Iowa and Trevor Phillips of Georgia.
Norton, Ogletree and Strafaci are in a group of eight players tied for sixth place at 2-under-par 70.
Twenty-two of the 75 players in the field finished Sunday's round under par.
COACH BRUCE HEPPLER SAYS – "We had a bit of a rough start to the day, but the final result wasn't bad and we're very mich in the event. Each of the guys hung in there and finished well. With a shotgun start, you really have to wait until everyone is finished because of the different stretches on the course and the wind. We managed things fairly well overall."
TOURNAMENT INFORMATION – Georgia Tech is making its 27th appearance in the Puerto Rico Classic, typically the second event on the Yellow Jackets' spring schedule after its opening trip to Hawai'i, having participated in every renewal of this tournament. The 54-hole event runs from Sunday through Tuesday with a shotgun start at 8 a.m. Sunday and Monday, and a final round start time of 7:30 a.m. After a one-year hiatus due to damage from Hurricane Maria, the event returns to the Rio Mar Beach and Resort's River Course (6,902 yards, par 72).
Eight of the 15 teams in the field are ranked among the nation's top 50 in the Golfstat rankings – Georgia Tech (4), Alabama (5), Clemson (12), Oklahoma (13), Georgia (21), NC State (28), Marquette (31), Iowa (40), Ohio State (56), Purdue (66), UNC Greensboro (91), Maryland (93), East Carolina (98), Virginia Tech (104) and Middle Tennessee State (138).
The Yellow Jackets finished fourth in last year's event, with current team members Noah Norton and Tyler Strafaci tying for seventh place individually. Clemson, Oklahoma, Purdue and Tech claimed the top four spots, separated by just five strokes. Tech has won the event five times and finished second six times. Seven Jackets have earned medalist honors, including Mikko Rantanen (1994), Stewart Cink (1995), Matt Kuchar (1998), Troy Matteson (2002), Roberto Castro (2007), James White (2011) and Luke Schniederjans (2017).