THE FLATS – Paul Haley, J.T. Griffin and Vincent Whaley are in the finals of the Web.com Tour Q-School, which will take place Dec. 6-9 in Chandler, Ariz., competing to playing cards for 2019 on the Web.com Tour … This and more in the Georgia Tech #ProJackets Golf Report.
Those three former Tech stars are looking to replace the class of 2018, in which three Yellow Jackets – Anders Albertson, Roberto Castro and Seth Reeves – earned their PGA Tour cards for 2018-19.
Haley, a 2011 Tech graduate who won the ACC Championship as a senior, reached the final stage by winning the second-stage event at RTJ Trail Magnolia Course in Mobile, Ala., with a 23-under-par total of 265. Griffin, also class of 2011, tied for 12th place there (17-under 271). Griffin had nine starts last year on the Web.com Tour, first getting into the field through Monday qualifying, then earning more starts through his performance. He made six cuts, posting a high finish of T-14 at the Pinnacle Bank Championship, and earned more than $20,000. Haley, meanwhile, posted two top-10 finishes and finished 26th with more than $20,000 in 12 events on the Adams Pro Tour.
Whaley tied for sixth place (16-under-par 272) at Southern Hills Plantation in Brooksville, Fla. The 2017 Tech graduate finished third in earnings with nearly $50,000 on the Adams Pro Tour, finishing runner-up twice and posting four other top-10 finishes in 12 starts.
The 72-hole final stage is being conducted over two courses at Whirlwind Golf Club at Wild Horse Pass, where the top 40 finishers plus ties among the 136 competitors will earn full playing privileges. The medalist will be fully exempt for the 2019 season and from periodic re-order. Players finishing second through 10th and ties are guaranteed 12 starts, while those finishing after the 10th and through the 40th and ties are assured eight starts.
PGA Tour: No former Yellow Jackets are in the field for this week's QBE Shootout, a limited-field, two-man team, off-season event in Naples, Fla. Looking to next week, Matt Kuchar and his father, Peter, committed to play in the PNC Father-Son Challenge, Dec. 14-16 in Orlando, Fla. Georgia Tech's two Open champions – Stewart Cink and David Duval – are also in the field, each having won a title in the event's history. Cink will play with his son Connor, while Duval will compete with his son Brady.
UPCOMING EVENTS
PGA Tour:  QBE Shootout • December 7-9, 2018 • Tiburon Golf Club • Naples, Fla. • Purse: $3,400,000 • FedExCup Points: none
Web.com Tour:  The Bahamas Great Exuma Classic • January 13-16, 2019 • Sandals Emerald Bay Golf Club • Great Exuma, Bahamas • Purse: $600,000
PGA Tour Champions:  PNC Father-Son Challenge • December 14-16, 2018 • Ritz-Carlton Golf Club • Orlando, Fla. • Purse: $1,085,000
Mackenzie Tour:  Aruba Cup • December 13-15, 2018 • Tierra del Sol Resort and Golf • Noord, Aruba • Purse: $120,000
PGA Tour China:  season over
Adams Pro Tour:  season over
G Pro Tour:  season over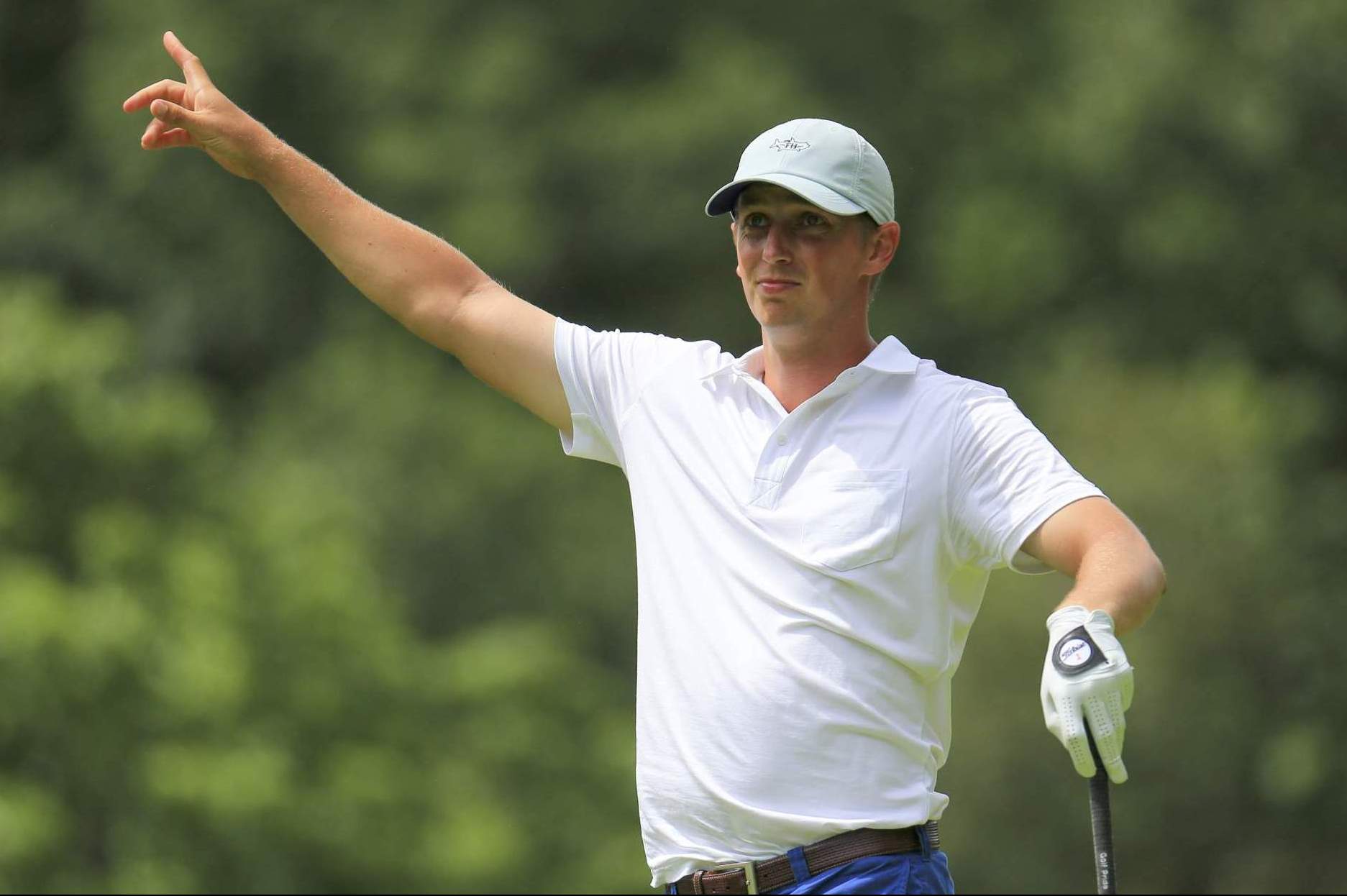 J.T. Griffin made nine starts on the Web.com Tour in 2018, earning more than $20,000.
Under the tutelage of fellow @GTGolf alumni, @VinceWhaley_GT advanced through Second Stage to secure 2019 #WebTour membership. 👊 pic.twitter.com/zP0ZSYEtKA

— Web.com Tour (@WebDotComTour) November 20, 2018
He's paying off his student loans.
He's sharing his wife's car.

A look at how @GTGolf alum @AndersAlbertson, 50th in the #FedExCup, is maximizing his rookie @PGATOUR season. https://t.co/U5BSOQEGKq

— Web.com Tour (@WebDotComTour) November 27, 2018
🌀

Matt Kuchar knows how to attack a tucked pin.#TOURVault pic.twitter.com/IbUiWhP5FQ

— PGA TOUR (@PGATOUR) November 27, 2018
PLAYER

LAST WEEK

SEASON STATS
ANDERS ALBERTSON
Woodstock, Ga.
Turned pro: 2015
Career earnings: $332,293
Years at Georgia Tech: 2011-15
High School: Etowah
Status: PGA Tour
Last Week
did not play
n/a
2018 Money rank
50
Earnings
$321,013
ROBERTO CASTRO
Alpharetta, Ga.
Turned pro: 2007
Career earnings: $6,805,978
Years at Georgia Tech: 2003-07
High School: Milton
Status: PGA Tour
Last Week
did not play
n/a
2018 Money Rank
88
Earnings
$212,593
STEWART CINK
Duluth, Ga.
Turned pro: 1995
Career earnings: $37,441,778
Years at Georgia Tech: 1991-95
High School: Bradshaw (Florence, Ala.)
Status: PGA Tour
Last Week
did not play
n/a
2018 FedEx Cup Rank
109
Earnings
$139,265
DREW CZUCHRY
Auburn, Ga.
Turned pro: 2015
Career earnings: n/a
Years at Georgia Tech: 2010-14
High School: home schooled
Status: G Pro Tour
Last Week
did not play
n/a
Money rank
29 (G Pro)
Earnings
$9,832
DAVID DUVAL
Denver, Colo.
Turned pro: 1993
Career earnings: $19,196,243
Years at Georgia Tech: 1989-93
High School: Jacksonville (Fla.) Episcopal
Status: no status
Last Week
did not play
n/a
2018 FedEx Cup Rank
n/a
Earnings
n/a
J.T. GRIFFIN
Wilson, N.C.
Turned pro: 2011
Career earnings: $31,798
Years at Georgia Tech: 2007-11
High School: Fike
Status: Web.com Q-School
Last Week
did not play
n/a
Money rank
n/a
Earnings
n/a
CHESSON HADLEY
Raleigh, N.C.
Turned pro: 2010
Career earnings: $6,950,703
Years at Georgia Tech: 2006-10
High School: North Raleigh Christian Academy
Status: PGA Tour
Last Week
did not play
n/a
2018 FedEx Cup Rank
17
Earnings
$756,793
SHUN YAT HAK
Hong Kong, China
Turned pro: 2013
Career earnings: ¥251,305
Years at Georgia Tech: 2012-13
High School: Lake Mary (Fla.) Prep
Status: PGA Tour China
Last Week
did not play
n/a
2018 Order of Merit
37
Earnings
¥170,385
PAUL HALEY
Dallas, Texas
Turned pro: 2011
Career earnings (Web.com): $348,201
Years at Georgia Tech: 2007-11
High School: Highland Park
Status: Web.com Q-School
Last Week
did not play
n/a
2018 Money Rank
26 (Adams Pro Tour)
Earnings
$20,101
MATT KUCHAR
Sea Island, Ga.
Turned pro: 2000
Career earnings: $45,019,237
Years at Georgia Tech: 1997-2000
High School: Seminole (Lake Mary, Fla.)
Status: PGA Tour
Last Week
did not play
n/a
2018 FedEx Cup Rank
7
Earnings
$1,311,260
TROY MATTESON
Austin, Texas
Turned pro: 2003
Career earnings: $10,111,266 (PGA+Web)
Years at Georgia Tech: 2000-03
High School: L.C. Anderson
Status: no status
Last Week
did not play
n/a
2018 FedEx cup Rank
n/a
Earnings
n/a
LARRY MIZE
Columbus, Ga.
Turned pro: 1980
Career earnings: $12,683,811 (PGA + Champions)
Years at Georgia Tech: 1975-79
High School: unknown
Status: PGA Tour Champions
Last Week
did not play
n/a
2018 Schwab Cup Rank
65
Earnings
$209,455
CHRIS PETEFISH
Danville, Calif.
Turned pro: 2018
Career earnings: $4,180
Years at Georgia Tech: 2014-18
High School: Scottsdale [Ariz.] Christian Academy
Status: Web.com Q-School
Last Week
did not play
n/a
2018 Money Rank
30 (G Pro)
Earnings
$9,834
MICHAEL PISCIOTTA
Alpharetta, Ga.
Turned pro: 2018
Career earnings: n/a
Years at Georgia Tech: 2014-18
High School: Alpharetta
Status: G Pro Tour
Last Week
did not play
n/a
2018Money Rank
154
Earnings
$700
SETH REEVES
Duluth, Ga.
Turned pro: 2014
Career earnings: $200,854
Years at Georgia Tech: 2010-14
High School: Peachtree Ridge
Status: PGA Tour
Last week
did not play
n/a
2018 Money rank
93
Earnings
$200,854
OLLIE SCHNIEDERJANS
Powder Springs, Ga.
Turned pro: 2015
Career earnings: $3,507,215
Years at Georgia Tech: 2011-15
High School: Harrison
Status: PGA Tour
Last Week
did not play
n/a
2018 FedEx Cup rank
179
Earnings
$39,244
NICHOLAS THOMPSON
Coral Springs, Fla.
Turned pro: 2005
Career earnings (PGA + Web.com): $6,537,666
Years at Georgia Tech: 2001-05
High School: Stoneman Douglas
Status: Web.com Tour
Last Week
did not play
n/a
2018 Money Rank
n/a
Earnings
n/a
CAMERON TRINGALE
Laguna Niguel, Calif.
Turned pro: 2009
Career earnings: $9,898,427
Years at Georgia Tech: 2005-09
High School: Mission Viejo
Status: PGA Tour
Last Week
did not play
n/a/td>
2018 FedEx Cup Rank
172
Earnings
$27,829
RICHY WERENSKI
South Hadley, Mass.
Turned pro: 2014
Career earnings: $2,593,178
Years at Georgia Tech: 2011-14
High School: Heritage Academy (Hilton Head, S.C.)
Status: PGA Tour
Last Week
n/a
n/a
2018 FedEx Cup rank
21
Earnings
$614,848
VINCENT WHALEY
Fayetteville, Ga.
Turned pro: 2017
Career earnings: $38,025
Years at Georgia Tech: 2013-17
High School: McKinney Boyd
Status: Adams Pro Tour/Web.com Q-School
Last Week
did not play
n/atd>
Money Rank
3 (Adams)
Earnings
$49,526
---