THE FLATS – A new season begins for nine former Georgia Tech golfers on the PGA Tour … Three former Jackets begin long journey this week to qualify for the Web.com Tour … This and more in this week's Georgia Tech #ProJackets Report.
All three of Tech's newly-minted graduates of the Web.com Tour – Anders Albertson, Roberto Castro and Seth Reeves – are in the field for this weekend's Safeway Open at Silverado Resort and Spa in Napa, Calif., as well as California native Cameron Tringale, who played on the PGA Tour last season but needed a strong finishing performance in the Web.com Finals to regain his card for 2018-19.
Chesson Hadley, who led the Tech alumni contingent with a 44th place finish in the Fed Ex Cup in 2018, begins his fifth full season on the PGA Tour, while Ollie Schniederjans (No. 96) and Richy Werenski (No. 101) each begin their third.
In the official combined earnings from the 2018-19 PGA Tour season, Georgia Tech came in seventh with a combined total of $8,979,520. Arizona State's alumni accumulated more than $19 to outpace the second-place team by more than $6 million.
PGA Tour Champions:  Larry Mize tied for 44th place at last weekend's Pure Insurance Championship, and sits in 65th place in Schwab Cup earnings with one event remaining in the PGA Tour Champions regular season. The top 72 after the SAS Championship (Oct. 12-14) will advance to the Schwab Cup playoffs.
Web.com Tour:  The long journey of Web.com Tour qualifying begins this week (Oct. 2-5) with three first stage events, one of which will be contested in Dothan, Ala., where J.T. Griffin, Paul Haley and Tyler Joiner will compete for approximately 20 spots that advance to the second stage. Seven more first stage events take place next week (Oct. 9-12). Second stage events take place in early November, with the Q-school finals set for Dec. 6-9 in Chandler, Ariz.
UPCOMING EVENTS
PGA Tour:  Safeway Open • October 4-7, 2018 • Silverado Resort and Spa North • Napa, Calif. • Purse: $6,400,000 • FedExCup Points: 500
Web.com Tour:  The Bahamas Great Exuma Classic • January 13-16, 2019 • Sandals Emerald Bay Golf Club • Great Exuma, Bahamas • Purse: $600,000
PGA Tour Champions:  SAS Championship • October 12-14, 2018 • Prestonwood Country Club • Cary, N.C. • Purse: $2,100,000
Mackenzie Tour:  Aruba Cup • December 13-15, 2018 • Tierra del Sol Resort and Golf • Noord, Aruba • Purse: $120,000
PGA Tour China:  Zhuhai Championship • October 4-7, 2018 • The Orient Golf Club • Zhuhai, China • Purse: n/a
Adams Pro Tour:  Fore the Kids Fall Shootout • October 23-26, 2018 • Brownwood Country Club • Brownwood, Texas • Purse: n/a
G Pro Tour:  High Point Open • October 17-18, 2018 • High Point Country Club • High Point, N.C. • Purse: n/a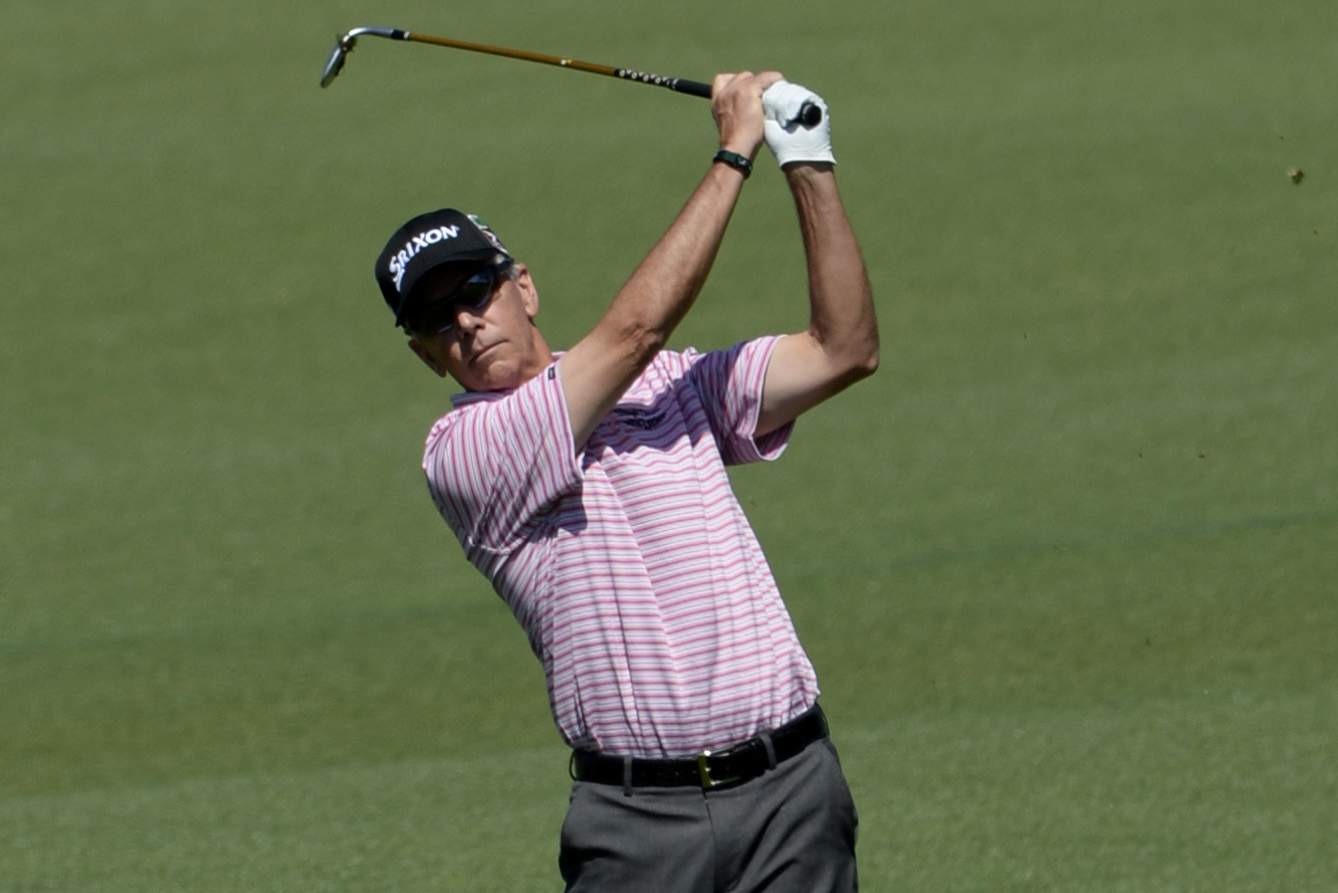 So proud of my man @CamTringale. Amazing playing under serious pressure. See you at the @SafewayOpen! The @AOwinery will be on me.

— Chesson Hadley (@chessonhadley) September 23, 2018
Latest pod:
⁦@GTGolf⁩ HC Bruce Heppler:

9-time ACC coach of the year on:
Recruiting Tiger Woods
Pranks by Matt Kuchar
His biggest regret at ⁦@GTAthletics⁩

Raw, honest and fun..

Thanks BH! https://t.co/gleHyAykPo

— Zach Klein (@ZachKleinWSB) September 27, 2018
PLAYER

LAST WEEK

SEASON STATS
 ANDERS ALBERTSON
 Woodstock, Ga.
Turned pro: 2015
Career earnings: $412,164
Years at Georgia Tech: 2011-15
High School: Etowah
Status: PGA Tour
  Last Week
did not play
n/a
 2018 Money rank
3 (Web.com)
Earnings
$325,689
 ROBERTO CASTRO
 Alpharetta, Ga.
Turned pro: 2007
Career earnings: $7,298,828 (PGA + Web)
Years at Georgia Tech: 2003-07
High School: Milton
Status: PGA Tour
 Last Week
did not play
n/a
 2018 Money Rank
24 (Web.com)
Earnings
$172,054
 STEWART CINK
 Duluth, Ga.
Turned pro: 1995
Career earnings: $37,302,513
Years at Georgia Tech: 1991-95
High School: Bradshaw (Florence, Ala.)
Status: PGA Tour
 Last Week
did not play
n/a
 2018 FedEx Cup Rank
73
Earnings
$1,887,208
 DREW CZUCHRY
 Auburn, Ga.
Turned pro: 2015
Career earnings: n/a
Years at Georgia Tech: 2010-14
High School: home schooled
Status: G Pro Tour
  Last Week
missed cut
75-75—150 (+8)
 Money rank
29
Earnings
$9,832
 DAVID DUVAL
 Denver, Colo.
Turned pro: 1993
Career earnings: $19,196,243
Years at Georgia Tech: 1989-93
High School: Jacksonville (Fla.) Episcopal
Status: no status
 Last Week
did not play
n/a
 2018 FedEx Cup Rank
248
Earnings
n/a
 J.T. GRIFFIN
 Wilson, N.C.
Turned pro: 2011
Career earnings: $31,798
Years at Georgia Tech: 2007-11
High School: Fike
Status: G Pro Tour
  Last Week
3
70-67–137
  Money rank
20
Earnings
$10,902 ($20,896 Web.com)
 CHESSON HADLEY
 Raleigh, N.C.
Turned pro: 2010
Career earnings: $6,174,469
Years at Georgia Tech: 2006-10
High School: North Raleigh Christian Academy
Status: PGA Tour
 Last Week
did not play
n/a
 2018 FedEx Cup Rank
44
Earnings
$2,749,423
 SHUN YAT HAK
 Hong Kong, China
Turned pro: 2013
Career earnings: ¥251,305
Years at Georgia Tech: 2012-13
High School: Lake Mary (Fla.) Prep
Status: PGA Tour China
  Last Week
did not play
n/a
 2018 Order of Merit
35
Earnings
¥150,103
 PAUL HALEY
 Dallas, Texas
Turned pro: 2011
Career earnings (Web.com): $348,201
Years at Georgia Tech: 2007-11
High School: Highland Park
Status: Adams Pro Tour
 Last Week
T-13
65-68-71-70—274 (-14)
 2018 Money Rank
23
Earnings
$20,101
 MATT KUCHAR
 Sea Island, Ga.
Turned pro: 2000
Career earnings: $43,707,977
Years at Georgia Tech: 1997-2000
High School: Seminole (Lake Mary, Fla.)
Status: PGA Tour
 Last Week
did not play
n/a
 2018 FedEx Cup Rank
76
Earnings
$1,720,097
 TROY MATTESON
 Austin, Texas
Turned pro: 2003
Career earnings: $10,111,266 (PGA+Web)
Years at Georgia Tech: 2000-03
High School: L.C. Anderson
Status: no status
 Last Week
season over
n/a
 2018 FedEx cup Rank
221
Earnings
$39,000
 LARRY MIZE
 Columbus, Ga.
Turned pro: 1980
Career earnings: $12,683,811 (PGA + Champions)
Years at Georgia Tech: 1975-79
High School: unknown
Status: PGA Tour Champions
 Last Week
T-44
74-68-77—219 (+4)
 2018 Schwab Cup Rank
65
Earnings
$205,675
 CHRIS PETEFISH
 Danville, Calif.
Turned pro: 2018
Career earnings: $4,180
Years at Georgia Tech: 2014-18
High School: Scottsdale [Ariz.] Christian Academy
Status: G Pro Tour
  Last Week
T-12
69-66-71—206 (-10)
 2018 Money Rank
31
Earnings
$9,528
 MICHAEL PISCIOTTA
 Alpharetta, Ga.
Turned pro: 2018
Career earnings: n/a
Years at Georgia Tech: 2014-18
High School: Alpharetta
Status: G Pro Tour
  Last Week
missed cut
72-72—144 (E)
 2018Money Rank
154
Earnings
$700
 SETH REEVES
 Duluth, Ga.
Turned pro: 2014
Career earnings: $250,085
Years at Georgia Tech: 2010-14
High School: Peachtree Ridge
Status: PGA Tour
 Last week
missed cut
68-71—139 (-3)
 2018 Money rank
66 (12 in Web.com Finals)
Earnings
$158,199
 OLLIE SCHNIEDERJANS
 Powder Springs, Ga.
Turned pro: 2015
Career earnings: $3,467,971
Years at Georgia Tech: 2011-15
High School: Harrison
Status: PGA Tour
  Last Week
did not play
n/a
  2018 FedEx Cup rank
98
Earnings
$1,303,610
 NICHOLAS THOMPSON
 Coral Springs, Fla.
Turned pro: 2005
Career earnings (PGA + Web.com): $6,537,666
Years at Georgia Tech: 2001-05
High School: Stoneman Douglas
Status: Web.com Tour
 Last Week
did not play
n/a
 2018 Money Rank
163
Earnings
$6,612
 CAMERON TRINGALE
 Laguna Niguel, Calif.
Turned pro: 2009
Career earnings: $9,870,598
Years at Georgia Tech: 2005-09
High School: Mission Viejo
Status: PGA Tour
 Last Week
did not play
n/a
 2018 FedEx Cup Rank
195 (21 in Web.com Finals)
Earnings
$179,459 ($47,760 in Finals)
 RICHY WERENSKI
 South Hadley, Mass.
Turned pro: 2014
Career earnings: $1,978,370
Years at Georgia Tech: 2011-14
High School: Heritage Academy (Hilton Head, S.C.)
Status: PGA Tour
  Last Week
did not play
n/a
  2018 FedEx Cup rank
110
Earnings
$1,081,283
 VINCENT WHALEY
 Fayetteville, Ga.
Turned pro: 2017
Career earnings: $38,025
Years at Georgia Tech: 2013-17
High School: McKinney Boyd
Status: Adams Pro Tour
  Last Week
T-8
69-66-66-71—272 (-16)
 Money Rank
6
Earnings
$42,046
---