U.S. Amateur news  |  U.S. Amateur Fact Sheet and Schedule  |  U.S. Amateur pairings and tee times
THE FLATS – Looking to complete a strong summer finish and springboard into the fall Georgia Tech season, junior Noah Norton and seniors Andy Ogletree and Luke Schniederjans begin competition Monday at the 119th U.S. Amateur at the Pinehurst Resort in Pinehurst, N.C.
Norton is making his third appearance in the championship, earning an exemption after qualifying for the U.S. Open in June. He has top-10 finishes in the Porter Cup and the Players Amateur this summer, and reached the finals of the North & South Amateur which was held at Pinehurst. Currently ranked No. 81 in the World Amateur Golf Ranking, the Chico, Calif., senior has played each of the last two years, advancing to match play in 2017.
Ogletree, Tech's top-ranked player at the end of the spring college season (No. 19), qualified for the championship for the fourth time in five years, and advanced to match play in 2017. The Little Rock, Miss., senior was a second-team All-American and an All-Atlantic Coast Conference choice this spring after posting four top-10 finishes, including a runner-up showing at the ACC Championship. Ranked No. 119 in the World amateur rankings, Ogletree won the Monroe Invitational and advanced to the round of 16 at the North & South Amateur.
Schniederjans, who finished the spring No. 23 in the college individual rankings, earned a spot on the All-ACC team and was named a third-team All-American, qualified to play in the U.S. Amateur for the third straight year. The Powder Springs, Ga., senior is ranked No. 117 in the World Amateur rankings, having tied for sixth at the Northeast Amateur and 13th at the Players Amateur.
Andy Ogletree won the Monroe Invitational back in June.
The trio will be chasing a title won five times by Georgia Tech's legendary Bobby Jones (1924 1925, 1927, 1928, 1930), and most recently by Matt Kuchar (1997).
The eventual champion, crowned in a 36-hole final next Sunday, endures a grueling week of golf, beginning with 36 holes of stroke play Monday and Tuesday. Each of the 312 entrants will play one round at Pinehurst's No. 2 course and one round at the No. 4 course. After Tuesday, the low 64 finishers qualify for match play competition – round of 64 Wednesday, rounds of 32 and 16 Thursday, quarterfinal matches Friday, semifinal matches Saturday and the 36-hole championship match on Sunday. All matches through the semifinals will take place at the No. 2 course. Sunday's 36-hole final will be played on both the No. 4 (morning round) and No. 2 (afternoon round) courses.
FS1 will provide television coverage Wednesday through Friday, with the Fox network taking over coverage of the semifinals and finals Saturday and Sunday.
U.S. Amateur Schedule of Competition
Monday, Aug. 12: First round, stroke play (18 holes)
Tuesday, Aug. 13: Second round, stroke play (18 holes)
Wednesday, Aug. 14: Round of 64, match play
Thursday, Aug. 15: Rounds of 32 and 16, match play
Friday, Aug. 16: Quarterfinal matches, match play
Saturday, Aug. 17: Semifinal matches, match play
Sunday, Aug. 18: Championship match (36 holes)
Tee Times for Georgia Tech Players
Noah Norton – 7:25 a.m. Monday (No. 4) / 12:40 p.m. Tuesday (No. 2)
Andy Ogletree – 7:45 a.m. Monday (No. 2) / 1 p.m. Tuesday (No. 4)
Luke Schniederjans – 8:49 a.m. Monday (No. 2) / 2:04 p.m. Tuesday (No. 4)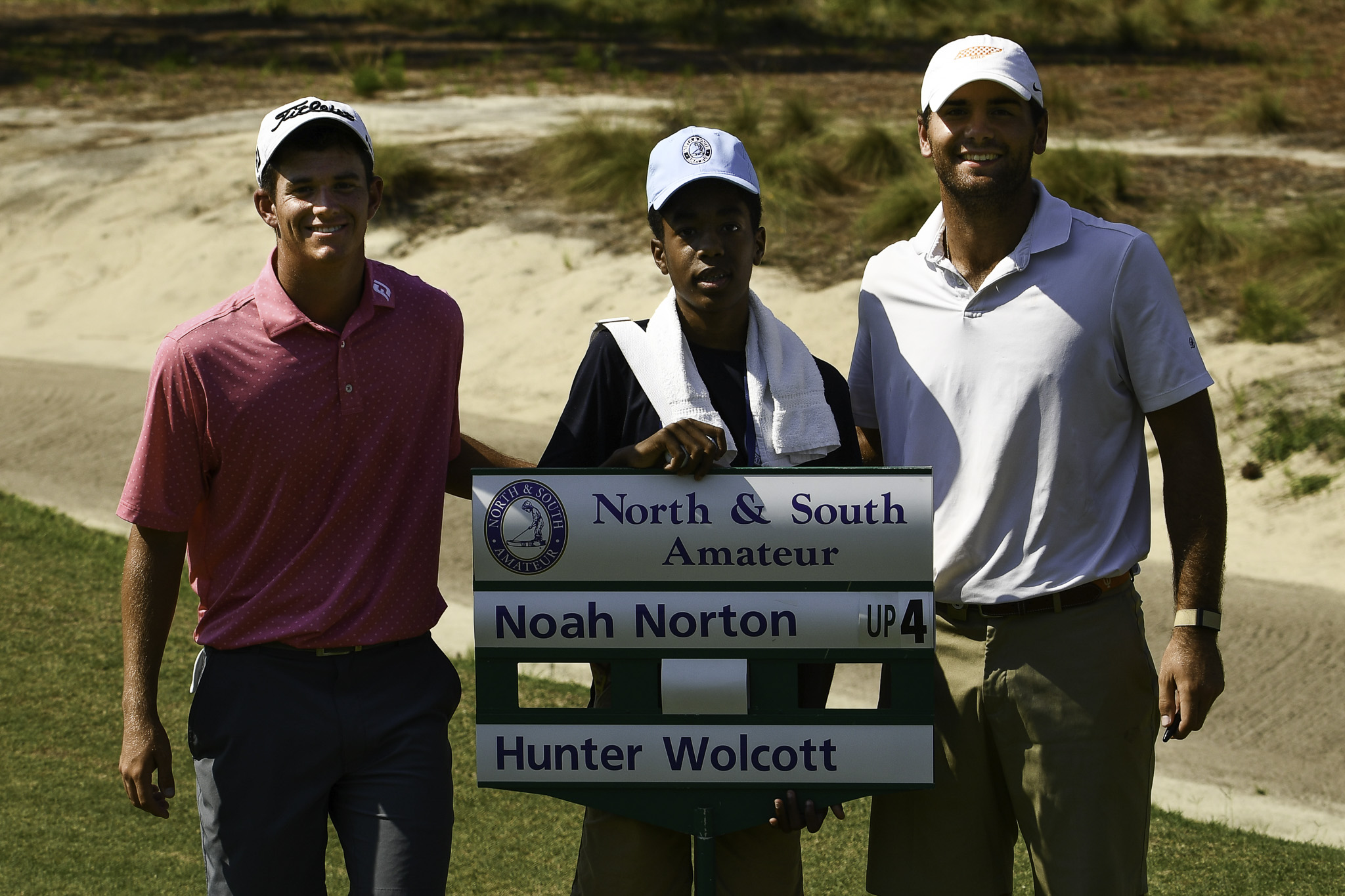 Noah Norton reached the finals of the North & South Amateur at Pinehurst Resort in early July.
ACC NETWORK – COMING AUG. 22
The ACC Network is a linear and digital platform dedicated to 24/7 coverage of ACC sports. It will exclusively televise approximately 450 live events each year, including approximately 40 football games (beginning with Georgia Tech's 2019 season opener at Clemson on Aug. 29), as well as 150 men's and women's basketball contests.
Don't get shut out! For more information and to learn if your cable/satellite/digital provider is committed to carrying the ACC Network, visit GetACCN.com. Georgia Tech fans whose cable/satellite/digital providers aren't already committed to carrying the ACC Network are urged to contact their providers and ask for the ACC Network to be a part of their subscription.
ABOUT GEORGIA TECH GOLF
Georgia Tech's golf team is in its 25th year under head coach Bruce Heppler, winning 59 tournaments in his tenure. The Yellow Jackets have won 18 Atlantic Coast Conference Championships, made 29 appearances in the NCAA Championship and been the national runner-up four times. Connect with Georgia Tech Golf on social media by liking their Facebook page, or following on Twitter (@GTGolf) and Instagram. For more information on Tech golf, visit Ramblinwreck.com.