THE FLATS  – Georgia Tech's golf team, ranked No. 4 in the nation after capturing its third tournament title of the 2018-19 academic year, travels to Las Vegas, Nev., this weekend for its third event of the spring schedule, the 44th Southern Highlands Collegiate, which begins Sunday at the Southern Highlands Golf Club.
TOURNAMENT INFORMATION – Georgia Tech is making its 16th appearance in the Southern Highlands Collegiate and first since 2014. The 54-hole event runs from Sunday through Tuesday with a shotgun start at noon Eastern time each day, and is played at the Southern Highlands Golf Club, a 7,510-yard, par-72 layout. The four low scores for each team are counted each round for the team total, and individual ties will be broken by a sudden-death playoff.
For the first time, the individual champion will receive a sponsor's exemption to the PGA Tour's Shriners Hospital for Children Open, which will take place Oct. 3-6 at TPC Summerlin in Las Vegas.
Eight of the 15 teams in the field are ranked among the nation's top 50 in the Golfstat rankings – Auburn (17), California (11), Florida, Georgia Tech (4), Illinois, Oklahoma (6), Pepperdine (13), Southern California (3), Stanford (38), TCU, Texas (10), Texas Tech, UCF, UCLA and host UNLV.
For the first time, through a partnership with Golfweek and USA Today Network the Southern Highlands Collegiate will feature exclusive livestream coverage on Monday and Tuesday, March 4 and 5. Livestream coverage will begin at 3 p.m. Eastern time those days. Click here to access the live stream.
Georgia Tech has won the event twice, in 2001 and 2002. Four Yellow Jackets, all of whom have competed on the PGA Tour, have captured medalist honors, beginning in 1992 when Stewart Cink and David Duval shared the title. Troy Matteson won a share of the title in 2002 with Florida's Camilo Villegas, and Cameron Tringale win the tournament outright in 2009.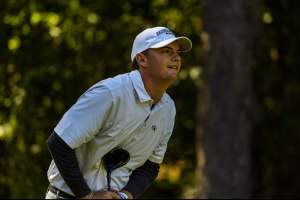 TEAM UPDATE – The Yellow Jackets stand No. 4 in the nation in the Golfstat and the Golfweek/Sagarin rankings, and No. 5 the Bushnell Coaches Poll. Tech, favored to win the Atlantic Coast Conference once again, has won three stroke play events this year, sharing titles at the Carpet Capital Collegiate and two weeks ago at the Puerto Rico Classic, and won the Maui Jim Intercollegiate outright. The Jackets finished third in its own Golf Club of Georgia Collegiate Invitational in the fall and tied for at the Amer Ari Intercollegiate to start the spring season.
Tech is 19-6-2 against current top-25 teams this year, 28-9-2 vs. top-50 teams, and 48-9-3 vs. top-100 teams, and its schedule is rated the ninth-most difficult in the nation according to the Golfweek/Sagarin Index.
Tech has played some impressive golf this year as evidenced by its ranking in some statistical categories – third in the nation in average score (70.49). Broken down, Tech is first in the nation in first-round scoring average, fifth in par-3 scoring and 12th in par-5 scoring. The Yellow Jackets also are No. 1 with an average drop score of 74.06 (the average of scores that do not count toward the team score each day).
The six Yellow Jackets playing this week are ranked among the top 200 in the Golfstat rankings, led by junior Luke Schniederjans (No. 14), sophomore Noah Norton (37), junior Tyler Strafaci (49) and junjor Andy Ogletree (No. 70).
TECH LINEUP – Head coach Bruce Heppler is sending out the same starting five that competed in the Puerto Rico Classic – Schniederjans (Powder Springs, Ga.), Strafaci (Davie, Fla.), Ogletree (Little Rock, Miss.), Norton (Chico, Calif.) and freshman Connor Howe (Ogden, Utah), while fifth-year senior James Clark (Columbus, Ga) is competing as an individual.
Schniederjans finished in the top 10 of all three stroke play events in the fall, and this spring has tied for 18th at the Amer Ari Invitational and 15th at the Puerto Rico Classic. Strafaci posted a pair of top-10 finishes in the fall and tied for seventh in Puerto Rico. Ogletree has led the Jackets in both spring events, posting his best career finish (T-4) in Puerto Rico and tying for 24th in Hawai'i. Norton has a pair of top-10 finishes this year, including a tie for seventh in Puerto Rico.
All five Jackets playing this week average 71.75 or better in stroke average, led by Schniederjans at 69.53 in 15 rounds of competition. Norton has averaged 70.47 over 15 rounds, with Strafaci at 70.53 over the same number of rounds. Ogletree has a 70.64 norm over 14 rounds, and Howe has averaged 71.67 in 12 rounds.
COACH BRUCE HEPPLER SAYS – "The golf course has always been impeccable. The greens are really fast and firm. They do a tremendous job with hospitality, and the field is strong again. It is one of the three of four best events you can play in every year. The live streaming is great for families of the players who can't travel out there. We don't have many home games, so this is a chance for them to watch their sons play. I think the future of college golf on television is this idea. The ACC started doing this years ago. "
ABOUT GEORGIA TECH GOLF
Georgia Tech's golf team is in its 24th year under head coach Bruce Heppler, having won 53 tournaments in his tenure. The Yellow Jackets have won 17 Atlantic Coast Conference Championships, made 28 appearances in the NCAA Championship and been the national runner-up four times. Connect with Georgia Tech Golf on social media by liking their Facebook page, or following on Twitter (@GTGolf). For more information on Tech golf, visit Ramblinwreck.com.
-#TogetherWeSwarm-