Georgia Tech's golf team, which tied for first in its season opener the the Carpet Capital Collegiate, travels to Arizona this weekend for the third annual Maui Jim Intercollegiate, which begins Friday at Mirabel Golf Club in Carefree, Ariz.
Pairings and live scoring via Golfstat  |  Coach Heppler interview
TOURNAMENT INFORMATION – The Maui Jim Intercollegiate is being played Friday through Sunday at Mirabel Golf Club, a 7,081-yard, par 70 layout on Scottsdale, Ariz., for the second time in the three-year history of the event. Last year's event, hosted by Georgia State's golf program, was played at Desert Forest Golf Club in Carefree, Ariz., while Mirabel was being renovated. Tech finished second in last year's tournament, by one stroke to Arizona State, with three Yellow Jackets finishing among the top 20 individuals, led by Tyler Strafaci (T4).
The 14-team field includes host Georgia State, Arizona State, Auburn, Augusta, Clemson, Georgia Tech, Houston, Kansas State, Kent State, LSU, Minnesota, NC State, Oregon and Oregon State.
The Yellow Jackets are paired with preseason ninth-ranked LSU and No. 19 Arizona State for the Friday and Saturday rounds, which begin at 7:30 a.m. local time. Sunday pairings are determined by 36-hole scores.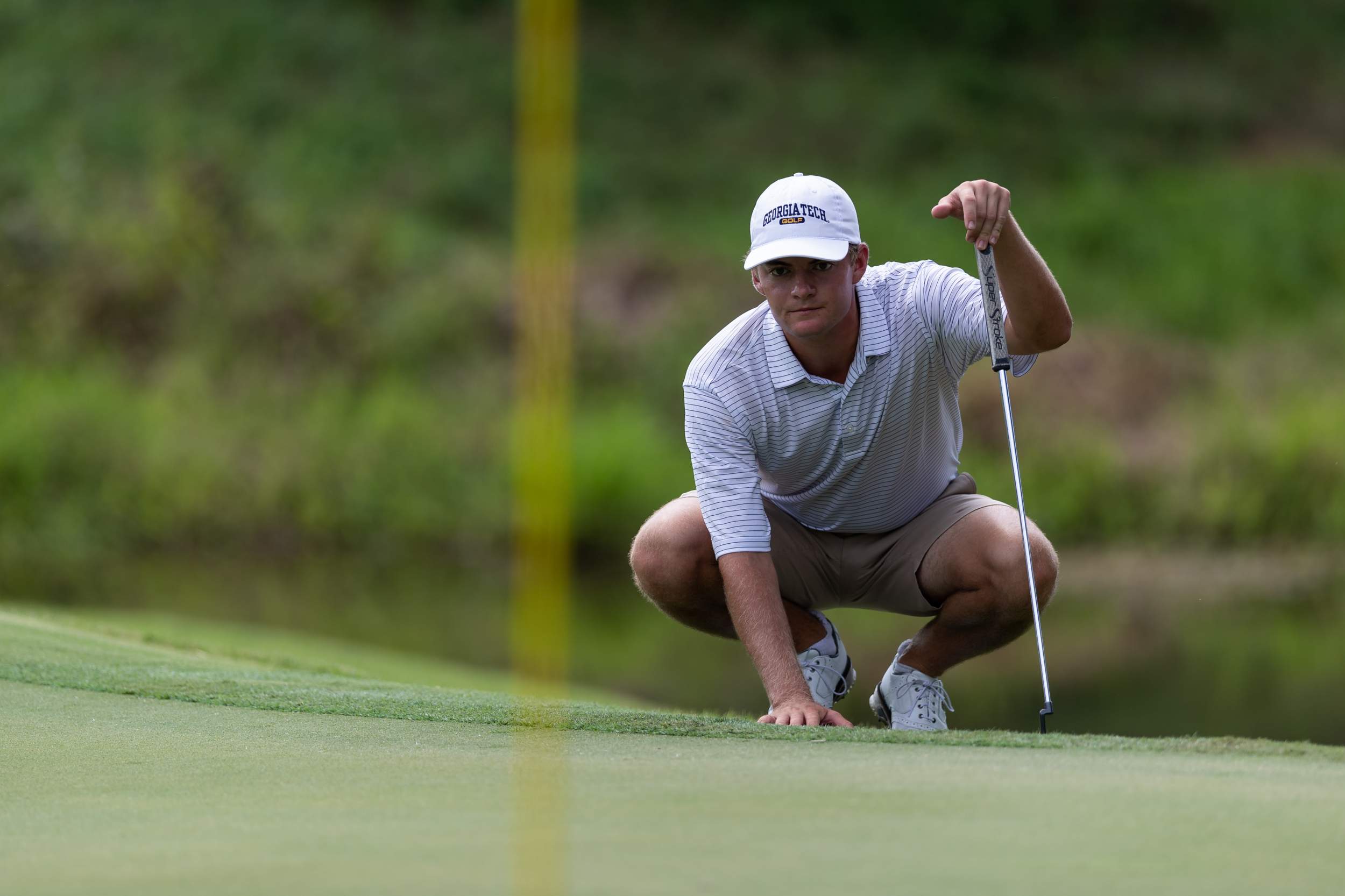 Tyler Strafaci paced the Yellow Jackets by tying for fourth place at last year's Maui Jim Intercollegiate.
TEAM UPDATE – The Yellow Jackets, ranked sixth in the preseason poll of the Golf Coaches Association of America, tied Tennessee for first place after 54 holes at the Carpet Capital Collegiate the weekend of Sept. 7-9, but lost to the Volunteers on the first hole of a playoff. All five Yellow Jackets finished among the top 16 individuals and at even-par or better for the tournament. Luke Schniederjans, who won the event in 2016 in his collegiate debut, tied for fourth place, while Tyler Strafaci tied for sixth.
Tech's 2018-19 squad features the return of four starters from last year's ACC Champions, including a trio of All-Atlantic Coast Conference performers in Strafaci (Davie, Fla.) and Schniederjans (Powder Springs, Ga.), both juniors who are exempt into this weekend's event after finishing in the top 10 at the Carpet Capital Collegiate. Sophomore Noah Norton (Chico, Calif.), a freshman All-American last year, as well as junior Andy Ogletree (Little Rock, Miss.), a two-year starter who has never missed a tournament, also return.
Senior James Clark (Columbus, Ga.), an All-ACC choice in 2017, returns after a redshirt year and earned a spot in the lineup last week via team qualifying, while redshirt freshman Ben Smith (Novi, Mich.) made his collegiate debut in the Carpet Capital Collegiate as an individual.
TECH LINEUP – Juniors Luke Schniederjans (Powder Springs, Ga.) and Tyler Strafaci (Davie, Fla.) bypassed qualifying after finishing in the top 10 individually at the Carpet Capital Collegiate two weeks ago. Schniederjans tied for fourth place with a 6-under-par score of 210, while Strafaci tied for sixth place at 4-under-par 212.
Junior Andy Ogletree (Little Rock, Miss.), who tied for 16th place at the Carpet Capital Collegiate, won the team's qualifying tournament with rounds of 65-63 last weekend at East Lake Golf Club, while senior James Clark (Columbus, Ga.), sophomore Noah Norton (Chico, Calif.) and freshman Connor Howe (Ogden, Utah) all tied at 7-under-par 137 to earn a spot on the trip to Arizona.
Howe will make his collegiate debut competing as an individual. Norton tied for 11th place at the Carpet Capital Collegiate, while Clark tied for 16th.
COACH BRUCE HEPPLER SAYS – "I think last weekend was two of the best days (of qualifying) we've had in three or four years. Andy went out and shot 65-63 and kind of ran away with it, but it was encouraging to see him play like that and continue to grow as a player. We had three guys tie at 7-under 137, and each of them got there in different ways. Connor shot 65 the first day, and Noah shot 65 the second day when he had to shoot that score to make the trip. James birdied the last two holes to get that spot. I was encouraged with the other two freshmen (Bartley Forrester and Luka Karaulic). Bartley finished 2-under, and Luka went 5-under. It was like having a tournament at home. It was golf that really mattered."
ABOUT GEORGIA TECH GOLF
Georgia Tech's golf team is in its 24th year under head coach Bruce Heppler, having won 53 tournaments in his tenure. The Yellow Jackets have won 17 Atlantic Coast Conference Championships, made 28 appearances in the NCAA Championship and been the national runner-up four times. Connect with Georgia Tech Golf on social media by liking their Facebook page, or following on Twitter (@GTGolf). For more information on Tech golf, visit Ramblinwreck.com.