THE FLATS – For the 17th time in the 20 years since national rankings were established in college golf, Georgia Tech has finished in the top 10 of at least one of those rankings, capping the 2018-19 season No. 7 in the Golfweek/Sagarin Index and No. 12 in the Golfstat rankings.
The Yellow Jackets won six tournaments during head coach Bruce Heppler's 24th year at the helm of the program, a number surpassed only by top-ranked Oklahoma State, which won eight events, including its NCAA regional. Only two Tech teams have won more; the 2001-02 and 2013-14 teams each won seven tournaments.
Tech's total included the 18th Atlantic Coast Conference championship in the history of the program, tying Wake Forest for the most in conference history. The Yellow Jackets captured their first ACC title in 1985, with Clemson next at nine titles during the same period.
In the spring, Tech also won a share of the Puerto Rico Classic title, took an 11-stroke victory at the Clemson Invitational and a 15-shot win at the ACC Championship. Tech finished sixth at the Southern Highlands Collegiate after holding the 36-hole lead, and was 12th in the Valspar Collegiate Invitational, both against extremely strong fields, prior to winning the Clemson event the first weekend of April. In the fall, the Jackets won the Maui Jim Intercollegiate and were co-champions at the Carpet Capital Collegiate and the Jack Nicklaus Invitational, a match play event.
Tech advanced to the NCAA Championship for the first time since 2015 by finishing fourth in the NCAA regional held in Pullman, Wash.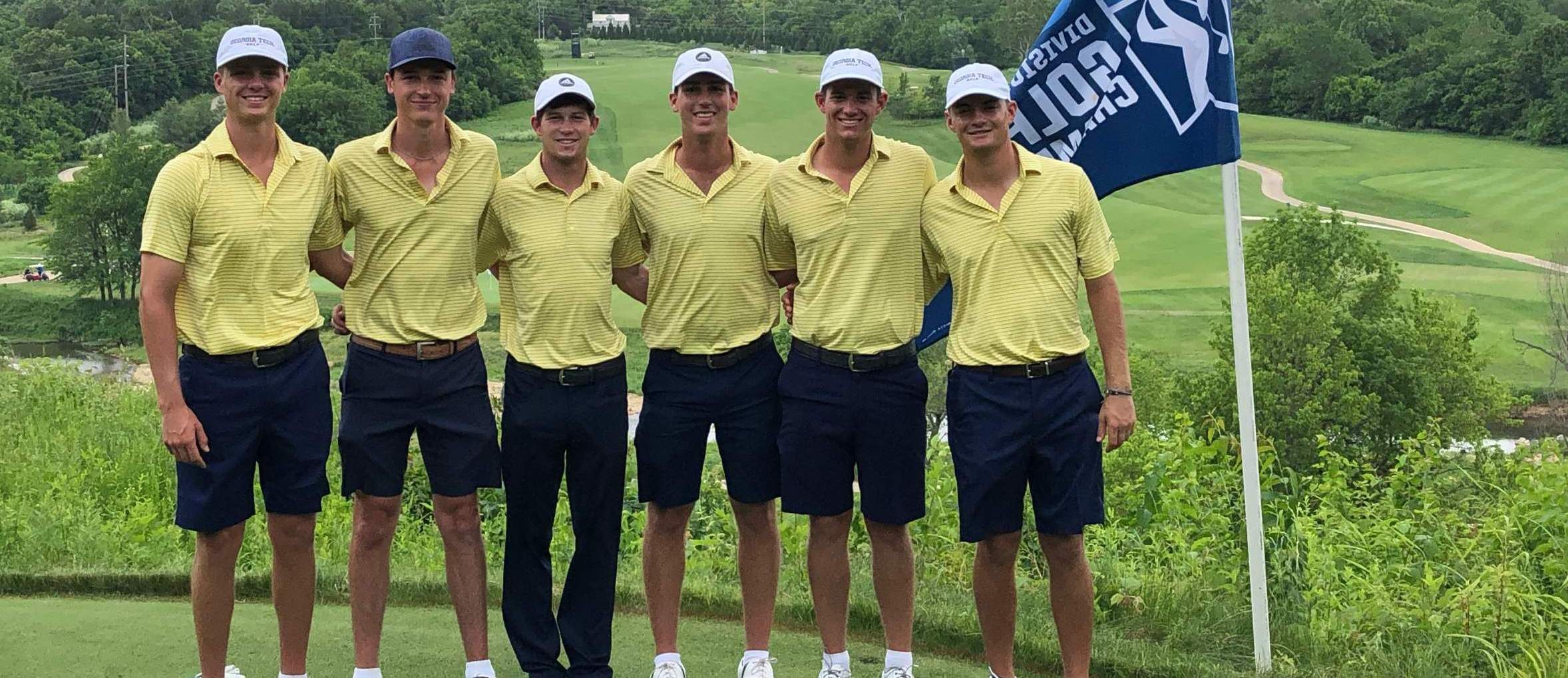 Georgia Tech's 2019 NCAA Championship team, from left – Connor Howe, Luke Schniederjans, James Clark, Andy Ogletree, Noah Norton, Tyler Strafaci
Tech was 39-40-1 against current top-25 teams, 70-45-2 vs. top-50 teams, and 94-45-2 vs. top-100 teams, and its schedule was rated the sixth-most difficult in the nation according to the Golfweek/Sagarin Index.
Statistically, Tech ranked No. 26 in the nation in average team score (281.03), No. 2 in comparison to par (-0.87), and No. 4 in average individual score (71.13). Tech led the nation in first-round average (70.70), was No. 7 in last-round average (71.36), No. 2 in par-4 scoring (4.04), and No. 5 in both par-3 and par-4 scoring. The Yellow Jackets also ranked 11th in total birdies (611),  No. 6 in eagles (24) and No. 4 in average drop score (75.27).
Four Yellow Jackets – Noah Norton, Andy Ogletree, Luke Schniederjans and Tyler Strafaci – were named to the All-ACC team, matching an all-time high for Tech, and the four players finished the year ranked nationally between No. 19 (Ogletree) and 82 (Strafaci) by Golfstat. They combined for 16 top-10 finishes (Schniederjans had five, Ogletree and Strafaci each had four, Norton had three). They were separated by just over a stroke in stroke average, with Schniederjans leading the way at 70.27.
They all return for the 2019-20 year, along with rising sophomore Connor Howe, who posted top-20 finishes in the ACC Championship and NCAA regional.
Andy Ogletree won the Monroe Invitational last weekend, the first major amateur title for a Yellow Jacket since 2017.
JACKETS IN AMATEUR GOLF
Andy Ogletree continued his remarkable improvement since the break between fall and spring semesters, capturing a two-stroke victory last weekend at the Monroe Invitational in Pittsford, N.Y. The senior from Little Rock, Miss., posted four top-10 finishes in the spring, including a runner-up performance at the ACC Championship, and averaged 70.38 for the year. Ogletree finished the spring ranked No. 19 in Golfstat and is No. 109 in the World Amateur Golf Ranking.
James Clark tied for fifth place at the Southeastern Amateur in his hometown of Columbus, a strong end to his amateur career. Clark graduated from Tech in May and is making his professional debut this week at the Mimosa Open in Morganton, N.C., on the GPro Tour.
Tyler Strafaci (T24), Ben Smith (T36) and Connor Howe (T60) also competed at the Monroe Invitational. Redshirt freshmen Bartley Forrester (T16) and Luka Karaulic (T45) also competed at the Southeastern Amateur.
Noah Norton became the fifth Georgia Tech undergraduate to qualify for the U.S. Open, and shot rounds of 80-75 last week to miss the cut at Pebble Beach.
Ogletree, Strafaci and Luke Schniederjans are in the field for this week's Northeast Amateur in Rumford, R.I. Norton joins them for next week's North & South Amateur Championship, which has attracted a strong field this year in advance of the resort's hosting of the U.S. Amateur Championship in August.
ACC NETWORK – COMING AUG. 22
The ACC Network is a linear and digital platform dedicated to 24/7 coverage of ACC sports. It will exclusively televise approximately 450 live events each year, including approximately 40 football games (beginning with Georgia Tech's 2019 season opener at Clemson on Aug. 29), as well as 150 men's and women's basketball contests.
Don't get shut out! For more information and to learn if your cable/satellite/digital provider is committed to carrying the ACC Network, visit GetACCN.com. Georgia Tech fans whose cable/satellite/digital providers aren't already committed to carrying the ACC Network are urged to contact their providers and ask for the ACC Network to be a part of their subscription.
ABOUT GEORGIA TECH GOLF
Georgia Tech's golf team is in its 25th year under head coach Bruce Heppler, winning 59 tournaments in his tenure. The Yellow Jackets have won 18 Atlantic Coast Conference Championships, made 29 appearances in the NCAA Championship and been the national runner-up four times. Connect with Georgia Tech Golf on social media by liking their Facebook page, or following on Twitter (@GTGolf) and Instagram. For more information on Tech golf, visit Ramblinwreck.com.