Defending Atlantic Coast Conference champion Georgia Tech tackles its normally difficult schedule this fall, including the traditional opener at the Carpet Capital Collegiate on Sept. 7-9 at The Farm Golf Club in Rocky Face, Ga., and the Golf Club of Georgia Collegiate at the Golf Club of Georgia in Alpharetta.
Head coach Bruce Heppler, beginning his 24th year at the helm of the Yellow Jackets, has built a slate that includes the traditional in-state events in the fall – the Carpet Capital Collegiate and Tech's own Golf Club of Georgia Collegiate Invitational – as well as visits to Arizona, Hawai'i, Puerto Rico and Las Vegas, all of which annually feature some of the strongest fields in college golf.
Heppler's 2018-19 squad features the return of four starters from last year's ACC Champions, including a trio of All-Atlantic Coast Conference performers in Tyler Strafaci (Davie, Fla.) and Luke Schniederjans (Powder Springs, Ga.), both juniors, and sophomore Noah Norton (Chico, Calif.), as well as junior Andy Ogletree (Little Rock, Miss.), a two-year starter who has never missed a tournament. Senior James Clark (Columbus, Ga.), an All-ACC choice in 2017, returns after a redshirt year. Competition for lineup spots will come from junior Anton Serafini (Lake Mary, Fla.) and redshirt freshmen Will Dickson (Providence, R.I.) and Ben Smith (Novi, Mich.), as well as incoming freshmen Bartley Forrester (Gainesville, Fla.), Connor Howe (Ogden, Utah) and Luka Karaulic (Dacula, Ga.).
Pre-season qualifying begins Thursday with the first of five rounds at East Lake Golf Club over the next 10 days.
"I'm certainly excited about the challenge we have prepared for our team this year," said Heppler, named ACC Coach of the year last spring for the ninth time. "I think when strength of schedules are calculated it should be a top-5 rating. We have always tried to play a schedule that gives our players a chance to have learning opportunities in as many different environments as possible. With events in Hawai'i, Puerto Rico, Las Vegas, Arizona and Ohio, I think it is mission accomplished. We have an opportunity to play in a variety of environment and grasses. The quality of the competition speaks for itself. Our players will have an opportunity to challenge themselves against the best players and teams each and every week."
The Yellow Jackets begin the fall for the 19th consecutive year in the Carpet Capital Collegiate (Sept. 7-9), an event Tech won for the eighth time last fall, prevailing over Alabama in a playoff. The 15-team field for this year's event includes NCAA Tournament teams Clemson and Virginia from the Atlantic Coast Conference, as well Auburn, Alabama, Florida, LSU and South Carolina from the Southeastern Conference. Tech players have won medalist honors four of the last five year, including 2016 champion Luke Schniederjans.
Tech hosts the 13th Golf Club of Georgia Collegiate Invitational, Oct. 19-21, at the Golf Club of Georgia in Alpharetta, Ga. Formerly known as the United States Collegiate Championship, the 15-team field is as strong as ever with 2018 NCAA Championship runner-up Alabama and NCAA match play participants Duke and Texas A&M set to compete. The 54-hole event, which annually attracts one of the strongest fields in college golf, this year has 13 NCAA Championship participants in the field. Clemson, Stanford and UCLA each advanced to the NCAA Championship finals last spring, while Georgia Tech, Florida State, Middle Tennessee State, Southern California, TCU, Virginia and Wake Forest all competed in NCAA regionals. East Tennessee State, the only team besides the host Yellow Jackets to have participated in all 12 previous Collegiate Invitational events, and New Mexico round out the 15-team field.
The Jackets return for their third trip to the Maui Jim Invitational, which returns to Mirabel Golf Club in Scottsdale, Ariz., Sept. 21-23. Tech, runner-up last year by one stroke to Arizona State, will face several traditional golf heavyweights including the Sun Devils, Auburn, Augusta, Houston, LSU, Oregon and Oregon State, along with Clemson and NC State in the 14-team field. New on the schedule this fall is the Jack Nicklaus Collegiate, which will be played Oct. 8-9 at famed Muifield Village Golf Club in Dublin, Ohio, site of the PGA Tour's Memorial Tournament each year.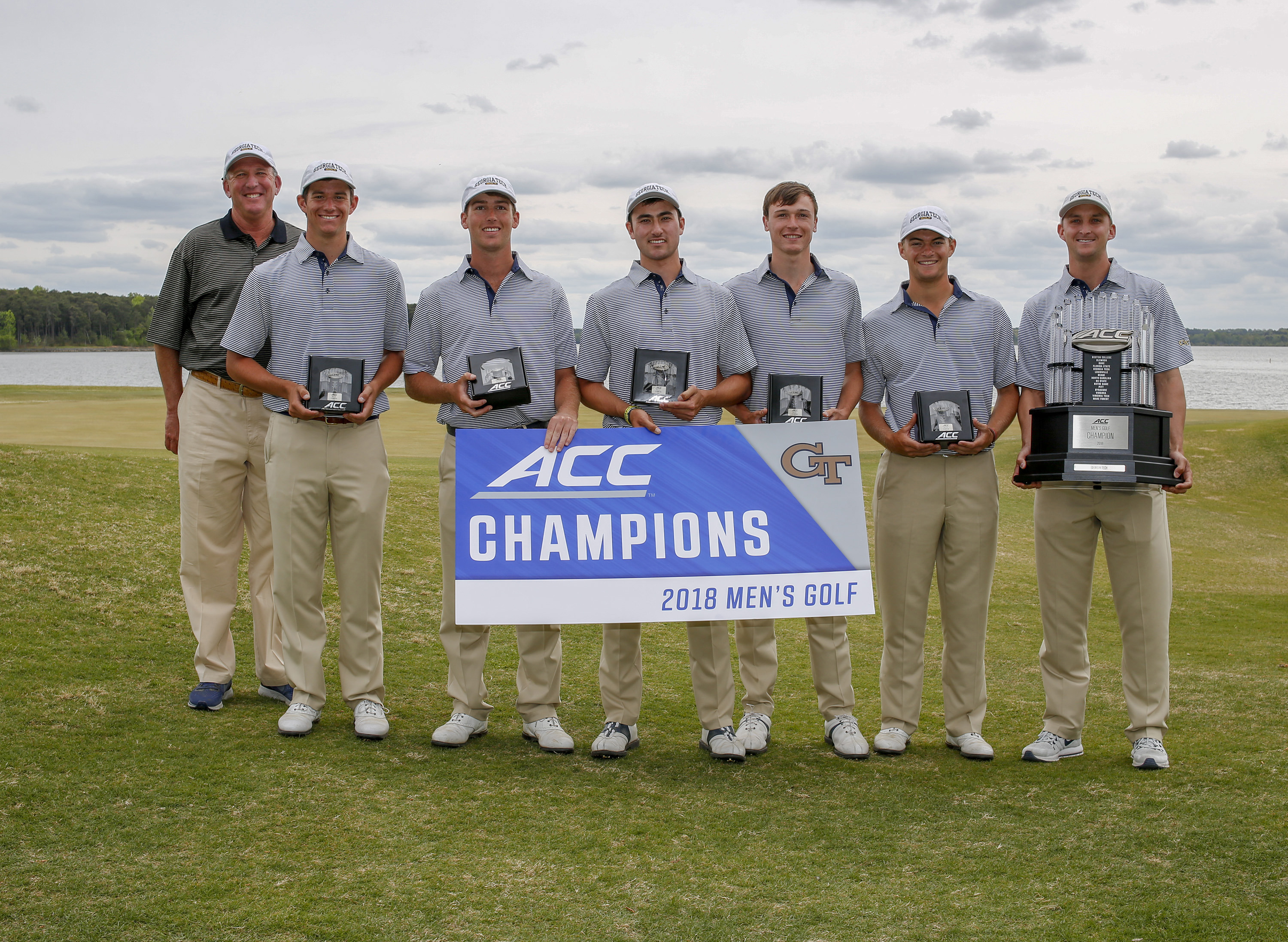 Heppler will take his Yellow Jackets to the Big Island of Hawai'i for the Amer Ari Invitational (Feb. 7-9), an event which has become popular with many of the traditional golf powers, and to the Puerto Rico Classic (Feb. 17-19) for the team's traditional start to the spring schedule. Then, for the first time since 2014, Tech travels to Las Vegas for the Southern Highlands Collegiate (March 3-5), which annually features one of the strong fields in college golf on one of its toughest venues.
The Jackets compete in the Valspar Collegiate Invitational for the sixth consecutive year, March 17-19 at the famed Floridian Golf and Yacht Club in Palm City, Fla., and return after a year's absence to play in the Clemson Invitational, April 5-7 in Salem, S.C., as a final tune-up for the post-season.
The Jackets will defend their ACC Championship April 18-20 at the Old North State Club (Apr. 20-22) in New London, N.C., which is hosting the championship for the 22nd time. NCAA regional tournaments take place May 13-15 (Athens, Ga., Louisville, Ky., Myrtle Beach, S.C., Pullman, Wash., Rhodes, Iowa, and Stanford, Calif.), and the NCAA Championship will be held May 24-29 at The Blessings Golf Club in Fayetteville, Ark.
ABOUT GEORGIA TECH GOLF
Georgia Tech's golf team is beginning its 24th year under head coach Bruce Heppler. The Yellow Jackets have won 16 Atlantic Coast Conference Championships, made 28 appearances in the NCAA Championship finals and been the national runner-up four times. Connect with Georgia Tech Golf on social media by liking their Facebook page, or following on Twitter (@GT_Golf). For more information on Tech golf, visit Ramblinwreck.com.