WAGR profile  |  European Golf Ranking profile
THE FLATS – Georgia Tech's golf program added one of the top junior players in Europe Wednesday when Benjamin Reuter of the Netherlands signed a letter-of-intent to join the Yellow Jackets.
Ranked No. 64 among European under-18 golfers and No. 241 among all European amateurs, Reuter won the Dutch national under-15 championship three consecutive years (2016, 2017, 2018) before finishing second in the country's U18 championship in 2019 and seventh in 2020.
Reuter also has performed well in other Dutch national events against all-aged competition – he finished eighth and third in the national stroke play championship the last two years, as well as 22nd and second the last two years in his country's national open championship.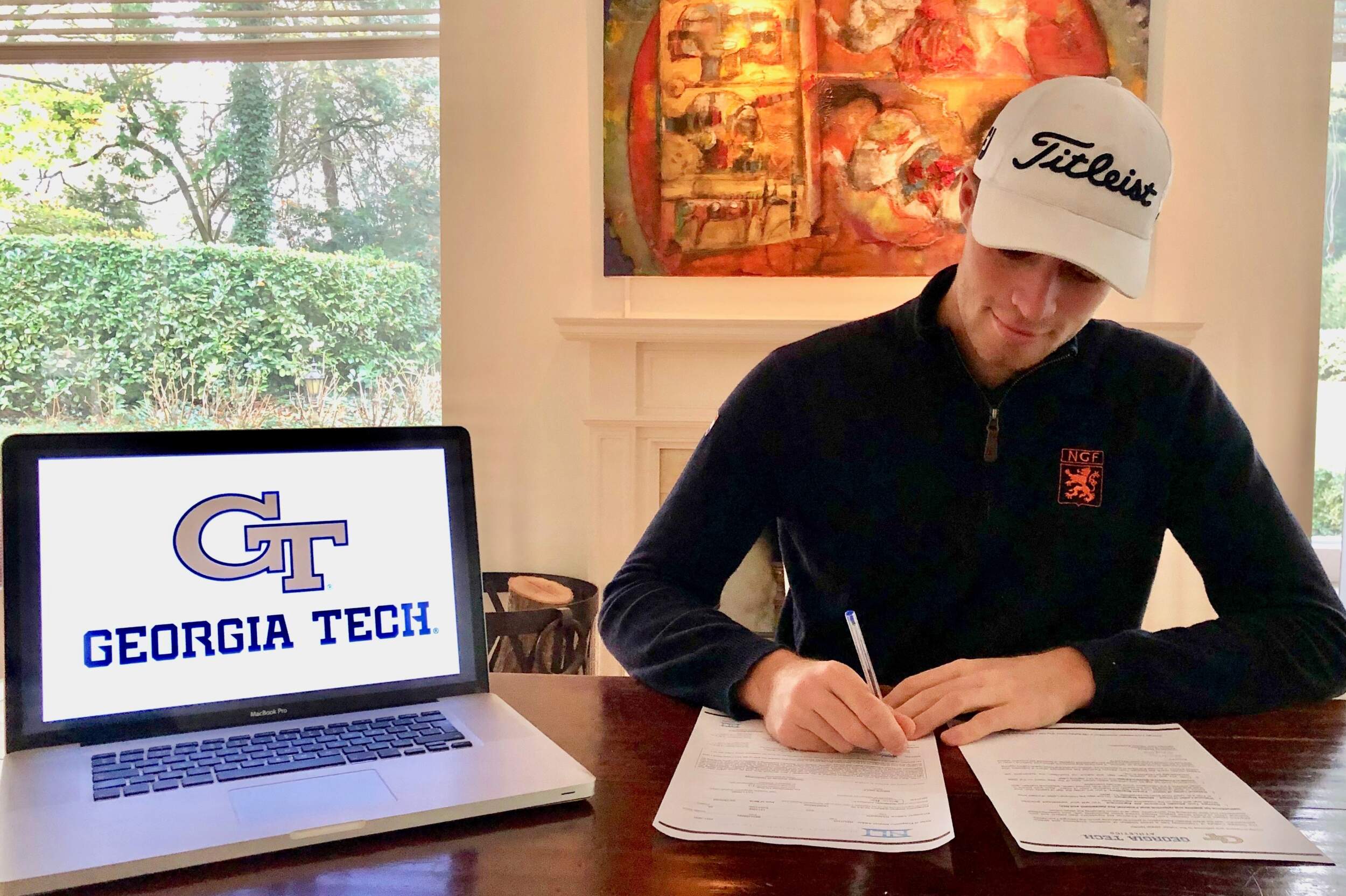 "We first saw Benjamin three summers ago and was really impressed with him physically. We took a trip to the Orange Bowl and watched him for four days against the best junior players in the world, and he was close to a top-10 finish. He came and visited a year later. He's strong and a real physical specimen. He's part of [the Netherlands] national program, and he was recruited by a lot of schools that recruit internationally. He wants to be here, and we're excited about having him join us."
Tech head coach Bruce Heppler
Over the last two years, Reuter has finished in the top-10 in six of 19 amateur events that counted toward points in the World Amateur Golf Ranking, including a sixth-place finish in the European Young Masters and ninth place in the International de France U18 in 2019. Against the world's top junior players, he finished 13th and 35th in the 2019 and 2020 Junior Orange Bowl Invitational in South Florida.
Alexander-Tharpe Fund
The Alexander-Tharpe Fund is the fundraising arm of Georgia Tech athletics, providing scholarship, operations and facilities support for Georgia Tech's 400-plus student-athletes. Be a part of developing Georgia Tech's Everyday Champions and helping the Yellow Jackets compete for championships at the highest levels of college athletics by supporting the A-T Fund's Annual Athletic Scholarship Fund, which directly provides scholarships for Georgia Tech student-athletes, and the Support The Swarm Fund, created to give fans an opportunity to help Georgia Tech athletics maintain its recent momentum through the financial challenges of the Covid-19 pandemic! To learn more about supporting the Yellow Jackets, visit atfund.org.  
ABOUT GEORGIA TECH GOLF
Georgia Tech's golf team has completed 25 years under head coach Bruce Heppler, winning 64 tournaments in his tenure. The Yellow Jackets have won 18 Atlantic Coast Conference Championships, made 29 appearances in the NCAA Championship and been the national runner-up four times. Connect with Georgia Tech Golf on social media by liking their Facebook page, or following on Twitter (@GTGolf) and Instagram. For more information on Tech golf, visit Ramblinwreck.com.