By Jon Cooper | The Good Word
There isn't a lot of history between Georgia Tech and UCF on the gridiron, as heading into the Yellow Jackets' home opener Saturday against the No. 14/13 Golden Knights — kickoff is at 3:30 and the game can be seen on ABC — their football teams have only met three times, with Tech winning all three games, the last one coming in 2000.
Nevertheless, the teams share a lot of connections, the most recognizable one being George O'Leary.
O'Leary spent 12 years on The Flats — five as defensive coordinator (1987-91) and seven as head coach (1995-2001) — then 12 more in Orlando as the head coach at UCF (2004-15). He was prolific at each stop.
He was defensive coordinator under Bobby Ross when Tech won its fourth national championship in 1990. After he took over as head coach late in the 1994 campaign, he chalked up 52 wins and his .612 winning percentage ranks third in school history behind only College Football Hall of Famers John Heisman and Bobby Dodd. O'Leary's ledger at the helm of the Yellow Jackets included five top-25 finishes, a share of an ACC title, 13 wins over top-25 opponents and three-straight wins over Georgia (1998-2000).
He'd then go to UCF, where he ranks second in school history in wins (81) and is the program's all-time leader in bowl wins (3) and appearances (7) — no other UCF coach has more than one bowl win or two appearances.
Central Florida honored O'Leary with a statue in 2017. On Saturday, it's Georgia Tech's turn. The Institute will recognize the Central Islip, N.Y., native for his impending induction into the Georgia Tech Sports Hall of Fame.
"I think it's pretty fitting that we're honoring George at this game, considering at UCF they've already got a statue of him and we're putting him in our Hall of Fame," said Georgia Tech athletics director Todd Stansbury, who held the same post at UCF from 2012-15. "His legacy is pretty significant when you consider what he did here – both as an assistant under Bobby Ross, and his run as a head coach – and what he did down at UCF to really put that program on the map nationally. We're really, really excited to have George back."
O'Leary is as excited to be back and grateful to be part of the Hall of Fame Class of 2020.
"Obviously, that's a great honor. A lot of great names have gone into that Hall of Fame and I'm very honored to be accepted into that with the rest of those fellows and ladies," said O'Leary, 74, who will go be inducted alongside Morgan Burnett (football), Chesson Hadley (golf), Amanda McDowell (women's tennis), Deck McGuire (baseball), current GT softball head coach Aileen Morales (softball) and Gal Nevo (swimming and diving). "It's going to be good to see some old faces I haven't seen in a while and to rekindle some friendships there."
Several of those old faces will be on the Georgia Tech sideline Saturday, including head coach Geoff Collins (coached under O'Leary at GT and UCF), assistant head coach Brent Key (played and coached under O'Leary at GT and coached under him at UCF), defensive coordinator Andrew Thacker (coached under O'Leary at UCF), co-defensive coordinator Nathan Burton (played under O'Leary when at GT), assistant coach Marco Coleman (played under O'Leary when he was GT's defensive coordinator) and quality control specialist Will Glover (played under O'Leary at GT and served on his staff at UCF.
The ties are tight and emotions run deep for the pupils who'll get to see their mentor honored.
"I'm in this position because of George O'Leary. He means the world to me, he means the world to my family," said Collins, who got his big coaching break when O'Leary hired him as a graduate assistant at Georgia Tech in 1999 — he'd work for him for three years at Tech, then again for two years at UCF (2008-09). "Attention to detail, work ethic, uncovering every stone, making sure that you're looking at the game from every single point of view, don't take anything for granted in preparation, making sure your players are doing all the little things the right way — those are some of the biggest things that he imparted on me. I don't have time to say all the things that he means to me and my career and my life."
O'Leary remembers what he saw in Collins that made him a perfect hire.
"He was a very enthusiastic guy, a very detailed guy," O'Leary recalled. "He came in one day and said, 'Coach, I can help you in recruiting?' I said, 'Really? What can you help me with?' He said, 'I've got all these people I can call and get in touch with.' I said, 'We recruit five states pretty much, solid, but anywhere else outside of those five states you can hook up with players, go ahead.' He did a heck of a job getting in touch with players, especially in California. He brought in three or four — I wasn't there for them — that ended up being very good players."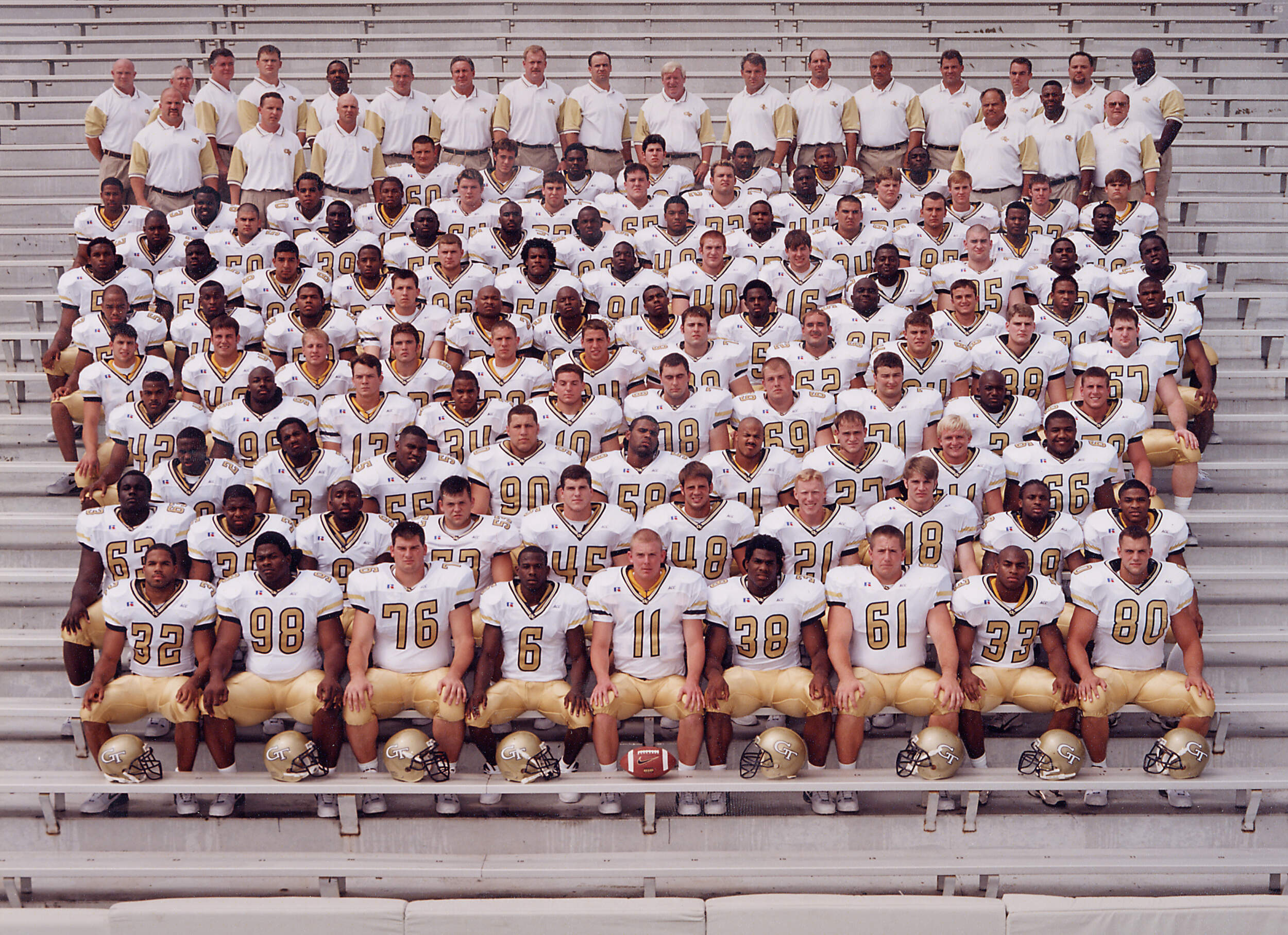 Georgia Tech's 2001 football team included head coach George O'Leary (top row, center) and current Tech staffers Geoff Collins (tight ends coach – top row, sixth from left), Brent Key (graduate assistant – top row, fourth from left), Nathan Burton (safety – seventh row, fifth from right), and Will Glover (wide receiver – third row, second from left).
Key and Thacker similarly can trace their football careers to O'Leary.
Key started 44-straight games at right guard for O'Leary's Jackets from 1997 through 2000, was a graduate assistant under O'Leary at Tech in 2001, then a full-time assistant at UCF from 2004-15, working his way up from a graduate assistant to assistant head coach. Thacker worked as a G.A. for two years at UCF (2008-09, then returned in 2015 to coach safeties. Both claim a litany of positive traits that they credit to O'Leary.
"Toughness," said Key, with a laugh. "I bet if you ask 100 people to talk about Coach they'll think of the word, 'Toughness.' Toughness, discipline, accountability, those are the things that will come to mind. But if there's anything that I would say Coach O'Leary has taught me, it's attention to detail. It's never leaving any stone unturned, check and double-check and make sure everything's right. Even when I was a young coach with him, writing reports for him or writing playbooks, if one 'I' was not dotted or one word misspelled in a 500-page book, there'd be a yellow sticky note on it with a note for me. So the attention to detail, I think, is what really drives me as a coach today, to be able to carry on the things that I've learned from him."
"I had the great fortune of being a 23-year-old graduate assistant — my first moment in college football — working underneath the head coach and tutor of George O'Leary at UCF," said Thacker. "What does he teach you? 'Football ain't easy.' It is difficult. It is demanding. It is a violent, physical sport and there are no excuses. All the lessons that you learn about in life — about adversity, about responding, about discipline — he creates, he demands those things. And he treats everybody the same. He treats everybody fairly. He creates a very tough environment. So you think about toughness, you think about discipline, you think about doing your job, when you talk about George O'Leary. He's one of the coaching legends in this profession and he's a big deal here at Georgia Tech."
But being a big deal meant being more than just coaching football.
"He's known for the toughness that he instills in his football team," said Key, recalling grueling scrimmages during spring practice at UCF. "But if you told him you needed something — if a family member was sick or you had issues or problems somewhere outside in life — he would help you take care of those problems and never blink an eye. That's the type of guy Coach O'Leary is. There's the gruff, tough football coach of a man that he is and that he's known for, but inside he is about the betterment of people, helping people succeed and helping people get out if they're in a hole. He has a big heart — even though it's encased in a gritty, tough, Irish-Catholic football coach."
Collins revealed the level of that heart and that thoughtfulness referring to a text O'Leary sent him following last Saturday's season-opening win at Florida State.
"I'll try not to get emotional but one of my favorite things that happened Saturday night after (the Florida State) game," said Collins, who'd have to take a second to compose himself a couple of times. "I got a bunch of texts from a lot of people across the country but George O'Leary sent me a text and said that he was very proud of me and very proud of how our team played — the effort, the toughness, the physicality. For George O'Leary to say that he's proud of me, for George O'Leary to respect the way our team plays, that is pretty special. That is pretty cool."
Saturday at Bobby Dodd Stadium is the perfect way to salute O'Leary, with both teams that he coached squaring off.
While Bobby Dodd won't be as full as it would be in normal times, especially for such a grand day, O'Leary still knows that the Yellow Jackets' fan base will be there in spirit. He still holds them in high regard and still fondly remembers the arrival at home after the Jackets' 45-21 win over Nebraska in the 1990 Florida Citrus Bowl that earned the Jackets the 1990 national title.
"It was amazing, the amount of fans that were there to greet us," he said. "There were a bunch of people there. We had a great get-together in the stadium, where they filled that whole one side as far as the fan base and brought the team out and they got to run around to applause, which they deserved. They had a parade downtown, riding around with the trophy being held high. It was a great situation. The fans really did a great job of honoring that team."
Collins believes Georgia Tech has done a great job by honoring O'Leary on Saturday, and he's even more looking forward to seeing his old boss.
"I'm excited to see him — obviously, from a socially distant manner — on Saturday," he said, with a laugh.
Saturday promises to be emotional, but Key said O'Leary plans to approach the day as if he was still actively coaching the game — just as he would expect from his mentor.
"I talked to Coach O'Leary (the other) night. Even now, with him coming back for this game, he's like, 'It's not about me. I just can't wait to see a good football game.' He's coaching me up on things from the game last Saturday, things we could do better," Key said, with a laugh. "That's who he is. He's always going to be coaching and he's always going to have that part in him that is 'Coach.' That's why we all call him 'Coach.'"