By Jon Cooper | The Good Word
THE FLATS — There may not be more optimistic student-athletes than baseball players.
Every hitter knows that on any given day a soft 0-for-4 is lurking. Each pitcher realizes that any time he takes the mound — even on his home field — the dynamic stuff he has in the bullpen might stay there, as his fastball loses two or three MPH or his breaking ball simply stays flat.
Still they file all that away and, even if they do have a bad day, there's a game tomorrow, when they'll go 4-for-4 or the next start when they'll bring no-hit stuff.
Regardless of what gets them through, one thing is for certain, no student-athletes are more appreciative of good times or less likely to push their luck by talking about it.
But make no mistake. They know when they're having a special year.
You can tell because they say things like how much fun practice is.
FUN!….At PRACTICE!
"It's a lot of fun but we definitely still lock in, there's a lot of intensity. We try to keep from going through the motions, try to treat everything like a game," said Tristin English, who was named National Player of the Week by Collegiate Baseball for the second time this season, after demolishing Clemson over the weekend (6-for-12, with a double, three homers, six runs, 11 RBIs) and putting up a pair of six-out appearances — his first multi-inning save on Tuesday at SunTrust Field against then-No. 4 Georgia, then a two-inning game-finished in the 8-7 win on Friday. "It makes rolling over into the game a lot easier."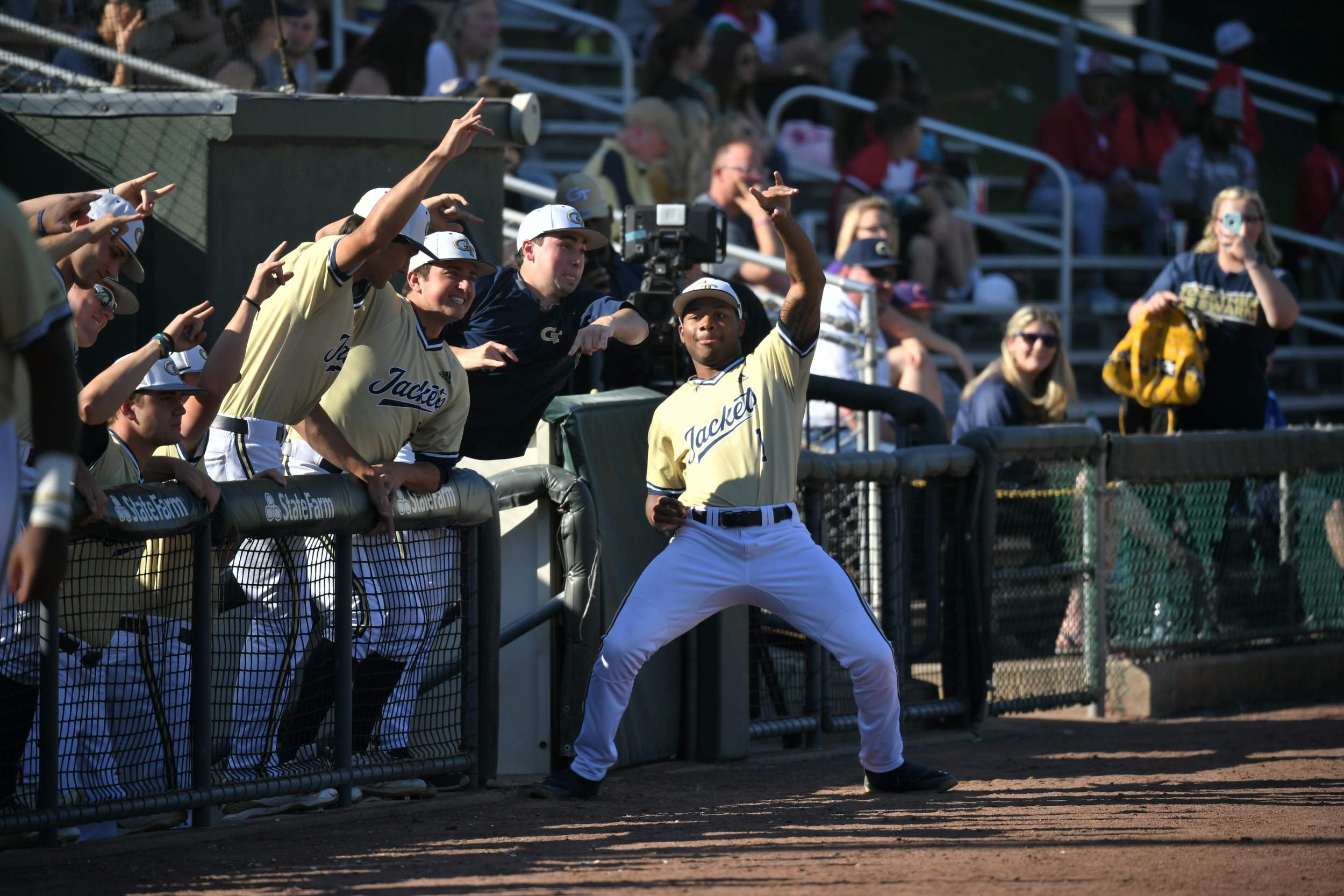 "Practice is a lot more fun when you're winning. I will say that," said redshirt junior Jackson Webb, who hit .333 (4-for-12), with a run and a RBI against Clemson and is hitting .406 (13-for-32) with seven runs and six RBIs in the last nine games, which he's started at third. "The atmosphere has been really relaxed up until it's time to step across the white lines, then you lock it in. This team seems to have another gear once we get to the game. We play with a chip on our shoulder and I think that's been a big key to our success this year."
The Jackets have been rolling through the ACC at an unprecedented level. They've won seven-straight series, all in the ACC, the longest such streak in the Danny Hall Era — they won six straight in 2005. You'd have to go back to 2010 to find the last time the Jackets stung that many conference foes in a season, and they still have series at Duke and against Pittsburgh. But first, they'll have to prove they keep it rolling in a non-conference weekend when they host Western Carolina (18-22, 7-11) of the Southern Conference.
They're expecting to extend the streak and continue the fun. It should be stated that these expectations have nothing to do with playing the struggling Catamounts, who have lost six of their past eight games and dropped three of their past four series, although the one series they won was against Mercer, who Georgia Tech plays on Tuesday, May 14 (they also have a win against ACC rival Notre Dame.).
They'd be having fun against anybody.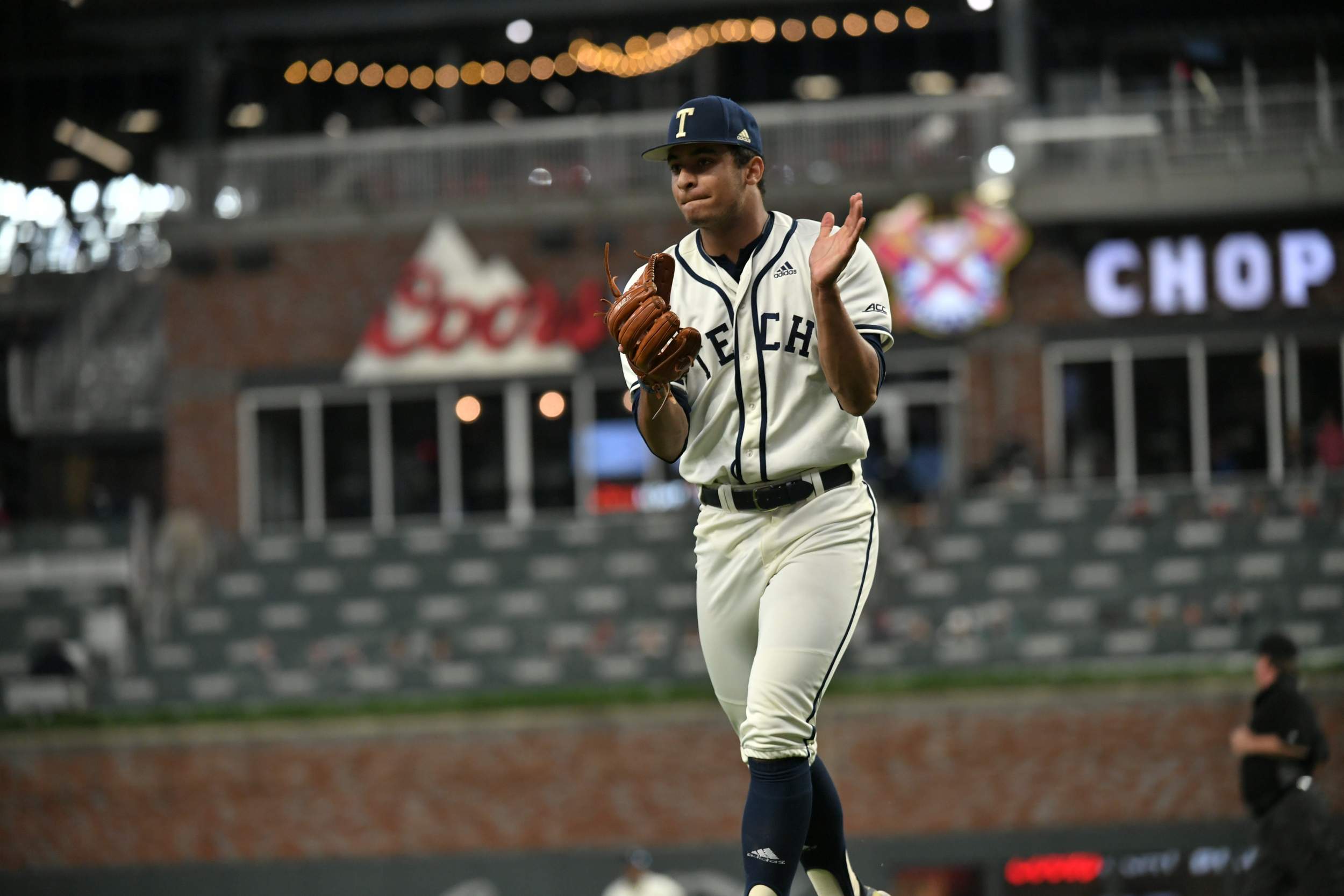 "We're not going to think about who the opponent is," said designated hitter/first baseman Michael Guldberg, who heads into the weekend leading the ACC in hitting at .374 (his .461 on-base percentage ranks ninth). "We're just going to go out there Friday, Saturday and Sunday and play our game and try to win three games."
"It goes back to this team playing with a chip on its shoulder. We kind of just use that 'fight-back' mentality. It's almost like we come to each game with the perspective of, 'We got beat our last game,' and that's how we play," said Webb. "We can't take anything for granted because as the coaches have been preaching, we haven't done anything yet. That's kind of the mentality that we're going into each game with and I think that's given us a very competitive edge."
It has all season long.
"It's having the ability to lock in to every game and every pitch of every game. We've talked about it since the beginning of the year," said English. "It starts before the game. We have to lock in taking our ground balls, in our hitters' meetings. We're not playing against another team. We're playing against the ball. We're playing against ourselves."
English admits that at times he's actually playing against the guy batting in front of him, catcher, Kyle McCann.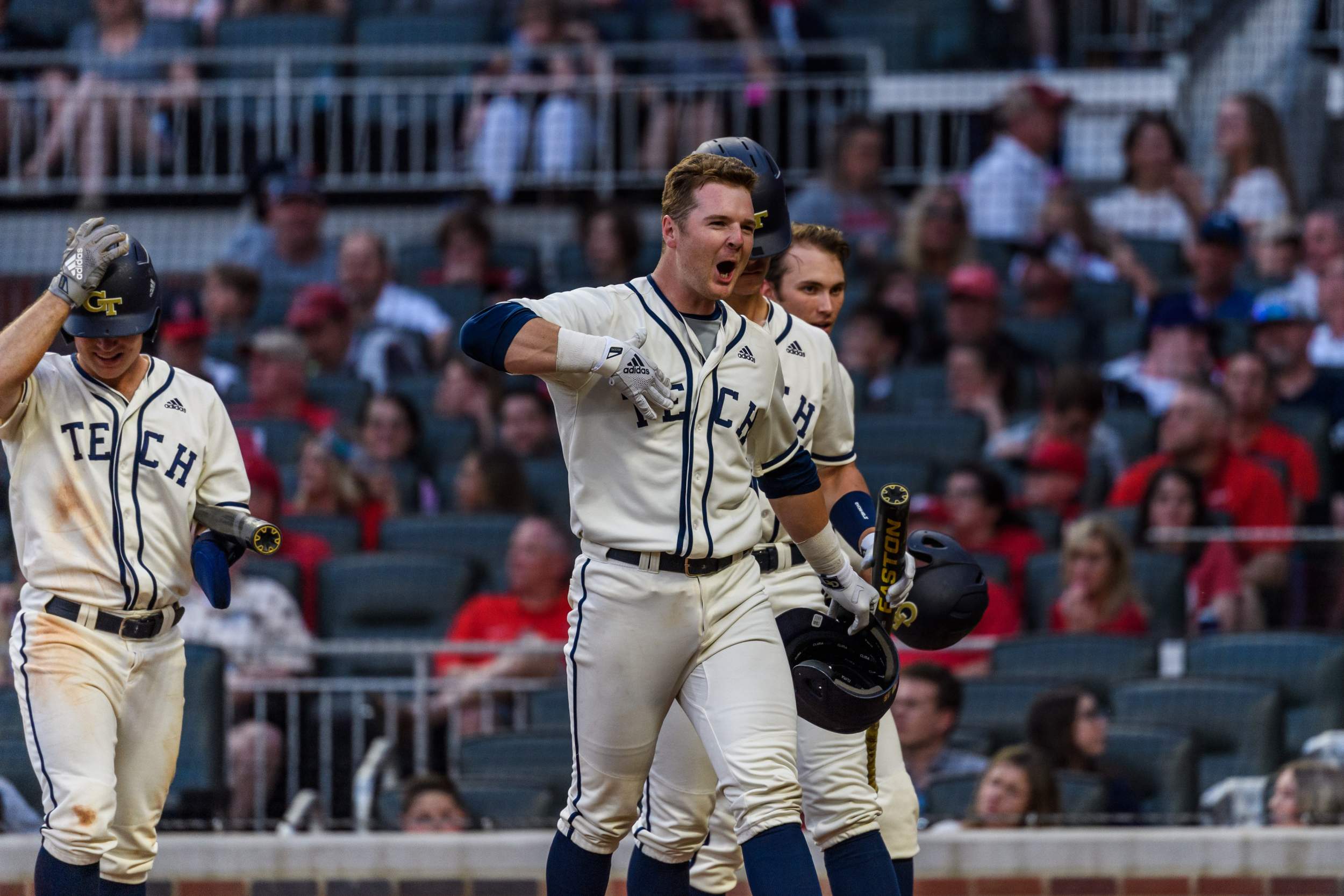 "We definitely feed off each other," said English. "He said last year it was him and Joey (Bart) on who was going to hit more home runs. They would be tied, then somebody would hit one, all the way up. It's just nice to be able to feed off that competition."
Against Clemson, the 3-4 tandem went wild, hitting .381 (8-for-21), with five of their eight hits leaving the yard (English blasted three to get him to 12, McCann had two giving him 16), scoring 11 times and driving in 14 runs — on Sunday.
The entire team feeds off McCann and English as much as they feed off each other.
"I think (we feed off it) a lot," said Guldberg, who, with shortstop Luke Waddell, has been setting the table for them all season out of the two-hole. "This year, we're really just trying to grind out at-bats and always make the momentum go in our direction and then we play off that momentum. We end up with a lot of crooked innings and win a lot of games that way."
That energy is infectious and has spread throughout the order.
"I would say it's competitive but it's more of we know our roles, we know what we're good at," said Webb, who has thrived primarily batting eighth. "We're good at working pitchers, getting their pitch-count up and then getting that one pitch that is in our zone that we can handle, whether it's working a walk, getting a base hit when we need it, laying down a bunt — a bunt-base hit, sacrifice bunt — to get back to those guys at the top of the order, get back to our boppers in Tristin and McCann and let them do all the glory work."
Just as it doesn't matter who gets the big hit with everyone is contributing, it hasn't mattered who Hall has penciled in to get the opportunity to contribute. Injuries and slumps have hit the Jackets, as they do every team but it hasn't slowed them.
"Next Man Up" has become a way of life for the Jackets, who simply keep marching on.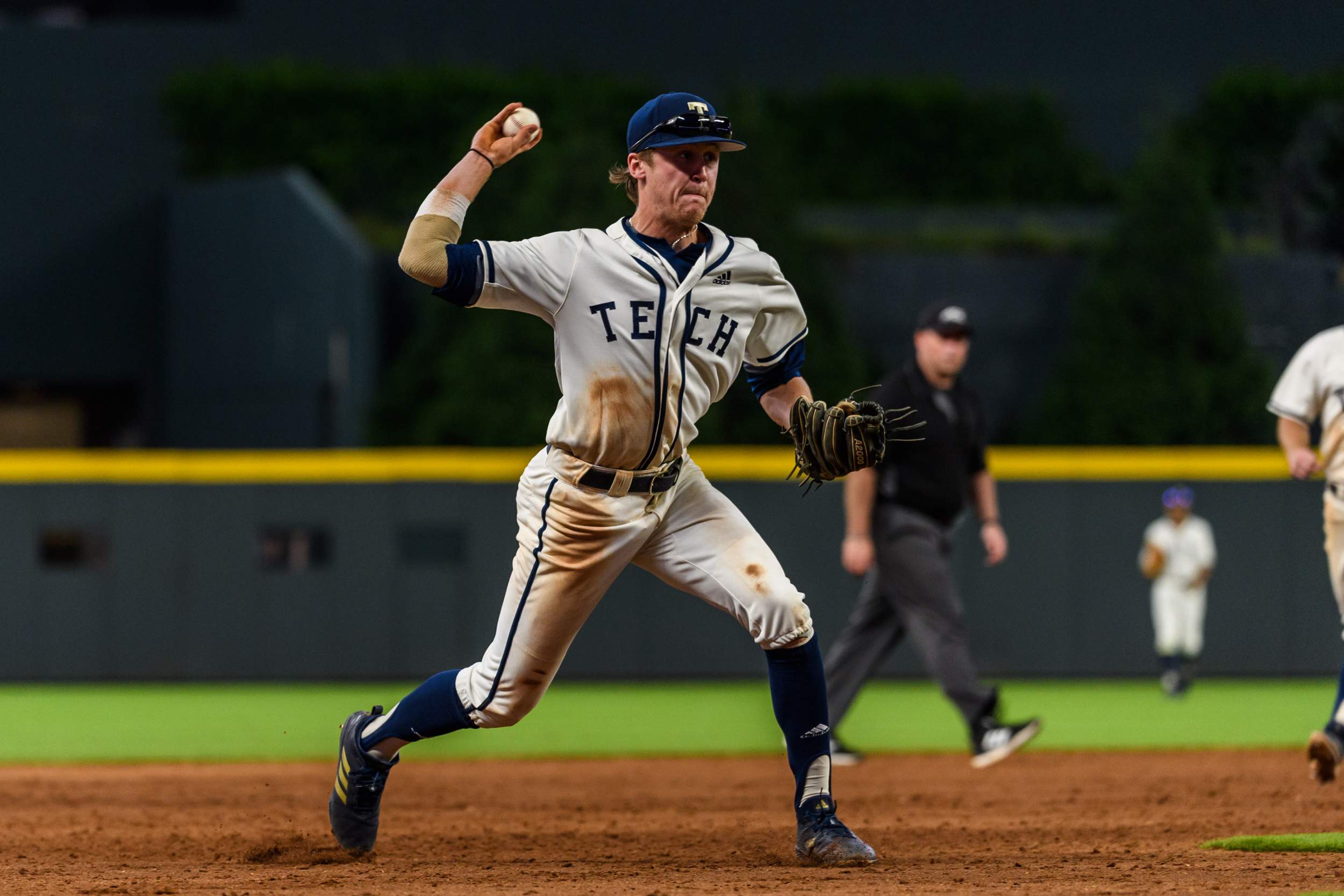 "We have a lot of confidence in, not just in the starters on our team but all the guys on the team," said Guldberg. "When somebody goes down we're confident that the next guy can do the job."
That confidence has led to the Jackets putting up an 9-4 record in one-run games. Last year they were 4-5 in such games.
"Last year, if we were down one or two late it felt like, there was no way we were going to be able to come back," said English. "This year, our offense is really relaxed. We get down, even late in the game, we all kind of come together as hitters and we're like, 'Alright, restart the game. Treat it like the first inning. Let's battle every pitch of every AB and we're never out of the game.'"
"It's just trust," said Webb. "Everybody in the locker room trusts the guy sitting next to him, whether it's our hitters trust that the guy before them is going to get on and pass the bat, not try and do too much or if it's trust in our bullpen late in the game to come in and get that shutdown inning when we need it."
With 10 games to go, the Jackets have an opportunity to win their first Coastal Division title since 2011. They're tied at the top with North Carolina (the Jackets own the tiebreaker), and are looking for their best finish since that year — they've finished fourth or fifth every year since '11. They'll play seven of their final 10 games at home — next weekend's trip to Duke is the final time they go on the road. With an 18-8 record (8-4 in Conference play) at Russ Chandler, they're looking forward to taking advantage of home cooking and feeding off the home crowd.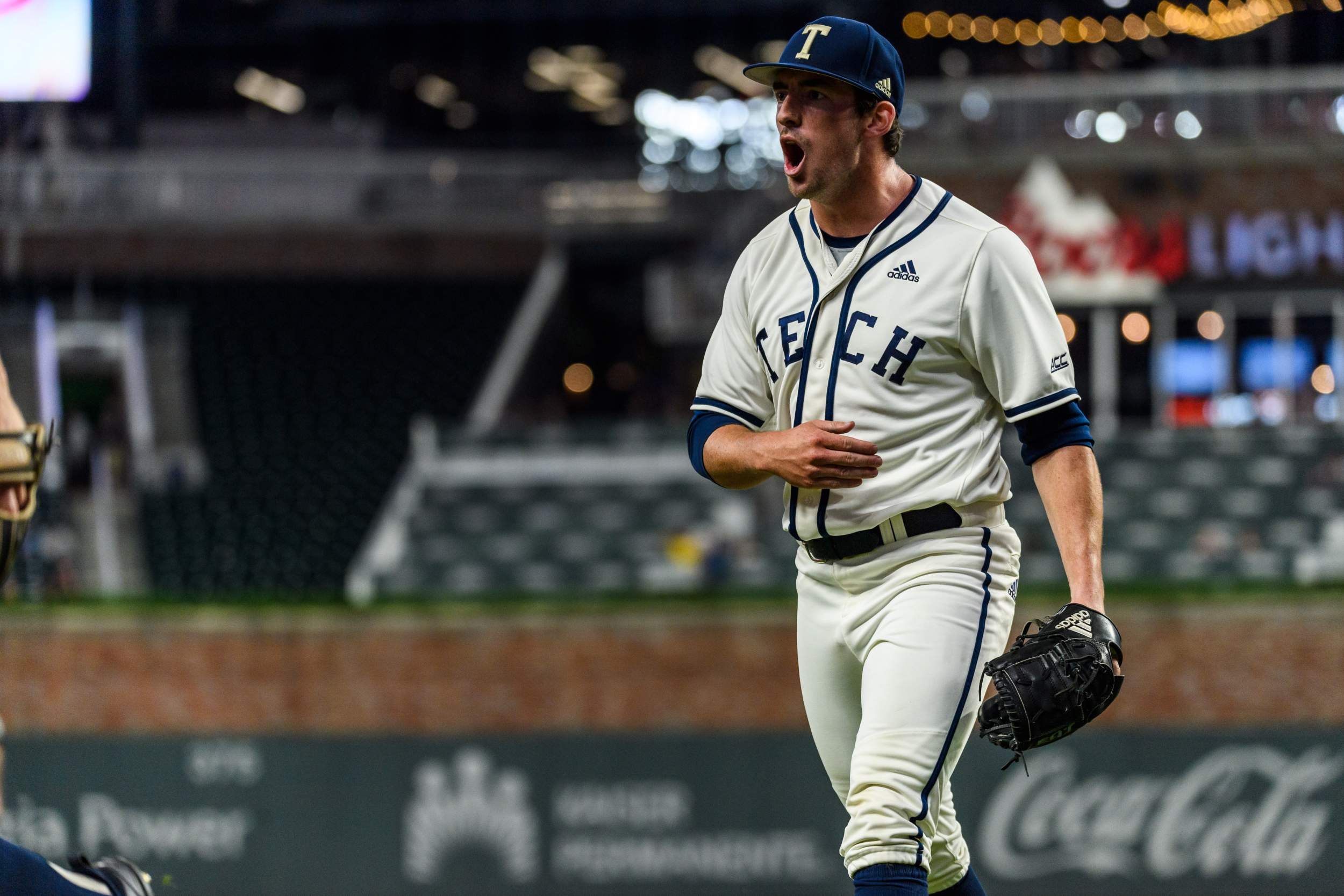 "We're excited to be home. It's more comfortable playing at home," said Guldberg. "It means a lot to have the support we've had. The crowds have been great and the fans have been great. We're really enjoying that."
"It's really nice," said English. "You get to sleep in your own bed, you don't have to worry about where you're going to eat, you kind of have your own routine of when you're going to get to the cages, what you can do in the cages, everything like that. That's big. That and having our hometown crowd, we're grateful for that."