By Jon Cooper | The Good Word
THE FLATS — Baseball is a game of numbers, full of percentages and statistics.
Georgia Tech's dugout is full of guys that are pretty good at figuring percentages and statistics. This year, they've proved that they're also pretty good at re-figuring both.
Sunday afternoon's 7-0 win over Boston College at Harrington Village in Brighton, Mass., gave the Coastal Division-leading Yellow Jackets their fifth-consecutive ACC series win and second-straight ACC road-series win.
Last season, the Jackets won five ACC series all season, had one two-series winning streak and didn't win an ACC series on the road.
Go figure.
"It's just their grit, their resilience," said head coach Danny Hall. "They've proven that you can never count them out."
Their resilience is even more remarkable when you consider that in the five-straight series they've won, Tech has lost the Friday night game four times, leaving no margin for error on Saturday or Sunday.
Yet, if anything, the Jackets are playing with even more confidence and pride during the weekend games. Or maybe they're just stubborn.
"We're not going to give up. If we come out one game and lose one that doesn't mean we're going to roll over and give up the next two games or even give up the next game," said second baseman Austin Wilhite, who batted a cool .500 (5-for-10), with four runs scored and two RBI, also reaching base three other times with walks. "We're going to come back the next day, start over from scratch and battle as hard as we can to try to get wins."
Shortstop Luke Waddell said that resiliency in conference play is what they've been working toward all year.
"We knew ACC play was big. We've just been coming up with big wins," said Waddell, who bounced back from an 0-for-3 Friday by going a combined 4-for-8 on Saturday and Sunday, with two runs, two RBI — also reaching on a walk and hit-by-pitch. "Friday was a tough game. We knew we had to bounce back but that's kind of been the general theme of the season it feels like, we're winning Saturday-Sunday."
Lefty Connor Thomas has got Saturday. In consecutive starts, he's denied Virginia, No. 4 Louisville, Notre Dame, No. 9 North Carolina and B.C. win No. 2 on Saturday.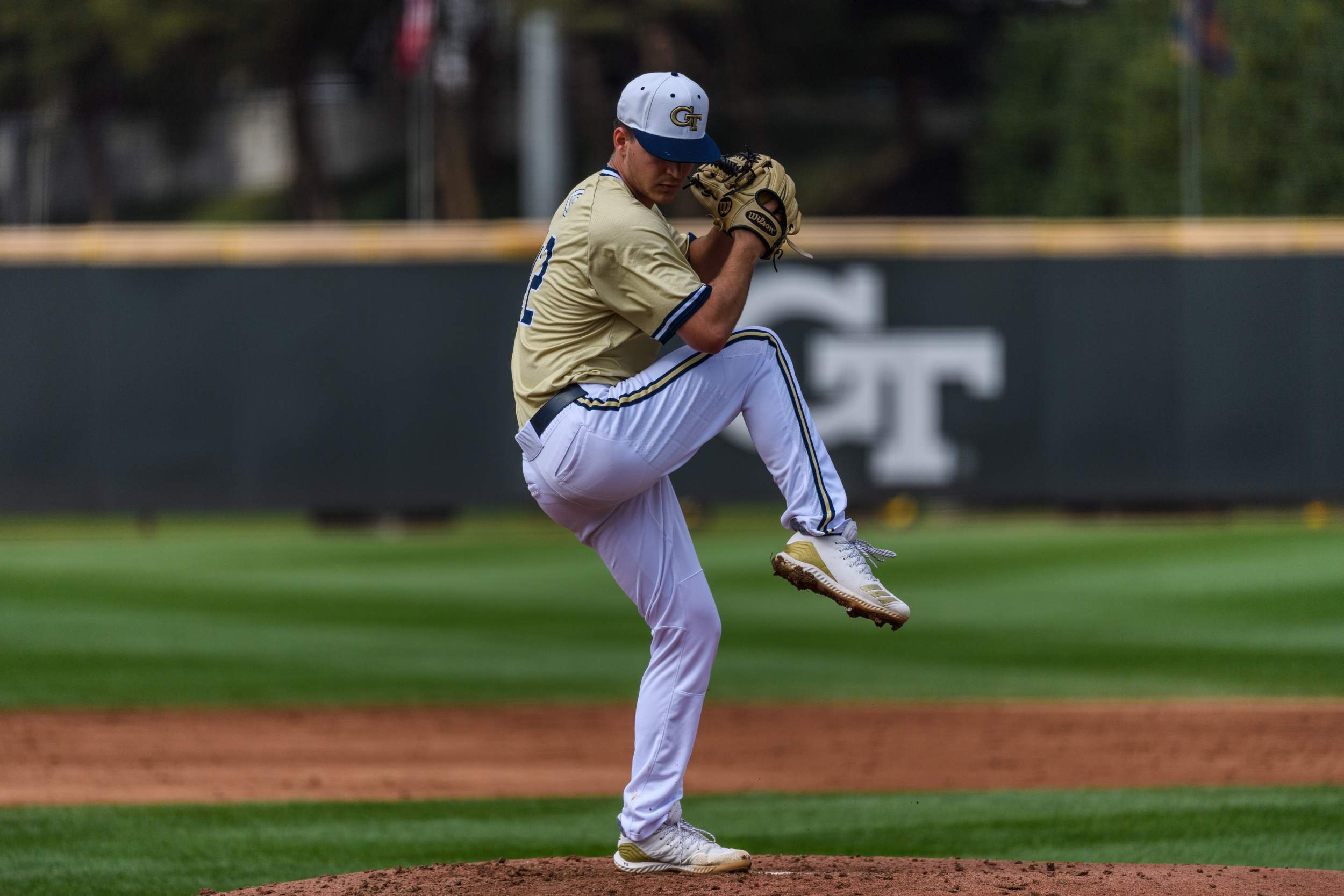 "We've got a guy that pitches on Saturdays that we trust a lot, Connor Thomas," said Hall. "He's kind of got that killer instinct. He gave us a shot to win the series (Sunday)."
Thomas recognizes the responsibility and thrives on the challenge of it.
"We didn't play our best on Friday and I just tried to put the team on my shoulders and give them the best chance to win," said Thomas, who threw seven innings, allowing only one run and five hits, with four strikeouts vs. one walk in the 9-1 series-equalizer. "Our ability to bounce back from a first-game loss is huge. It's really a testament to this team's fight, which is something that I've seen increase tremendously. I don't know that this team didn't have the same fight last year."
Thomas gets his back up and his pitches down when he takes the mound down with the series on the line. In the four starts following series-opening losses, he's pitched to a 2.25 ERA (seven earned runs in 28.0 innings, with 25 hits allowed and a near 10:1 strikeouts-to-walks ratio (29 K's vs. 3 BB's) — he's got a 1.70 ERA (seven earned runs in 37.0 innings), with 30 hits and a near 7:1 strikeouts-to-walks ratio (34 K's vs. 5 BB's) in the five starts.
"I don't think I take anything more personally," he said. "I think our team as a whole, the bats, maybe they get woken up. We say, 'Hey, we have to step it up and beat this team because we can.' From a pitching standpoint, I approach every team the same way. I'm confident in my abilities and just kind of go after them."
His teammates have the ultimate confidence in the junior southpaw.
"He just gets out there and he knows what kind of pitcher he is. He's going to work down in the zone, get us some ground balls, he knows that the team on defense is going to make plays behind him," said Wilhite. "I think that really boosts his confidence, knowing that he's got eight guys behind him that are going to be making plays for him, no matter if it's a hard-hit ball or a soft-hit ball. It just gives him confidence to throw all of his stuff in the zone. Instead of trying to pitch around guys he goes right at them."
Thomas' greatest influence may actually be on sophomore Brant Hurter, who's been pitching behind him. Hurter completed the series comeback against B.C. by blanking the Eagles over seven innings, allowing two hits and whiffing an ACC-best nine. He's 2-0 in ACC series-deciders, and the Jackets are 3-1 — an epic Cardinals' comeback against the bullpen is the only blemish in his starts (he was scratched from the series finale against UNC). Three of the four Sunday games in which he's pitched have been one-run affairs. Pretty nerve-wracking, huh?
"I love going into those situations and being able to produce for the team and the hitters producing for us. It's a fun atmosphere," he said.
He also loves feeding off the energy Thomas gives the team — something Thomas attributes to his feeding off Friday night starter Xzavion Curry.
"It fires me up a ton," said Hurter. "It's great to see (Thomas) do that. If he can make hitters look like that, I feel confident going in that I can do the same."
Thomas believes the vicious cycle that is the Jackets rotation is only going to get better down the stretch now that Hurter is comfortable in the Sunday role and is back to pitching at 100 percent.
"He has been a Godsend," said Thomas. "We were looking for a third starter to begin the season. I figured Brant would fill that role and, sure enough, he has. He has really improved from last year and we needed him to.
"'Zay and I have already talked about this," he added. "'Zay and I are like complete opposites. We believe that Brant is like a mix of us. He has the velocity but he also has the stuff to get hitters out. With that mix, there's no reason he shouldn't keep dominating like he is."
The offense also has dominated on the weekends. In the 10 wins during the series winning streak, the Jackets have scored 76 runs and the production hasn't been top-heavy. Against B.C., the bottom third of the order produced big time. They hit a combined .355 (11-for-31), scoring nine runs and driving in five more.
"A lot of teams, you get to the bottom of the order it's like, 'Oh, quick, easy outs.' That's not the case with our team," said Wilhite, who extended his current hitting streak to 10 games, six of those two-hit games (including one each Friday and Saturday — on Sunday he had one hit, walked twice and scored three runs). "You get to the bottom of the order, you've gotta keep grinding. We get up there, we have good at-bats, see a lot of pitches, make their pitchers throw a lot of pitches and then flip the order back over by getting on base any way we can. Then it's back to the top of the order and it's like, 'What do we do now?'"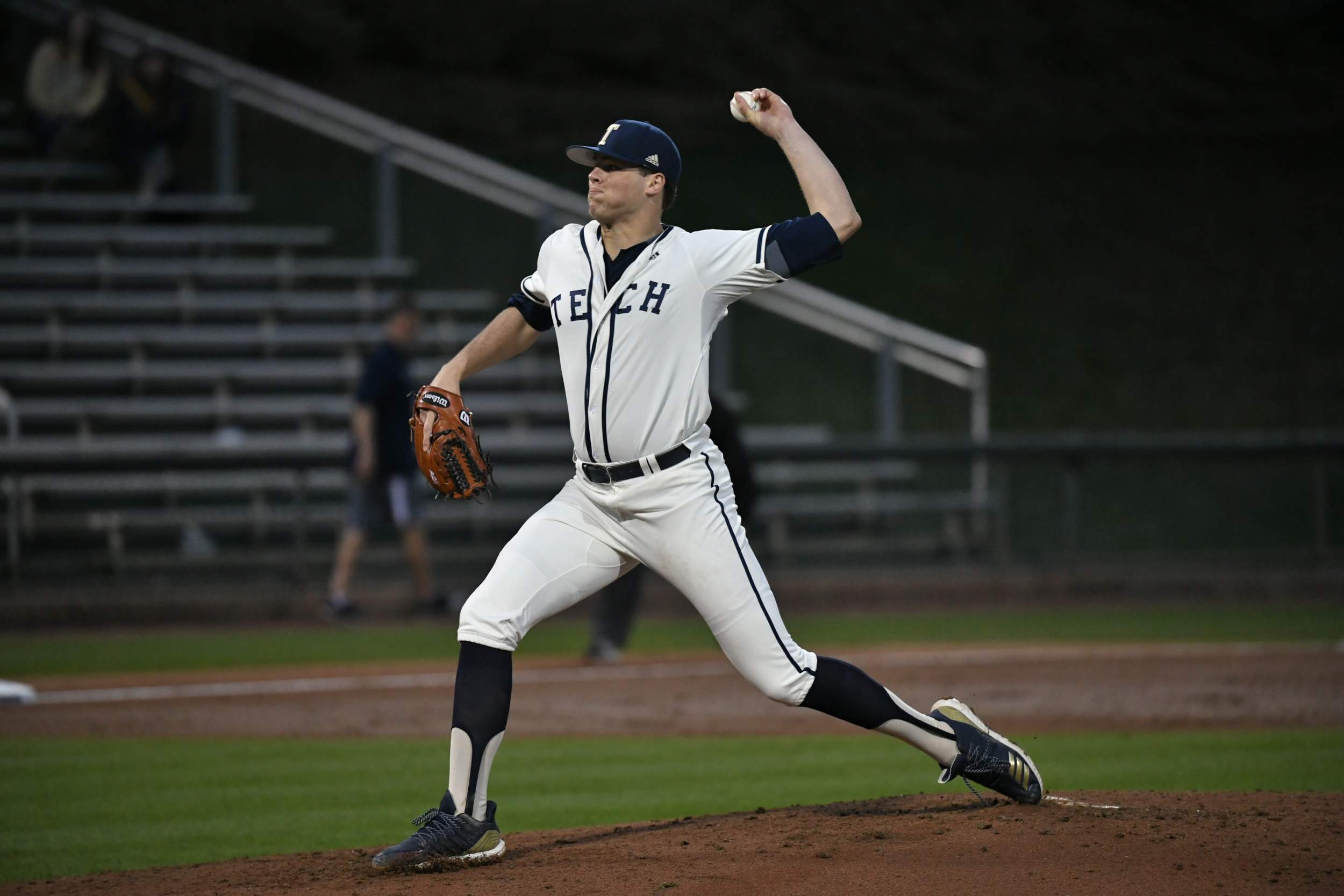 The bottom of the order has allowed lead-off Waddell and two-hole Michael Guldberg, who have been so great at setting the table, for Tristin English and Kyle McCann, to get to play the role of run-producers.
"It's been great. They're just finding ways to get on base, finding ways to knock in runs. It's been unbelievable," said Waddell. "Austin's on a rampage. He's having like two, three hits every game. It's fun to watch. We just want to build off this momentum and get in a groove as a hitting baseball team so we can bring it in to the end of the season."
The two weekend blowouts were nice, and a break for the Jackets, who have already shown they can win close games, as they're 7-3 in one-run games.
Thomas isn't surprised by the Jackets' offensive explosiveness or ability to exploit mistakes.
"I faced them all fall and I can tell you any mistake I made they were putting it in a gap or somewhere. They were punishing me," he said. "So to see them do the same thing to our competition, it's a pitcher's dream to get a 7-, 8-spot in a game and you're just in cruise control after the third. That's all you can ask for, really."
While the Jackets asked themselves to play better on the road, nobody saw this year's road heroics coming.
"It's definitely different from last year. I think it's kind of a team coming together, knowing that on the road all we've got is each other and we thrive off that and build off that," said Waddell. "We know that just the guys in the dugout, everybody has your back. We love playing with each other. We love having that brother mentality so it's been great on the road."
Wilhite agreed, saying that the team has relied on each other, "pulled together and been able to go on the road and get wins."
"Going on the road is always a hard thing to do. It's you and your team in the dugout," said Wilhite. "You have to rely on your guys in the dugout, root for your team and kind of ignore all the other stuff that is going on, with the other team trying to break you all up and get you out of your rhythm. That's a good thing we've done this year."
The Jackets have only two more true road series and play 10 of their final 13 games at home. That's big as, at 11-7, they hold a slender one-game lead over North Carolina, against whom they hold the season tiebreaker, and Miami, against whom they don't. There are also still big midweek games, with nationally ranked Auburn at Russ Chandler (first pitch tonight at 7 p.m.), another matchup with Mercer and the rubber game with top-10 Georgia in the Farmview Market Spring Classic at SunTrust Park.
"We love playing at home, we love our fans that come out, love those new home jerseys we've got," Waddell said. "It's just fun being there, fun having the crowd there, kind of a different energy so we're looking forward to it, definitely."
It's also fun watching the comebacks keep on coming.
"It's crazy," said Waddell. "(Assistant coach James) Ramsey kind of beats that drum. We never have a doubt. We say, 'Never a doubt. We're not going to lose any ballgames. There's never a doubt that we're not going to lose late in the game.' Guys know what we have to do coming in Saturday, it feels like, and then Sunday we bring some different energy than other days and just figure out how to get the series win."