By Matt Winkeljohn | The Good Word
Heading into the home stretch of a fine baseball season, Georgia Tech has more story lines than could fit into a suitcase, but we'll try as the No. 7 Yellow Jackets are in line to play host to an NCAA regional for the first time since 2011.
There's a lot to unpack here, especially with two of Tech's three weekend starting pitchers now on ice, yet there are so many hot players that it's easy to feel good about the final seven regular-season games for the Jackets (33-14, 15-9 ACC).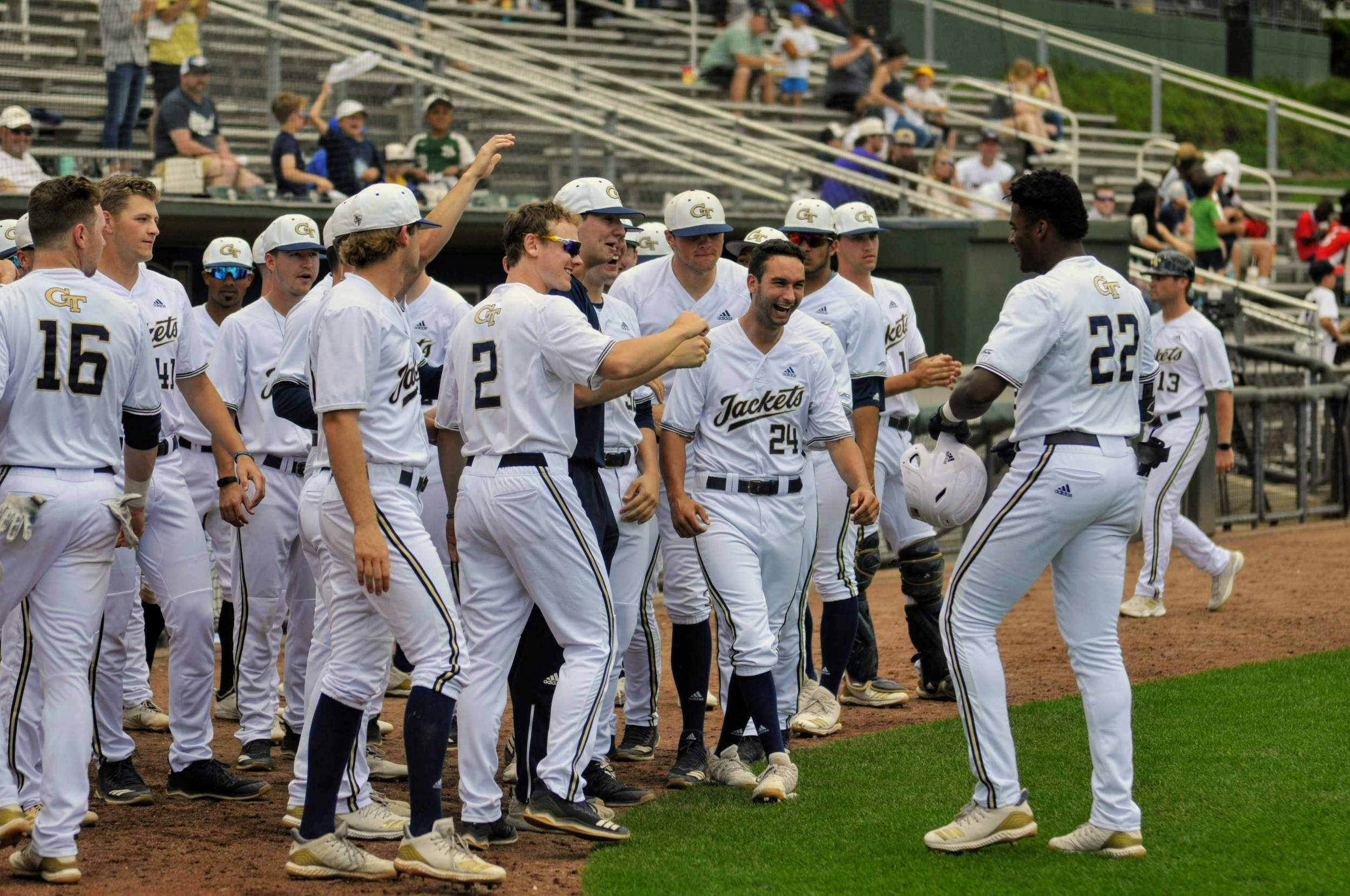 First, though, as with all tales that have a happy ending, there are dark components.
Nobody will see Sunday starter Brant Hurter (2-2, 2.42 ERA) as the Jackets finish with three conference games this weekend at Duke (28-18, 13-11) and three next weekend against Pitt (17-30, 5-19) sandwiched around a May 14 home game against Mercer.
Limited recently by "forearm tightness," he learned last week that he needs the pitcher's bane — Tommy John surgery on his left elbow. He's finished for this season, and perhaps next.
Bummer. The big guy was a revelation for the bulk of the season.
Junior Xzavion Curry (4-2, 4.08) started every Friday game for the first 2.5 years of his college career before recently being limited by a balky back. He's been shut down for a spell as he looks to rest up from an injury.
OK, now we can turn up the brightness and move past Winterfell. Nobody died, and Jackets have a slew of bright lights.
Tech leads the ACC's Coastal Division by virtue of winning two of three games against No. 13 North Carolina (34-12, 15-9). And while fifth-year senior first baseman/pitcher Tristin English and junior catcher Kyle McCann continue to consistently land in the middle of Tech's success stories, they aren't the only reasons the Jackets lead the ACC in batting average (.289) and on-base percentage (.399).
Last weekend's demolition of Western Carolina, in which the Jackets banked wins by 25-4, 16-3 and 14-1, laid out this team's depth, highlighted Tech's player development and highlighted a chemistry that may be as important as anything.
Sure, English was big against as he went 4-for-12 with two home runs and seven RBI in the series, and McCann went 5-for-10 with two home runs, five RBI and eight runs scored as the Jackets blew up like a video game.
But what about junior center fielder Nick Wilhite, who batted .128 and .155 in his first two seasons, and sophomore right fielder Baron Radcliff, who hit .180 last season as a part-timer, struck out 44 times and walked six?
They were in the hinterlands. Now, they're running with the foreguard.
Wilhite went 6-for-10 last weekend to raise his batting average to .294, drove in six runs, scored three and hit his first home run as a collegian on Friday when the Jackets went especially wild.
Radcliff went 6-for-8, walked four times, hit two home runs, drove in seven and raised his batting average to .274. This season, he's struck out 40 times and walked 38.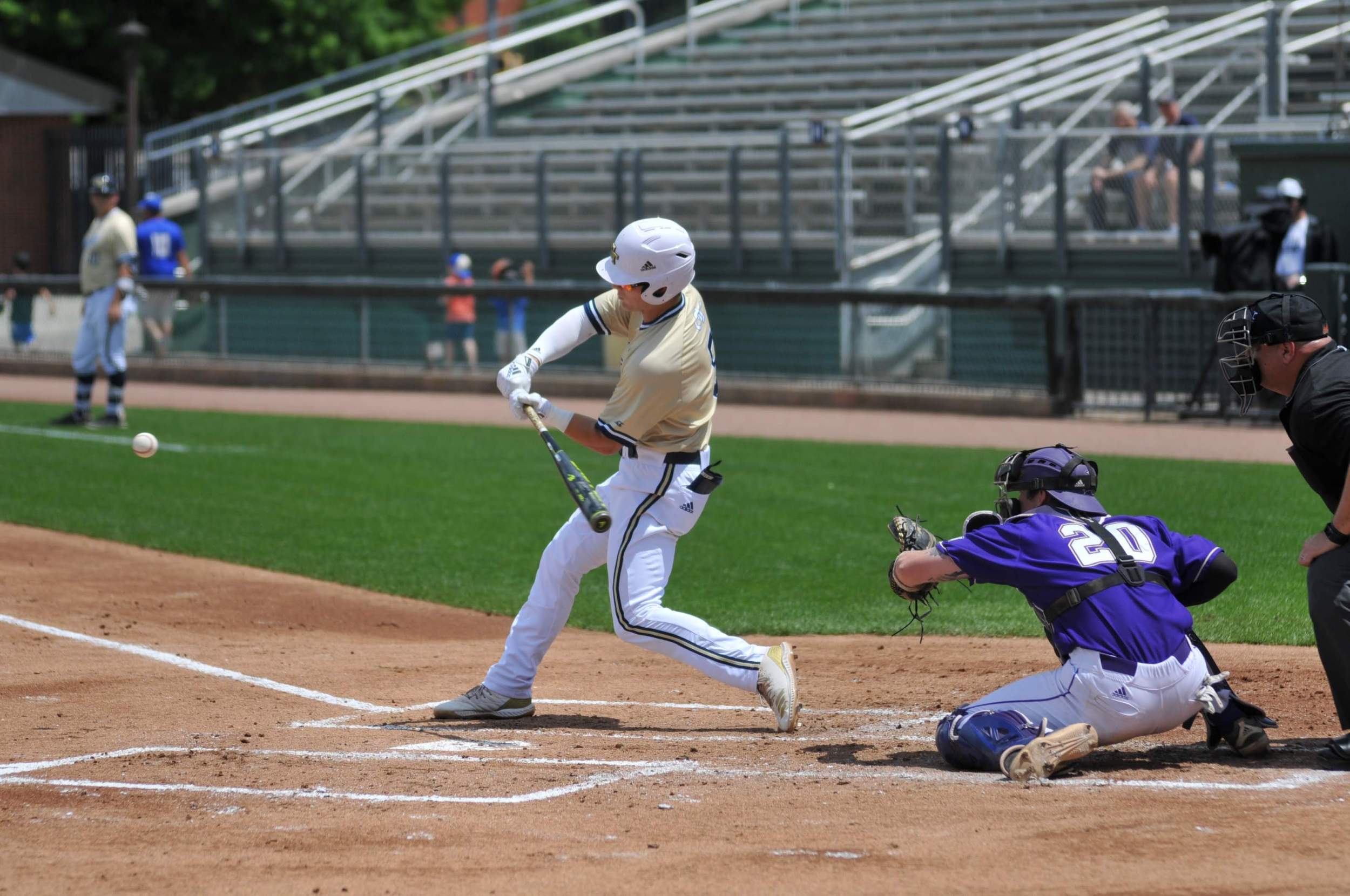 They've both grown enormously on the field, each helped by first-year assistant coach James Ramsey. The former Florida State All-American coaches hitting and outfielders.
Ramsey's primary message is as simple as can be: just be you and believe in you.
"It's nothing other than convincing (Wilhite) that he's all-conference good … I did not care about his two-year stat line. I did not care what Baron Radcliff hit last year. I didn't look at all the stuff," Ramsey said. "Just like Kyle and Tristin, the guys had strides to make."
Ramsey doesn't tell players to do what he tells them to do; he tells them to do what they're good at doing.
"They've really worked with me this year getting me back into my style of hitting, which is line drives … Shout out to Ramsey for working with me a lot of hours," Wilhite said. "The past two years have been kind of rough. A lot of joy (now) …  I've had a lot more confidence this year, just, trying to stay away from the negative thoughts that come into my head."
Radcliff had some catching up to do when he arrived at Tech.
He's a big guy with a fabulous athletic resume. He set all kinds of records as a quarterback at Norcross High School. Powerful as he is, he was a part-timer.
After moving into the lineup early in the season when left fielder Chase Murray suffered a strained core muscle (and Colin Hall moved to left field to make room for Radcliff in right), he started slowly.
Clearly, he's picked up as he's become more comfortable over time.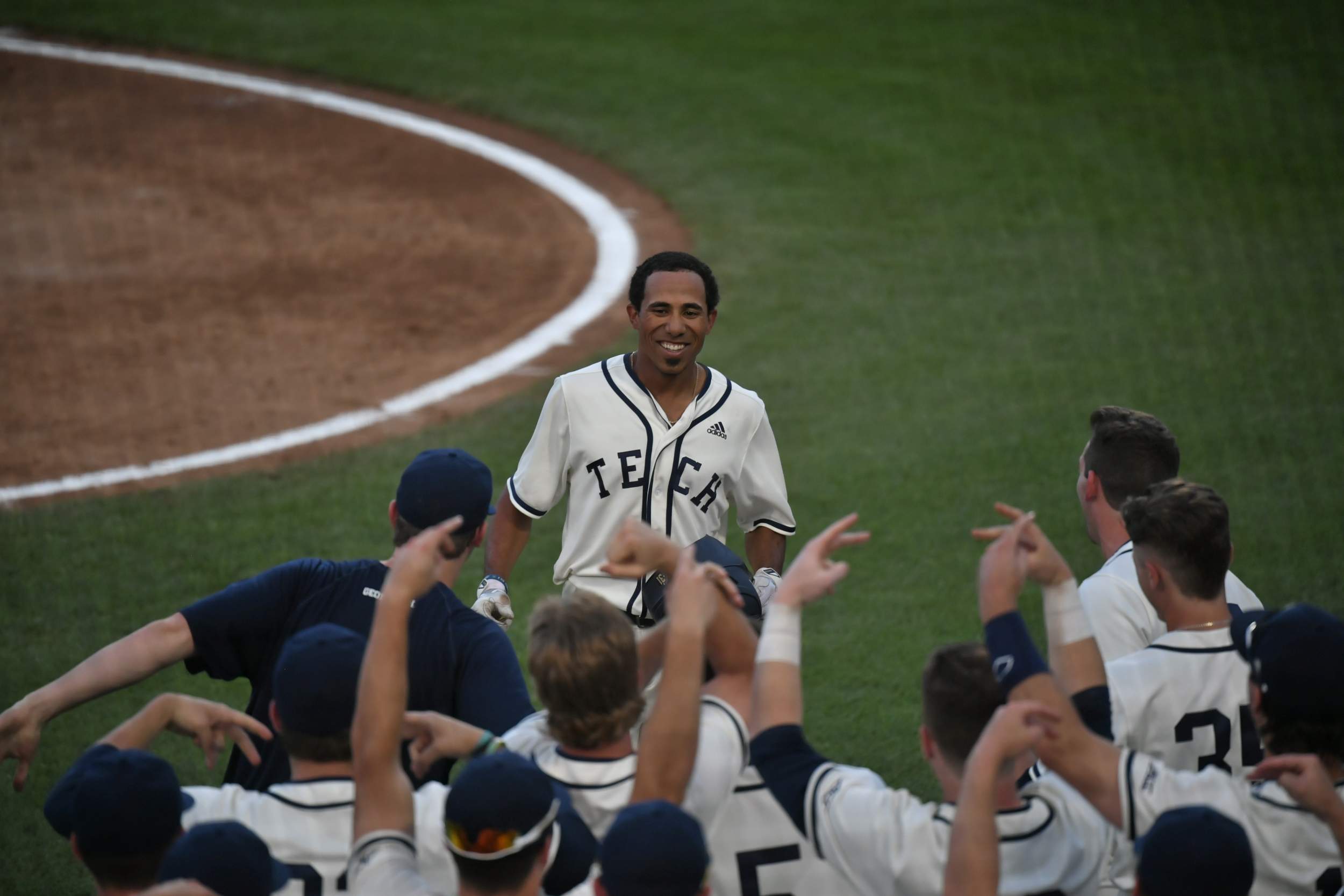 "I mean it's like night and day. I feel … a little more confident at the plate due to the fact earlier I didn't have many opportunities so I felt like I wanted to do something special every time I got an opportunity …" he said. "Just getting at-bats.
"I was behind a lot of these guys because coming through high school I would miss baseball tournaments for seven-on-sevens and stuff like that with football under the summer … It's given me confidence to know that my coaches believe in me to be behind and drive in those runs in guys like McCann and Tristin … just go in there and do my thing."
A few other Jackets are going to have to do their thing.
The idea of going without two weekend starting pitchers needs to be mitigated by the fact that the new starters, junior Amos Willingham and freshman Cort Roedig, pitched so many innings before in Tech's mid-week games. The Jackets are 10-1 in those games, including four wins over Top 25 teams.
With Curry down, Willingham (5-2, 5.13) is starting Friday games. He was solid against Western Carolina, going five innings and allowing five hits, four earned runs. He walked one and struck out two.
"I think he's more effective as a starter, getting to go through his routine," said pitching coach Jason Howell. "Him knowing it's routine and he's going to be out there helps."
Roedig (2-1, 4.09) went five innings Sunday, allowing three hits, no earned runs and striking out six, while walking one.
Sure, the Catamounts (18-25) were overmatched, but maybe not to the degree of those scores. The team coached by former Tech associate head coach Bobby Moranda registered consecutive wins earlier this season against Michigan State, Ohio State and Notre Dame.
Yet there's also abundant evidence that the Jackets have a special ingredient: Chemistry.
The highlights of last weekend were not provided when the big boppers bopped, nor when Connor Thomas (7-1, 3.39) picked up the win Saturday with seven innings of seven-hit ball.
Beyond the feathery Nick Wilhite hitting his first college home run Friday, here are more highlights:
Sophomore reserve catcher Jaime Taylor on Friday whacked a three-run triple off the right centerfield wall for his first RBI.
Murray, who hasn't played much since his core injury, Friday hit first home run since opening day in a pinch-hit role.
Senior pitcher Micah Carpenter singled sharply Friday, was late for Saturday's game because he attended graduation, and then pitched two scoreless innings to close that one out. He also played center field late Sunday.
Junior third baseman Jackson Webb was 4-for-6 Friday and hit his first collegiate home run.
As Nick Wilhite said, there was much joy at the end of finals week as the dugout went bonkers upon all of these happenings.
Never mind that Danny Hall was in the catacombs while all that was happening on Friday.
Like we said, there's a lot to unpack.
Hall was suspended for that game, as was pitcher Keyton Gibson because in the final game the previous weekend against Clemson both head coaches were ejected as were the Clemson head coach and two Clemson pitchers for hit batsmen. They were all suspended last weekend, too.
Hall was there Saturday, when sophomore outfielder Cole Neuber subbed in late in the game and cranked a ball over the left-field fence.
That brings up a story that pulls Joey Bart back into the picture. You know, the catcher who was ACC player of the year in 2018? The guy whom the Giants drafted No. 2 overall last June?
He's keeping track of Tech baseball.
"For Neuber to get a home run . . . was pretty neat. He's one of our hardest workers, so to see him get rewarded . . . our whole dugout got excited for him," Hall said. "I'm sure he was on cloud nine.
"I will tell you a funny story. I think he'd been texting Joey Bart and I don't know what the conversation was, but I think at one point in time Joey told him, 'Dude, don't text me until you get a hit.' So, the joke in the dugout was you can text Joey now."