Georgia Tech tangles with ECU for the first time in 24 years in its fourth non-conference game of the season. The Jackets have bested the Pirates in three of four meetings by 10 points or more, with the most recent victory coming at Alexander Memorial Coliseum, 100-74. This is the fourth in a series of previews of the Yellow Jackets' non-conference opponents.
Location: Greenville, N.C.
Conference: American Athletic Conference
Home arena: Williams Arena at Minges Coliseum (7,100)
2017-18 Record: 10-20, 4-14 in the AAC (11th)
Postseason: Lost to UCF in the AAC Tournament, 66-52
NCAA postseason appearances (last): two, (1993)
All-time series record: 3-1
Head coach: Joe Dooley (fifth season)
Starters returning/lost: 2/5
Top scorer returning: Isaac Fleming, G, 6-4 (12.5)
Top rebounder returning: Dimitrije Spasojevic, F, 6-8 (4.0)
Quick preview for 2018-19
Under their new, but familiar, head coach, Joe Dooley, the Pirates look to rebuild its team after a 10-win season last year. In his second stint as head coach, Dooley plans to speed up the ECU's game of play and compete at a higher level.  With a roster that currently includes one senior, one junior and nine underclassmen, the challenge at hand is a young, unexperienced team.
Among the returners, Dooley will look to senior Isaac Fleming for leadership with a young squad. Fleming averaged 12.5 points, 4.8 assists and 3.8 rebounds per game last season, appearing in all 30 games and starting 28. Rising sophomore, Dimitrije Spasojevic fills in for the Pirates as the leading rebounder after bringing down 121 boards last season, fourth-most on the team.
Quick recap of 2017-18
After finishing 10-20 overall and 4-14 in conference play, the Pirates found themselves in second to last place in the AAC. Last season four of the starting five averaged in double figures, as B.J. Tyson led ECU with 14.9 ppg. To start off the season, the Pirates went 6-5 against non-conference opponents. Against American foes, ECU dropped six games by five points or less. In the American Athletic Conference Championship first round, the No. 11 seeded Pirates lost to No. 6 UCF, 66-52.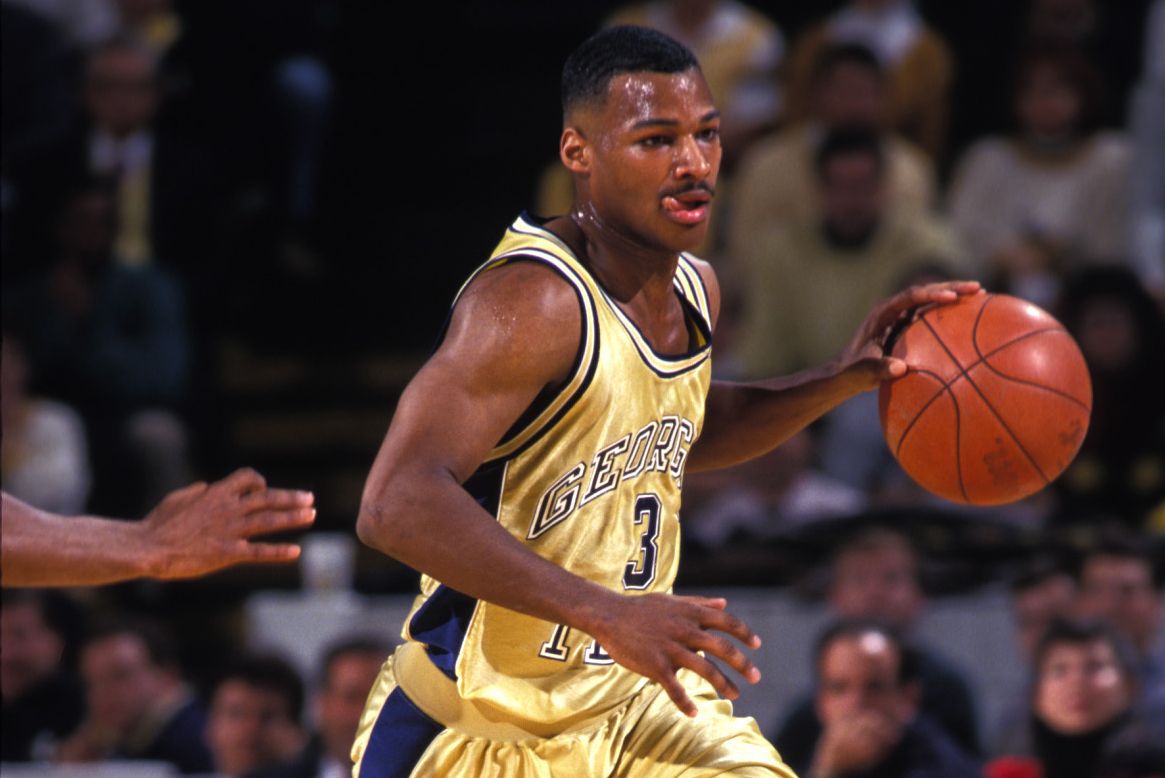 Travis Best poured in 32 points for the Yellow Jackets in their last meeting against East Carolina in 1994.
Greatest Program Accomplishment
Capping the best season in school history, the Pirates won the 2013 CollegeInsider.com (CIT) tournament championship over Weber State, 77-74. Akeem Richmond hit a buzzer beater from downtown to win it for the Pirates. The victory against the Wildcats marked ECU's 23rd win of the season, tying a program record for most wins set by the 1953-54 team. Capturing the CIT title marked ECU's first-ever Division I postseason championship.
Greatest player in program history
Blue Edwards is one of the most notable players in ECU program history. Edwards played for the Pirates from 1986-89, totaling 1,177 points, good for 13th on ECU's all-time scoring list. The shooting guard also appears in the Pirates' record books for the second-most 30-point career games (11), career scoring average (20.7) and season scoring average (26.7). He is the highest drafted player from ECU and the most recent, taken in the first round of the 1989 NBA Draft as the 21st overall pick to the Utah Jazz. In his professional career, Edwards played for five NBA franchises including a second stint with the Jazz. Edwards decided to continue his career overseas after 11 seasons in the NBA, playing with two professional teams in Greece until he retired in 2001.
Place to visit on campus or in the city
Greenville is home to various art galleries and museums, microbreweries and parks. Under a mile from ECU's campus is the Greenville Museum of Art where visitors can discover local artists and historical work of North Carolina. The museum holds different exhibitions throughout the year, including daily tours free of charge. The culture of microbreweries in Greenville is quickly emerging and several have popped up near ECU.