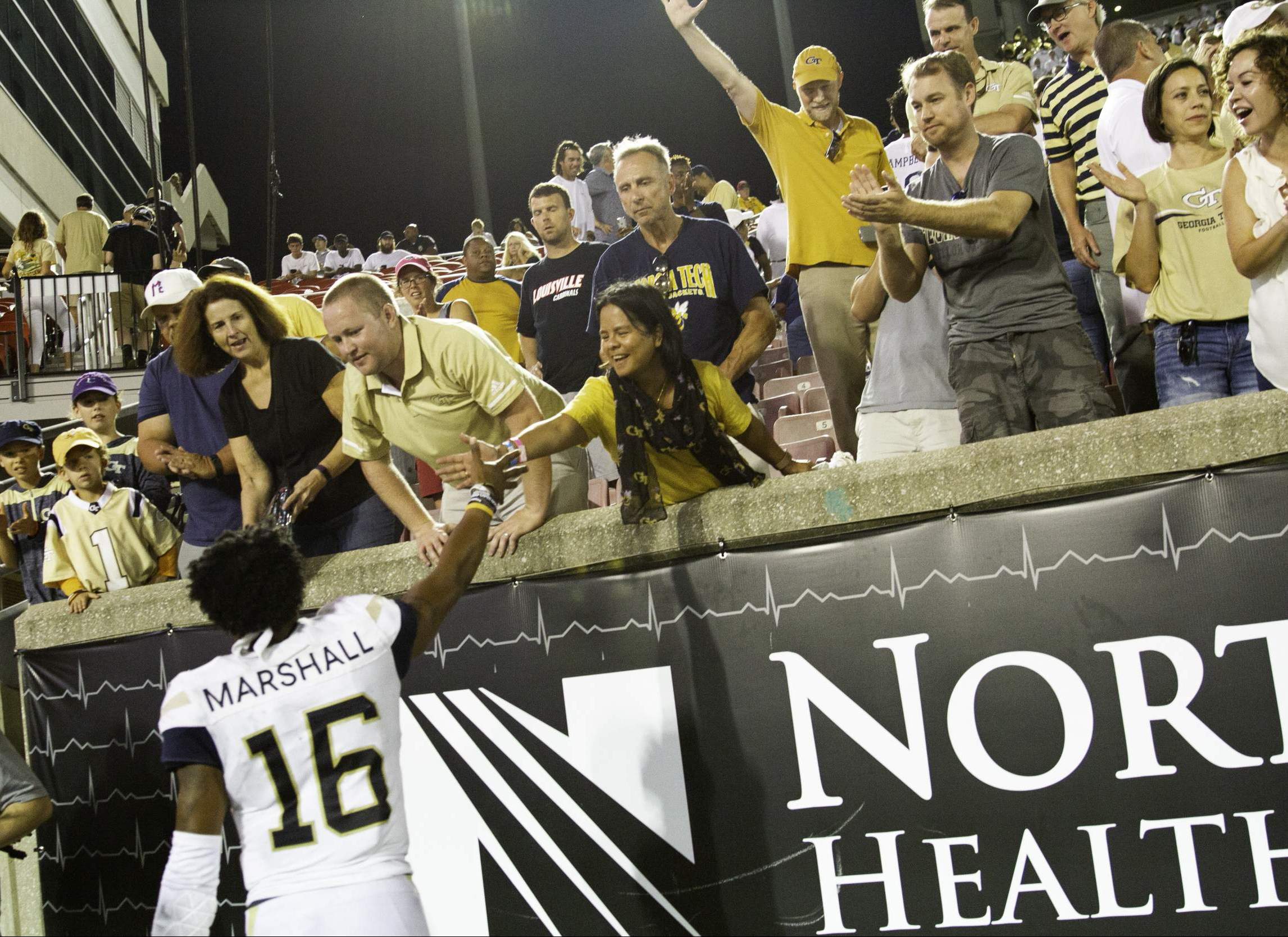 After treating Georgia Tech fans that made the trip to Louisville with a huge win, TaQuon Marshall and the Yellow Jackets return to The Flats for Saturday's homecoming contest vs. Duke
---
Top Storylines
• Riding the momentum of consecutive blowout wins, Georgia Tech returns home for a pivotal Atlantic Coast Conference Coastal Division showdown versus Duke.
• Georgia Tech has routed Bowling Green (63-17) and Louisville (66-31) the past two weekends, marking only the fourth time in ACC history that a team has put 60 points on the scoreboard in back-to-back games (Florida State – 1992, Georgia Tech – 2015, Louisville – 2016, Georgia Tech – 2018).
• In last Friday's romp at Louisville, the Yellow Jackets rushed for 542 yards, the third-highest rushing output in Georgia Tech history and the Jackets' most rushing yards ever in a conference game.
• Georgia Tech's 66 points at Louisville were the second-most that the Jackets have ever scored in an ACC contest and tied for the third-most ever scored by a road team in ACC history, behind only Tech's 70 points at Navy in 2001 and its 68 points at North Carolina in 2012.
• TaQuon Marshall has led Georgia Tech to scores on the last 14 offensive possessions that he has quarterbacked (13 touchdowns and one field goal) — his final series vs. Clemson on Sept. 22 (TD), all six series that he played vs. Bowling Green on Sept. 29 (six TD) and all seven series that he played last Friday at Louisville (six TD, one FG).
• Marshall and LG Parker Braun were named ACC Quarterback and Offensive Lineman of the Week, respectively, in recognition of their performances in the win over Louisville.
• The Yellow Jackets look to remain in contention for the ACC Coastal Division title this afternoon against Duke. The Blue Devils are 4-1 on the season with impressive non-conference wins over Army West Point (34-14), at Northwestern (21-7) and at Baylor (40-27).
• Saturday's game is the 86th all-time between Georgia Tech and Duke. The Yellow Jackets and Blue Devils met on the gridiron for the first time in 1933 and have played every year since. Duke is Tech's third most-common opponent all-time (behind only Georgia and Auburn).
• Georgia Tech owns a commanding 51-33-1 advantage in the all-time series, including a 29-13-1 edge at home. The Yellow Jackets have won 10 of the last 11 games played at Bobby Dodd Stadium.
• It's the 70th homecoming game in Georgia Tech history. The Yellow Jackets are an impressive 53-15-1 in 69 previous homecoming games and have won five-straight, eight of their last nine and 20 of their last 22 homecoming contests.
For the latest information on the Georgia Tech Yellow Jackets, follow us on Twitter (@GTAthletics), Facebook, Instagram or visit us at www.ramblinwreck.com.