THE FLATS  –  Georgia Tech continues its 104th season of basketball Tuesday night when the Yellow Jackets travel for the first time, taking on No. 6 Tennessee at 9 p.m. at Thompson-Boling Arena in Knoxville, Tenn.
Tech (13-19, 6-12 ACC in 2017-18) has entered its third season under head coach Josh Pastner, beginning the year on the right foot with an 88-69 victory at home over Lamar on Friday night.
Tennessee (26-9, 13-5 Southeastern Conference in 2017-18), which shared the conference title last year, has beaten Lenoir-Rhyne (86-41) and Louisiana (87-64) at home to begin the Volunteers' fifth season under head coach Rick Barnes.
Tuesday's game will be broadcast live on ESPN2 and streamed live through the ESPN app. Radio coverage is provided on the Georgia Tech IMG Sports Network, airing in Atlanta on 680 AM and 93.7 FM the Fan. The Tech broadcast can also be heard on satellite radio (XM ch. 193, internet ch. 955).
Game notes   |  Coach Pastner Monday press conference  |  Watch online
STARTING LINEUP
104th season – Georgia Tech is playing its 104th season of basketball and has an all-time record of 1,363-1,226.
Discharged – Tuesday night's game is the last of a four-game series between the Yellow Jackets and the Volunteers. The teams have split the two meetings in Atlanta, and Tennessee won the meeting in Knoxville two years ago.
Crossing over – Tennessee is the first of three Southeastern Conference opponents on Georgia Tech's schedule this season. The Yellow Jackets visit Arkansas on Dec. 19 and host Georgia on Dec. 22. Those three SEC teams won a combined 67 games last season. Tennessee and Arkansas played in the NCAA Tournament.
On the road – Tech plays away from home just three times before the January. After Tuesday night's game, the Yellow Jackets visit Northwestern for the ACC/Big Ten Challenge on Nov. 28, followed by a trip to Miami to play St. John's in the Hoophall Miami Invitational.
Tested early – Georgia Tech opens its season against a pair of teams that played in post-season tournaments last March. Lamar competed in the CollegeInsider.com Tournament and won 19 games last season, while Tennessee, the Jackets' game 2 opponent, won a share of the Southeastern Conference title and reached the second round of the NCAA Tournament.
Tough slate – Tennessee (6/6) is the first of eight opponents on Georgia Tech's schedule ranked in the top 25 of the preseason AP and coaches polls. The other seven are ACC teams – Duke (4/3), Virginia (5/5), North Carolina (8/7), Virginia Tech (15/17), Syracuse (16/14), Florida State (17/15) and Clemson (22/23).
Former Vols – Junior guard Shembari Phillips, an Atlanta native who played two years at Tennessee before transferring to Tech, is one of two former Volunteers who have played in Tech's program. Guard Trae Golden, from Marietta, Ga., was a Yellow Jacket during the 2013-14 season after playing three years in Knoxville.
Unlucky 13 – Tech was picked to finish 13th in the Atlantic Coast Conference this season in a vote of the ACC media, ahead of Pittsburgh and Wake Forest. The Yellow Jackets finished 13th last season.
Seven – Number of freshmen and sophomores expected to play significant roles for the Yellow Jackets this season.
Four – Number of eligible fifth-year (Brandon Alston, Abdoulaye Gueye) or fourth-year (Sylvester Ogbonda, Shembari Phillips) student-athletes on Tech's roster this season.
553 – Career points for Brandon Alston, the most of any current Tech player. Shembari Phillips is next with 379, followed by Jose Alvarado with 315 and Abdoulaye Gueye with 214. Georgia Tech finished last season with a trio of 1,000-point career scorers on its roster for the first time since 1989.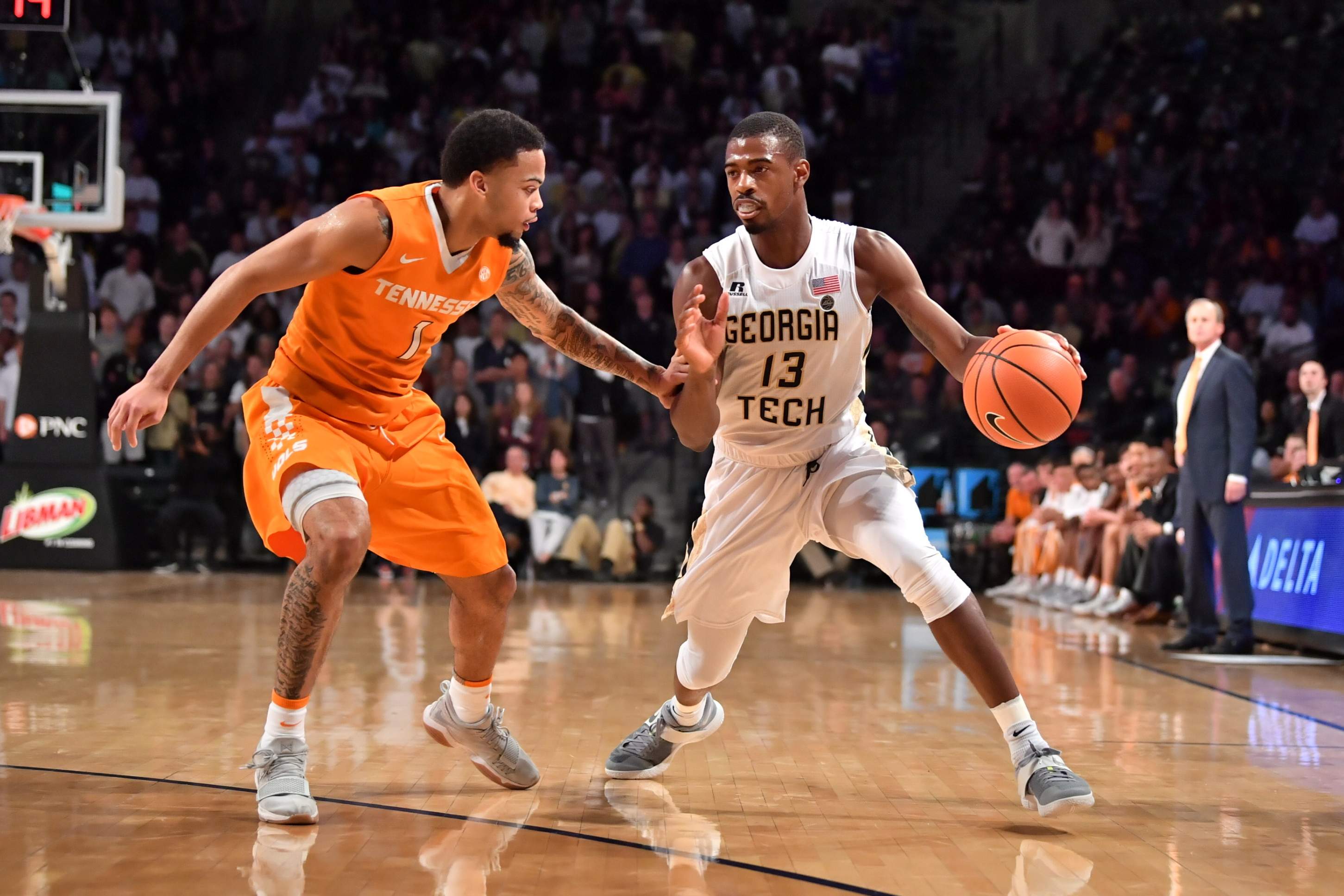 Curtis Haywood scored 12 points with six assists in last year's meeting with Tennessee.
SERIES VS. TENNESSEE
Tennessee has a 44-28 lead in the all-time series which dates back to 1921. The teams were Southeastern Conference rivals from 1932-64, and the teams continued to meet annually through the 1967-68 season before taking a 14-year hiatus.
Tuesday's game is the last of four games the two teams have agreed to play. The Volunteers captured last year's meeting, 77-70, in Atlanta, and the meeting in Knoxville two years ago, 81-58. The Yellow Jackets escaped with a 69-67 win in November of 2015 at McCamish Pavilion.
Shembari Phillips, a 6-3 guard who sat out last season for the Yellow Jackets after transferring from Tennessee, had a standout game for the Vols in the previous meeting in Knoxville, scoring 14 points (4-5 FG, 2-2 on 3s, 4-4 FT) with seven assists and just one turnover in 30 minutes. He did not play in the teams' November, 2015 game at McCamish Pavilion.
Among non-Atlantic Coast Conference teams, only Auburn (114 meetings), Georgia (194) and Vanderbilt (73) have been more frequent opponents than Tennessee (72).
The last time Georgia Tech won in Knoxville was on Feb. 7, 2004, a 77-62 Tech win when Paul Hewitt was the Yellow Jackets' head coach, and Buzz Peterson was the Volunteers' head man. In that game, Marvin Lewis, now Tech's associate director of athletics and chief financial officer, lead the Jackets with 18 points, hitting 8-of-11 shots from the floor and 5-of-6 from three-point range. B.J. Elder added 20 points for Tech.
Tech is 9-25 all-time against the Volunteers in Knoxville, including a 1-1 record at Thompson-Boling Arena, 2-8 at Stokely Athletics Center and 3-12 at Alumni Memorial Gym.
Fourth-year Tennessee head coach Rick Barnes was 5-3 against Tech during his four-year stint at Clemson (1994-98), and is 7-4 overall against the Jackets. Third-year Tech head coach Josh Pastner was 3-2 against the Volunteers while at Memphis (3-4 overall).
Tennessee has won 10 of the 12 meetings between the two teams since the Yellow Jackets left the SEC. Tennessee won the first eight of those games, including a 70-69 victory on a last-second, half-court heave by Jon Higgins at Phillips Arena on Dec. 15, 2002, and each of the last two.
TEAM NOTES
Georgia Tech's 88 points against Lamar were the most for the Yellow Jackets against a Division I team since defeating NC State, 90-83, on Jan. 27, 2016 in Raleigh (Tech scored 96 against Division II Tusculum two years ago).
Georgia Tech made 12 three-point field goals against Lamar, the most for the Yellow Jackets under Josh Pastner. The Yellow Jackets' previous high for threes in a game under Josh Pastner was 10 last year against Grambling State (27 attempts), and against NC State and Tusculum in 2016-17. The last time Tech made 12 or more threes in a game was Jan. 2, 2011 (13-of-31 vs. Charlotte).
Tech's 30 attempted threes vs. the Cardinals was a high for the Yellow Jackets under Josh Pastner (previous high – 27 vs. Grambling State and Duke last season). Tech had not attempted 30 or more threes in a game since the 2010-11 season (31 vs. Florida State on Feb. 10, 2011, and vs. Charlotte on Jan. 2, 2011).
Tech hit 40 percent of its three-point attempts against Lamar, a mark the Jackets hit eight times in 32 games last season. But Tech hit only 31.8 percent for the season.
Tech led Lamar 44-22 at the half, more points than it scored in any first half last season (40 vs. Wright State and Pittsburgh) and a larger lead than it held at the half in any game (35-22 vs. Florida A&M) last season.
Tech scored more than 44 points in only three halves of basketball in 2017-18, and seven halves under Josh Pastner. Tech has held a larger halftime lead only twice under Josh Pastner (vs. Florida State, 41-15, and Tusculum, 58-31, both in 2016-17).
Tech's 26 assists were its most since recording 27 against Winston-Salem State on Jan. 3, 2007.
Tech took 10 steals and blocked eight shots against Lamar. The Yellow Jackets averaged 6.9 steals and 5.3 blocked shots per game last season.
Tech received 41 points from its bench, including a team- and game-high 17 points from Brandon Alston.
Tech finished the game at 50.8 percent from the floor (64.3 percent in the second half). The Jackets hit 50 percent from the floor six times last season (2-4 record) and had done so 11 times in the first two seasons (7-4 record) under Pastner.
Tech assisted on 26 of 32 made field goals (81.3 percent) against Lamar, surpassing its nightly goal of 60 percent. The Jackets assisted on 54.3 percent of their made field goals last season (53.9 percent vs. the ACC), after finishing the 2016-17 season at 62.7 percent (63.2 percent rate in ACC games).
INDIVIDUAL NOTES
Sylvester Ogbonda established career highs in rebounds (9), assists (4) and minutes played (23) against Lamar, and fell one point shy (7) of his career high of eight. The fourth-year junior surpassed his previous career high in rebounds (5 vs. Tusculum on 2/7/17) with seven in the first half.
Ogbonda's 23 minutes were two more than he played all of last season in nine games. His previous career high in minutes was 14 against Wake Forest and Tusculum in 2017.
Curtis Haywood II reached double figures in points for the fifth time in his career (16 games), scoring 13 points with three threes, four assists and no turnovers in 26 minutes against Lamar.
Brandon Alston reached double figures for the seventh time in a Georgia Tech uniform, 17th time in his career, with his team-high 17 points against Lamar.
Alston's four three-point field goals (in five attempts) were a career-best. Alston previously had made three threes on four occasions (including vs. Grambling State last season for Tech).
Shembari Phillips reached double figures in his first Georgia Tech game and for the 15th time in his career, scoring 10 points with four assists, four rebounds and three steals against Lamar.
Jose Alvarado reached double figures for the 17th time in his career against Lamar, scoring 14 points with a team-high five assists.
Abdoulaye Gueye matched his career high for blocked shots with five against Lamar (also had five vs. Syracuse last Jan. 31).
ABOUT GEORGIA TECH MEN'S BASKETBALL
Georgia Tech's men's basketball team is in its third year under head coach Josh Pastner. Tech has been a member of the Atlantic Coast Conference since 1979, won three ACC Championships (1985, 1990, 1993), played in the NCAA Tournament 16 times and played in two Final Fours (1990, 2004). Connect with Georgia Tech Men's Basketball on social media by liking their Facebook Page, or following on Twitter (@GTMBB) and Instagram.
For more information on Tech basketball, visit Ramblinwreck.com. Tickets for men's basketball can be purchased here.