THE FLATS – Continuing the annual tradition, each season, the Georgia Tech women's basketball program recognizes a new Women Out Front class of influential leaders who have had a positive impact on the Georgia Tech or Atlanta community. The class of 2019, featured at the Jan. 27 Georgia Tech women's basketball game, honored six local, influential women within their career industry.
Each year, the class is invited to a selected women's basketball game, honored during a pregame reception with past honorees and an on court recognition during the game. Below are the recipients and a brief bio for the class of 2019:
Tracy Garner
Tracy Garner, Vice President – Internet and Entertainment Field Services, is responsible for the field technician organization providing installation and maintenance of U-Verse, High Speed Internet and DIRECTV for the Southeast Region.  She began her career in 1983 in Jacksonville, Fla., working as an Outside Plant Engineer in the Southeast Jacksonville District.  Over the last 34 years, Tracy has held positions of increasing responsibility in Outside Plant Engineering, Planning, Consumer Services, Strategic Relationship Development, Strategic Marketing, and Network Operations.  Tracy is a member of the Women of AT&T, HACEMOS, OxyGEN, The NETwork, Professionals 50 and Forward, AT&T Veterans, Advocates for Women in Tech, AT&T Telecom Pioneers, the Atlanta Alpha Delta Pi Alumnae Association, and is a graduate of Georgia 100 and the Turknett Leadership Group Executive Development Program.  Additionally, she serves as Executive Advisor to the Atlanta Chapter and the National Chapter of the Women of AT&T.  Tracy was recognized in 2012 with the Turknett Leadership Group Leadership Character Award. She was recognized by Women of AT&T in 2013 as the Leadership Award recipient and in 2014 at the RAVE Executive of the Year.  Tracy has also been recognized as one of the Top 40 Women Who Inspire in AT&T.
Gail Greene
W. Gail Greene is the Director of Faculty Administration/HR in Scheller College of Business where she provides management and oversight of faculty life cycle events, some of which includes recruitment, hiring, extensions and leave of absences, reappointment/promotion and tenure, on/off boarding, as well as other key functions in Scheller College of Business. She serves as the liaison to the Office of Faculty and Research Affairs, GT Human Resources, and cross-collaborates with other departments of campus for executing critical faculty processes from inception to departure. She also advises the College's leadership on the execution and application of policies and procedures. Gail was selected to participate in the Leading Women at Georgia Tech for 2018-19, which is a targeted professional development program for staff women. Gail is also active in the Comprehensive Administrative Review process currently underway at Georgia Tech.  She also served in the United Air Force in several capacities impacting personnel and aircraft, both domestic and abroad. She achieved the rank of Chief Master Sergeant.  She is active in her community and serves as a mentor to various military service-related and civilian personnel.  She enjoys being of service and one of her favorite quotes is:  "You can't drink from an empty cup."
Sheila Isbell
Sheila Dallas Isbell is Division Chief and Principal Investigator of over four dozen researchers at Georgia Tech Research Institute. She performs research that use health data to positively impact the quality of lives of families and especially children.  Ms. Isbell has led efforts in fifteen key projects totaling over 63 million dollars of research delivered in both local and international contexts. Isbell has conducted research at small women's clinics in Southwest Georgia to working with health professionals in Nairobi, Kenya with the CDC. Sheila's projects have included web-based systems for the Medicaid population, mobile solutions for pregnant mothers in Atlanta with Emory, and global systems that support social workers supporting adverse issues within our military families.  Sheila is a chapter lead for an organization that supports women in computing, serves as Vice Chair on a board for non-profit focused on foster care children with complex medical diseases; is a member of the Georgia Tech Faculty Women's Club; and volunteers in the special needs room at her church. Sheila holds an advanced degree in computer science from Georgia Tech's College of Computing with a specialization in Interactive Intelligence.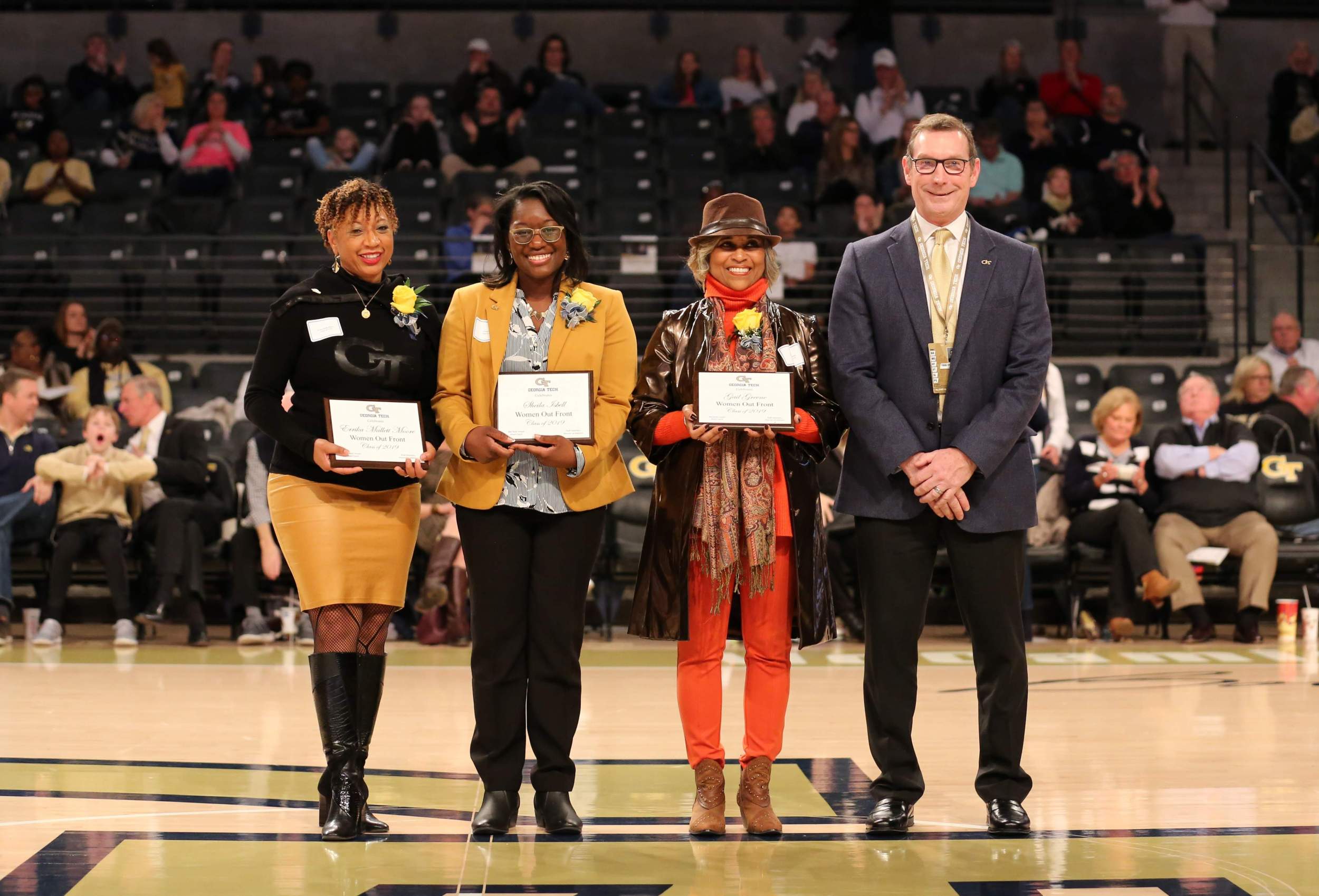 Lisa LaFave
President of U.S. Sales for UPS, Lisa LaFave began her UPS career 30 years ago in Atlanta. Since that time, Lisa has progressed through management positions with increasing responsibility including: Director of Sales for East New England and Vice President of Corporate Sales Planning, Performance and Sales Strategy. In her current role, Lisa overseas sales, solutions and customer engagements across the U.S., helping small and medium-sized companies grow and compete in the marketplace.  Additional posts included Corporate Vice President of International Business Development, where she was responsible for all sales, service and business development activities in UPS's international regions (Canada, Latin America, Europe, Middle East and Asia Pacific) and President of Global Customer Solutions. Most recently, Lisa was President of Enterprise Accounts where she was instrumental in developing and executing UPS's global healthcare and high tech sector strategies.  Lisa is the Executive Advisor for UPS's Women's Leadership Development Program and member of the Humanitarian Logistics Committee. She also serves as an Executive Sponsor for CARE International. She is a member of the Board of Directors for the Women Presidents' Organization.  Lisa received her bachelor's degree in Industrial Management from the Georgia Institute of Technology, where she played softball.
Val Mack
Val Mack is an Associate Director for Georgia Institute of Technology's Office of Undergraduate Admission.  Val works mainly with prospective students, parents and the Georgia Tech community involved in the admission and matriculation process of newly admitted applicants. Val believes that going the extra mile to bring resolve to a parent, student or colleague costs you nothing but could mean a world of difference to the person in need of a little assistance.  This belief has led to mentoring several students and staff members in the Tech community.  Through the formulation of positive relationships across campus, Val has become part of a network of individuals with similar goals in their efforts of supporting each other to help students find available resources for academic success.  Val has worked for Georgia Institute of Technology for the past 14 years.  Prior to working at Georgia Tech, Val worked at Georgia State University for 10 years.  Val holds an MA in Adult Education from Central Michigan University and two Bachelor degrees from Georgia State University.
Errika Moore
Errika Moore currently serves as the Executive Director for TAG-Ed which focuses on K-12 STEM Advocacy throughout the state of Georgia. Currently she serves as the Georgia state co-lead for the National Million Women Mentors initiative and on the Boards of Ferst Readers, Per Scholas, and Leading Women @ Tech as well as the Literacy for All Steering Committee. She's served on the GT Alumni Association Board of Trustees, GT Industrial Engineering Advisory Board, GT Women Alumnae Network and as President of the Business Network and Black Alumni Organization Executive Boards for Georgia Tech, as well as the boards of the American Diabetes Association and Whitty Technology Solutions' Advisory Board. She's been honored as a Woman of the Year by Women in Technology, as a Woman of the Year by GT's Women Leadership Conference, a GT Young Alumna by the Board of Trustees, a Mentor of the Year by GT OMED and the GT Alumni Association.