The Good Word | By Jon Cooper
There comes a time in every student-athlete's career when that last conference meet is at hand. It's a bittersweet time when they'll look back on past triumphs while envisioning one final run or jump for glory.
That time is at hand for the seniors on Georgia Tech's track and field team. They'll get at it inside Rector Field House on the campus of Virginia Tech, beginning Thursday morning at 11 a.m.
"The conference championship, along with the National Championships, are kind of the culmination of the indoor season," said women's track and field head coach Alan Drosky. "It's what you prepare for. I feel like the season's gone really well, a lot of good things have happened, a lot of good performances, and a lot of personal bests along the way. The conference championship is another great opportunity to step on the line or on the runway and see if we can be at our best."
The Jackets will need to be, as it is a loaded field, that includes Florida State (No. 9/11), host Virginia Tech (#43/20), Duke (#69/92) and Clemson (#108/88).
On the men's side, that includes Avery Bartlett, the defending 800-meter outdoor champion, who also ran a personal best in the event at last year's Indoor ACCs and Nahom Solomon, who shattered the Georgia Tech 3000m record, and holds the ACC 5000m mark. In setting that record Solomon made history as the first Yellow Jacket to break 14 minutes at last year's ACC Indoors.
On the women's side Jeanine Williams is the Indoor (60m) AND Outdoor (100m) champion in the hurdles.
They want one more highlight from the ACC Indoor Championships and confidently lead the Jackets into Blacksburg.
"ACC Indoors has historically been my best race," said Bartlett. "The 800 final might have been my best race every single year. I should be in the same shape I have been, if not better to compete well so this is something I just want to keep going. My goals are kind of the same as they have been. I want to line up, make the finals in the 800, compete to the best of my ability, get a national time, which is just as important as winning the whole thing, defending my title, it's as simple as that."
Solomon also has an affinity for that final ACC meet of the season, which this time will mark the end of his collegiate career.
"ACCs is always the meet I look forward to the most more than any meet," he said. "I feel like in the  ACC Championships it's some of the purest form of competition. Guys are going out there just trying to beat each other, and run the best they can. Afterwards everybody's really friendly with each other cooling down, saying, 'I can't wait to race you the next meet.' That camaraderie you have with your rivals throughout the year, it's one of the things I'm going to miss about racing."
He wouldn't set any expectations but has envisioned one thing over and over.
"I would like at least a podium spot but nothing would be sweeter than Coach Drosky handing me my medal at the ACC meet," he said, with a laugh.
Adding to the fun for Bartlett and Solomon will be the opportunity to run the distance medley relay. It's an event that is only run indoors beginning with a 1200, followed by a 400, an 800, and finally a mile. Interestingly, Solomon will run the opening leg, then hand off to senior Daniel Pietsch, also running in his final meet. Pietsch will hand off to junior Bennett Hillier, and finally Bartlett, brings it home.
"You're kind of calculating what is the best," said Bartlett. "So doing our calculations, putting Nahom on the 12, he'll get us probably up there in the top three, then Dan, our 400 leg, is going to get us into first and then our 800 leg is Bennett Hillier and he's a 1:51 guy, so he'll maintain the lead or get us in the top three. The reason I'm on anchor is mainly because of my kick at the end because sometimes the mile leg gets it and slows it down and just makes it a last-lap race. With the guys we know are probably going to be on the anchor leg, you're going to need a really good kick to have a chance at the top three. I think that's how we strategize our best chance to do well."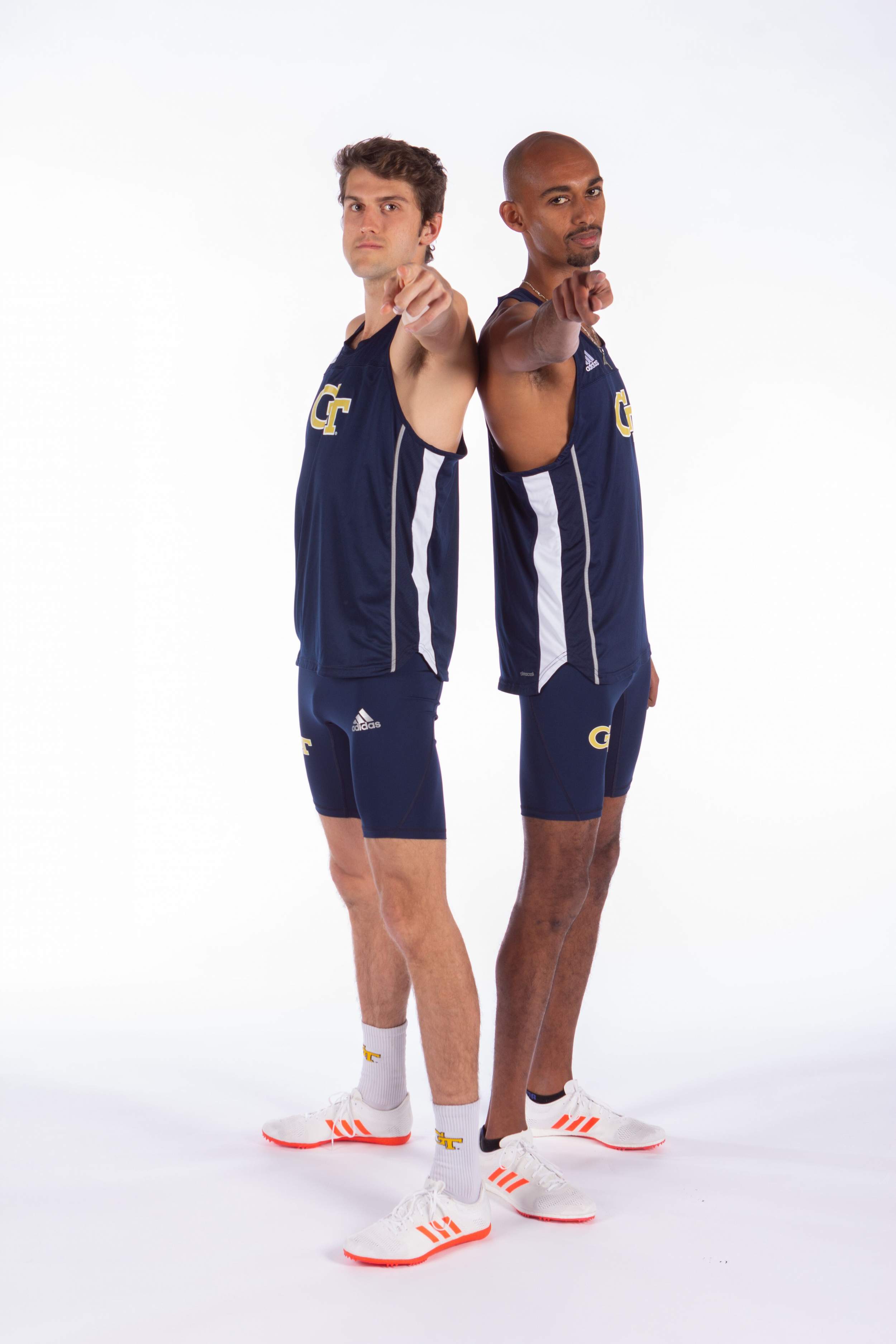 On the women's side, Williams will be running in her third Indoor ACC Championship.
In 2017, as a recent transfer, she heroically threw down her crutches and set a PR, in 2018 she completed a year-long mission for respect by running the table and winning the event, bouncing back from a disappointing Tiger Paw at Clemson, the only meet she didn't finish first or second.
This year, she's worn the target on her back all season and, again, will look to bounce back from a disappointing finish in the Tiger Paw, again, a third place finish.
"I'm very excited to compete at ACCs and defend my title. I know I will have a lot of eyes on me this weekend, especially since I am the conference champ," said Williams, who is going school record and ACC championship or bust. "The last meet, the Clemson meet we had, it was pretty much a pre-ACCs meet in the final for the hurdles and I started out well, but I ended up hitting a hurdle, which kind of threw me off. So all the girls got the better of me for that race. So it was like, 'Hmmmm. How can I bounce back in two weeks?' Practice has been good. I'm very excited to go there and compete because I feel like I'm always able to compete well when it's time to compete well, in big meets."
Jumps/Hurdles coach Nat Page believes Williams may not be alone in scoring for Georgia Tech.
"Ebony Forbes is really, really stepping up in the hurdles," said Page. "What she did in high school, nobody would offer her anything but, her mindset is 'I'm going to be good,' and it's coming true. Once you watch a practice session, you'll go, 'Oh, my goodness. Where did this young lady come from?'"
Page also is eager to see where freshman hurdler Taylor Grimes, fellow freshman long jumper Denise Issah, and long jumper Attallah Smith, a transfer from Alabama A&M, but are going, but his heart may be with what ranks as one of his greatest comeback stories, senior long- and triple-jumper Bria Matthews.
A gold medalist in the 2016 ACCs in both events and a First-Team All-American as a freshman, Matthews battled horrific leg injuries the past two years and had to basically re-learn the triple jump — Drosky compared it to batting right-handed your whole life then, because of injuries, learning to hit left-handed, doing all this at the highest collegiate level.
Matthews will be competing in long and triple at ACCs.
Page credits Matthews' positive mental attitude for the comeback.
"You gotta believe and you will achieve. And it's happening," he said. "She never let it get her down and just kept plugging. She was like, 'Hey, I want to jump and I still want to be good.' That positive attitude went a long way. Starting all over again, redefining herself, finding herself amongst the conference best and looking at an opportunity to go to Nationals and to be extremely competitive again, it's remarkable. She's in grad school and has another year here. I think that you'll see a lot more out of Bria Matthews this year."
Senior Gabriel Darosa won't be returning but his appearance at ACCs also is inspiring. Darosa was injured during the cross country season and missed all of indoors. But he ran a time trial and qualified. Like Matthews, he will have the attention of Bartlett and Solomon and plenty of his teammates.
"He ran 1:49 in an outdoor last year and that's good enough to get in the finals indoors, for sure," said Bartlett. "There aren't many expectations on him since he's taken so much time off but I think he might be capable of surprising a lot of people. I'm excited to see if he can pull it off."
"Gabe hasn't raced in over six months and his first race back is going to be at the conference meet, which potentially could be his last time in a Yellow Jacket uniform," said Solomon. "This is BIG to watch!"
Williams will be keeping an eye on fellow hurdler, freshman Jordynn Tyndall.
"I really would love to see how Jordynn competes," she said. "She's a very quiet person but when she gets onto the track she shows a different side. I feel like she can surprise some people."
Drosky won't be surprised by any successes he sees, especially from his seniors.
"At this stage of the game, those guys know what the task is. They know themselves really well, know what kind of race they need to run. It's just going out and getting it done," he said. "I remember my senior year I did win the mile in the conference championship. I just went into it with an attitude that I wasn't going to be denied. I think all of our kids have that attitude."