2019 Spring Game Recap (Gold 30, White 20) – Click HERE
Thanks to the excitement surrounding new head coach Geoff Collins and the great value of 2019 season tickets (reserved seats for seven home games – including the regular-season finale vs. archrival Georgia – beginning at just $219 and Stinger Mobile Passes starting at just $149), Georgia Tech season-ticket memberships continue to sell briskly. For more information and to purchase season tickets online, visit ramblinwreck.com/footballtickets TODAY.
By Matt Winkeljohn | The Good Word
It will be about three months until Georgia Tech straps on football pads again, and a few weeks more than that before the Yellow Jackets open the season and christen the ACC Network with a Thursday night game at defending national champion Clemson.
But we need not wait that long to know a little more about the way the Jackets will play defense for new head coach Geoff Collins.
They're going to be a little more aggressive in pass coverage than fans have seen in recent years. They seem likely to blitz a little more. And they're probably going to roll a lot of players in and out of the game.
Those in the spring game-record crowd of 21,194 in Bobby Dodd Stadium on April 26 saw glimpses of most of this as the Gold squad topped the White, 30-20.
VIDEO: Spring Game Highlights (ACC Network Extra)
Blitzing was minimal and simplistic that night because Collins limited the play sheet of new defensive coordinator Andrew Thacker to about a handful, or a relative fraction of the schemes installed in the first 14 spring practices and scrimmages.
That figured since sacks were awarded as soon as a defender touched or even came close to Gold or White passers, and quarterbacks were off limits to tacklers. Plus, Collins suggested that fans want to see the ball move in spring games.
That kind of disappointed fifth-year senior linebacker David Curry, who led everyone with 10 total tackles for the White squad. Yet he feels good about Tech's new defense, and he's looking forward to playing it with no restrictions.
"We were kind of limited on defense with our plays so we just wanted to run around and make plays … " Curry said. "I wanted to blitz. I wasn't to get some sacks because that's what I've done all spring."
The Jackets have the most answers in the back of their defense, where junior Tariq Carpenter returns as the starting strong safety (although he worked some as the "dime" in the spring), and coaches feel strongly about the safety spot in general.
Sophomore Juanyeh Thomas (below), senior Christian Campbell (who played mostly the hybrid safety-linebacker spot in last year's 3-4), and third-year sophomore Kaleb Oliver are among the leaders of the group.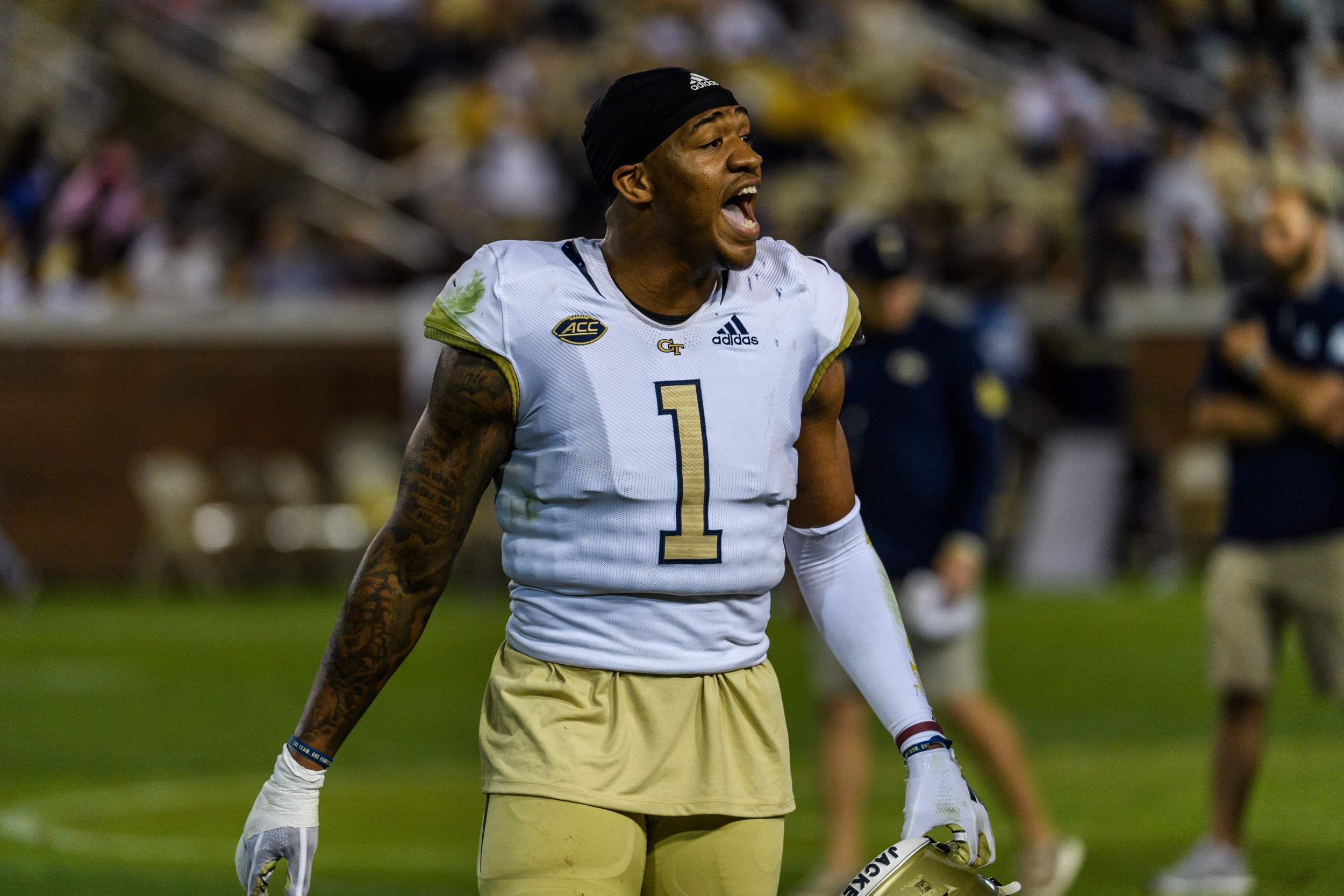 Third-year sophomore Tre Swilling paced the cornerback position in the spring, and Jaytlin Askew, Ajani Kerr and Jair Hawkins-Anderson, who lined up at corner and wide receiver throughout the spring, are among those who figure in that battle.
"They were more of an off, catch style of corner [in the past]," Thacker said before the spring game. "We'll mix the style."
At linebacker, Curry, sophomore Charlie Thomas, junior Bruce Jordan-Swilling and sophomore Quez Jackson make up the meat of the linebacking corps.
As the Jackets expect to transition back to predominantly four-man fronts, they're looking for help up front.
The graduations of starting defensive linemen Anree Saint-Amour, Kyle Cerge-Henderson and Desmond Branch leaves Tech searching, and tackle Brandon Adams passed away tragically.
Senior Brentavious Glanton, junior Antwan Owens, junior JaQuan Henderson and sophomore Jordan Domineck all have experience – chiefly Glanton and Owens.
Offensive linemen Jahaziel Lee and Brad Morgan have auditioned on the D-line, and redshirt freshmen T.K. Chimdeza, Ja'Quon Griffin and Justice Dingle made impressions, as did and sophomore Kelton Dawson.
Collins and the Tech staff figure to deploy many players in the fall, as they did the past two seasons when he was head coach at Temple, where the defense was prolific in forcing takeaways.
"We had 28 guys last year who averaged at least 10 snaps a game defensively," the coach said.
There were plenty of teaching moments in the spring game.
Soon after the Gold team moved ahead 24-8 in the second quarter on Jordan Mason's 6-yard run, Collins stepped in to set the White defense straight.
"I saw that the White defense was beginning to fracture a little bit, so I called David Curry and I called Juanyeh Thomas out to the logo, and talked them through, 'All that matters is the next play, all that matters is the next series,'" the head coach said.
The White stopped Gold in a two-minute drill, thanks in part to sacks by Curry and Henderson. The offense soon pulled within 24-14 on a 17-yard open-field scramble by quarterback James Graham.
"Stuff like that is going to happen in games. The thing that can't happen is you can't start losing your bench. You can't start pointing fingers and stuff like that," Curry recalled.
"[Collins] explained to me that whenever stuff like that happens, the best thing to do is call our base defense and play one play at a time. I think we responded pretty well. We just needed some talking to."
Each defense allowed a single score in the second half, settling in and growing more secure.
Tech is different schematically on defense, and in choreography.
Defenders feel that working against a more traditional offense in the spring rather than the stylized spread option will better prepare them for the fall schedule.
"Yeah. For example, last [spring], we only installed four calls because of the offense that we were going against in the spring," said Carpenter (below), who had a tackle for the Gold defense. "This spring, we installed almost our whole defense. I feel like we are going to be more prepared in the fall than we were in the past."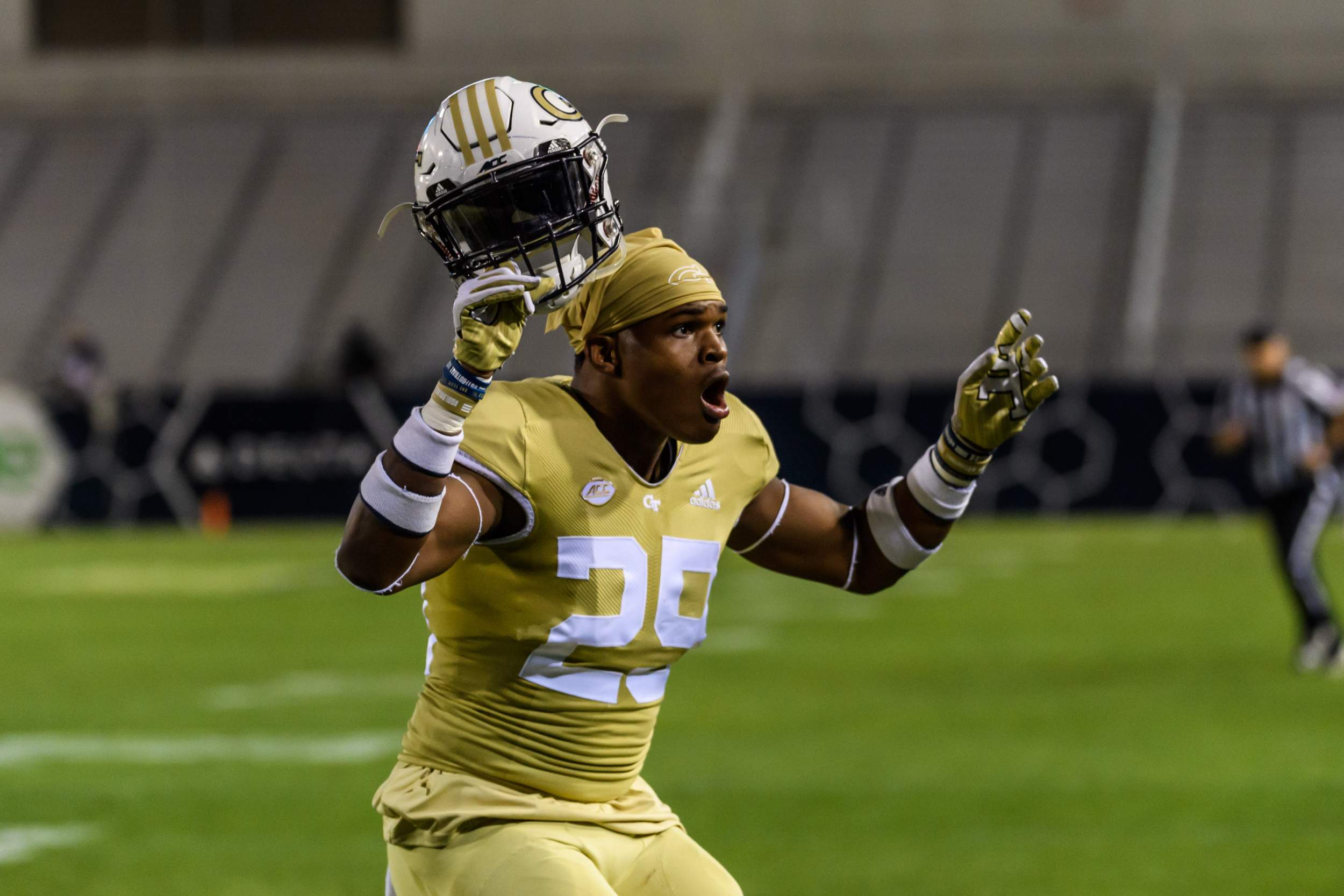 Curry agreed, especially with the idea that in real games, the Jackets will have a thicker playbook at their disposal than they did in the spring game.
"It's reps. You spend all of spring and then half the fall camp going against the triple option, which we don't see normally in the season. Now, we're going against offense that we see every week and the reps just add up," he said.
"Me personally, I felt that I've gotten so much better throughout the spring seeing what I'm going to see during the year, and it's helped a lot, I feel."