RECAP – Georgia Tech 63, Bowling Green 17
By Matt Winkeljohn | The Good Word
Just the other day, David Curry picked off a football as it was whistled into the end zone, but he didn't get to keep it as he would have liked, and that was a bit of a bummer for him.
As long as Georgia Tech keeps taking balls away from opponents, they'll be OK with that.
Curry's interception was one of three takeaways in a 63-17 win over Bowling Green, giving the Yellow Jackets 10 in five games and matching their total from 11 games last season.
The Jackets already have seven interceptions, one more than in all of 2017.
Head coach Paul Johnson went looking in the offseason for more impact plays from his defense and hired defensive coordinator Nate Woody. Woody's 3-4 scheme isn't yet quite wreaking regular havoc upon opponents but the Jackets are definitely taking the ball away more often.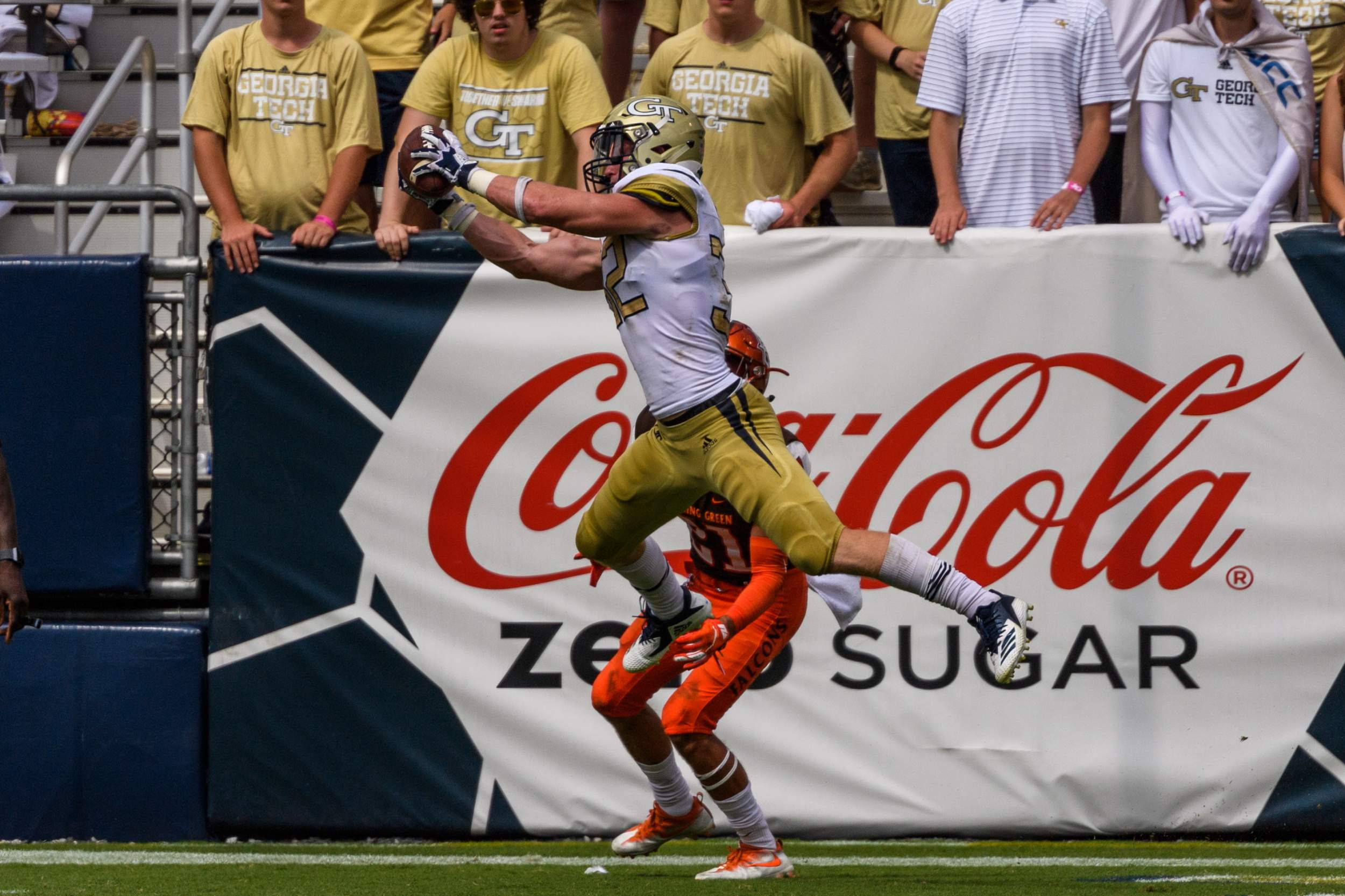 Curry just wishes he could have kept that interception ball. After stepping in front of a Jarret Doege pass on Bowling Green's third-and-goal from the 11-yard line early in the fourth quarter (above) and then taking a knee, the fourth-year junior inside linebacker tried to hang onto it.
That was a change from when he returned a fumble 15 yards for a touchdown in Tech's 41-0 win in the season opener against Alcorn State. He would again take no momento.
"After Alcorn, when I scooped and scored, everybody was like, 'Why didn't you keep the ball?' I didn't know I was allowed to," Curry said after the convincing win over the Falcons. "I tried to keep the ball on this one, and it was their [Bowling Green's] ball, so I couldn't keep it."
However, the Jackets kept taking the ball away from the Falcons.
Bowling Green drove to a field goal on the game's first possession and Doege flicked the ball around a good bit all afternoon, completing 27-of-44 passes for 305 yards and a score. BG converted 11-of-19 third downs, which may have been just about the only thing last Saturday that annoyed Johnson.
It needs to be pointed out, though, that the Jackets blunted the up-tempo Falcons much more often than not at critical times and clamped down the visitors' running game. Bowling Green ran 31 more plays the Tech, yet rushed for just 63 yards on 38 carries.
The Falcons rushed for one yard – yes, one – in the first half as Tech built a 28-10 lead in a game where the Jackets rushed for touchdowns on their first seven possessions.
Tech punted soon after Curry's interception, which prevented a Bowling Green score, and that was the only time all day that Pressley Harvin III put his foot to a ball.
The Jackets' previous takeaway set up a score, and the last one became a score.
Soon after the Jackets' first possession of the second half ended with a 33-yard run by Jordan Mason that extended their lead to 35-10, Bowling Green dinked and dunked its way out to the Tech 49-yard line.
And Woody called a blitz that sent outside linebacker Victor Alexander flying from the quarterback's blind side – his left.
Alexander cracked Doege and popped the ball out.
Reserve defensive end Antwan Owens (below) picked it up and rumbled 21 yards to Bowling Green's 16 yard line.
"Great call by Coach Woody, of course. There was a play before that I got back there but he got it off just a second before I could hit him," Alexander said. "The very next play, or maybe two plays after, I knew I had to get off the line quick enough to get to the quarterback and hit him as hard as I possibly could.
"Hit the ball, tried to get up and get it myself but 'Twan came up with the scoop and started running, so it all worked out."
Yes, it did. Jerry Howard scored three plays later on a 5-yard run.
The payoff came even faster on the Jackets' final takeaway.
In the fourth quarter, a Doege pass was popped up into the air like a bad baseball bunt.
Senior defensive end Anree Saint-Amour strained to haul it in (below), like a pitcher or catcher might, and boy, did he. Then he galloped into the end zone to give the Jackets a 56-17 lead with 8:44 left in the game.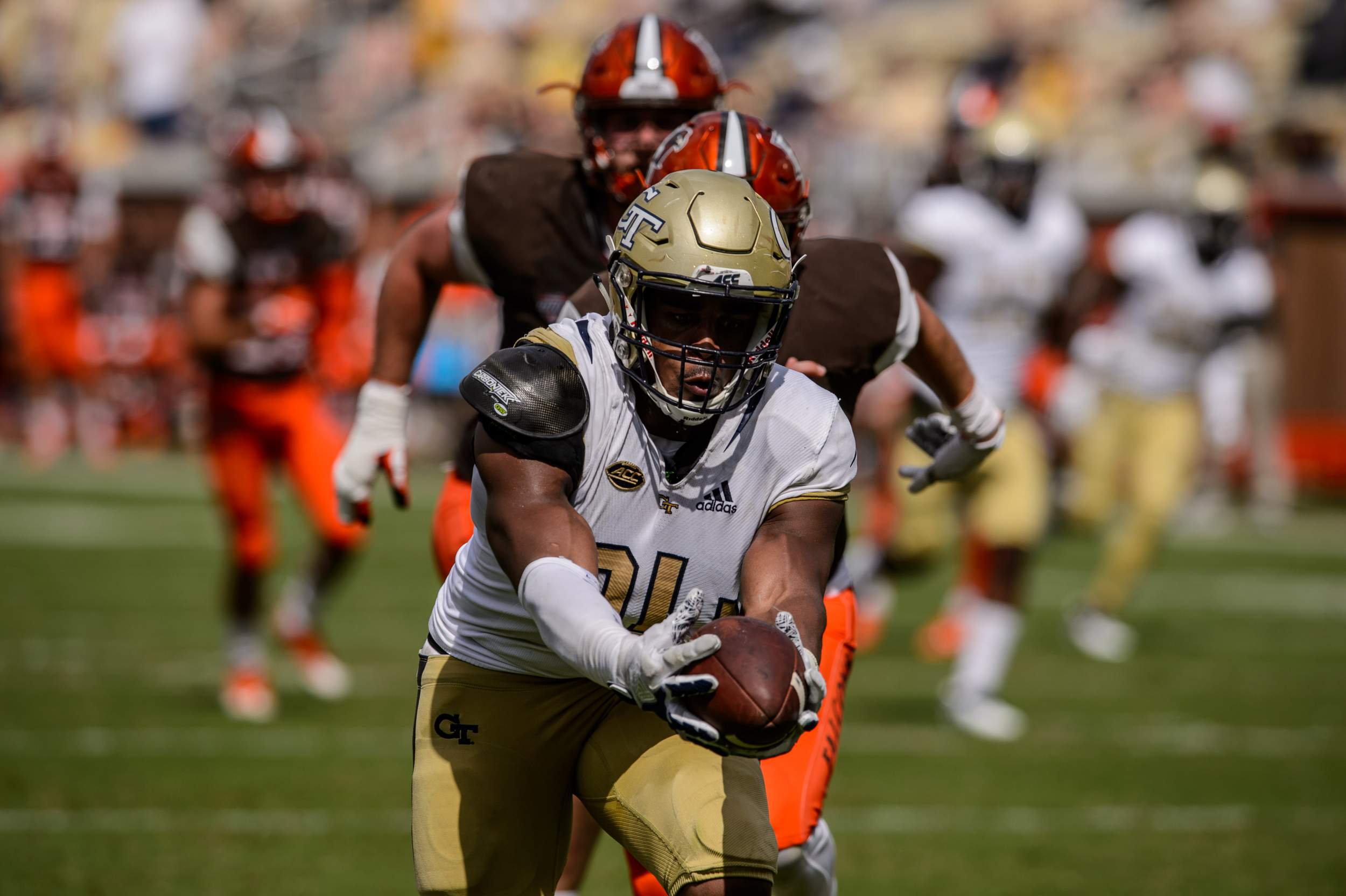 "My eyes got real big," Saint-Amour said. "Desmond Branch made a great play on the ball, tipping it up there, and once I saw the ball, I was like, 'Dang, here's my moment. Catch the ball, Anree, catch the ball.' Caught the ball, made a touchdown. It was a good time," he said.
"I played some running back in middle school, but that was the last time I scored a touchdown, so it was definitely fun getting in the end zone one more time . . . and I hope to do it some more."
Yeah, all Jackets would be OK with that.