FULL RECAP — Georgia Tech 30, Virginia 27 (OT)
By Matt Winkeljohn | The Good Word
Brad Stewart did what he always does and smiled at Wesley Wells, and then the freshman kicker did what he always does – which is to say that he converted a kick – and so Georgia Tech beat Virginia in overtime. Paul Johnson might have even smiled about his special teams.
After the Yellow Jackets slipped past the Cavaliers, 30-27, in Saturday night's home finale, Tech's head coach came about as close as he ever may to gushing about his team's third unit.
Wells made four field goals, Juanyeh Thomas returned a kickoff 77 yards for a touchdown, and Pressley Harvin III practically punted Virginia out of the Union.
So, yeah, after winning for the sixth time in seven games following a 1-3 start, Johnson singled out the Jackets' sometimes forgotten battalion. Oh boy, were there a lot of smiles after that game.
"Had to kick too many field goals, although our kicker was pretty special. He did a great job," Johnson said after the Jackets cemented a second-place finish in the ACC's Coastal Division. "It's been a long time since you could say here that we've won a game on special teams, and tonight special teams had a big part in it."
And it started early.
Wells finished Tech's first drive with a 28-yard field goal but soon after the Cavs took a 7-3 led, the Jackets stalled on offense. Enter Harvin.
All he did was blast a 57-yard ball that pinned Virginia at the 1-yard line.
That wasn't exactly a shock. Harvin's 45.4-yard gross punt average would rank 10th nationally, if he had enough attempts to qualify for the official NCAA statistical rankings (Tech's 27 punts are the second-fewest in the nation). Thanks mainly to Harvin's booming punts, the Yellow Jackets rank fourth nationally in net punting (42.70 avg.).
"Pressley? Best punter in college to me," Thomas said after the game.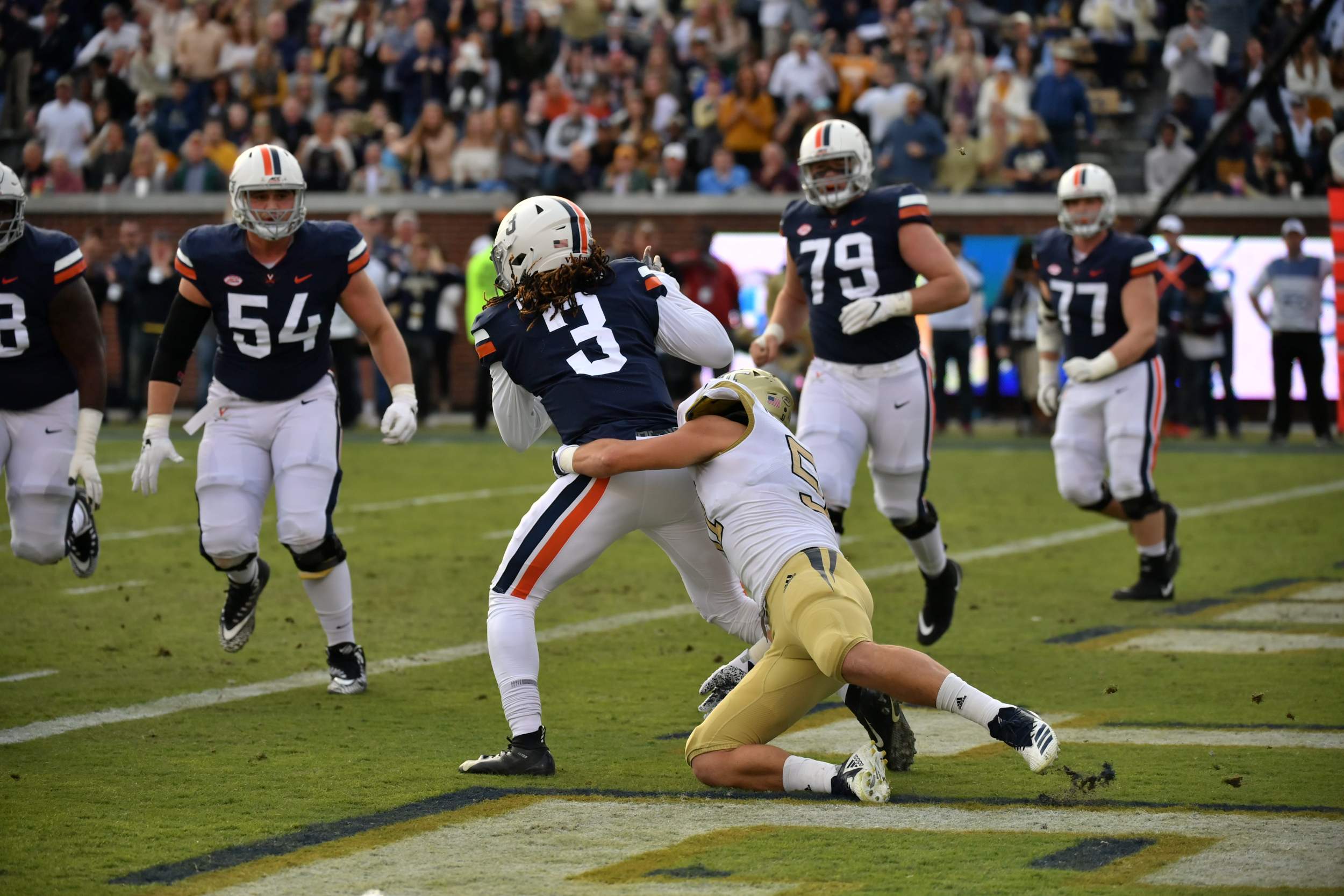 Actually, the best came was still to come. Two plays after Harvin's punt, senior linebacker Brant Mitchell sacked Virginia quarterback Bryce Perkins in the end zone for a safety (above) to pull Tech within 7-5.
And then Thomas returned the free kick 77 yards for a touchdown (below). After the freshman's score, quarterback TaQuon Marshall scrambled for a two-point conversion and a 13-7 lead.
"I tell the kick-return team every time, 'If you all just get the blocking, I got you all,'" Thomas said. "As soon as it was kicked, everybody had their blocks and it just opened up and I said, 'I've got to hit it, I've got to hit it,' and I made one dude miss and then six."
That would not be the last odd turn of events, but it might be the first free kick that Johnson's ever seen returned for a touchdown. He said he couldn't remember such stuff, and yet he didn't seem surprised.
"Juanyeh Thomas on the return is a really good athlete. It's just been a matter of time," the coach said. "He's going to return a bunch of them before he leaves here. He's pretty good."
That was brand new for the Jackets.
"That's one thing we didn't practice. I was like, 'Do I treat it like a regular punt return, or a kick return?' but we treated it like a regular kickoff return and made a call," Thomas explained "That's something we don't practice, but I think we'll start practicing it Monday."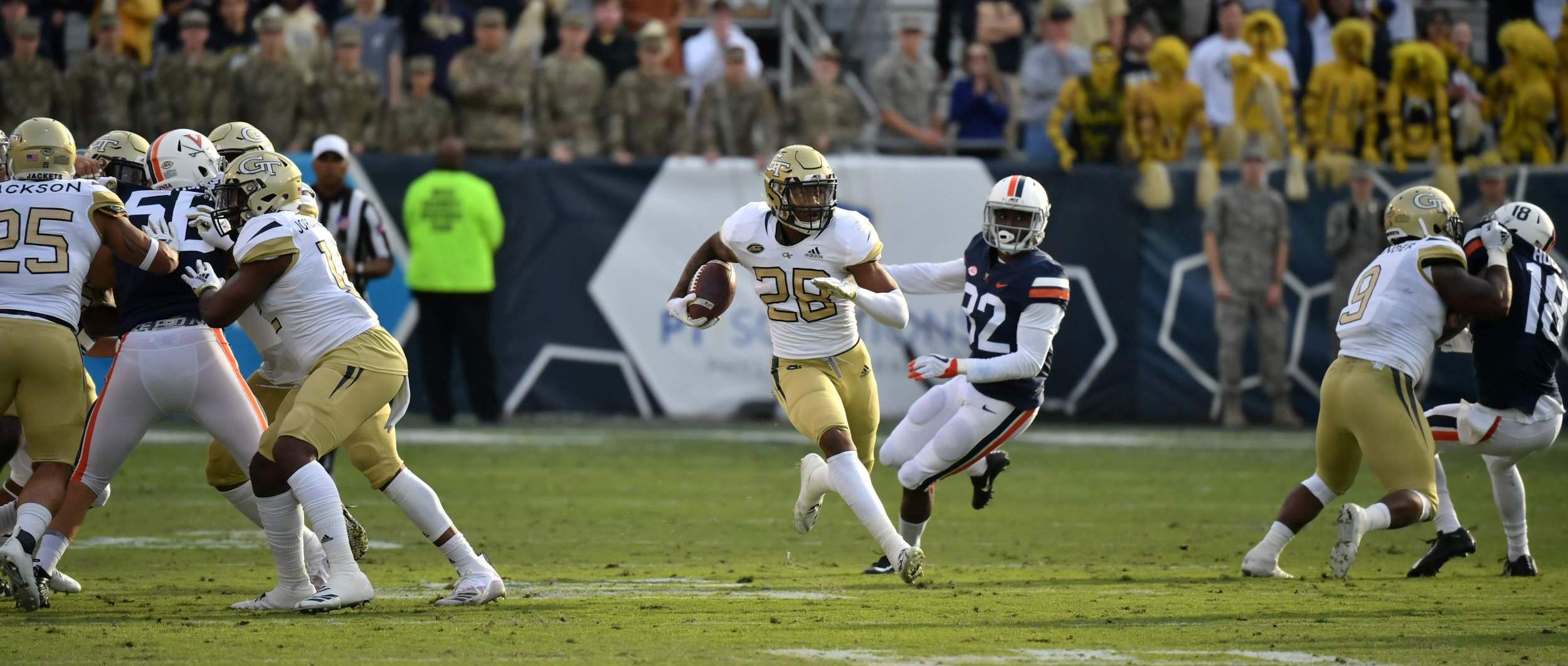 Georgia Tech's 13-7 lead didn't last very long, but neither did Virginia's 14-13 edge because when the Jackets got the ball next, they went 65 yards in 13 plays and Wells hit another 28-yarder for a 16-14 pad.
Virginia returned serve with a long drive to go up 21-16, and there would be no more scoring in the first half. But there would be another special teams play of note.
After the offense ran out of gas, Harvin punted 46 yards to leave the Cavs at their 15-yard-line with 1:37 left in the second quarter. Virginia chose to run the first-half clock out with no more action of note.
The third quarter saw no scoring, but there was more special stuff.
Harvin sent an uncharacteristically low punt toward the south end zone near the end of the period and after it bounced, it hit Virginia's Darrius Bratton in the leg. Tech's Victor Alexander recovered (below).
The Jackets wrapped the ensuing possession into the fourth quarter, taking a 24-21 lead as Jerry Howard ran for three yards and Tech scored another two-point conversion when Marshall pitched to Clinton Lynch.
Soon, it was 24-24, but Tech moved ahead, 27-24, on Wells' 48-yarder with 1:04 to go in the ballgame.
Johnson's not fond of field goals, and he's itchy about kicks so long. However, he's built up faith in a walk-on kicker from Lumpkin County High School in Dahlonega.
"He's just kind of even-keeled and the moment's not too big for him. We have guys that have played a lot and I think the moment's too big for them, but with him, it's not," Johnson said of Wells. "He's made every kick we've trotted him out there for."
That's true. Since taking over place-kicking duties early in the season, he's made all eight field goals and all 35 PATs.
The lone special-teams slipup of the game came after Wells' third field goal. With a 27-24 lead and just 64 seconds left in regulation, there was a debate – probably a one-man deal.
Before Shawn Davis went out to kick off, Johnson rubbed his chin.
"We talked about squibbing. I didn't want to squib and give them the ball at the 35. Sky kick?" the coach recalled. "You kick it deep and close your eyes and hope somebody gets the guy down. That was a big part of their drive."
Yes, Joe Reed's 34-yard return to the 34-yard-line was helpful to the Cavaliers.
They drove and drove quickly, forcing overtime on Brian Delaney's 32-yard field goal with a single second to go in regulation.
No worry? Well, OK, that's not fair to say. Tech stalled in overtime when a pair of Marshall passes to Stewart went incomplete. It was Wells' turn from 40.
So, the holder did what he does.
"I'll always give [Wells] a high five right before I get down, and say 'Let's go,'" Stewart said. "And when he's setting up and looks at me I'll give him a little head nod back and smile at him."
Jack Coco's snap was true. The hold was on. And Wells? Money again.
"I try to make it the same as every other kick, but sometimes the nerves do get to you a little bit. It just hit off my foot weird. I looked up, it was a little to the right. It was a roller coaster of emotions," Wells said. "When it hit the post and went in, that was a great feeling."
Once Delaney sent a 35-yard field goal wide left on Virginia's overtime possession, the game was over. Tech's seniors went running around the field at Bobby Dodd Stadium as if on fire, cheerleaders cheered like crazy and there was happiness because special teams were special enough for the Jackets to win.
When Wells sat down next to Marshall at the postgame-interview dais, the quarterback and team captain reached over and slapped him on the shoulder a couple times and said into microphones, "Sniper Wes, my boy! That just shows you that it takes all the pieces of the puzzle to win the game. I was really excited . . . The energy in the locker room right now is crazy. I didn't even want to leave."