RELATED: Braun, Oliver Named ACC Players of the Week
By Jon Cooper | The Good Word
Visualization is such a key to mental preparation.
You need to be able to picture yourself being successful regardless of the situation you find yourself in … like, say, making your first-career start in the hostile atmosphere of a conference rival — make that the division-leading conference rival — with little margin for error as far as your team's postseason hopes.
Just for fun, let's throw in that the game is in primetime in front of a national-television audience.
That's what Tobias Oliver faced on Thursday evening, when he was told he would start at quarterback for Georgia Tech against Coastal Division leader Virginia Tech in front of a raucous crowd at Lane Stadium, as well as the ESPN cameras.
He could see himself in that role and was mentally ready. He always is.
"I prepare every day as if I'm going to be the starter," said the redshirt freshman, who ran for 215 yard and three touchdowns on 40 carries in leading Georgia Tech to a 49-28 win. "Pregame, when [head coach Paul Johnson] came up to me and told me I was going to be the guy, it was nothing new."
What is new for Oliver is his place in the Georgia Tech and ACC record books.
Led by Oliver's 215 yards, Georgia Tech ran for 465 yards as a team, matching a school-record with its fourth 400-yard-rushing game of the season. It was the most rushing yards that Virginia Tech has surrendered in 45 years.
Individually, only TaQuon Marshall, for whom Oliver was stepping in, is the only quarterback in Georgia Tech history with more rushing yards in a single game. Marshall is also the only Yellow Jacket, regardless of position, with more carries in a game. And nobody in the ACC had more rushing yards this season (that distinction went out the window when Wake Forest's Matt Colburn ran for 243 yards on Saturday at Louisville).
While Oliver probably didn't picture being that productive, he did have good reason to picture himself starting. Johnson followed his principles as much as his gut instincts in making his decision to start Oliver over Marshall, who had been cleared to play by team doctors.
"My way of doing things is it's not fair to the guy who practices all the time not to let him play," said Johnson. "TaQuon was cleared to play but he hadn't been hit since the last game.
"I've got a lot of confidence in Tobias," he added. "He's quick and fast and hard-nosed and he can run all those follow plays and all those keeps."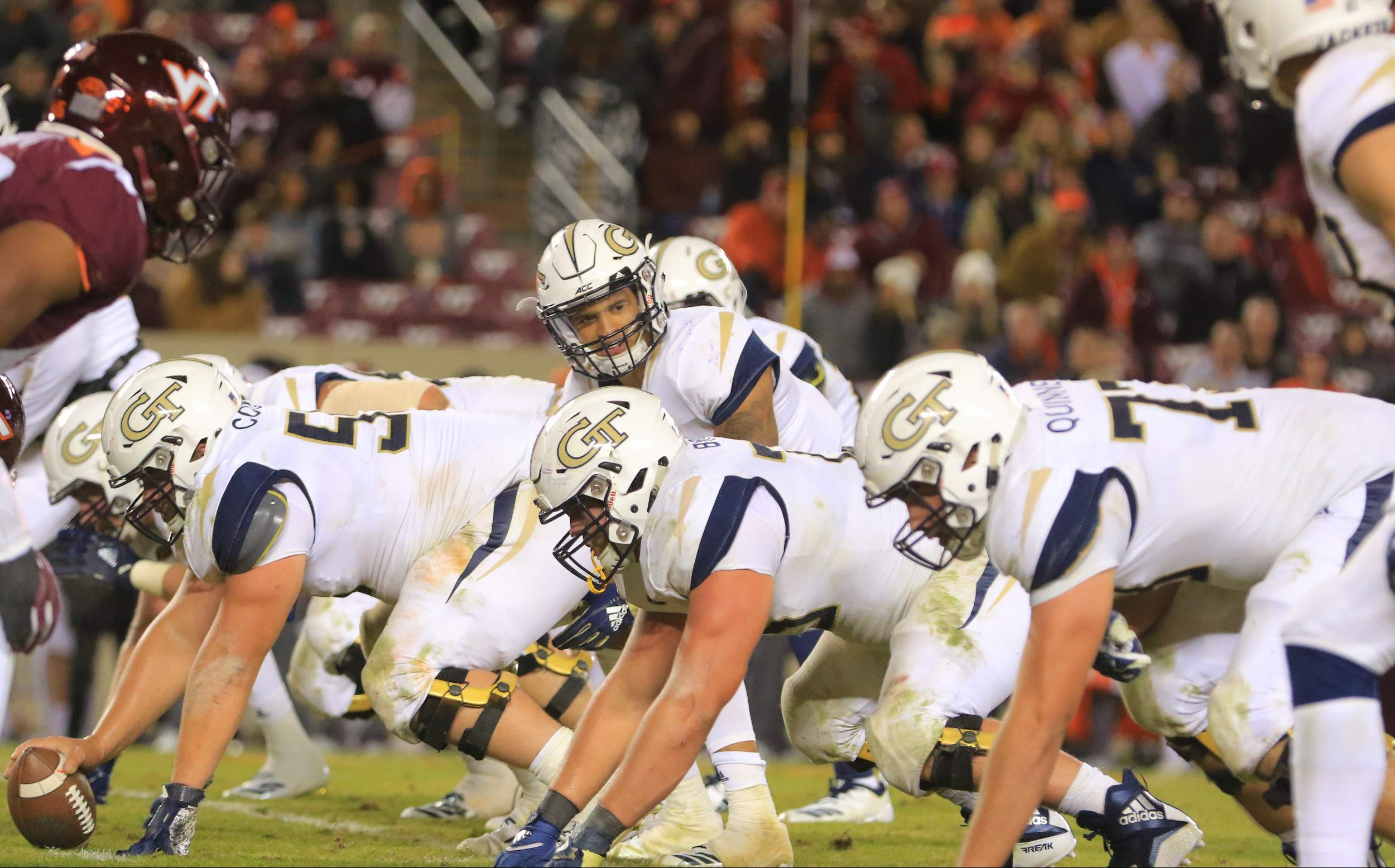 Employing more of a novelette than a playbook, Oliver came out running basically four or five plays, with the plan of running it until the Hokies stopped it. They never really did.
From the first drive, going primarily with a sweep left and and a sweep right, Oliver found and ran through huge gaps created by the offensive line, using the Hokies' aggressiveness against them.
"They played great tonight," Oliver said of the offensive front. "[Center] Kenny [Cooper], [left guard] Parker [Braun], all the guys, they played great. They got good push," he said. "We probably had five negative plays, if that. That's crucial. They were coming up, they were trying to get the D in outside, stunting the linebacker up the middle. It hurt them a good bit."
Following the sterling blocking up front, Oliver kept the ball on 15 of the Jackets' first 23 offensive plays, as the Jackets traded TDs with the Hokies. On GT's third possession, Oliver and the Yellow Jackets were stopped, following an incomplete pass on third down, his lone throwing attempt of the night. But the Jackets would get a second life when they'd recover a muffed punt on the ensuing punt by Pressley Harvin III. Oliver and the offense cashed in two plays later to make it 21-21, which served as the catalyst for a 35-0 run that stretched their lead to 49-21 before VT added a late touchdown to account for the final margin.
Georgia Tech moved at will throughout. When the Hokies keyed on Oliver, the Jackets took advantage of openings for B-backs  Jordan Mason (82 yards, three TD) and Jerry Howard (76 yards, one TD).
"We ran like four or five [plays]. They couldn't stop it so we didn't have to bring as many plays as we needed to," said Mason. "Once we start tricking them and once Tobias started getting on the outside, they started losing their defensive responsibilities and it opened up for the B-backs. I'm happy Tobias did his thing so I could do my thing."
Oliver was just fine doing his thing … and doing it … and doing it. He showed poise and patience, as only five of his 40 carries gained 10 yards or more. He credited Marshall with keeping him patient.
"TaQuon's been here, he's seen a lot. He played [in Blacksburg before], so there's nothing really he hasn't seen before," he said. "He just kept telling me, 'Hey, stick with it. You might not have the 60-yard runs but 10 yards, 10 yards. Just stick with that.' TaQuon was positive the whole game. He got me through it.
"I've never had that many [carries]," he added. "The first quarter, I had to catch my second wind a little bit but when I went in in the second quarter, I felt great. I was fresh."
"The ball's not heavy," quipped Johnson, in response to the 40 attempts.
Thanks to the consistently dominant run game, the Yellow Jackets never needed to deploy a passing attack.
"Our receiver got knocked down, actually," said Oliver about his lone passing attempt in the second quarter, with a laugh. "I did slip but our receiver got knocked over by the safety. It was a one-receiver rout and I did slip as well."
"He only threw one ball," said Johnson. "He can throw the ball. We didn't really need to throw it."
Whether the Jackets will need Oliver to start again on Saturday when the Yellow Jackets play their another crucial Coastal Division road game at North Carolina will be determined this coming week. Johnson's taking a wait-and-see approach.
"We'll see if TaQuon gets healthy. we'll watch him practice," he said. "TaQuon was the starter for a reason."
His teammates know without a doubt that Oliver will be ready should they need him, just as he was for Virginia Tech.
"He's always focused," said Mason. "I don't know what he had but for sure he came through for us. He opened it up for me and Jerry."
It's not something Oliver will be thinking about, but, as always, it will be something for which he'll be prepared. For now, though, he'll just enjoy his first visit to Blacksburg.
"It was fun," he said. "This is what you play for. This is what you look forward to coming to play college football. It was amazing."