THE FLATS – In recognition of their performances in Georgia Tech's 49-28 win at Virginia Tech last Thursday, junior left guard Parker Braun (Hallsville, Texas/Hallsville) and redshirt freshman quarterback Tobias Oliver (Warner Robins, Ga./Northside) have been named the Atlantic Coast Conference Offensive Lineman and co-Rookie of the Week, respectively, the ACC announced on Monday.
Braun and Oliver helped Georgia Tech rack up 465 rushing yards in the impressive win at Virginia Tech. The Yellow Jackets' 465 rushing yards were the most against Virginia Tech in 45 years and their seven rushing touchdowns were the most allowed by the Hokies in 44 years. Georgia Tech's 35 first downs and 31 first downs by rushing both set school records.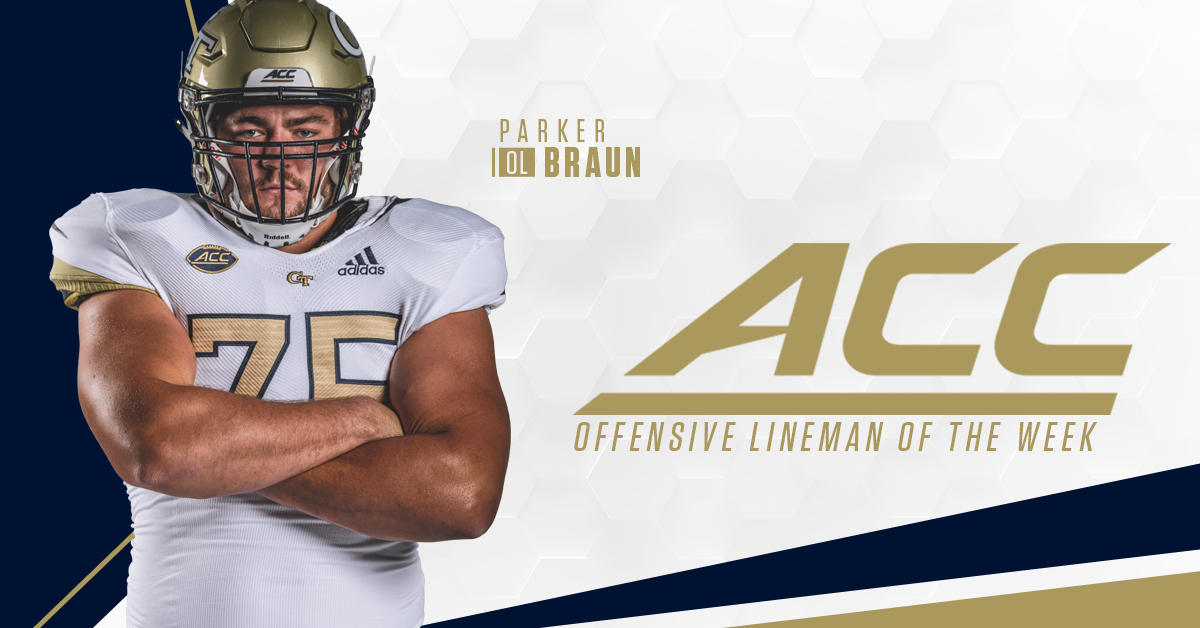 Braun helped pave the way for the dominant offensive effort by taking 25 defenders to the ground. His 25 knockdowns came in just 72 plays (one every 2.88 snaps).
The ACC Offensive Lineman of the Week award is Braun's second of the season and fourth of his career. Earlier this month, he earned the honor after taking 15 defenders to the ground and helping Georgia Tech rush for 542 yards in a 66-31 win at Louisville (Oct. 5). He is only the third Yellow Jacket to ever earn the recognition as many as four times in his career, joining current New England Patriot Shaq Mason (5 – 2012-15) and former NFL standout Andrew Gardner (4 – 2005-08).
Making the first start of his career in place of injured co-captain TaQuon Marshall, Oliver ran 40 times for 215 yards and three touchdowns in the win over VT. His 215 rushing yards and 40 carries were both the second-highest totals by a quarterback in Georgia Tech history, while his 215 yards on the ground were temporarily the most by an ACC player this season (Wake Forest's Matt Colburn surpassed Oliver's total with 243 rushing yards against Louisville on Saturday). Oliver's 215 rushing yards remain the second-most by an NCAA Division I FBS quarterback, the most by an FBS QB against an FBS opponent and the 13th-most by any FBS player, regardless of position, this season.
In limited action, Oliver has led Georgia Tech to touchdowns on 15 of the 23 full possessions that he has quarterbacked this season (not including four abbreviated series at the end of halves), including 7-of-9 against VT.
Braun, Oliver and the Yellow Jackets (4-4, 2-3 ACC) look to keep the momentum rolling on Saturday at North Carolina. Kickoff is set for 12:15 p.m. at Kenan Stadium in Chapel Hill, N.C. The ACC Coastal Division matchup will be televised on Raycom Sports affiliates across the nation, including CW69 in Atlanta.
The Jackets return home on Nov. 10 for a nationally televised ACC Coastal showdown versus Miami (Fla.). Tickets are still available, starting at just $35. Click HERE to purchase tickets online.
For the latest information on the Georgia Tech Yellow Jackets, follow us on Twitter (@GTAthletics), Facebook, Instagram or visit us at www.ramblinwreck.com.